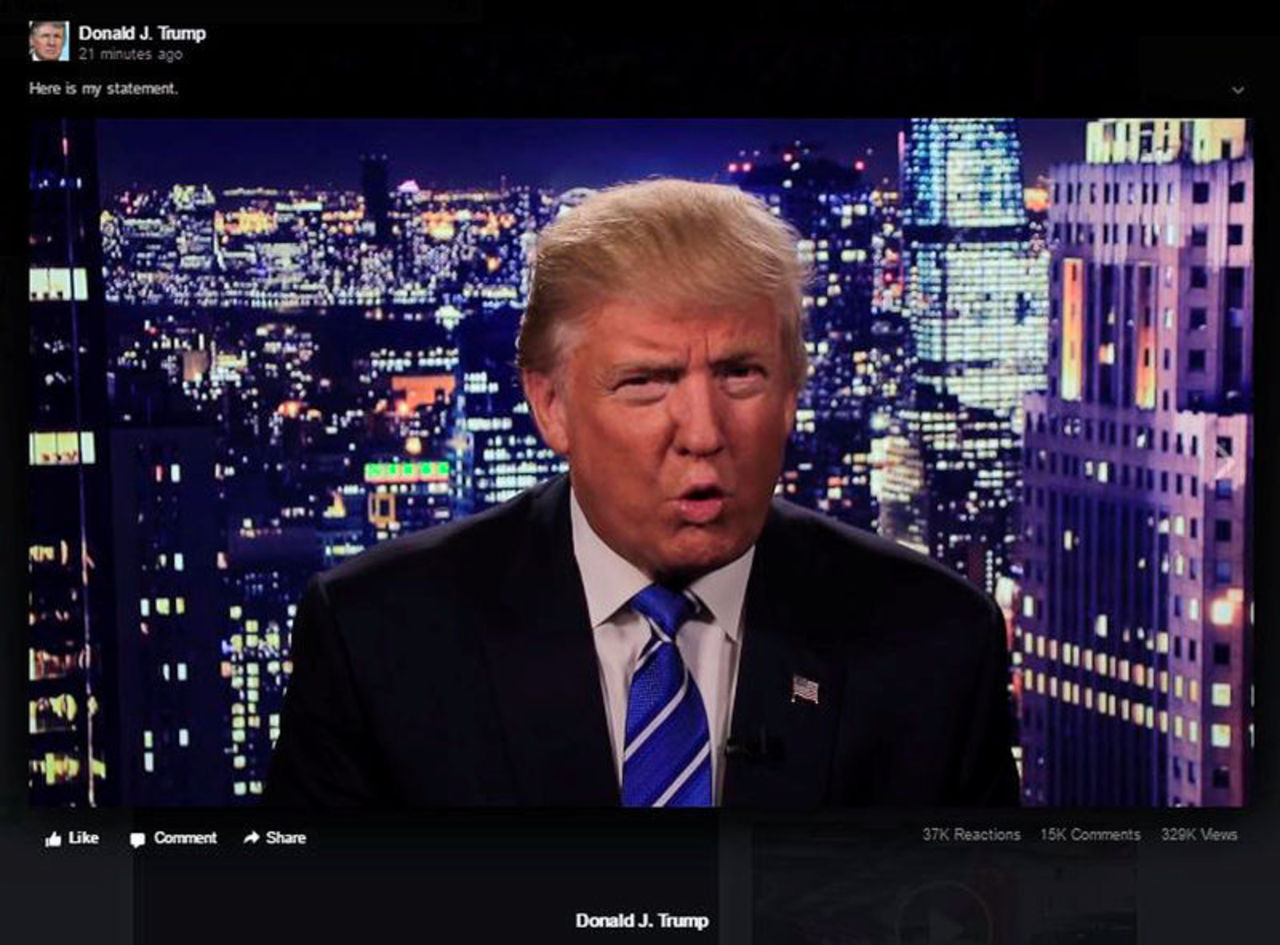 The US presidential campaign sunk into chaos late Friday afternoon, when the Washington Post posted on its website a 10 year-old tape from the TV gossip show Access Hollywood that caught Republican candidate Donald Trump making lewd and highly-offensive comments about his aggressive, self-proclaimed sexual prowess with women.
Word of the tape spread like a wild-fire, quickly overshadowing news coverage of Hurricane Matthew now sweeping the southeast coast of the United States, and sparking frantic telephone conference calls among GOP elected and party officials well into the early morning hours of Saturday trying to figure out how best to proceed in what amounts to a no-win situation.
"Republican leaders all over the country are reluctantly concluding that they are stuck with Trump as their candidate, that Trump will lose, the Democrats will probably retake the Senate, and the House could even be in play," veteran political commentator John Harwood of the CNBC business television network said early Saturday morning.
"The race is over for Trump," said Rick Tyler, who served as spokesman for the presidential campaign of Senator Ted Cruz. "He is completely devoid of the moral authority to lead the country."
As of now, most Republican officials who have spoken publicly have soundly denounced Trump, either withdrawing their support or demanding that he issue an unequivocal apology.
House speaker Paul Ryan, the Republican vice presidential candidate in 2012, canceled a scheduled appearance with Trump today in his Wisconsin congressional district. It was to have been the first time the two appeared together on the campaign trail, as Ryan has made little secret of his contempt for Trump.
Senate Majority leader Mitch McConnell issued a powerful statement denouncing Trump.
Political insiders agree that McConnell and Ryan have, in effect, given their Congressional colleagues permission to cut political ties to Trump.
The opposition to Trump has been particularly strong in the conservative, highly-religious state of Utah. The current Utah Governor Gary Herbert withdrew his endorsement of Trump, as did equally prominent Senator Mike Lee and Congressman Jason Chaffetz.
But the shock and dismay among Republicans is widespread nationwide. The instinct for survival is weighing heavily on GOP members of Congress who are in touch rights to win reelection in November, including Senator John McCain (the GOP presidential nominee in 2008), who called Trump's comments "inexcusable." The problems are even bigger for New Hampshire Senator Kelly Ayotte, the most prominent GOP woman in the Congress, who is in grave danger of losing her reelection bid.
Even more ominous for Trump is the growing chorus of public calls for him to withdraw from the race. Former New York Governor George Pataki, who briefly competed in 2016 for the GOP nomination, and former Utah Governor Jon Huntsman, who briefly ran in 2012, have both said the time has come for Trump to withdraw.
Trump has shown no inclination to listen to the wave of GOP outrage. On Friday, he initially issued a brief statement saying that he apologized to "anyone who may have been offended." The obvious lack of contrition only intensified criticism.
At midnight on Friday, Trump appeared in a 90 second video in which he feigned apology, but quickly pivoted to attacks on former president Bill Clinton for his well-known marital infidelities. Trump vowed to intensify his fight with Democratic candidate Hillary Clinton in a second debate scheduled for Sunday night.
Reporters have had a hard time penetrating Trump's inner circle since the tape fiasco erupted, as the campaign is said by GOP officials to be paralyzed with indecision. Trump's closest advisors, such as New Jersey governor Chris Christie and former New York City Mayor Rudolph Giuliani, have long argued that advisors should "let Trump be Trump." But that prescription has proven disastrous, as Trump has consistently demonstrated an inability to contain his impulse to lash out at critics and opponents in ways that have terribly undercut his credibility.
Even before the tape fiasco erupted, Trump's standing in opinion polls had been plunging, after his poor performance in the first debate with Clinton on September 26.
GOP officials are frustrated and depressed because they have few legal avenues to remove from Trump from the ballot, and to replace him with a more acceptable candidate. (Trump's current running mate, Indiana Governor Mike Pence, has been mentioned. Pence is reported by colleagues to be outraged with Trump. Pence does not want to politically sink with the mercurial New York real estate mogul.
In most states, ballots for the November 8th election have already been printed. Early voting has already begun in many states.
An all-out effort to wage a write-in campaign for another Republican is widely-dismissed as hopelessly unrealistic in a country as big as the US, especially since elections are administered at the state level under regulations that vary.
The GOP faces few options but to decide which is the best-way to lose: Go down with Trump as the party's official candidate, or go down via a efforts to back an Trump alternative at such a late date.