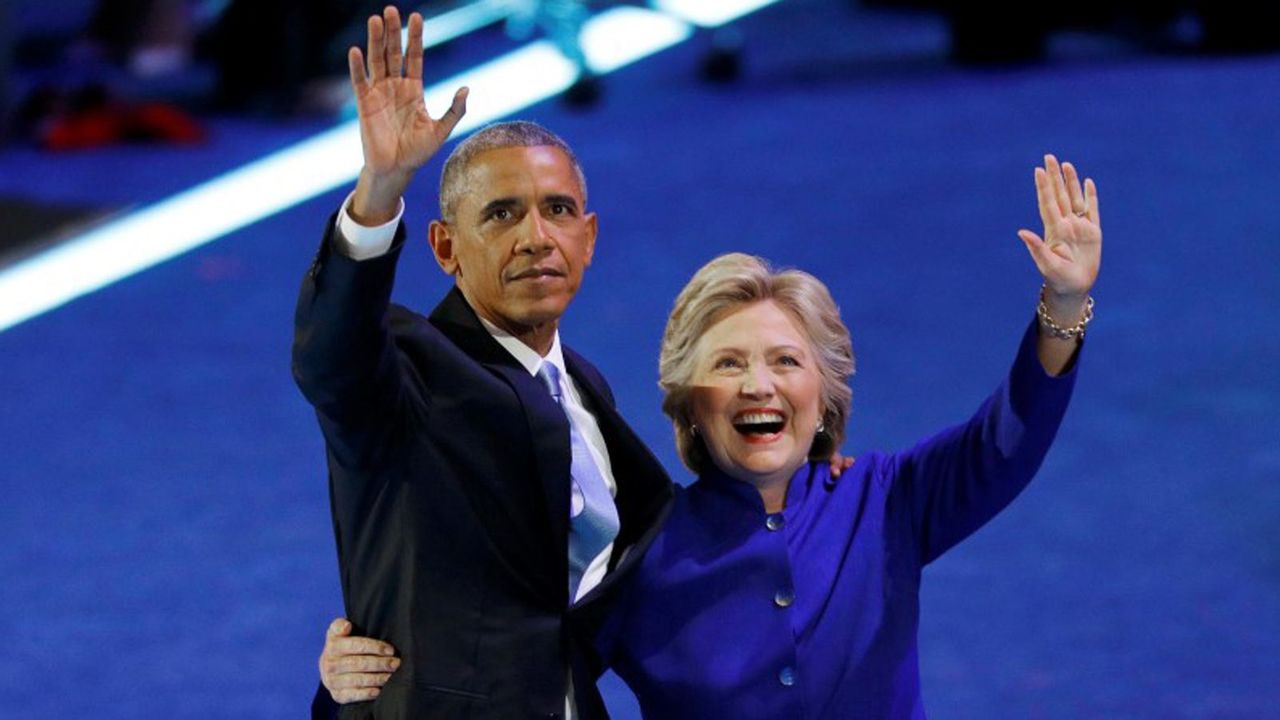 Given the peculiar, sometimes wacky character of the 2016 U.S. presidential race, it ought to come as little surprise that the transition from Barack Obama to a likely Hillary Clinton administration could see some out-of-the-ordinary developments. Chief among them: A highly public feud between the White House and Clinton over the proposed Trans-Pacific Partnership (TPP) trade deal.
A TPP fight would undermine Obama's legacy as leader of a U.S. "pivot" to Asia, further damage Clinton's ability to lead a deeply divided country, and boost the likelihood of continued gridlock in Washington by injecting some energy into a Trump-led, demoralized Republican Party, and pushing Clinton closer to the "progressive" wing of the Democratic Party led by senators Elizabeth Warren and Bernie Sanders. (Republican presidential contender Donald Trump, an ardent TPP opponent, has made gains in recent opinion polls, but most analysts agree that Clinton retains a decided electoral advantage.)
Neither Obama nor Clinton wants the long-simmering disagreement over TPP to boil over. "Of course not," says Chris Nelson, publisher of the influential newsletter The Nelson Report. "A public fight would have considerable downside for both Obama and Clinton." But both sides have dug in their political heels, and show little sign of flexibility.
"From all I know, President Obama is sincere about a final push for TPP ratification," says Patrick Cronin, director of Asian studies at the Center for a New American Security (CNAS). "And if he can't achieve this before the end of the year," Cronin says, "he would like to leave TPP in a form that has a pathway to eventual success."
Even before his recent 9-day trip to Asia, Obama used an August press conference with Singapore Prime Minister Lee Hsien Loong to assert his determination to win TPP passage before he leaves office. "I'm president, and I am for it," he said. "I've got some very close friends, people I admire a lot, but who I just disagree with."
Clinton and key advisors have been equally adamant about her opposition, including to a vote on TPP ratification during the "lame duck" Congressional session – the roughly one-month of Congressional activities after the November elections but before Obama's successor and new members of Congress take office in January.
Nelson says Clinton understands the geopolitical importance of TPP as a counter to growing Chinese assertiveness in East Asia, but has no choice politically but to oppose the deal. "No political professional condemns Clinton for her stance, since they know she can't risk alienating labor union members who play such an important role in electing Democrats," Nelson says.
Obama plows ahead
The White House's TPP dilemma has been on full display for the past few weeks. Just before Obama departed for Asia, which included a historic visit to Laos for the annual East Asia Summit, White House Deputy National Security Advisor Ben Rhodes told reporters that "the trip will give the President an opportunity to once again make the case for America's focus on the Asia-Pacific, to make the case for TPP as the centerpiece of our economic and strategic leadership in the region."
The White House, faced with intense concerns among struggling workers about the potential negative economic fallout from TPP, has increasingly turned to arguing that the trade deal is key to limiting the leverage a rapidly rising China could gain over its East Asian neighbors. Defense Secretary Ash Carter has gone so far as to say that a TPP deal would carry the strategic weight of an additional U.S. air craft carrier group deploy to the region.
At the East Asia Summit, with 7 of the 18 participating nations having agreed to join the prospective 12-member TPP, Obama spent considerable time trying to reassure his counterparts that Congress would carefully consider the trade agreement after the November elections, according to White House officials who briefed reporters.
At a September 8 press briefing shortly before departing for Washington, Obama personally reiterated his commitment to TPP, saying he would do his best to see it adopted by Congress before he leaves office.
Obama is sorely out of step with Congressional leaders. On the same day that Obama spoke in Laos, House Speaker Paul Ryan told reporters at his weekly briefing that he will not bring TPP to a vote on the House floor any time soon because there are insufficient votes to approve the deal in its current form. "They've gotta fix it," Ryan said, and "they haven't done that."
The next day, September 9, Ryan reassured a worried House Republican Conference (GOP House members) that Obama is running out of time to force a vote in the House, which he could technically do under the terms of trade promotion authority legislation adopted by Congress in a close vote last year. While usually a reliable block of votes in favor of free trade policies, House Republicans are now deeply divided on TPP, with many afraid to buck Trump's anti-TPP stance.
Speaker Ryan himself, while a fierce proponent of free trade, backed away from support for TPP while locked in a heated primary election battle over the summer with an ardent Trump supporter. Ryan eventually crushed his primary challenger, but not before his skittish wavering on TPP revealed the extent of the populist Trump's unexpected influence within Republican ranks.
Even GOP Senator Rob Portman, who served as chief U.S. trade negotiator for George W. Bush, has felt the Trump heat, and shifted to the opposition camp on TPP.
Ryan's counterpart in the Senate, Majority Leader Mitch McConnell, had already announced in late August that he would not schedule a vote on TPP this year.
On the Democratic side, House Minority Leader Nancy Pelosi and Senate Minority leader Harry Reid have long been loud in their opposition to TPP.
On Monday, September 12, Obama invited all four of the Congressional leaders to the White House for a talk on a legislative agenda for the rest of this year. Aides would only say that TPP came up in the discussion. Obama apparently treaded gingerly, not wanting the deep divisions over the trade deal to cause more political troubles for Clinton.
Indeed, the next day (September 13) Obama travelled to Philadelphia for a huge rally in the critical state of Pennsylvania, where he delivered an impassioned endorsement of Clinton's presidential bid. "I'm not just going through the motion," he said. "I am really, really, really into seeing Hillary elected the next president."
Obama, whose approval rating has surged in recent months to 58 percent, knows that a Clinton election is critical to securing his presidential legacy. Ironically, a big part of that unfinished legacy is the US strategic "pivot" to Asia, which Clinton helped spearhead as Obama's first secretary of state.
If only they could see a way around or over the TPP hurdle.
In Washington, chief U.S. trade negotiator Michael Froman is keeping a low profile on Capitol Hill, holding back on initiating talks with the Congressional leaders who oversee trade issues. Froman did have time to host a September 8 luncheon for the 11 ambassadors from the prospective TPP member states, trying to counter deep frustration that the Administration may have over-promised.
Republican staff members on Capitol Hill privately report being in the dark as to the Administration's legislative strategy to win TPP approval this year.
Critics argue that it was a mistake for the White House to plan on a TPP vote in Congress during an election year, when partisan bickering seemed almost guaranteed to further drown out what is already a paucity of serious policy dialogue on Capitol Hill.
In fairness to Obama, few if any political operatives foresaw the strength and resilience of the Bernie Sanders primary challenge to Hillary Clinton, which forced her into an anti-TPP stance more rigid that she perhaps intended.
And no one foresaw the wildly successful rise of Donald Trump which, together with the Sanders campaign, gave voice to the frustrations of millions of voters over income inequality and other inequities in the U.S. economy. Free trade agreements became a symbol of a "rigged system" that works to the benefit of large corporations and other elites, to the detriment of ordinary working people.
Political vise
The TPP issue has Hillary Clinton squeezed in tighter political vise than Obama, which became vividly clear at the July Democratic Party national convention. Hundreds of delegates carried signs denouncing TPP, and anti-TPP chants often rose from the convention floor.
One incident perfectly captured Clinton's dilemma. In the afternoon of July 26, with the convention out of session for a while, Clinton campaign chairman John Podesta told a luncheon audience brought together by the Wall Street Journal, that Clinton strongly opposes TPP. "She's against it before the election, and against it after the election." He also denied Clinton would support renegotiation of certain provisions. "We need a new approach to trade," he said.
Podesta has long been part of Bill and Hillary Clinton's inner circle, and is also close to President Obama.
Just a few hours later, one of Bill and Hillary Clinton's closest friends, Virginia Governor Terry McAuliffe, completely contracted Podesta, saying he thought she would back TPP once elected president. "Once the election is over, and we sit down on trade, people understand a couple of things we want to fix in TPP, but going forward we have got to build a global economy," he said.
McAuliffe later softened his comment, after Podesta administered a political spanking. Podesta tweeted: "Love Gov. McAuliffe, but he got this one flat wrong. Hillary opposes TPP BEFORE and AFTER the election. Period. Full stop."
But some damage had been done, providing ammunition to those who argue that Clinton can't be trusted to maintain her firm opposition to TPP. Fueling those suspicions were Clinton's choice of Virginia Senator Tim Kaine as her running mate, and former Colorado Senator Ken Salazar to oversee her transition team. Both have strongly supported TPP in the past, though Kaine has recently changed his stance to be more in line with that of Clinton.
Richard Trumka, president of the powerful AFL-CIO labor federation, addressed the simmering trust issue in a talk with reporters in early September. He insisted that Clinton would not flip flop. "We've talked about TPP," he said. "I've known her for 30 years, and there's never been one time where Hillary Clinton has given me her word on anything she didn't follow through on. I have absolute trust she will follow through on opposition to TPP."
Still, Clinton cannot escape her past, a big part of which is the leadership role she played in launching and pursuing Obama's vision for a US "pivot" toward Asia. During her time as secretary of state, Clinton developed a deep wariness of China's increasing belligerence in the region, and promoted TPP as a "gold standard" trade agreement that would work to counter any Chinese effort to unduly leverage its growing strength.
If elected president, Clinton would risk her own credibility with Asian leaders, and the credibility of the US as well, by sticking to her current anti-TPP stance. It would be hard to find a leader of any significance in Asia who is not aware of the role Clinton played in support of Obama's Asia pivot plan.
Clinton's chief deputy on Asia issues at the State Department, Kurt Campbell, recently published a book extolling the importance of the Asia "pivot" policy. Campbell is functioning as co-chairman (along with Harvard's Joseph Nye) of Clinton's Asia advisory team.
Cronin argues that the key issue for Clinton boils down to job creation. "Hillary Clinton understands the geostrategic importance of TPP," he says.
"Her opposition is related to the potential effects on American workers." Fortunately, he says, "Clinton has laid out the infrastructure and trade adjustment packages she will start to roll out in her first 100 days. I think her closest advisors, including really consequential people like Kurt Campbell, are encouraging her to express her true views."
Potential outcomes
At this point, the pathway to passage of TPP by the end of this year seems hopelessly clogged, though optimists point out that similar pessimism surrounded many trade bills in the past. A big Democratic win in November, for example, could conceivably give Clinton the wiggle room she would need to soften has opposition, on the assumption she could garner assurances about job-creating infrastructure programs, as well as effective trade adjustment assistance. Republicans no longer beholden to a discredited Donald Trump might go along.
Another possibility is to reopen negotiations on issues within TPP that are important to members of Congress now sitting on the proverbial political fence. That might work to cobble together enough votes for Congressional passage, which is the process that led to eventual approval of the US-Korea free trade agreement in Obama's first term in office.
But Korea was just one country; TPP consists of 12 nations, and convincing them all to reopen negotiations that already left them all exhausted, would be a daunting task.