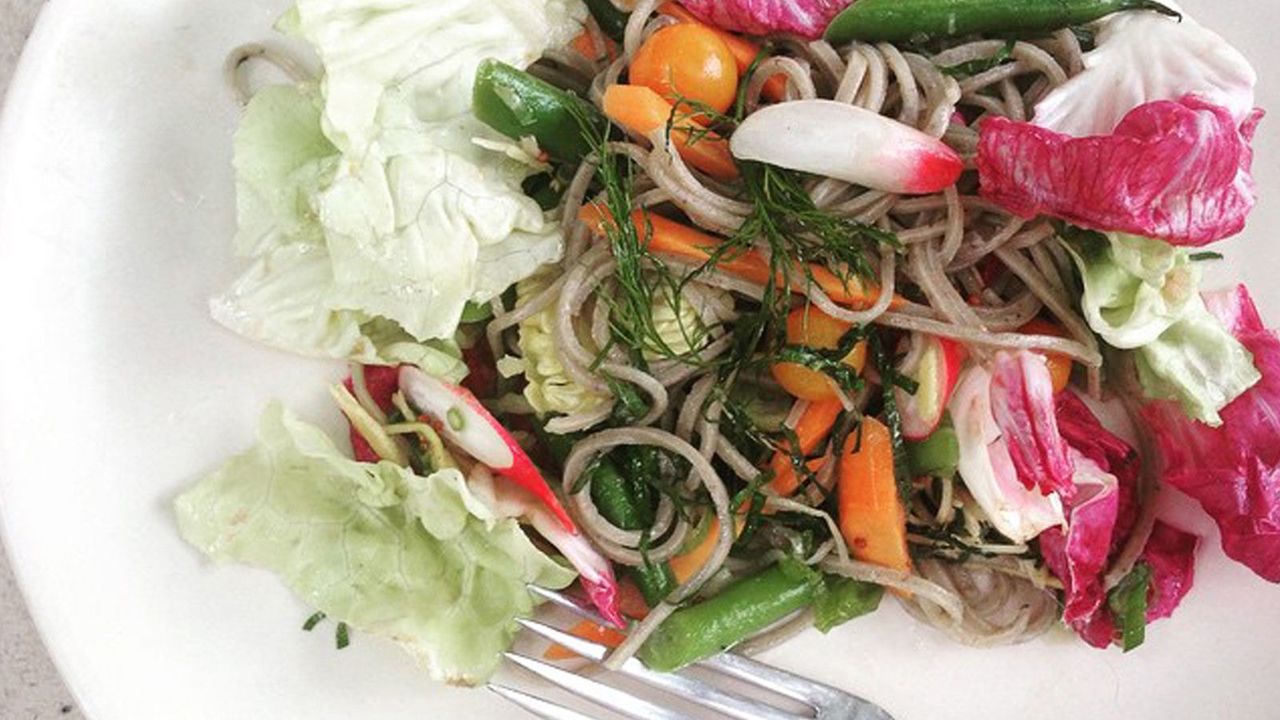 Soba is a delightfully tasteful and nourishing noodle. Originating in Japan, soba is made with buckwheat, and the nutrient-rich noodle is associated with longevity and eaten year-round.
While soba is traditionally eaten plain with dipping sauce and herbs or in a hot broth, the noodle is finding its way onto Western plates because of its versatility and good flavor.
In more Westernized preparations, soba works great in salads and can work just as well with pasta sauce or pesto sauce. Some Japanese and Italians will raise their eyebrows, but why not?
Soba salad -- a perfect summer food
I was a traditionalist when it came to soba until I had my first encounter with a soba salad. This happened while my mother was visiting from Tokyo one summer back in the early '80s, during a heat wave. We accepted a lunch invitation from her Japanese schoolmate, Mrs. Hoffman, who lived in Thousand Oaks, and it turned out Mrs. Hoffman was making us soba for lunch.
As Japanese, we were, of course, expecting zaru soba -- cold soba served with dipping sauce and herbs. But when the soba was served, it came in a form that neither my mother nor I had ever seen before -- mixed with her garden tomatoes and greens and dressed with a vinaigrette in a big salad bowl.
We were both in shock, to put it lightly. We thought Mrs. Hoffman had become too Americanized and had bastardized our classic noodle. Mrs. Hoffman tossed the salad in front of us and plated the oil-coated soba and vegetables. This was her American husband's favorite lunch, she told us.
At first, we were skeptical. But my mother raised me to try everything, so I did, and she did as well. The salad tasted surprisingly delicious. The earthiness of the soba gave the salad texture and umami flavor. The tomatoes added a nice sweetness.
We both loved the soba salad that day, and I've grown to appreciate a good soba salad. When I make it myself, I use greens, sliced radishes, fava beans, scallions and whatever fresh vegetables I find at the farmers market or in my garden. I serve the salad with a simple vinaigrette. (See recipe below.) I toss the soba with the vegetables at the last minute, so it doesn't get mushy.
What's in dried soba?
While dried pasta tastes pretty darn good, dried soba tastes, for the most part, rather flat and flavorless. Most dried soba fails because manufacturers make a wheat noodle containing only a token amount of buckwheat and still call it "soba."
According to Japanese standards, dried soba noodles can be called soba only if they contain at least 30% buckwheat flour. Apparently, these standards were set during World War II, when soba production was low.
A few Japanese and American brands, such as Koma Soba and Eden Foods Soba, produce a 100% dried buckwheat noodle. They can be found in some health food stores as well as some Japanese markets, such as Nijiya,Mitsuwa and Marukai. You can't beat fresh soba noodles, but these dried noodles will give you the traditional Japanese taste of the buckwheat noodle.
Packed with nutrients and flavor
Soba has played a medicinal role in Japan since ancient times. Buckwheat has an amino acid composition nutritionally superior to all cereals, surpassing oats, according to the U.S. Department of Agriculture. In Japan during the 17th century, buckwheat helped cure a large outbreak of beriberi, a disease caused by a vitamin B deficiency that results from eating too many refined foods such as white rice.
In addition to its healthful qualities, soba is sought after in Japan for its nutty flavor and good chew, although not too much is known in the West about its delicate flavor profiles.
Like other crops, buckwheat is known to take on the terroir of the land. Kitawase buckwheat from Hokkaido, Japan, is lightly fragrant and chewy, whereas Ibaraki's Hitachi Akisoba is robust.
Soba made with fresh buckwheat flour tastes vastly different in flavor and texture than its dried counterpart. In the fresh version, you taste the nutty and roasted tea-like flavors of the buckwheat.
It's faster and simpler to make soba than pasta, because it requires no resting time and the only other ingredient besides flour is water. Fresh noodles cook in less than 2 minutes.
When I make soba, I like using a flour mixture with a ratio of 8 parts buckwheat and 2 parts wheat flour called ni-hachi style soba, which has been a practice in Japan for more than 400 years. The added wheat gives the gluten-free buckwheat structure and stability.
Not all buckwheat flour you find in the U.S. makes good soba, because the milling is sometimes done poorly or it sits on the shelf too long. If the flour runs through your fingers like sand, it will not make good noodles. You should be able to clutch it your hand and form a peak.
In the United States, you can buy fresh, stone-milled, aromatic and coarse buckwheat flours and ni-hachi style soba flour from Anson Mills. I like to blend these varieties to make my own flour mix. You can also find soba-grade flour in Japanese markets such as Cold Mountain from Miyako. Whatever kind you buy, store it in the refrigerator.
Once you have made soba a few times, you can use 100% buckwheat flour instead of the 80% buckwheat-20% wheat mix. For those who are gluten intolerant, substitute tapioca flour for wheat flour in your dough.
Ideas for soba salad
Many Western chefs and food writers incorporate soba into their cooking. Zester Daily contributor Deborah Madison has written an insightful book called "Vegetable Literacy" that will educate you about vegetables, especially the chapter about the knotweed family, which includes buckwheat as well as rhubarb and sorrel. She includes in the book a recipe for a visually stunning and delicious Kale Soba Salad With Silvered Brussels Sprouts and Sesame Dressing. The salad is what initially turned me on to kale, and I frequently serve it at my soba workshops, because it's always a hit.
Yotam Ottolengi's cookbook "Plenty" includes a recipe for a sweet and summery Eggplant and Mango Soba Salad, which has become Yotam's mother's ultimate cook-to impress fare. Mango and eggplant? Weird, I first thought. But I was wrong. His plentiful use of herbs like cilantro and parsley and use of sweet and lime garlic vinaigrette in soba breaks all cultural barriers. Everyone loves this soba salad, and so do I.
(Written by Sonko Sasaki/Zester Online via Reuters)