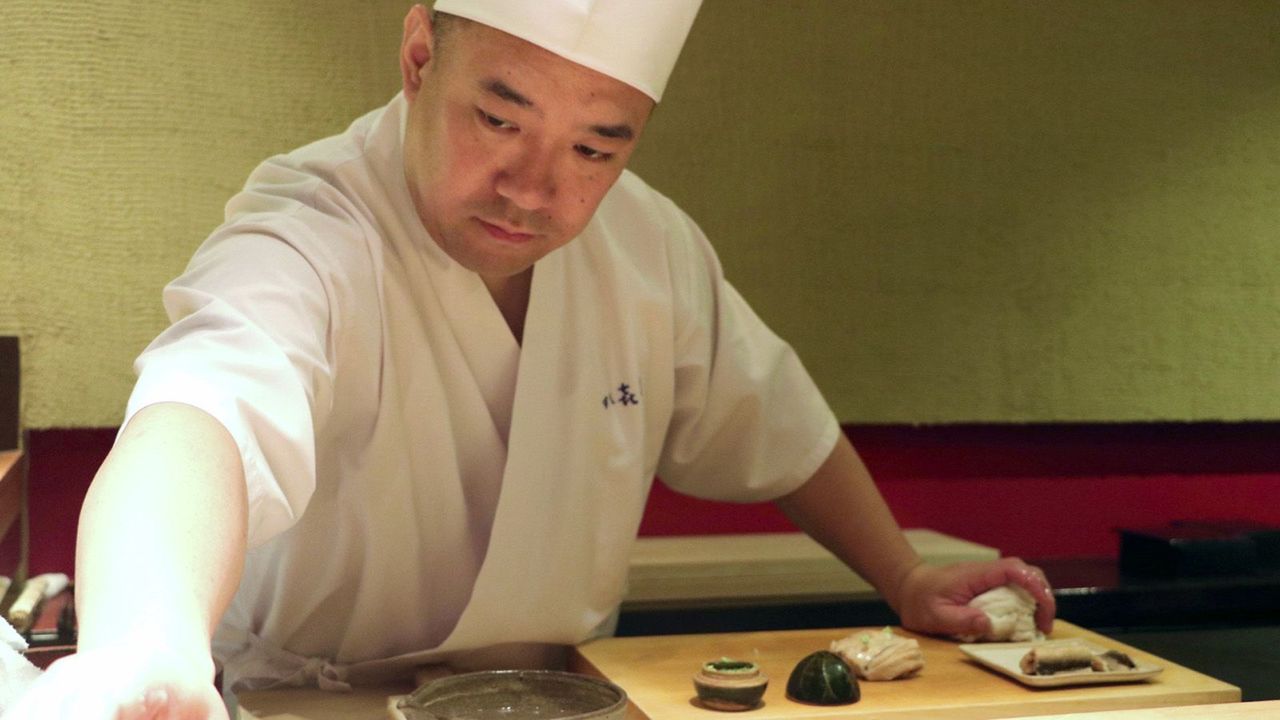 This story begins 20 years ago.
While researching my first book, "The Japanese Kitchen," I met Tsuyoshi Iio, the fourth-generation president of Iio Jozo, a family-owned, small rice vinegar production company founded in 1893 in Kyoto Prefecture, Japan.
Iio Jozo is the most honest and respected rice vinegar producer in Japan. It's not just the company's exceptional tasting rice vinegar, but most important, its vinegar is safe to consume. Here's what I mean.
Best rice vinegar
Tsuyoshi's father, Terunosuke Iio, was a visionary president of the company. During the 1950s, Japan became caught up in rapid postwar economic development. The use of strong agricultural chemicals -- to increase and speed up the production -- became the norm. But soon tadpoles, wild insects and animals disappeared from rice paddies. Farmers suffered from mysterious diseases.
At that time, Terunosuke Iio read the Japanese translation of Rachel Carson's "Silent Spring" and decided he wanted to use only organic rice in his vinegar production. But it took him two years to persuade enough farmers to agree to raise rice organically. All the farmers were aware of the toxic influence of chemicals, but most could not be persuaded to return to the labor intensive, chemical-free farming practices.
Today Iio Jozo Company is run by an energetic fifth-generation president, Akihito Iio. It has been producing 3- to 5-year-aged Akasu for years. Recently the company began aging it up to 15 years, upon receiving a request from a sushi chef in Nagoya Prefecture.
Aged fish
A complete, miraculous transition -- this was my experience at Sushi Kimora, a tiny seven counter-seat sushi bar restaurant in Futako Tamagawa, just one hour from central Tokyo by train.
At this restaurant, Chef Yasushi Kimura has developed a special kind of nigiri sushi.
He uses fish that has been cured and aged -- some up to 90 days. This aged fish does not spoil nor become stinky; it acquires much umami and a quite tender texture.
Chef Kimura discovered it almost by accident.
After opening his small restaurant, he waited for customers night after night, for weeks. The fresh fish he had purchased and prepared did not keep for long. "There were lots of waste," he said.
Instead of giving up, Kimura was determined to find out how long he could age and improve the fish. Bleeding, salting, de-salting, shaving the surface, observing -- every day for months his hard work brought him to a startling accomplishment. He successfully produced delicious, safe-to-eat fish through aging up to 90 days.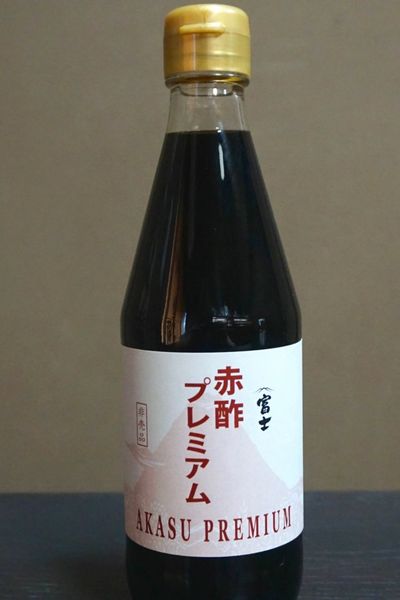 The use of Akasu in the preparation of sushi rice produces a distinctive, strong yeasty fragrance and taste, and a faint reddish brown color. Akasu was made from sake lees, the solids left over from fermenting rice to make sake; it was the vinegar used at the time of the invention of nigiri sushi in the city of Edo.
And, thus the marriage of two unique businesses -- Kimura Sushi's aged fish and Iio Jozo's Akasu. Together they produce a new dining experience, one with deep historical roots.
A harmony of flavors
For my meal at Kimura Sushi, I began with 10-day aged shiro-amadai (white horsehead) on top of a small squeeze of sushi rice. It was tender and sweet with a surprising touch of firmness.
Fourteen-day aged kinme (alfonsino) was melting tender with umami that was further elevated by the Akasu. To my surprise, kinme loses two-thirds of its original weight during the aging process.
Aji (horse mackerel) from Wakayama Prefecture was fresh, crunchy and delicious. Tai snapper was lightly cured in kelp.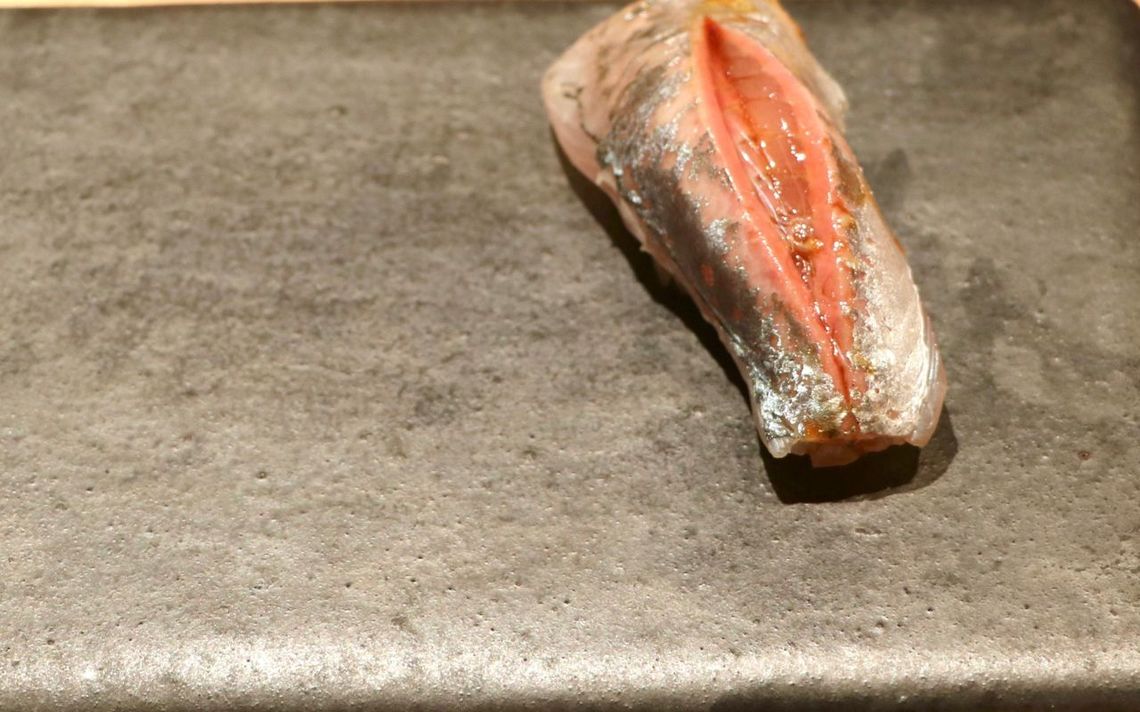 But the climax was unthinkable before my visit: 60-day aged makajiki (striped marlin).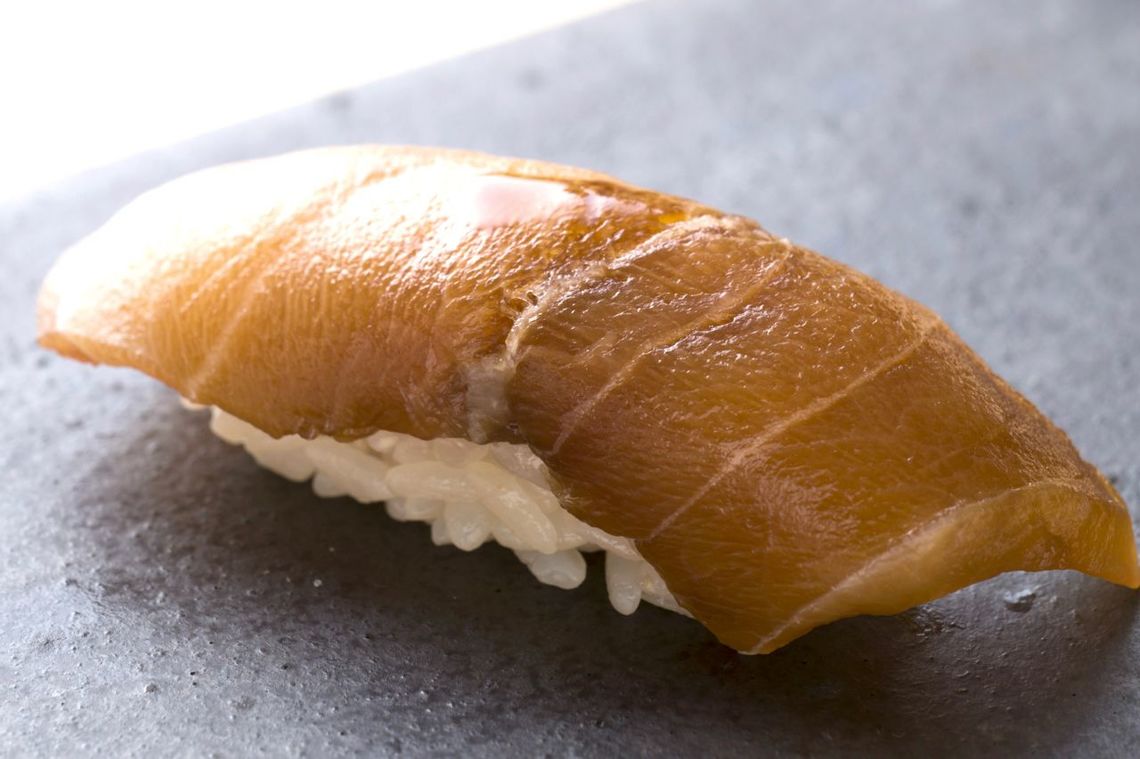 I closed my eyes to concentrate all of my senses on the fish. Caramel, coffee, cream, sweet... a miraculous harmony of flavors swept through my mouth. Aging matters -- probably it's much better for the fish than for me.
(C) Hiroko Shimbo via Zester Daily and Reuters Media Express