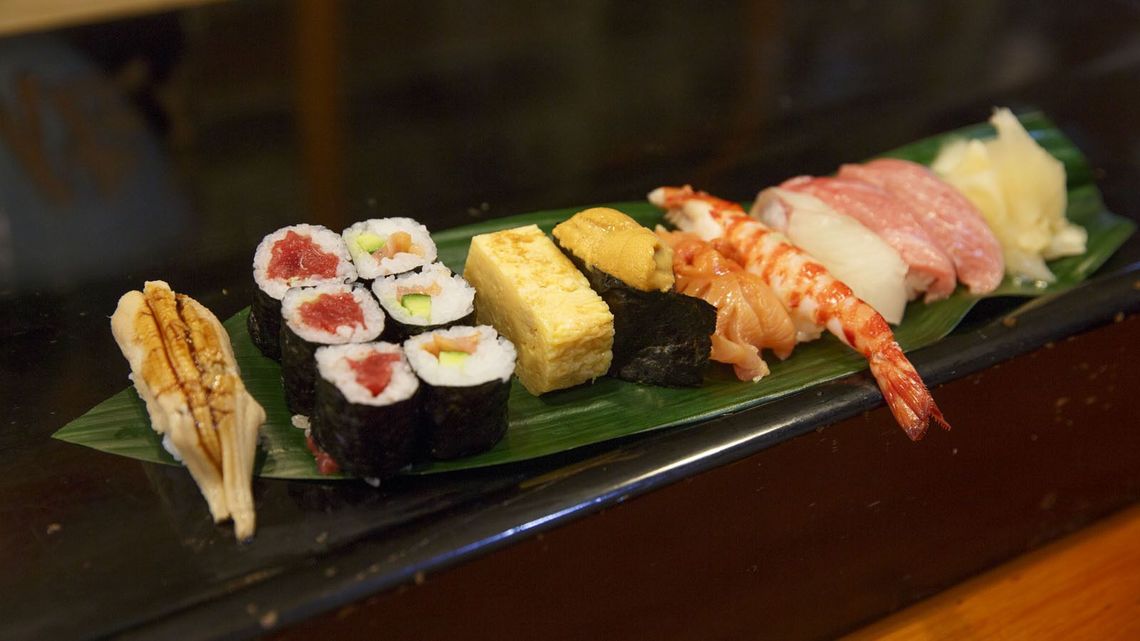 In business for 81 years, the Tsukiji wholesale market is one of Tokyo's most prominent sightseeing spots, always attracting hordes of both tourists and locals. Its illustrious history will sadly come to an end in November 2016, when the central market is set to move out to Toyosu, so now's your last chance to see the site that's been such an integral part of Tokyo's rise to the top of the culinary world.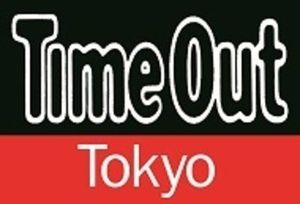 Although a trip to 'Tokyo's kitchen' usually involves sushi or other seafood fare, Tsukiji connoisseurs know it's not all about raw fish. Here's our list of the best 15 places both inside and outside the market for everything from classic curry rice, surprisingly tasty bread and the obligatory super-fresh sushi, so set your alarm clock and start the day with a truly extraordinary breakfast.
Don't bother to get up early on Sunday or holidays though – the market is always closed on those days (as well as on certain Wednesdays). And for those visiting during the day, we recommend these fine Tsukiji street snacks.
Inside the fish market
Mackerel Fry Set at Hachiyo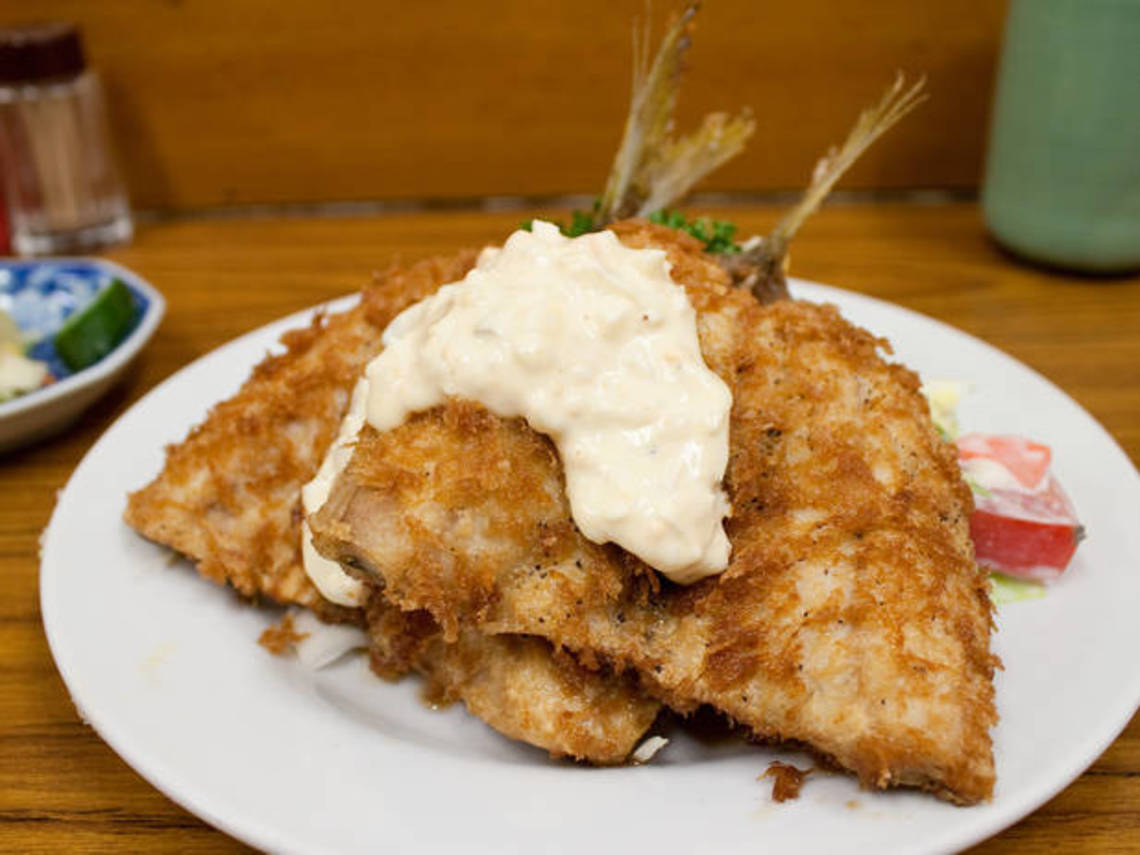 This tonkatsu place inside the market area also serves up great fried seafood, made from fish so fresh that it would make terrific sashimi. The menu's diverse, with combo plates of everything from tiger prawns to mackerel and scallops. Believe it or not, the fried jack mackerel set (1,000 yen) is a true culinary achievement, and makes for a great way to start the day off right.
Opening hours: 5 a.m.-1 p.m.
Tendon at Tenfusa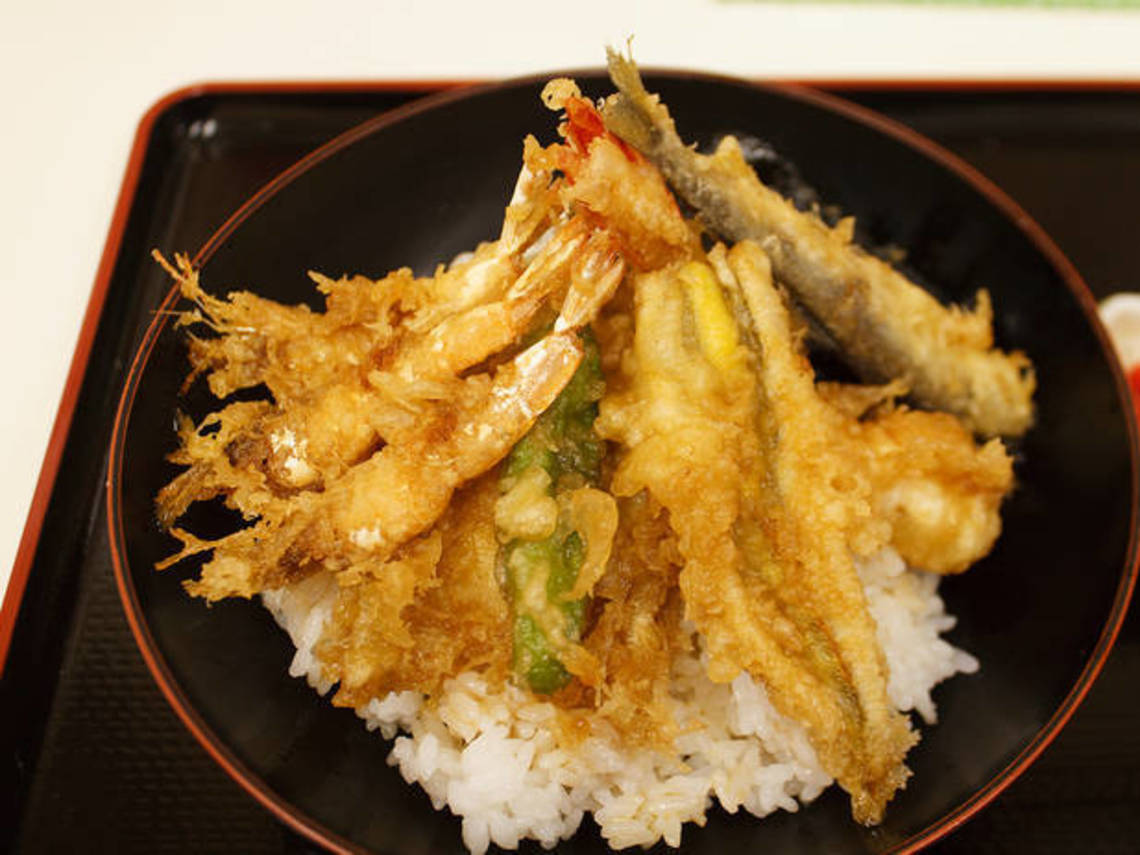 Tenfusa is the only tempura eatery inside the market, but that doesn't mean it survives on default: as is to be expected, the ingredients here are some of the freshest you'll find anywhere in Tokyo, and the seafood selection is impressive to say the least. Try the basic Tendon (1,200 yen), a smallish bowl of rice covered with the day's catch of prawns, flathead fish, anago eel, scallops and so on. The toppings vary by the day, giving you can excuse for repeat trips.
Opening hours: 7 a.m.-2 p.m.
Butter Salmon Teishoku at Isonoya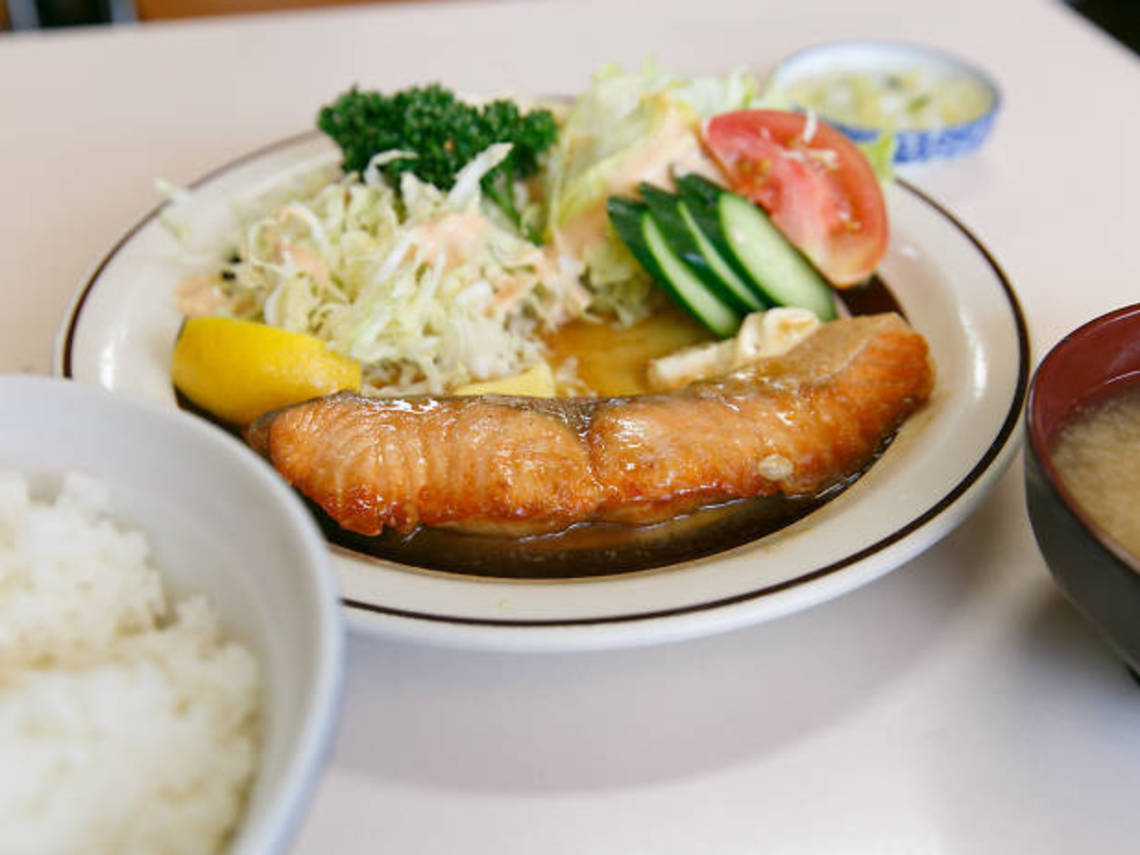 Visit this cozy diner during the morning hours and you'll find it filled with fishmongers, wholesalers and other folks who make their living at Tsukiji, all chowing down on their personal favourites off the eclectic (and lengthy) teishoku menu. One of the few Tsukiji restaurants not inundated with tourists, Isonoya no longer serves its renowned Kakimeshi oyster rice, but this supremely buttery salmon set makes for a great alternative.
Opening hours: 6 a.m.-4 p.m.
Curry Aigake at Nakae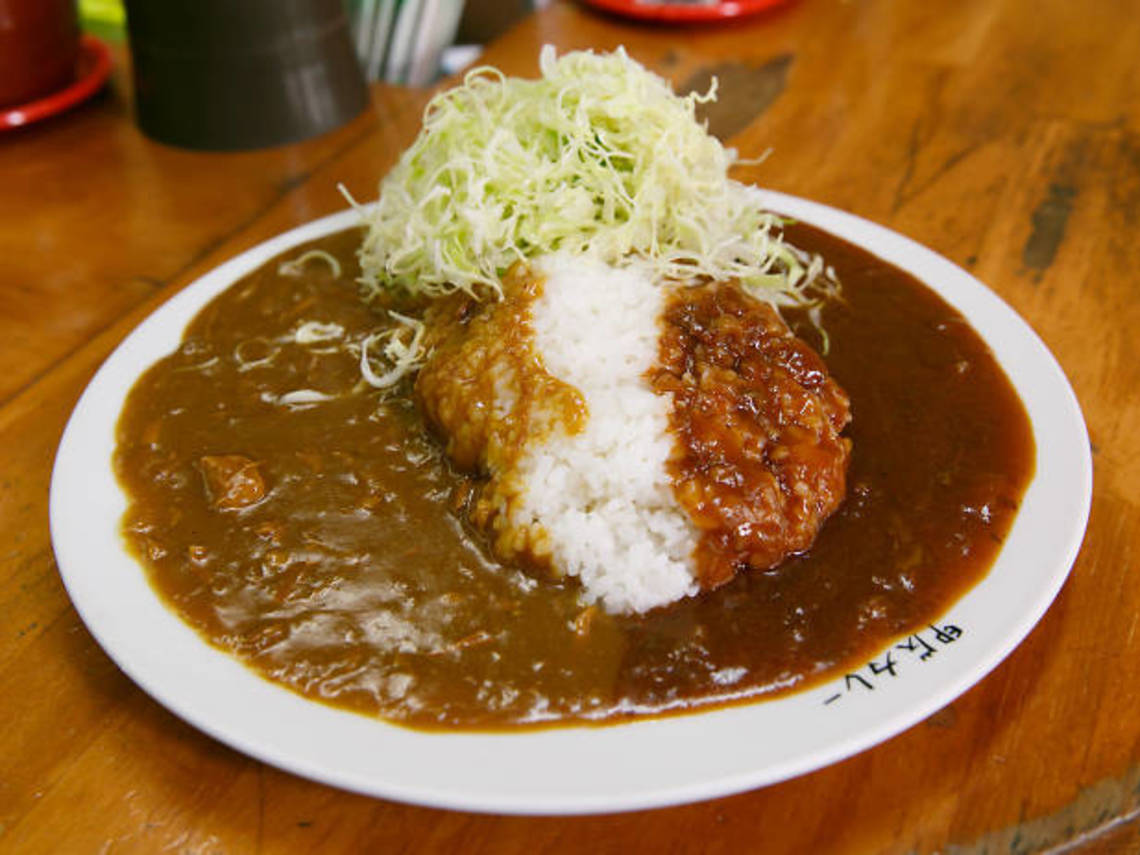 Nakae's Indian Curry House serves up handmade curries for 500 yen – a price that's hard to beat anywhere in Tokyo. Cooked for two days in total and containing a wealth of onions and pork ribs, this compentently-spiced variety is one for the ages. The Aigake combo dish, which comes with both beef curry and a tomato-based sauce (600 yen), is highly recommended.
Opening hours: 5 a.m.-2 p.m.
Anago-don at Anagoya Takahashi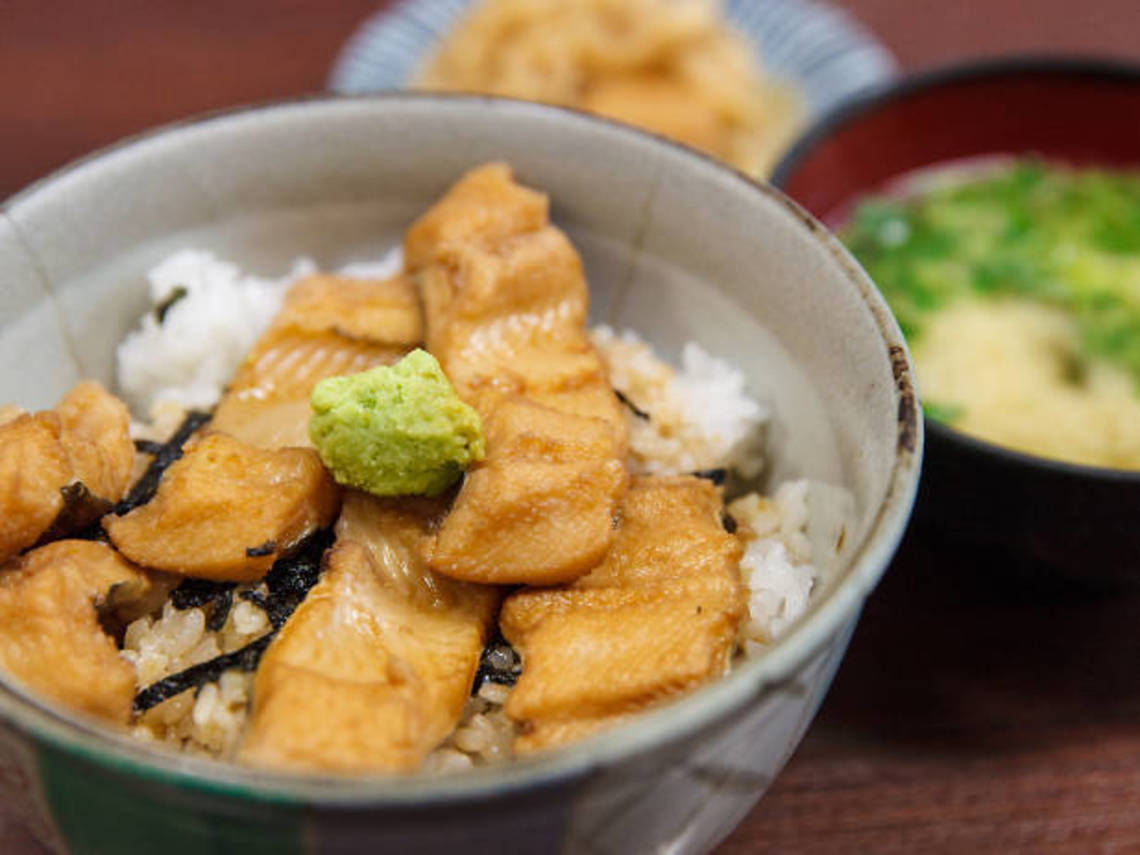 Seafood restaurant Takahashi's headliner Anago-don (eel bowl with rice, 2,000 yen) features luxuriously thick eel, flavoured with subtly sweet dipping sauce. Although you might want to go easy on the wasabi around breakfast time, the treacherous green paste really does bring out the best in the dish. A little pricey, sure, but worth it.
Opening hours: 8 a.m.-1 p.m.
The Special Set at Senri-ken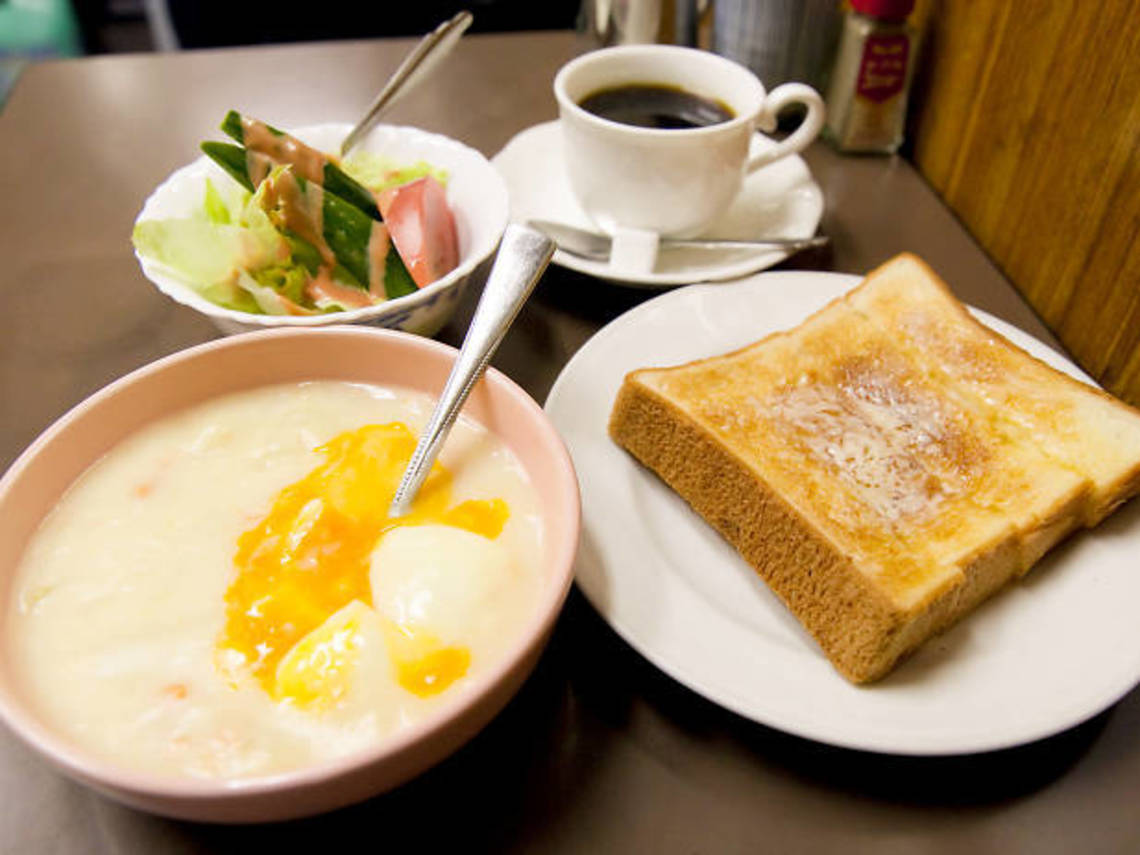 People who work in the Tsukiji market take their breaks at Café Senri-ken, famed for its pork fillet sandwiches. The Special Set (1,100 yen) is a great breakfast choice, consisting of a creamy soup (complete with a soft-boiled egg), toast, salad, and coffee or black tea. Get there early and take in the no-frills atmosphere.
Opening hours: 4 a.m.-12:30 p.m.
Exquisite fish at Kato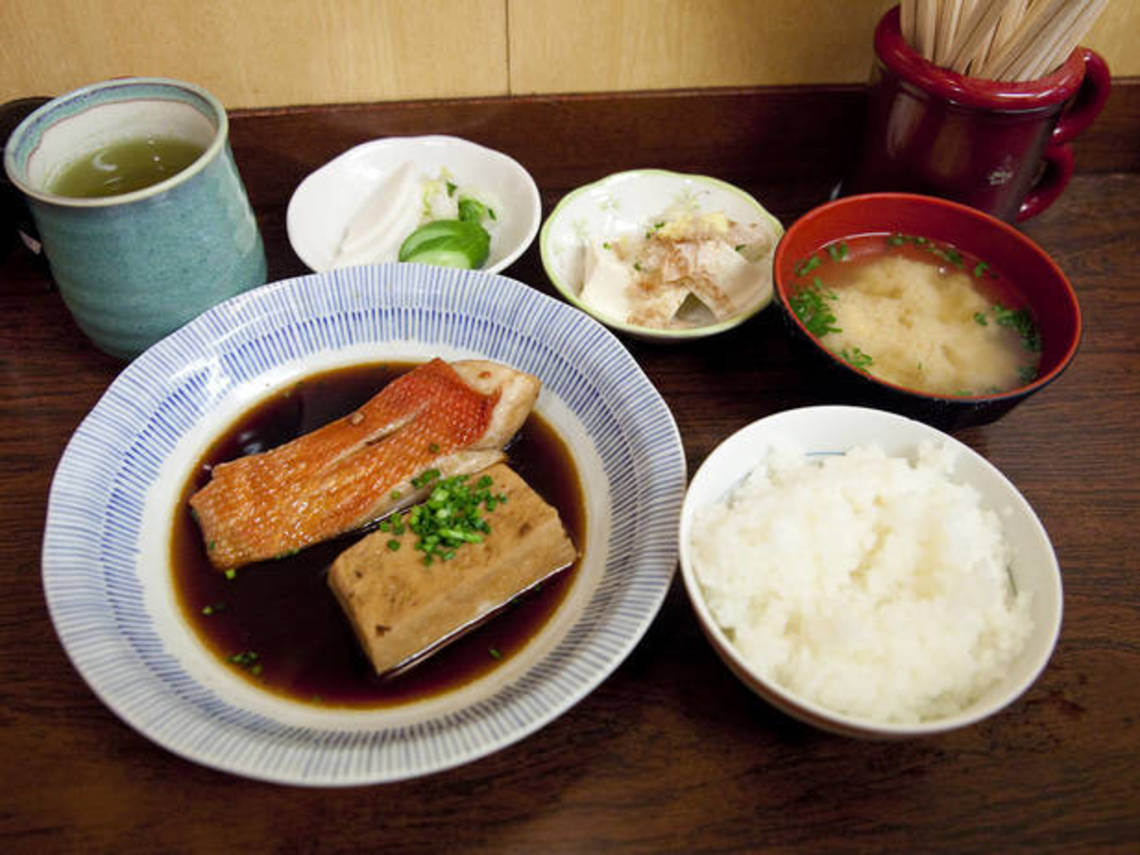 Japanese restaurant Kato specialises in seasonal seafood flavours, serving a selection of delicious sashimi, simmered, salt-broiled, grilled and boiled fish, all cooked to order. The Soy Sauce Alfonsino Set (price varies; from 1,600 yen) is a great savoury choice that comes with rice and vegetables.
Opening hours: 5 a.m.-1:30 p.m.
Shellfish Mix at Iwasa Sushi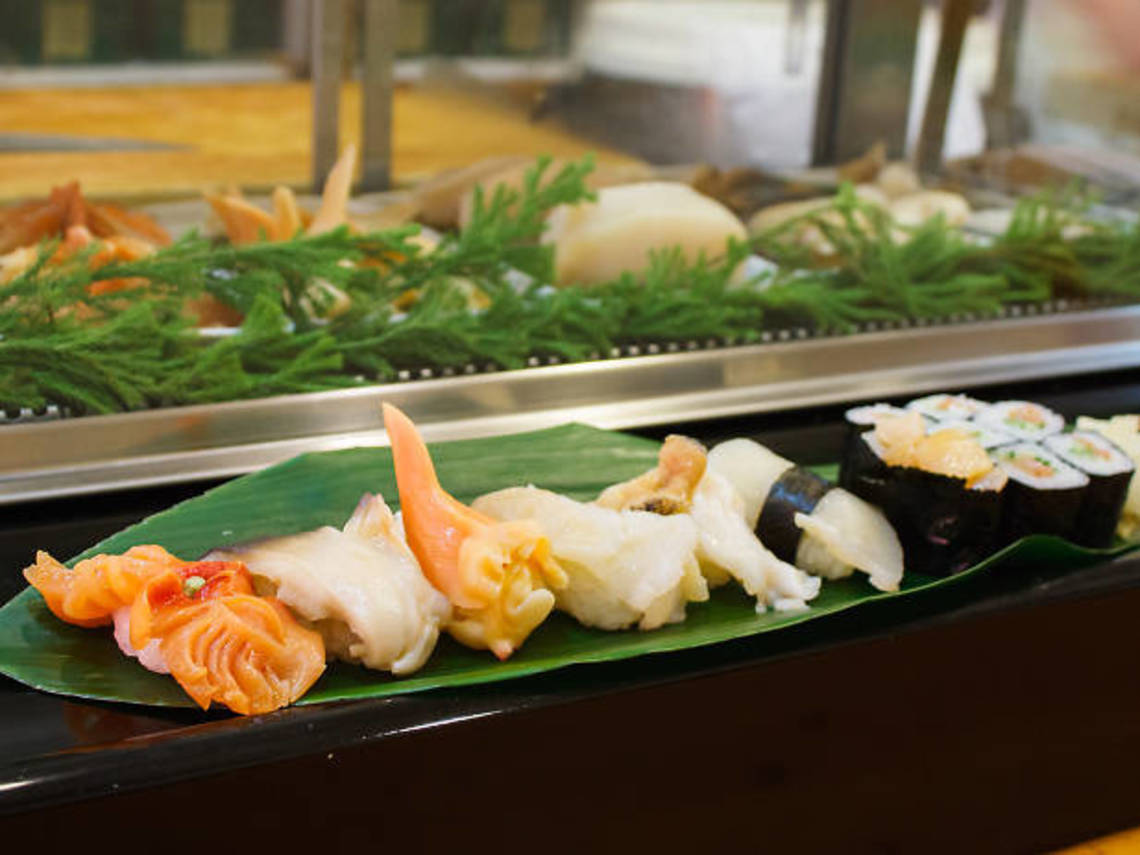 Queue up at Sushi Dai, Yamato Sushi or other renowned places for a taste of Tsukiji's famed sushi – or skip the waiting altogether and head to Iwasa. A group of affiliated companies operates eight Iwasa locations inside Tsukiji, buying up the best seafood available (including some unbelievably tasty clams) every day. This is shellfish lover heaven: try seven kinds of clams or mussels and one roll in the Shellfish Mix (3,600 yen) – a perfect morning deal after a night of serious drink-sipping.
Opening hours: 6 a.m.-2:30 p.m.
Outside the fish market
Tuna Bowl at Segawa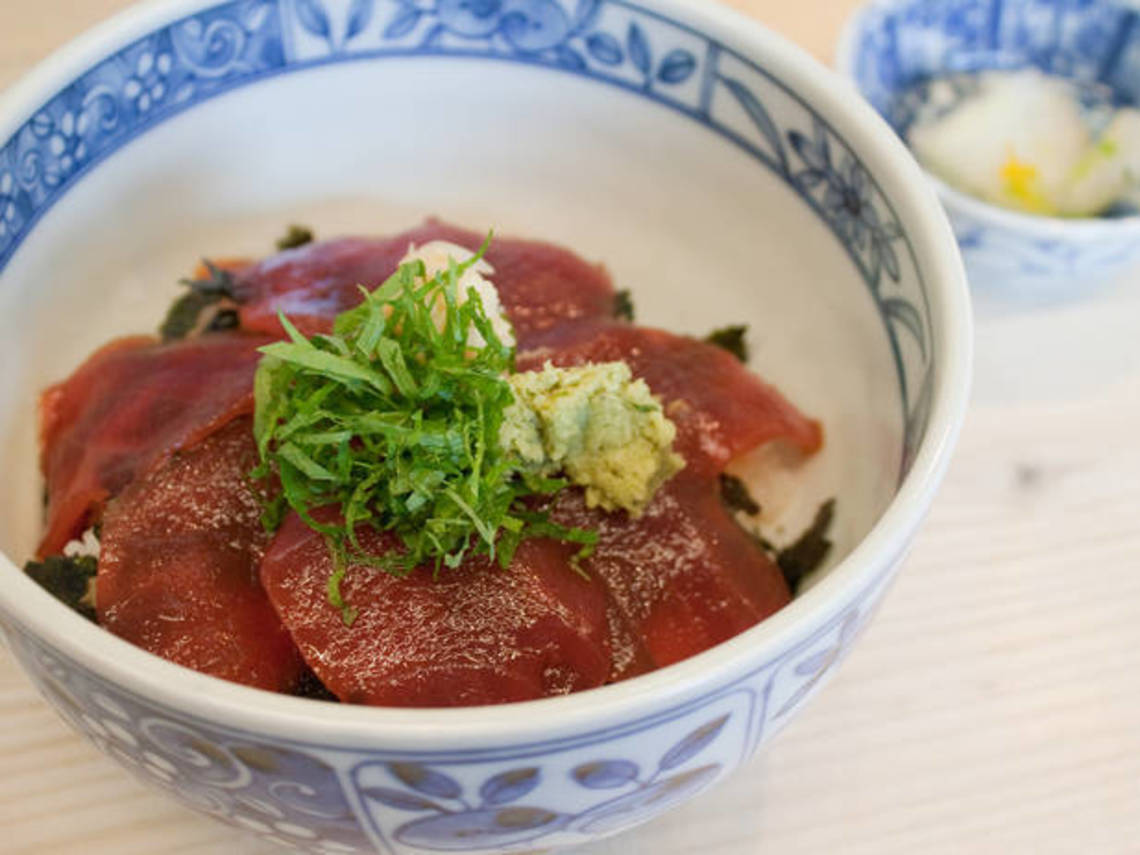 Tsukiji's got no shortage of restaurants combining seafood with rice, but Segawa is clearly among the cream of the crop. Very popular with the regular crowd, this down-to-earth eatery carries top-quality lean, thick tuna, serving it with a soy sauce made with an inherited 'secret' recipe, creating a nice balance with the vinegary rice. The daily special's a great choice at 1,600, but you really can't go wrong with the basic Tuna Bowl (900 yen).
Opening hours: 7:30 a.m.-as long as stock lasts
Horumon-don at Kitsuneya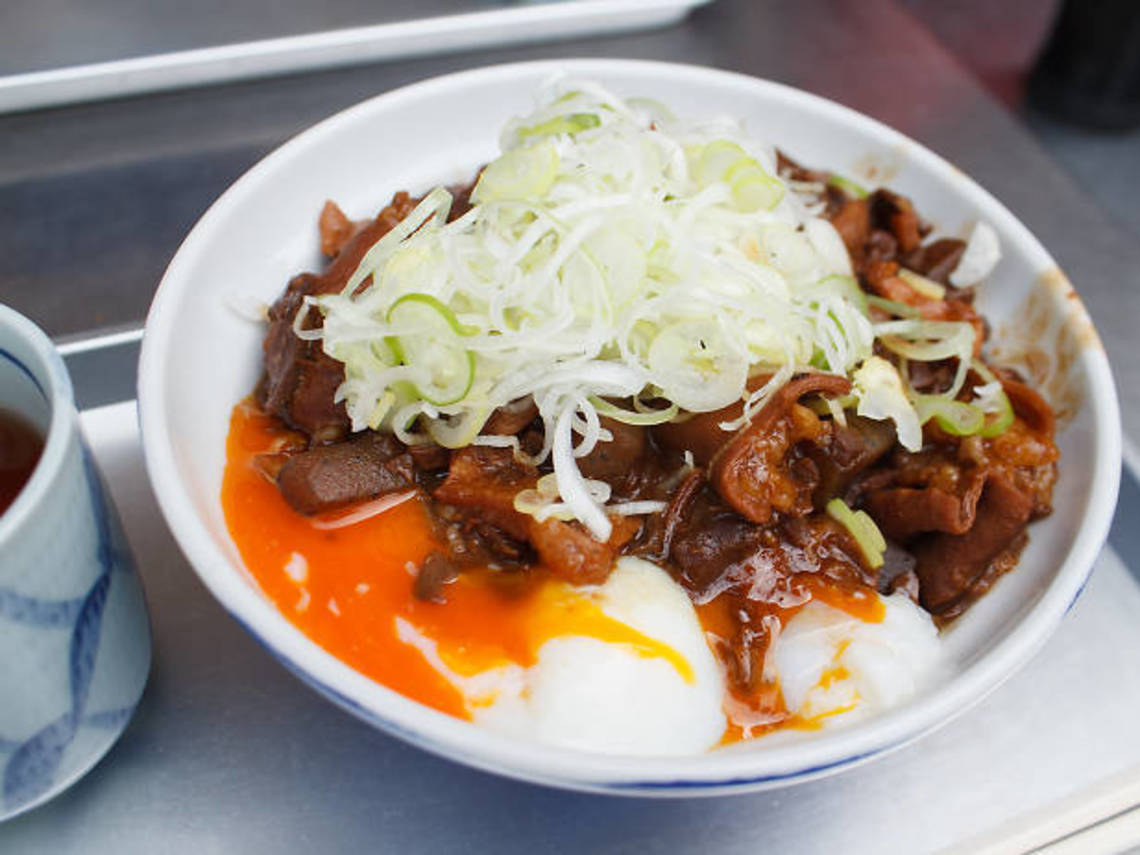 Strolling along Monzeki-dori outside of the market, you'll soon notice a fierce, meaty smell. This aggressive odour emanates from Kitsuneya, a true Tsukiji classic serving the venerable Horumon-don (850 yen), a hearty combo of rice, leek and organ meats flavoured with a rich miso-based sauce. Order an extra soft-boiled egg (50 yen) to recreate the traditional power meal that's kept locals on their feet through thick and thin since 1947.
Opening hours: 7 a.m.-1:30 p.m.
Chuka Soba at Inoue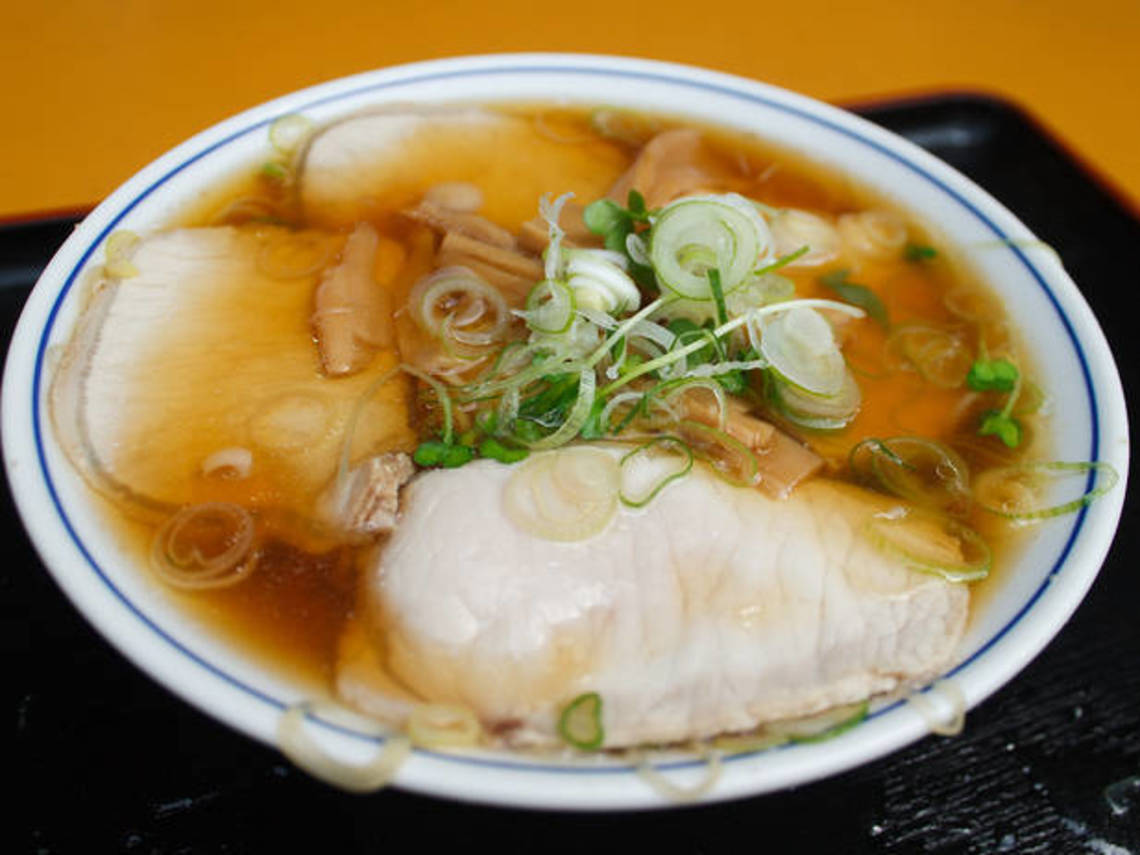 Monzeki-dori in front of the market is lined with stand eateries and food shacks, but none of them is as popular as this ramen joint dealing in the style of noodles preferred by Tokyoites throughout the postwar era. Their Chuka Soba is the only thing on the menu and features thin noodles with plenty of chashu pork, negi leek and sprouts on top – simple but delicious. Your bowl will be ready in seconds, after which you'll have to carry the overflowing dish to one of the makeshift tables by the road and dig in while rubbing shoulders with the locals. Hey, it's an essential Tsukiji experience.
Opening hours: 5 a.m.-1:30 p.m.
Soba at Choseian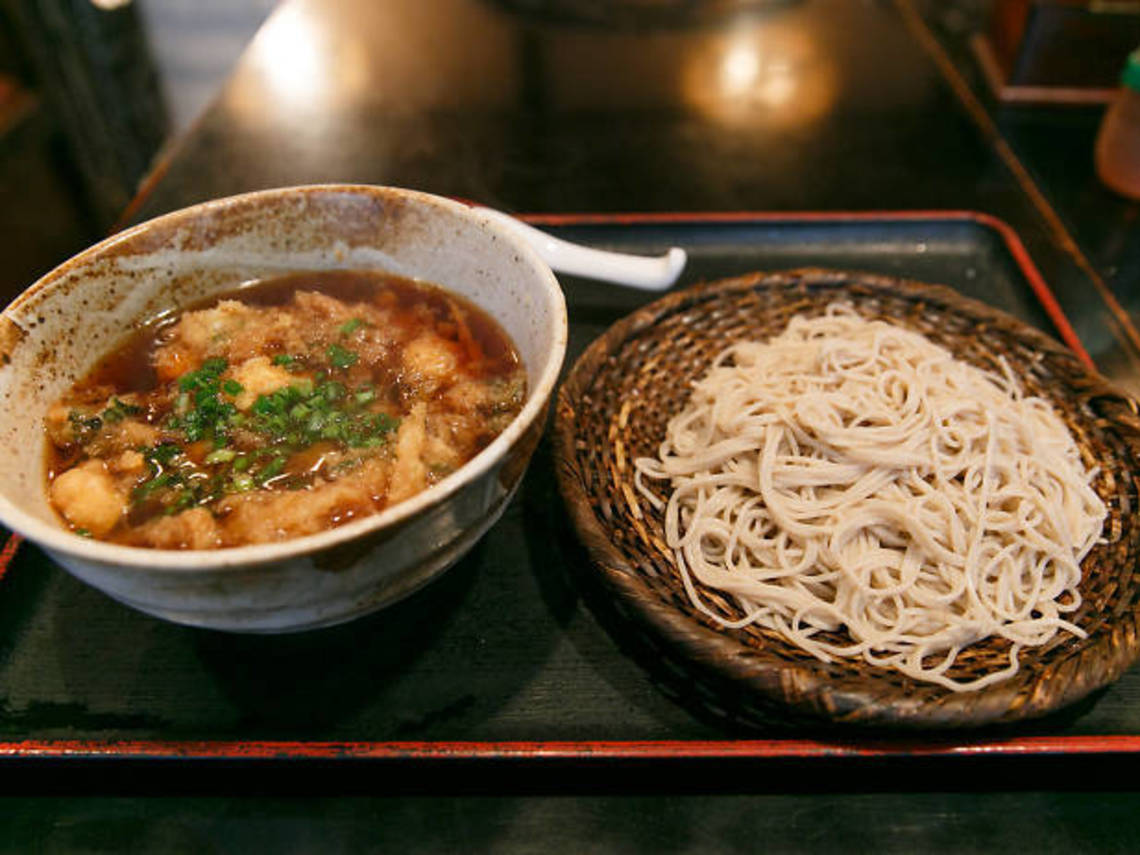 If you're a true Tsukiji veteran and have already sampled all the delectable seafood and street snacks available inside and around the market, it might be worth heading to this well-hidden joint for some healthy and energy-packed soba. The Tsuke Kakiage Seiro combines cold noodles with a warm dipping sauce topped with mushy kakiage tempura, and is sure to shake off any lingering drowsiness.
Opening hours: 7 a.m.-3 p.m., 5:30 p.m.-9 p.m. (Saturday 7 a.m.-2 p.m.)
Mizutaki Set at Torito Bunten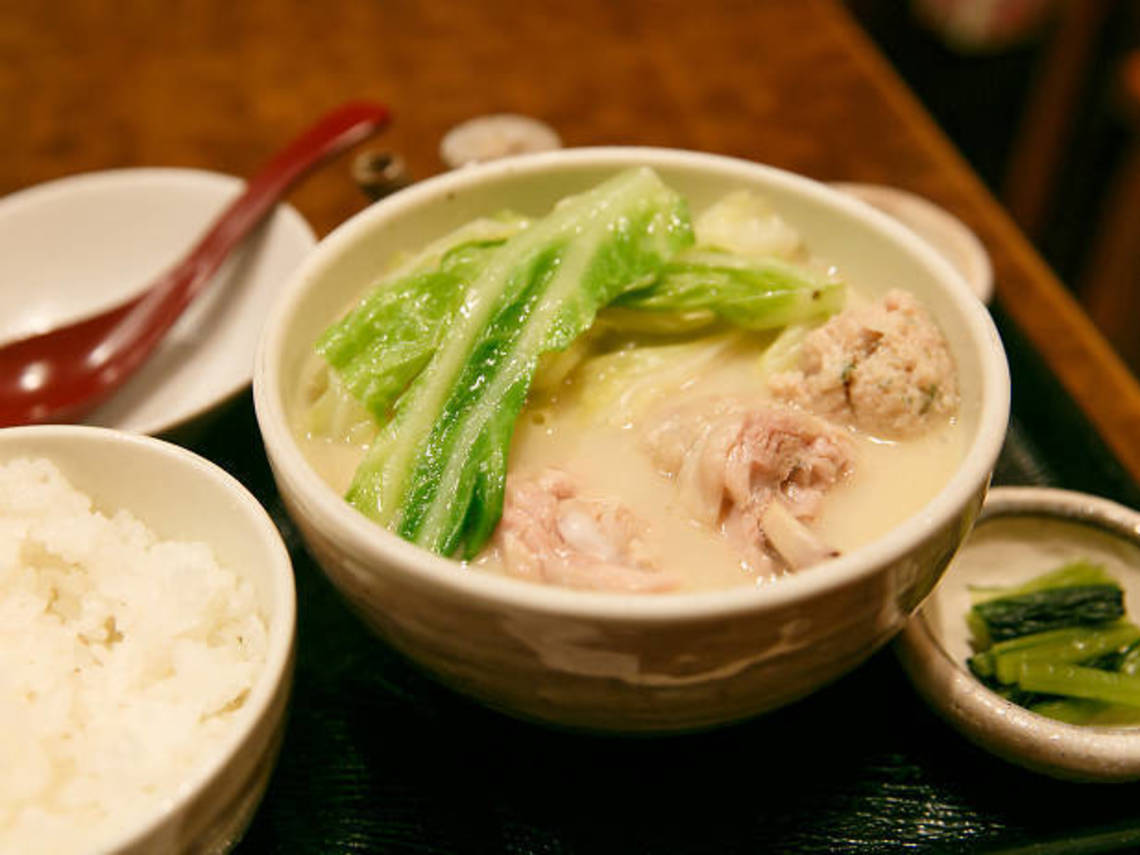 Torito, run by a chicken wholesaler, is unquestionably the top Tsukiji destination for bird-eaters. Go all-out with the Mizutaki Set (900 yen), which features a creamy white soup made with salty stock base, chicken dumplings and veg – perfect for a chilly morning by the sea. Treat your taste buds to a feast at Torito, and you might feel ready for an early nap.
Opening hours: 7:30 a.m.-2 p.m.
Japanese Spa[ghetti] at 4 Season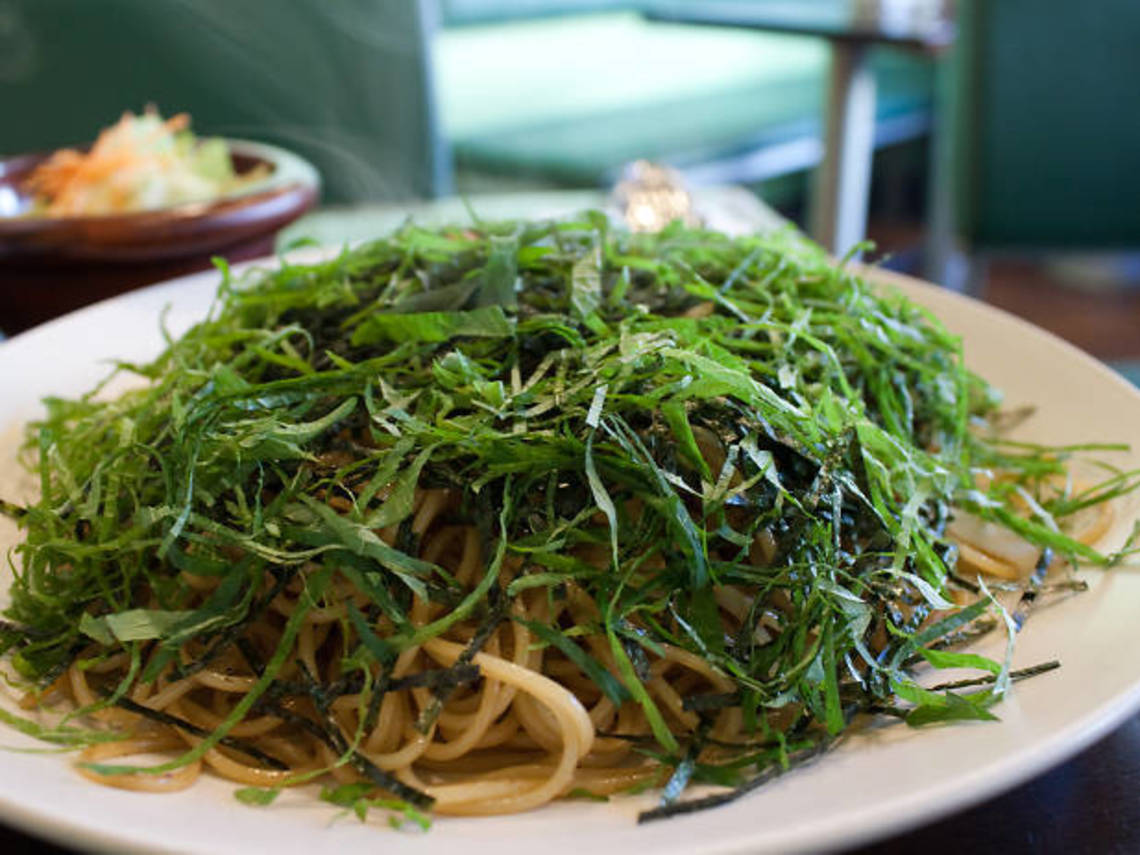 Located a short walk from the market itself, 4 Season draws an endless stream of customers with its 'traditional' sausage- and onion-topped margarine spaghetti, known locally as 'Japanese Spa' (870 yen). Don't expect any Italian flavours here – the seasoning relies heavily on soy sauce, and a massive pile of shiso leaves nearly covers the noodles.
Opening hours: 7:30 a.m.-5 p.m.
Croissants at Bakery Le Pain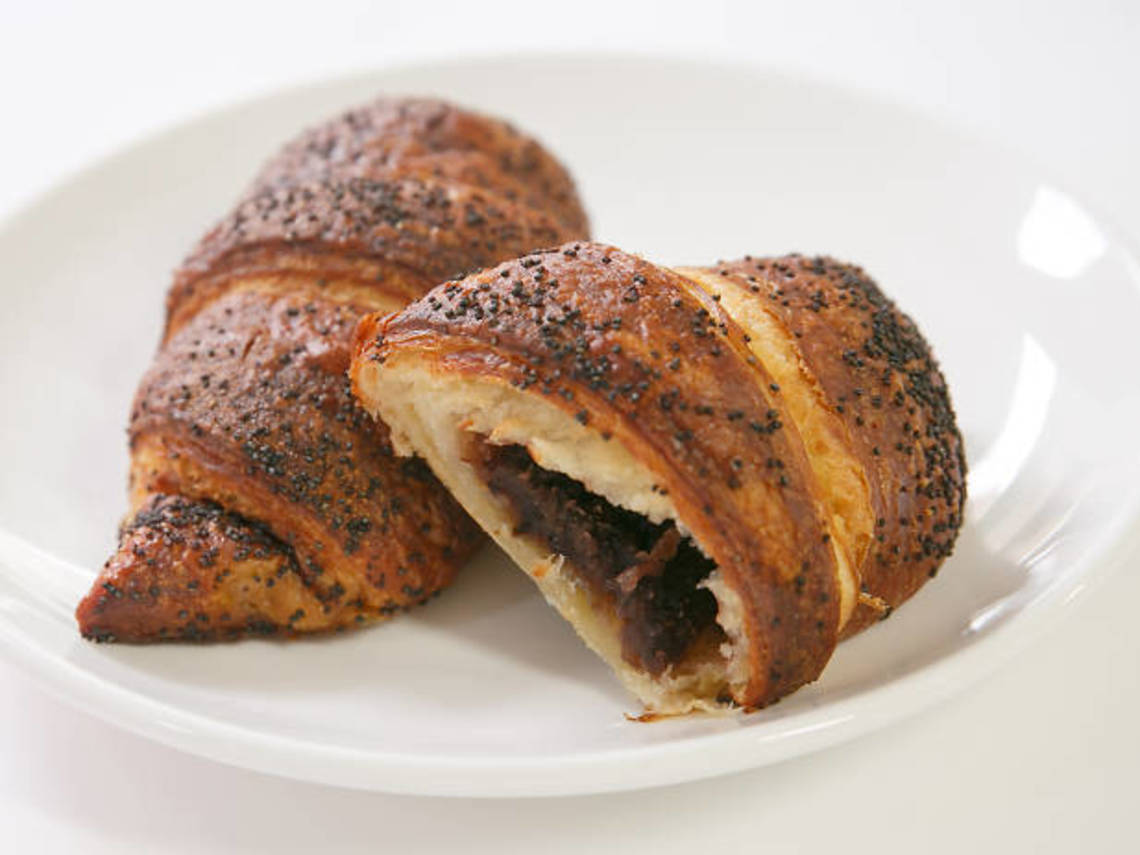 Find this orange-coloured bakery on Namiyoke-dori just outside the market. Le Pain serves up freshly baked bread and great coffee, but we feel obliged to highlight the excellent croissants. Start with the slightly salty Red Bean Jam Croissant for a Japanese original, or choose from varieties like the creamy Vanilla Croissant, the Maple Pecan, or the healthy Five Grains Croissant.

Opening hours: 6 a.m.-2 p.m.

(Photo by Yasuhisa Shimbo)

Related articles from Time Out Tokyo Yakisoba gets the gourmet treatment at this new Shirokane eatery
Get your grilled corn fix at the Tokyo outpost of New York's award-winning Café Habana
Rainy day Tokyo