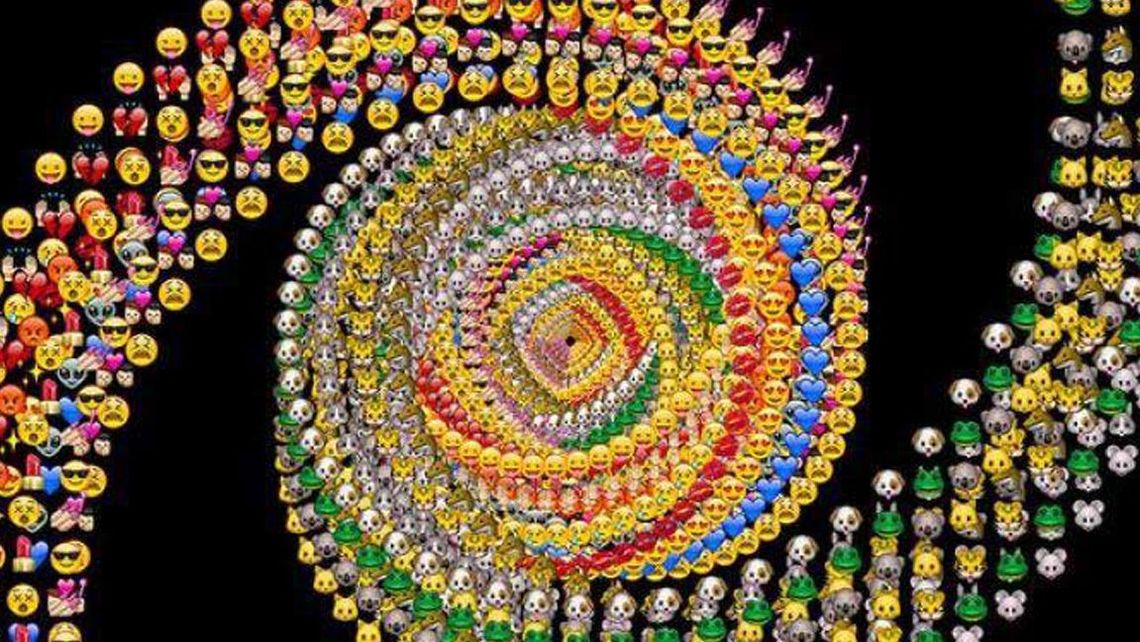 The "Cannes Lions International Festival of Creativity" is well-known as the world's largest advertising festival. This year, it was held from June 18-25.
On the 23rd, Mr. Tetsuya Honda, CEO of BlueCurrent Japan, gave a lecture on the topic of "How Emoji Changed the World." This was the second consecutive year that Mr. Honda delivered a speech, the first being his presentation last year on "
How Japanese Creativity Changes The World
". What kind of material did he present to this audience of approximately 400? We will make the entire content available here.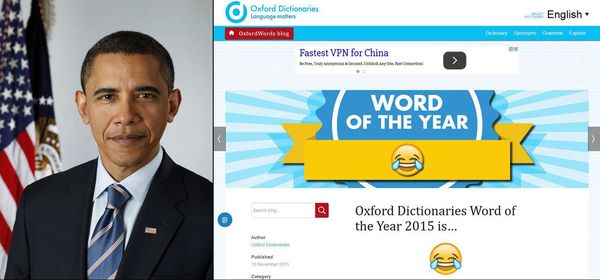 Last year, President Obama invited Sinzo Abe, Japan's Prime Minster, to the White House and said "Thank you Abe-san for creating Emoji and introducing them to the world." Did you know that the Oxford dictionary gave Emoji the "Word of the Year 2015" award last year for the first time? Isn't that great?
Today I want to share with you some interesting data from Swiftkey's Emoji Report, which was completed last year. This is some global research on how Emoji are being used by different countries and different cultures. Quite interesting. Let's start with the U.S. Who is from the U.S.in this class?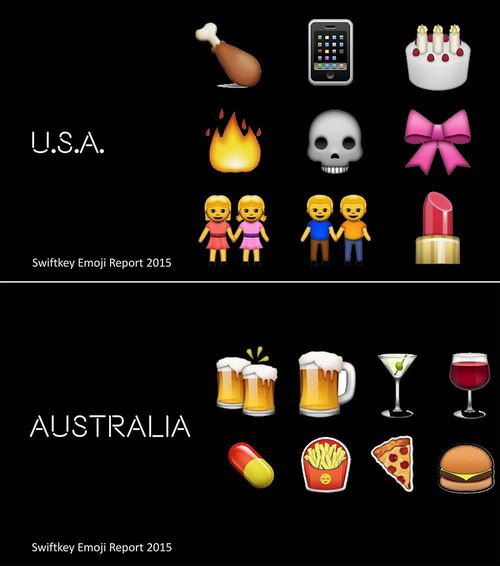 This is the USA. Within a random collection of popular Emoji such as skull, birthday cake, fire, and LGBT-related…A very diverse list… these are the popular Emoji in the U.S.
The next one is Australia. Anybody from Australia?
I don't really know whether Australians are big drinkers or not, but they use alcohol-related Emoji two times more often than average Emoji users in other countries.
Also, they use drug-related Emoji more. According to the survey, they use them 65% more often than average.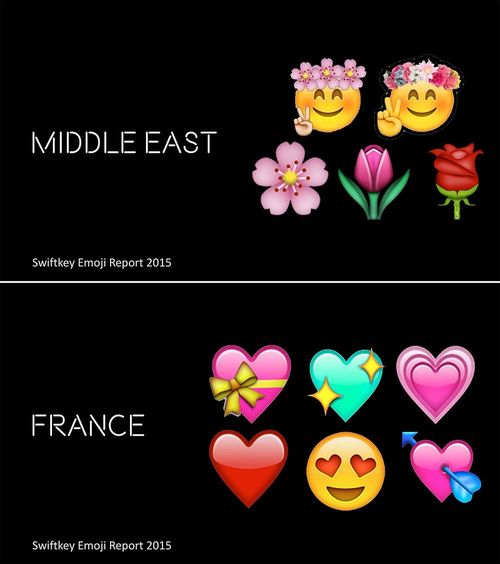 The next are the Middle-East countries. Anyone from the Middle-East? Oh…you are? According to the survey, the most popular Emoji are flowers and plant related ones. They use those over four times more often than non-Arabic speaking countries. There is a big difference between the Middle East and Australia!
I have one more. We are in Cannes now. Why don't we look at France? The last one is France. They use a lot of hearts. Heart, heart, heart… all different kinds of heart. Anybody from France?
French people use heart-related Emoji four times more often than average users in non-French speaking countries…a lot of love!
Very interesting. I focused on just four different areas and regions but the use of Emoji is very different depending on where you are from.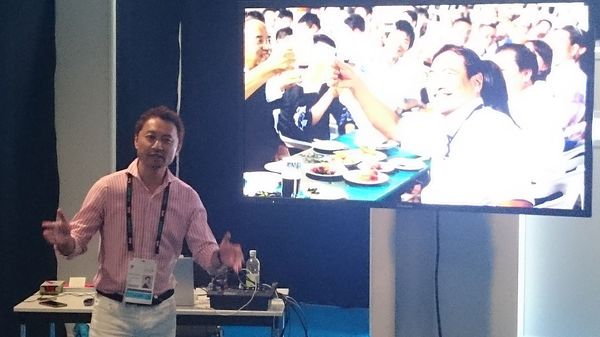 Today, I want to a little bit talk about how we see this in Japan. To tell you the truth, the Emoji boom has already been and gone here. It's like seven or eight years old. It's gone. So people in Japan are kind of surprised to see how Emoji is leading the world.
Our use of Emoji in Japan is slightly different from the rest of the world. If I analyze it more deeply, the differences highlight the key elements that make the Japanese approach to creativity unique and illustrate the differences in the way we communicate. Now I will tell you why Emoji was created in Japan.
To begin with, how old do you think the oldest Emoji is in Japan? No idea? The oldest Emoji in Japan is…take a look at this. It looks very, very old. This letter was written in the Edo-period in Japan, in the 18th century.
At that time there was a famous artist, named Buson, who was a kind of multi artist. This is the letter he wrote to his friend in which he said…
"The other day I visited your home and enjoyed it a lot. All of sudden it started raining very hard…we waited and finally I ended up borrowing an umbrella from you…and then went back to my home. Thank you so much."
That is all it's about. As you can see, there are rain and umbrella drawings. So Emoji were being used in the 18th century. In Japan there has long been a connection between E, (E means pictures or drawings) and MOJI (which means letters or words).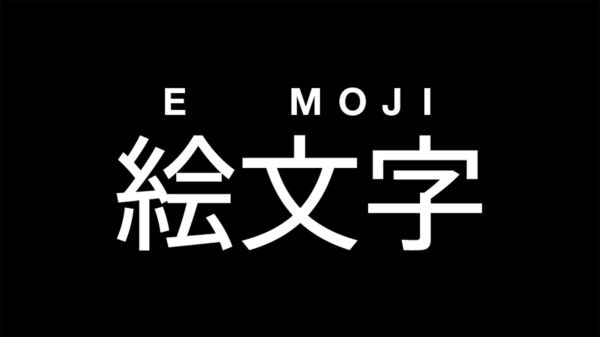 It is a combination, a connection of pictures and letters. Some people around the world believe that Emoji is something to do with emotions, because Emoji express your emotions. But originally it had nothing to do with emotions. I think that's kind of a happy accident!
So, this is the first reason why Emoji were created in Japan a long time ago.
There is another aspect, another factor why Emoji were born in Japan. It's about Shintoism, the ancient Japanese religion.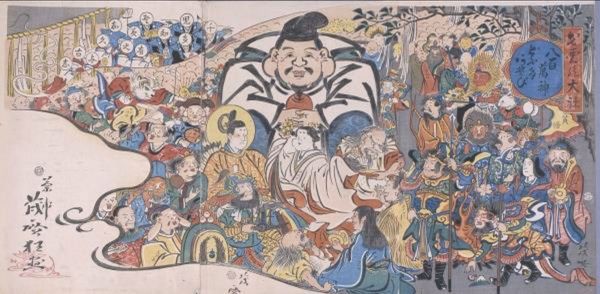 Some 8 million different gods exist in Shintoism. Interestingly, the gods decide all kind of things while they are talking to each other. They discuss and they discuss…and sometimes they compromise in these discussions. That's the concept of Shintoism.
This concept of compromise helps Japanese society as it emphasizes the importance of being considerate and caring for other people. I don't know how much you communicate with Japanese people every day, but you might have this sort of impression. Japanese people are not straight; they beat around the bush, trying to say something step by step...that's Shintoism's influence.
So, I would categorise this type of communnication as ambiguous communication. Ambiguous communication is part of Japanese culture. In order facilitate ambiguous communication, Emoji were invented. They are a way to show your consideration of others, to care for people indirectly.
The combination of letters and drawings and ambiguous communications. These are the reasons why Emoji were created.
Now let's get back to today's world. Emoji has such big potential. It has become a kind of next-generation language. We can communicate with other people or cultures through Emoji as it's non-verbal. While I don't believe it will replace other existing languages, it does have potential to change the way we communicate.
It is important for all of us, as communication professionals, creative professionals, to keep two things in mind when using Emoji.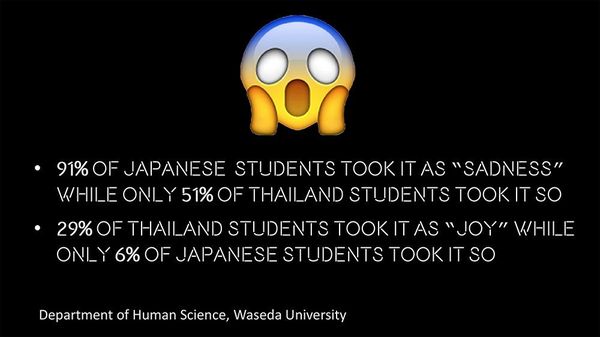 First, the exact same Emoji does not necessarily communicate the exact same emotions in different cultures. Let me give you a very interesting example. This is a survey conducted recently by The Department of Human Science at Waseda University in Japan. It's a very interesting experiment done between Thailand and Japan.
They showed a couple of Emoji designs to the students and asked what kind of emotions they took from them. If I remember correctly, they asked more than 200 university students - 100 in Tokyo and another 100 in Thailand. The result was quite interesting.
Let me show you. This is one of the Emoji they showed to the students. 91% of Japanese students interpreted this as "sadness" while only 51% of Thai students took this feeling from it. 29% of Thai students interpreted it as "Joy" while only 6% of Japanese perceived it this way. Even within Asian countries, there is such a big difference.
Actually to me, yes I'm Japanese, this looks 100% like "sadness". No way do I see this as "Joy". So you can imagine the problems if a Japanese boyfriend and a Thai girlfriend communicate all the time with Emoji!
The second thing that is also important is the "Subtext and Nuance".
This is another function of Emoji. Emoji allow you to convey your un-verbalized messages or the fuzzy feelings of your experience.
Take a look at this. Exactly same sentences, right? But do we receive exactly the same messages from them? Maybe not.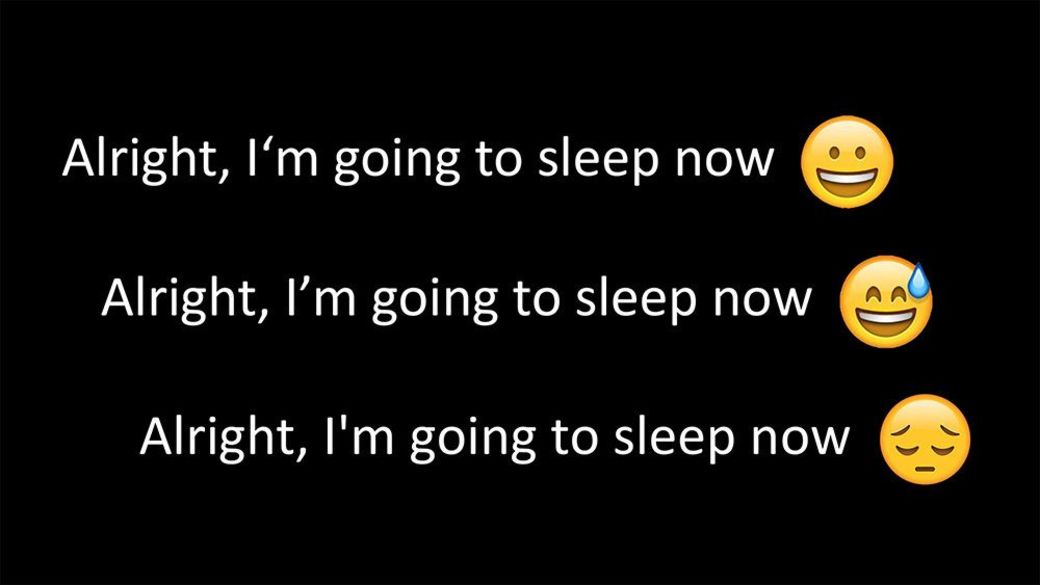 To me, the first sentence seems to say… "I haven't slept for the past 48 hours because of my creative pitch. I did it today and it was successful, so now I can go to sleep."
The second one I interpret as …"Alright, it's already 2 am in the morning. I should not have gone out tonight as my creative pitch is very early tomorrow morning. Now I am going to sleep."
The last one may be…"I'm sorry but I am going to sleep now. I want to talk to you more but I have my creative pitch tomorrow morning. I love you honey."
Impressions are so different and this means that you can entrust the communication to people's imaginations. It means making a room or blank space so that other people can imagine freely.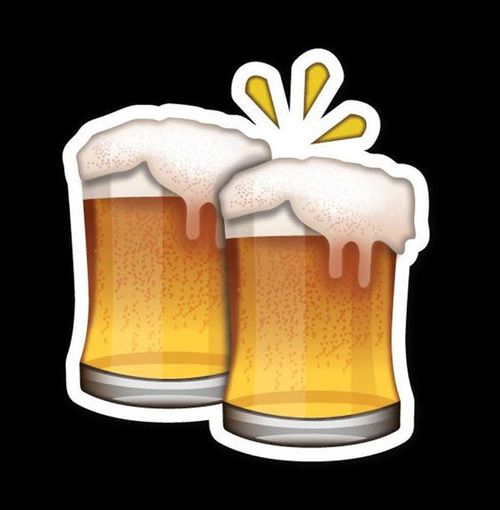 So, this is the power of Emoji. And it's not only about Emoji but also about communication in general. I think this point is very important because this world is getting more and more diversified. Emoji is all about communicating subtext, which is important for all creative and communication professionals. The essence of Japanese creativity is entrusting communication to the others' imagination. I think it's important not only for Japanese, but also for all of you here.
Well it's about a time to close my lecture…finally, I have one specific Emoji for you…it's my sub-text and nuance. Here you go. Cheers and thank you very much!