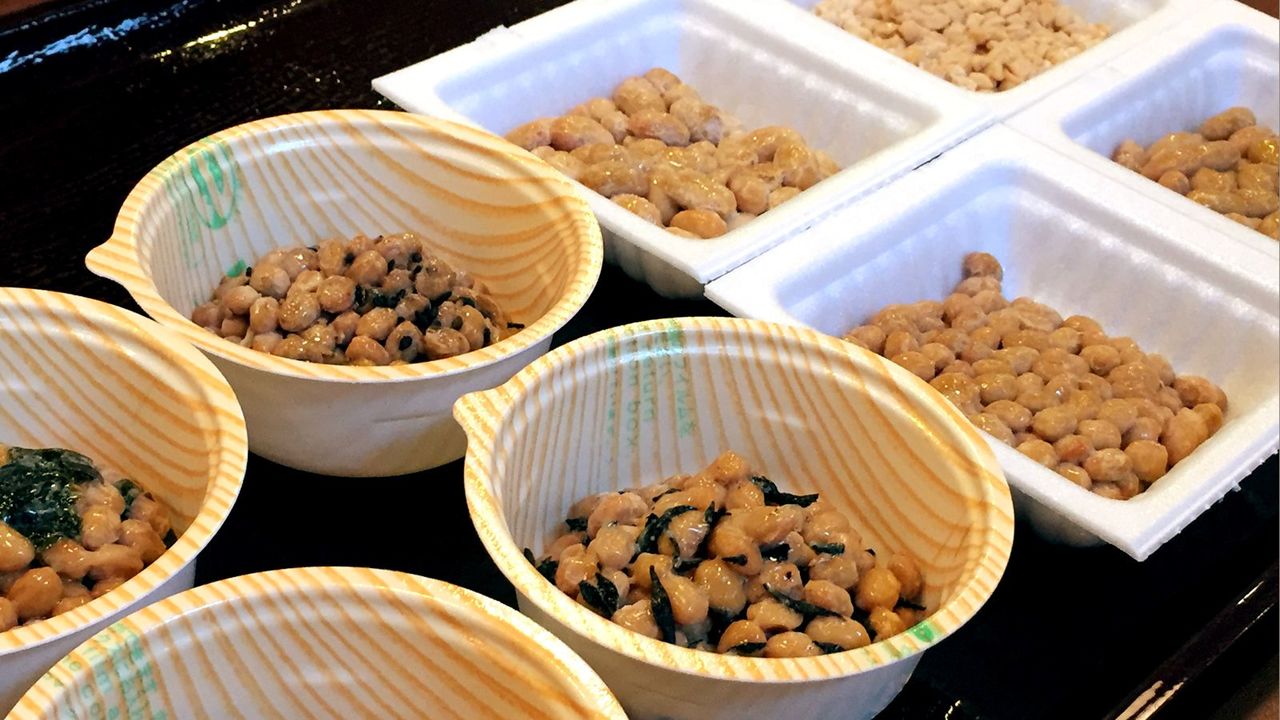 Sushi. Sukiyaki. Tempura. Mochi. Just the mention of Japanese food makes your mouth water.
And then there's natto, Japan's famous fermented soybeans.
Natto has it rough. Packed with nutrition and good-for-you vitamins, all natto wants to do is make you happy. Yet for all its nutritional goodness, natto gets stuck as the butt of the joke in videos with titles like "People from such-and-such country try super gross foods from Japan!!!"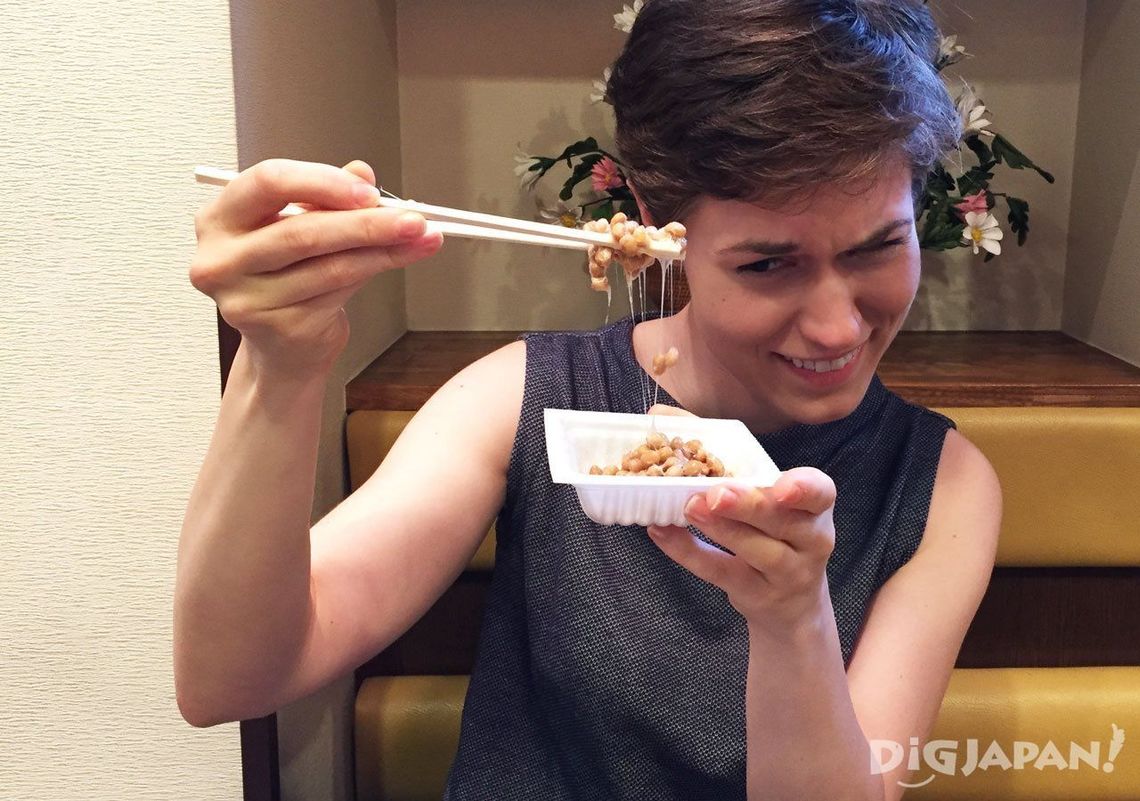 To be fair, natto's appearance, taste, and smell can be a little much for the uninitiated. Japan has something of a love affair with foods that are neba neba, the onomatopoeic word meaning slimy and sticky. Okura and grated yama imo (mountain potato) are other foods that fall into this category. A texture that is pretty unusual outside of Japan, it's really not surprising that a lot of foreign tourists regard natto with a bit of terror. But like with blue cheese, durian, or other foods that pack a punch, you really have to try it for yourself to see if you have a taste for it.
Here's the thing: it's actually kind of hard to find a place to try it. Natto is commonly served at breakfast. And considering that restaurants offering breakfast are slim in number in Japan, there is a chance that you won't see natto at all unless you're staying at a hotel or a ryokan that offers Japanese-style breakfasts.
Fortunately for all you adventurous foodies, Sendai-ya in Tokyo not only sells a bunch of different kinds of natto, but they also have an all-you-can-eat natto course that lets you try eight of them!
What is this stuff...?
Natto is fermented soybeans. Here's how it's made. After the soybeans are steamed, some good ol' bacillus subtilis is added to the mix to get the fermentation started. It's this guy that we have to thank for natto's unique sticky stringiness. Bacillus subtilis is also recognized as a probiotic, so it might do your tummy some good.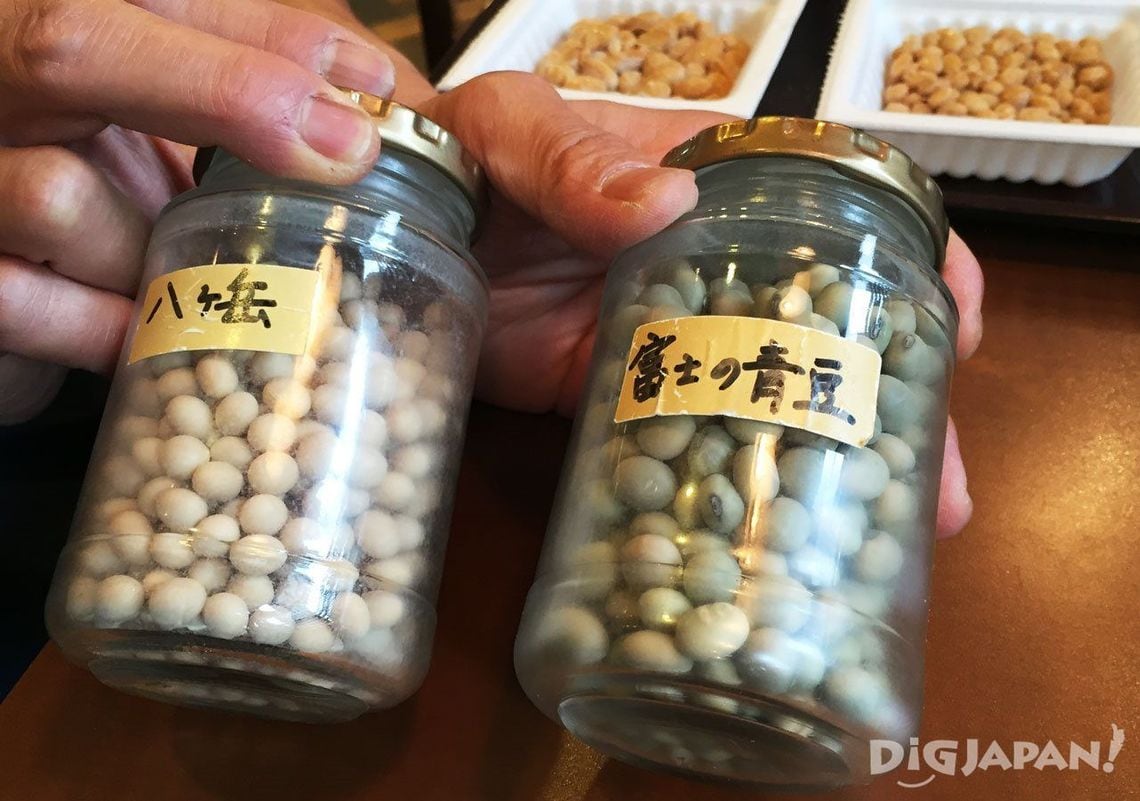 So how do you get eight kinds of natto from this simple recipe?
First, the beans. Most natto is made from mature white soybeans. At Sendai-ya, they also make natto from soybeans while they are still green and immature. In other words, they make natto from edamame.
Then there's bean size. You have small beans and big beans. The bigger the bean, the less sticky things get when you mix it, making it the best bean for beginners. Additionally, there is also something called hikiwari. This is natto made from soybeans that are crushed before the natto making process begins. This creates more surface area for the bacteria to grab onto, making this natto the stickiest and strongest tasting of them all. (Truth be told, I eat natto regularly for breakfast, and even I'm not such a big fan of this one.)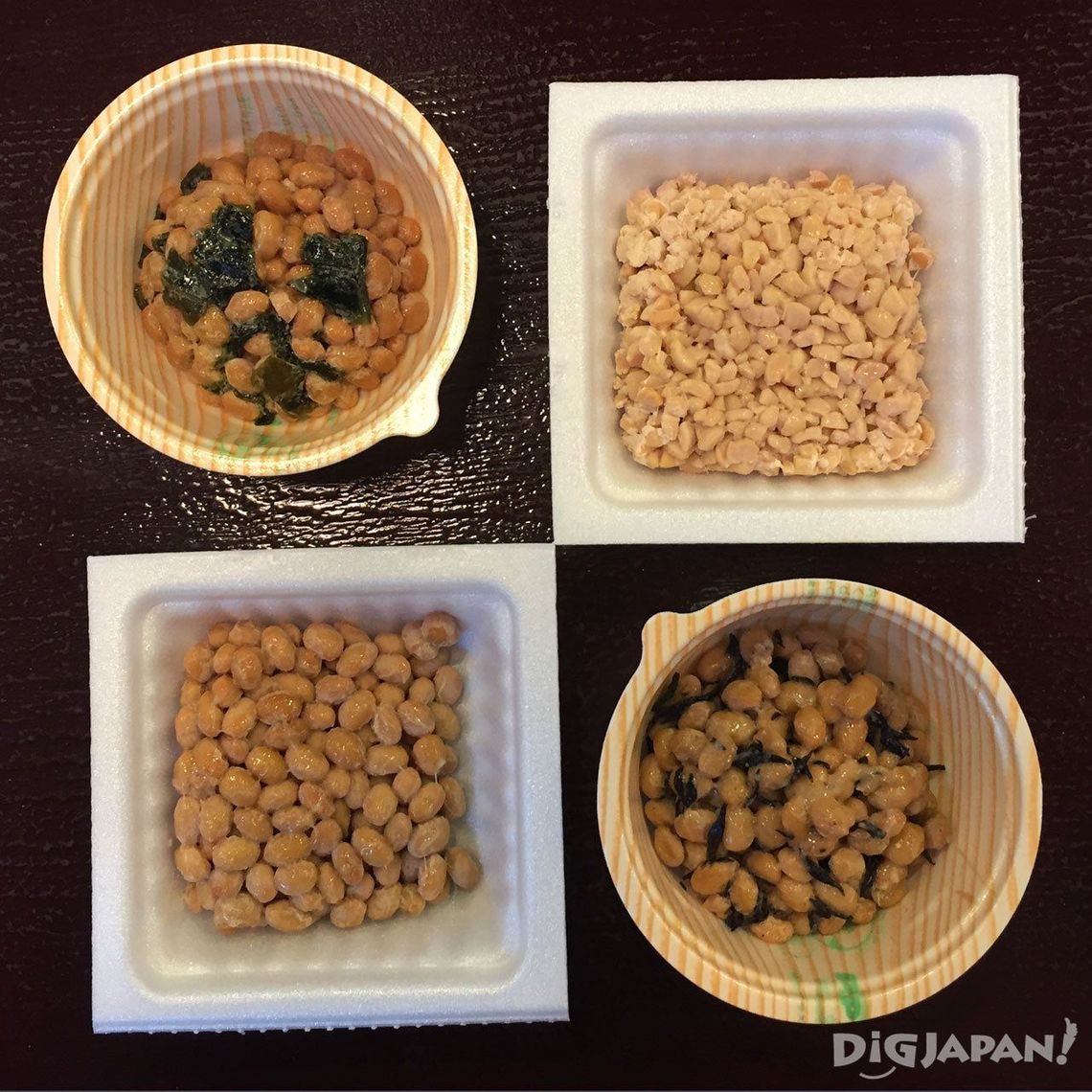 Now we come to some really unique options at Sendai-ya. Along with the bacteria, hikiji, wakame, black sesame seeds, or a type of grain called kibi is added to the mix and fermented along with the beans. I thought these ingredients really took the edge off the natto flavor while the taste of the add-in lingered like a distant memory. Also, I thought the kibi gave the natto a little bit of solid chewiness like you get with fermented rice.
How do you eat it...?
Inside a typical pack of natto there is a small pack of spicy mustard and a pack of tare, a slightly sweet soy-base sauce; out of convenience these have pretty much become the standard toppings for natto. Other options include kimchi, raw egg, soy sauce, and thinly sliced green onions.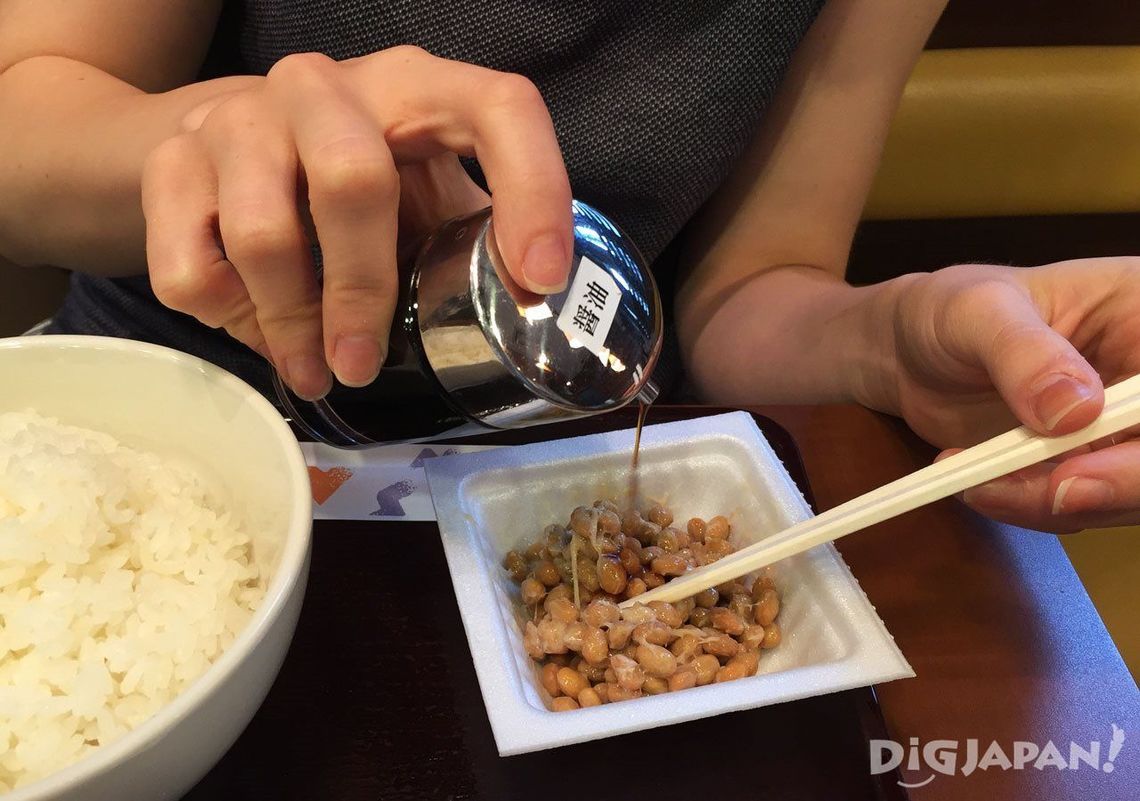 According to the store manager of Sendai-ya's store in Ikejiri Ohashi Mr. Satoshi Nagatsuka, the correct way to prepare natto is to mix it up a bit first, add the topping of your choice, mix some more to get it good and slimy, and then slide it all out on top of some rice. Pro tip: if you're not so into the whole slimy thing, mix the natto less. I personally do a minimal amount of mixing.
All-you-can-eat natto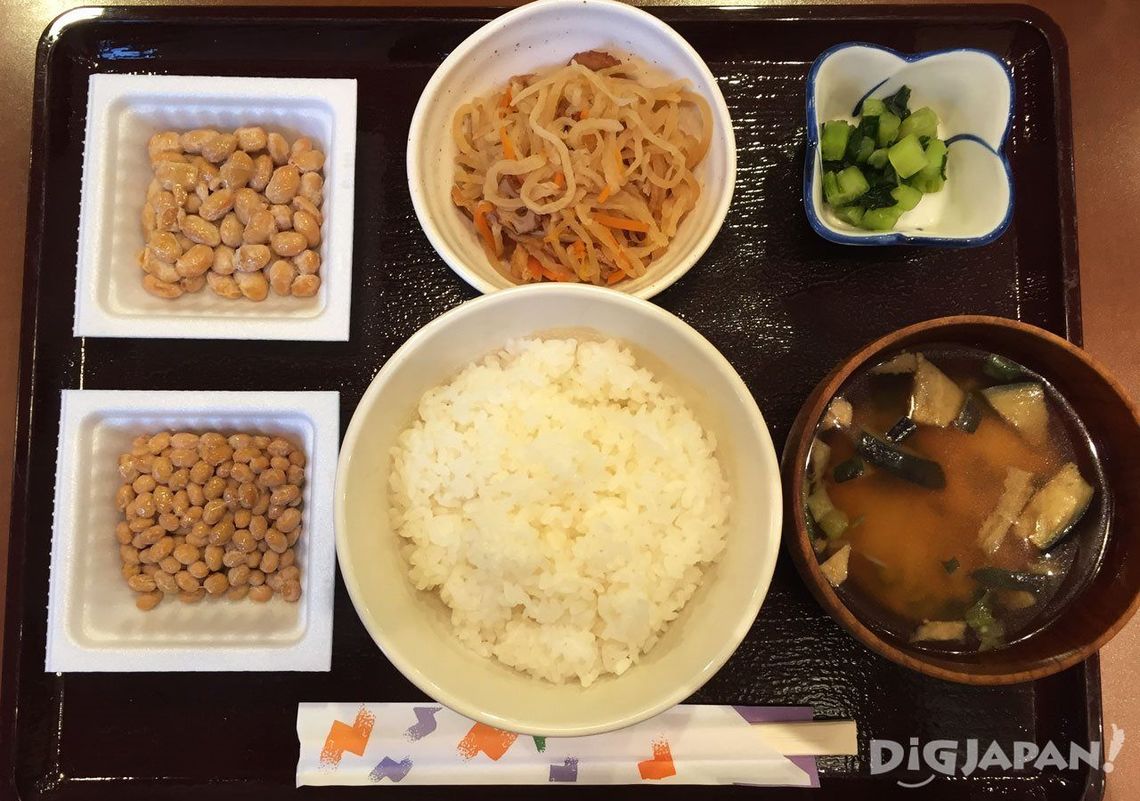 The all-you-can-eat natto set comes with a bowl of rice, miso soup with seasonal veggies, a nimono (a simmered dish), and some pickles. They start you off with two packs of the natto of your choice. Once you've finished those off, they'll bring out another two, and on it goes. You can have as many servings of whatever kind of natto you'd like, but you have to pay extra if you want more rice. Rationing will be critical here unless you're cool with eating natto on its own.
If you're a natto fan or a really ambitious beginner, then this is something you need to try at least once. My favorite out of all of these was the edamame natto. The big beans made for less slime, and it had a fresher, lighter taste than your usual natto. One thing to note is that this course is a lot of food. Be prepared and come on an empty stomach. Mr. Nagatsuka said that people who order the all-you-can eat natto set typically eat around six to eight packs. By the way, the most that anyone has ever eaten at the shop was a whopping 36 packs. Crazy.
Even more natto goodness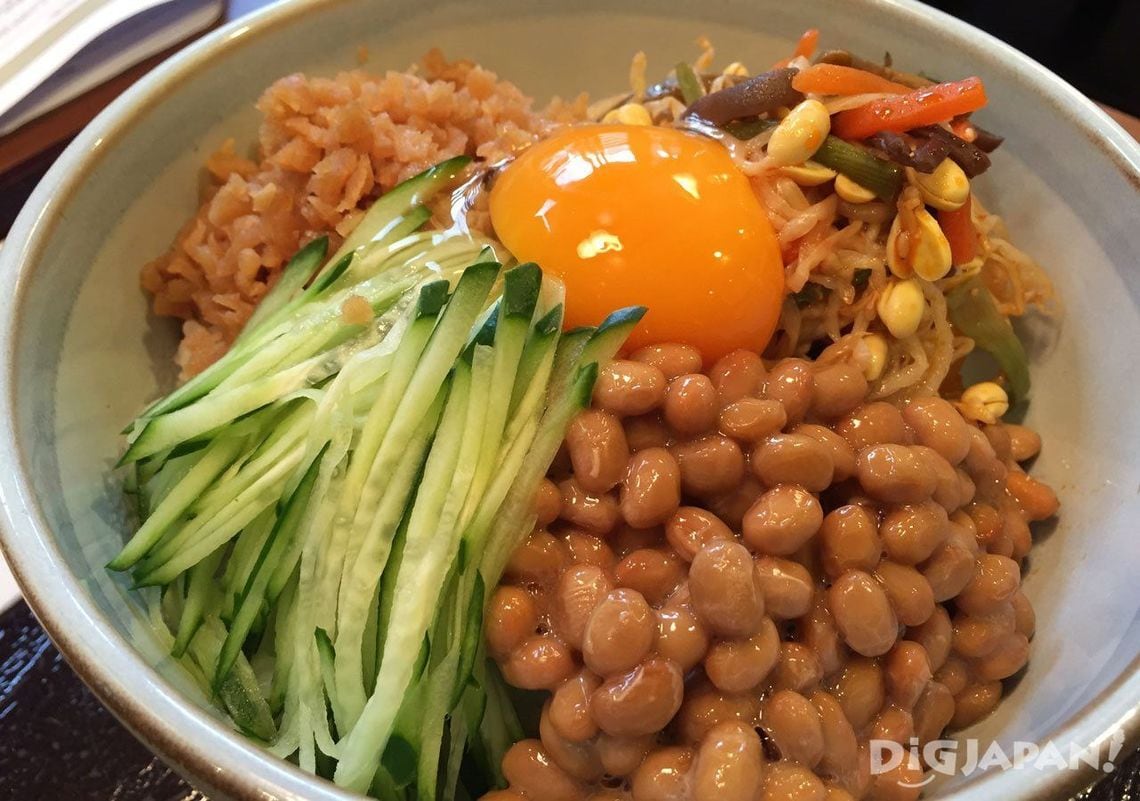 If you're not feeling the all-you-can-eat option, Sendai-ya also has regular set meals featuring-- you guessed it-- natto! Options range from the humble yet delicious natto on rice to much fancier options.
My coworker got the natto bibimbap. She kindly let me try a bite and it was amazing. I would not object to having this for lunch on a regular basis. They use a combination of seasoned veggies, sweetened soy meat, and natto topped with the yolk of a raw egg and served over hot rice. Mixing everything up takes the edge off both the taste and the slime of the natto. Added bonus: they can make the bibimbap totally vegetarian by preparing it without animal products.
Natto for dessert...?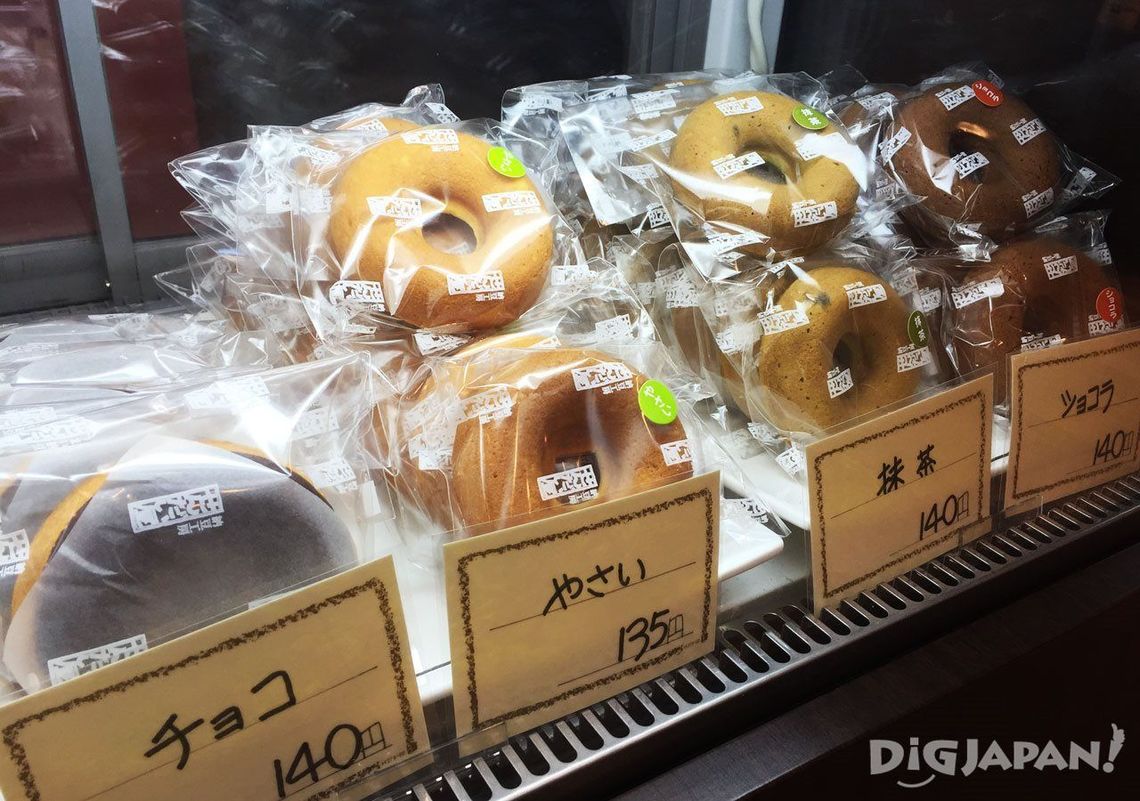 If you still have some room left after all that natto, you can try one of the shop's unusual dessert options: natto donuts! But don't worry-- even though they blend these funky beans into the dough, the finished products don't taste like natto. They're just sweet and delicious with the dense texture of pound cake. They come in a variety of flavors from standard favorites like chocolate to more unique Japanese flavors like matcha with adzuki beans or kinako, a powder made from dried soybeans that has a peanut-like flavor.
Vending Machine Fun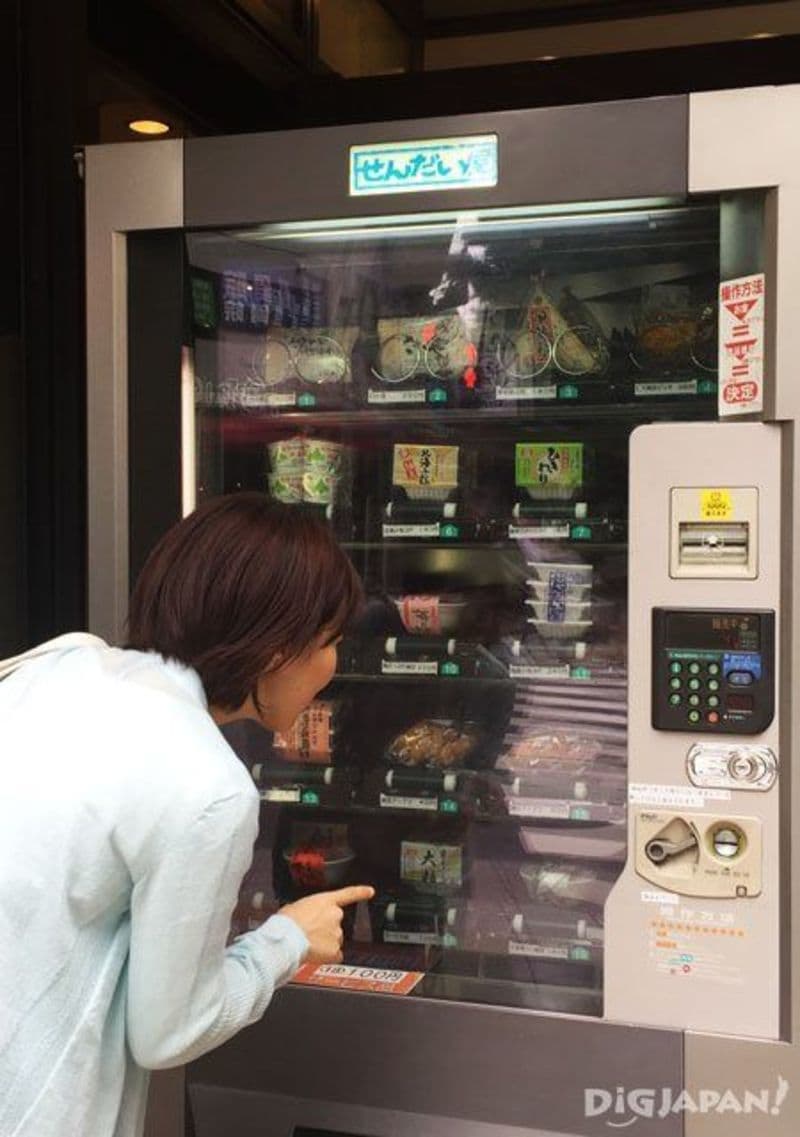 You're probably not going to need to pick up a pack of natto for the road if you're traveling around Japan, but this natto vending machine in front of the shop is definitely worth a look (and a picture or two). But if you are looking for a more travel-friendly souvenir, there are plenty of crackers with dried natto and other options available inside the store. Enjoy!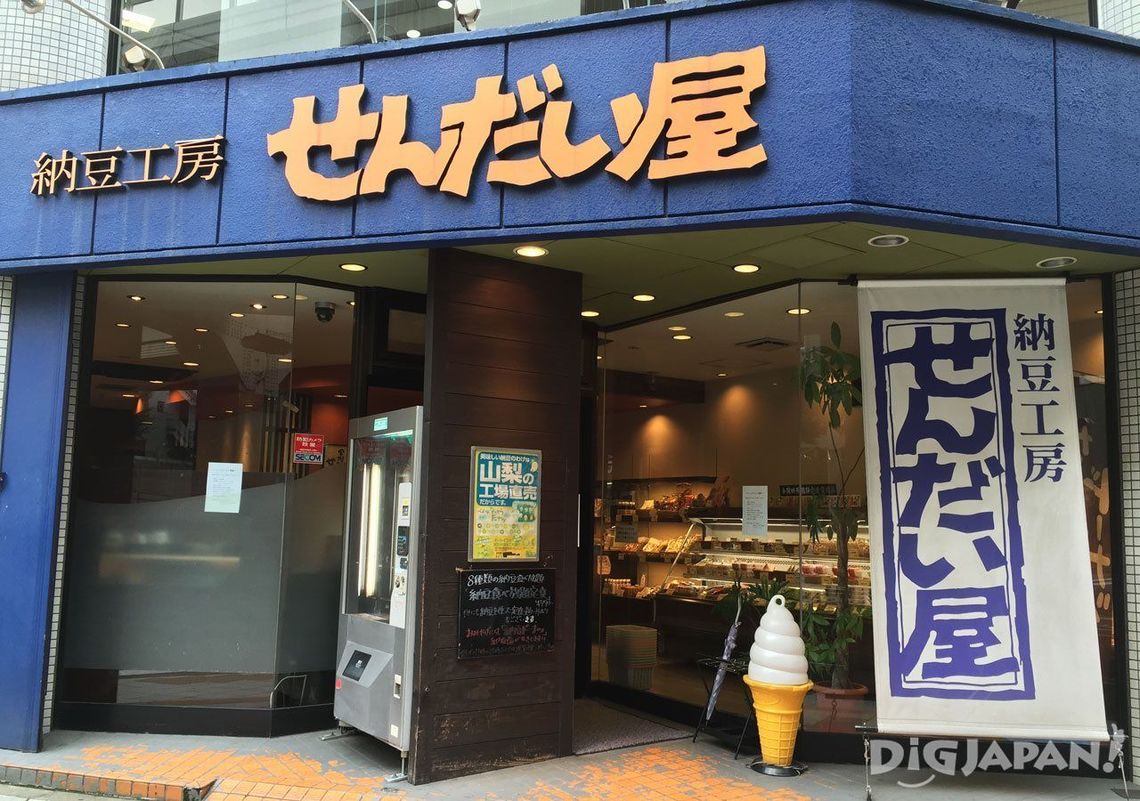 Information

Natto Kobo Sendai-ya | 納豆工房 せんだい屋
Ikejiri Ohashi Location (池尻大橋店)
Address: 3-20-3 Ikejiri, Setagaya-ku, Tokyo
Store hours: 11:00 a.m.~7:00 p.m.
Restaurant hours: 11:00 a.m.~3:00 p.m. (LO)
Access
4 min walk from the West Exit of Ikejiri Ohashi Station (Tokyu Den-en-toshi Line)
Sendai-ya's website (Japanese only): http://www.sendainatto.jp/

 

(Written by Rachael Ragalye)

Related articles from DiG JAPAN! DiGJAPAN! Tries Sushi-Making Tools
10 of Osaka's Most Picture-Worthy Signs
Art At Your Feet: Japan's Beautiful Manhole Covers



No comments to display