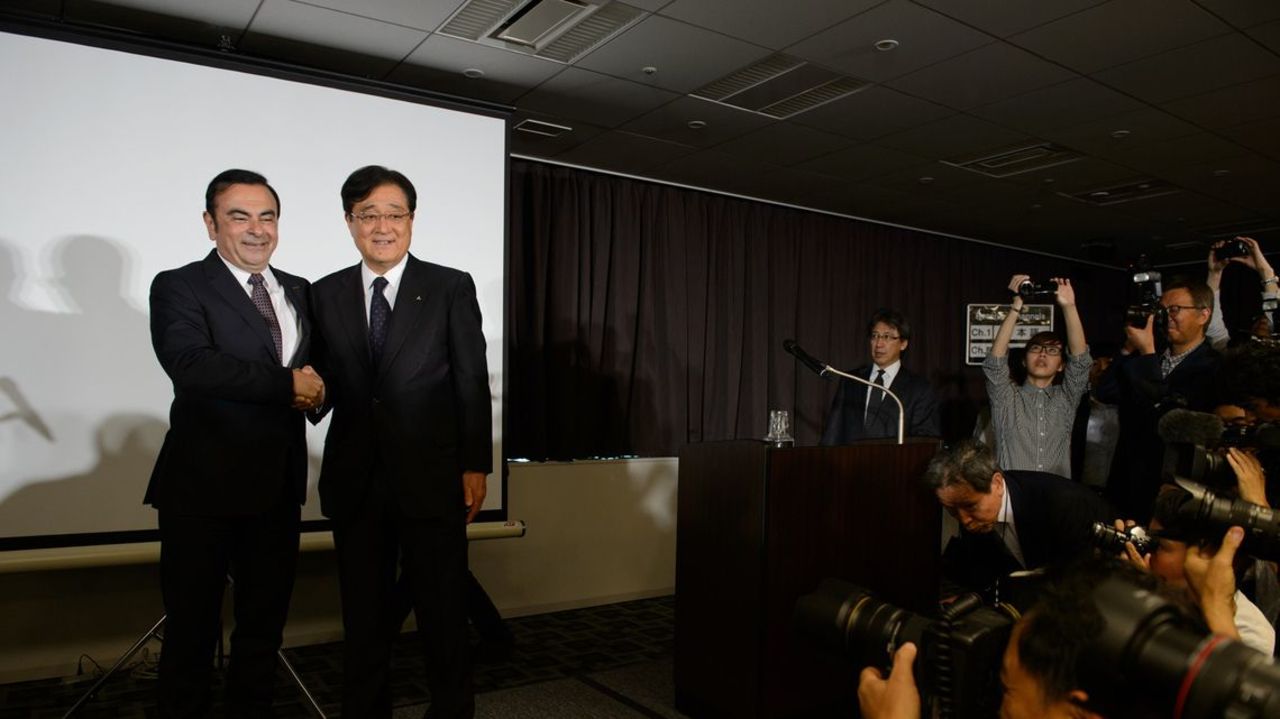 In today's rapidly changing business environment, making quick decisions is key to the survival of a company. Nissan Motors President and CEO Carlos Ghosn knows this better than anybody in Japan.
On May 12, Nissan, the second largest automaker in Japan, announced that it will spend 237 billion yen (US$2.15 billion) to take 34% controlling stake in Mitsubishi Motors.
This news caught the automotive industry by surprise, as it came only three weeks after Mitsubishi Motors officially admitted that the publicized fuel efficiency data of its lightweight passenger cars had been falsely inflated.
"No other leaders in our business can come to such a quick and bold decision like Ghosn," said a high-ranking officer of a domestic auto parts maker and former Nissan board member.
The move made by Ghosn was not only fast but also well-calculated, both in terms of the timing and percentage of stake to take hold of.
"His approach is, indeed, highly strategic. He proposed acquiring only the minimum stake required to secure the de facto control of the troubled company," said Takaki Nakanishi, the head analyst of Nakanishi Research Institute.
An investor holding 34% stake can only veto special resolutions in shareholder meetings.
In the preliminary negotiation, Ghosn had allegedly gained consent from the three Mitsubishi group companies (Mitsubishi Heavy Industries, Mitsubishi Corporation, and the Bank of Tokyo-Mitsubishi UFJ) that they would retain their 20+% stake in the group's carmaker even after the proposed deal is settled.
His aim was to seek an alliance with Mitsubishi Motors that would secure Nissan enough stake to reach the majority together with the existing stake held by Mitsubishi group companies so that they could exercise collective control over ordinary resolutions in the carmaker's shareholder meetings.
"It would actually be difficult for Nissan to control a rival carmaker all of a sudden as a sole majority shareholder without provoking antagonizing sentiments in the Mitsubishi group," said the previously mentioned auto parts company executive.
"Rather, by keeping the group companies in the game so that they would continue playing their significant roles as responsible guardians of their group's carmaker, Nissan would only need to acquire 34% stake to enjoy the de facto control," he added.
Timing was also an important element that factored into Ghosn's speedy judgment. He, himself, acknowledged this in the May 12th press conference, stating, "The rapidly declining stock price (of Mitsubishi Motors) was a great incentive for us."
Mitsubishi Motors' stock price plunged more than 40% after the scandal broke out. Prior to this crisis, it was maintaining a consistent price of 800 yen (US$7.2) and would have required Nissan to fund over 400 billion yen (US$3.6 billion) to secure the targeted 34% stake.
In the press conference, Ghosn revealed that discussion on the capital tie-up was settled with Mitsubishi Motors Chairman Osamu Masuko just two days ago.
Ghosn said he ordered the negotiation team to make the deal public as soon as possible because there is no reason to wait now that we confirmed that we are on common terms.
"It was simply whether or not we could grasp a business opportunity that suddenly emerged in front of us," said Ghosn matter-of-factly.
According to a close associate who had a chance to talk to him over the phone after the announcement, "he sounded excited and seemed to be enjoying the situation quite a lot, speaking to me in a high tone I haven't heard for some years."
His sense of exaltation was also well portrayed in the three TV news programs he appeared on the night of the press conference. Looking straight into the camera, he confidently projected that Nissan's alliance with Mitsubishi Motors will create a synergic effect worth several billion dollars.
What kind of a leader is Ghosn?
In 1999, Nissan Motors became a part of the Renault-Nissan Alliance when the Japanese automaker was facing severe financial challenges. Carlos Ghosn, who was heading the French counterpart, stepped into Nissan Motors that year, first as the Chief Operating Officer (COO), next as the President in 2000, and then as the CEO in the following year.
Since then, he has pushed forward various radical initiatives, including a restructuring scheme called the Nissan Revival Plan, to revitalize the ailing organization and enable the company to quickly achieve a V-shaped recovery.
The motive that has consistently fueled his aggressive leadership in the last 17 years has been his strong desire to expand the scale of business under his reign.
In 2000, a year after Nissan and Renault joined hands, the alliance was selling approximately 5 million cars in the global market with each responsible of about half of the total volume. However, in the next few years, Nissan outperformed Renault considerably by expanding its business rapidly in North America and China.
Nissan's advancement into the Chinese market was especially remarkable after forming a 50:50 joint venture—the first automotive joint venture in China—with Dongfeng Motor Corporation in 2003 through the full endorsement of the national government.
Although Nissan had a late start in China compared to its domestic rivals, it succeeded in outcompeting Toyota Motors in 2009 and seizing the position as the highest selling Japanese automaker in this regional market, which it still retains to this day.
By 2015, the total global sales of the Renault-Nissan Alliance increased to 8.52 million vehicles, which ranks as the fourth largest in the world. By adding the 1.07 million vehicles sold worldwide by Mitsubishi Motors, the total will reach 9.59 million, approaching that of General Motors, the largest American automaker and third largest in terms of global sales, with 9.84 million vehicles.
"It is true that the alliance with Mitsubishi will give us more potential of snatching the third position in the world as well as the momentum to join the premium league of global automakers selling over 10 million vehicles in the near future," said Ghosn.
"But the expansion of our scale of business is just an outcome and is not our objective," he additionally noted, emphasizing in the press conference that "this alliance is about building stronger partnership with Mitsubishi Motors and not about gaining control."
Nissan's chief communication officer, Hiroto Saikawa, who acted as the key negotiator of this deal, backed his leader's comments, stating "we have no thought nor intention of corporatizing Mitsubishi as our affiliate."
What Saikawa meant to say was that this deal with Mitsubishi was based on the same logic applied in the Renault-Nissan Alliance, where Renault has strategically limited its stake in Nissan to 43.4% to allow the Japanese partner to run its own business autonomously to a certain extent.
Having said that, those who know how Ghosn earned his nicknames "Le Cost Cutter" and "Mr. Fix It" through his hardline restructuring plans that saved Renault (and later Nissan) from the doldrums would largely agree that Mitsubishi will be the next subject of his relentless financial analysis.
When asked about this possibility in the press conference, Ghosn carefully avoided getting into details by simply answering, "That is something the management of Mitsubishi Motors has to think about."
Yet, analyst Nakanishi stated, "It is highly likely that Ghosn would thrash out a massive restructuring plan to cut Mitsubishi's personnel costs and other fixed expenses for a total of 100 to 200 billion yen (US$9 to 18 billion) to realize another V-shaped recovery within the next two years."
Strengthening the presence in Southeast Asia
According to Ghosn, he expects to see "Nissan and Mitsubishi cooperate in the areas of joint procurement, division of roles in the development of electro-mechanical components and auto-cruise systems, manufacturing on common platforms, sharing production bases, and expanding the share in the Southeast Asian markets through collaborative efforts."
Among these areas, Nissan has particularly high expectations for strengthening its business in Southeast Asia through its partnership with Mitsubishi. For example, in Indonesia, Nissan is still way behind Toyota and other strong Japanese players with only a meager 5% share.
In 2014, Nissan released Datsun as a strategic brand, hoping it would be a game-changer in the emerging markets. Although it increased Nissan's sales in these markets by more than 60% in 2015 compared to the previous year, this new model is still far from performing at the level it was initially planned to reach.
Mitsubishi Motors, on the other hand, is already enjoying an 11% share in Southeast Asia thanks to the high popularity of its sports utility vehicles, Pajero and Triton. In fact, Mitsubishi is reaping over half of its operating profits in Asia.
This fact alone gives Nissan a good reason to have Mitsubishi as its partner to further advance into this region where the Renault-Nissan Alliance has been struggling to expand.
Moving forward in a joint effort, both Nissan and Mitsubishi can consolidate their ongoing projects to enhance the quality of their electric vehicles (EV) and plug-in hybrid electric vehicles (PHEV) and accelerate the progress in these strategic areas.
In 2015, Mitsubishi Motors sold 43,000 Outlander-brand PHEVs and became the leading global automaker in the PHEV category.
In the same year, Tesla Motors, the emerging US competitor in the EV category, launched its Model S and sold more than 50,000 models. Its latest EV model, released this past March, captured 320,000 advance orders from around the world in the launch week despite the high price of $35,000.
Since the release of the Leaf in 2010 (as the first commercial electric vehicle in the world), Nissan has identified as the global EV leader. Thus, the recent news about the explosive demand of Tesla's newcomer must have alarmed the top executives at Nissan (if not made them feel somewhat uneasy).
However, Ghosn dared not to change his public posture, calmly describing it as "good news for us. Healthy competition helps invigorate the market."
Even so, considering that EV has been and will foreseeably continue to be the top-priority area of product development for the Renault-Nissan Alliance, teaming with an automaker like Mitsubishi with a proven track record in the field of EV technology is, without question, an opportunity that the French-Japanese duo salivates over.
"I'm absolutely sure we can learn a lot from Mitsubishi Motors, particularly in this field, ranging from the basic technology all the way up to cutting-edge applications in product development," said Hideyuki Sakamoto, Nissan's vice president and head of the company's R&D division.
"The bottom line is how we can forge and speed up the process of commercializing new EV models that are highly competitive both in terms of drivability and cost-performance," he asserted.
Although that is definitely something that the executives of both Nissan and Mitsubishi aspire to achieve together, they also know that they have to be extremely strict in enforcing a timeline.
The companies urgently need to focus on synergy before Ghosn, the ruthless leader, begins to focus on dissecting the cost structure of Mitsubishi Motors, which may (sooner or later) lead to a rise of tension between the new influential investor, Nissan, and the defensive Mitsubishi group companies holding 20+% of the stake in their group's carmaker.