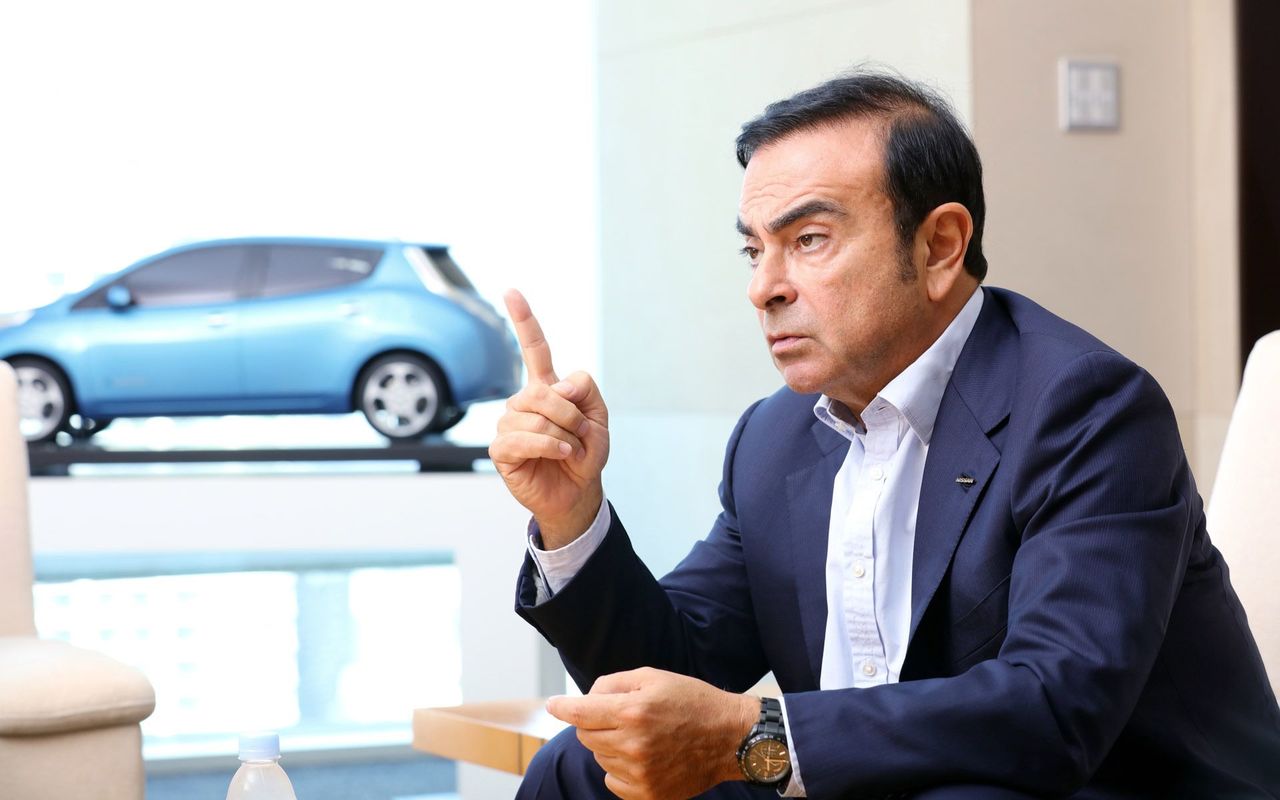 For Nissan, the largest problem has been choosing a successor for Carlos Ghosn. He was 45 years old when he came to Japan, and is now already 61. This year is also his 11th year serving as the both CEO of Nissan and Renault. The issues of when he will withdraw from the top spot in Nissan, who will succeed him, and how he or she will be chosen are still up on the air.
This is not a new problem for Nissan. After a shareholders' meeting in Yokohama in June, many of the shareholders said "Nissan has Ghosn's star power now, but we are worried about his successor."
Although it is not well known, one proposal to solve the successor problem was passed in the Renault shareholders' meeting this year. The retirement age for the Renault CEO is 65, but this proposal made it possible for the CEO to stay on for a further four years if re-elected during their term of office. Through this rule change, Ghosn, who will finish his term as Renault CEO when he is 64 years old, can extend his retirement age to 68 if he is re-elected.
Now the question is whether or not he will continue to reign as CEO for another seven years. "I will continue to work if I have the energy and as long as I have the confidence and support of the shareholders," says Ghosn. It looks as if this is a strategic move towards a long-term administration.
Exodus of high-ranking officers
However, a succession of high-ranking officers have departed Nissan, and the signs of decline in the unifying force of management have also been seen. As a result of abolishing the Nissan and Renault COO positions in 2013, Carlos Tavares, who was the Renault COO, became the CEO of Peugeot-Citroen in France in 2014.
Furthermore, Toshiyuki Shiga, who served in a managerial role for Ghosn as COO for eight years and seven months in Nissan, stepped down to become Vice Chairman in November 2013.
In fact, it would likely be impossible for any run-of-the-mill business talent to run a coalition of giant automotive manufacturers that straddles both Japan and France. Ghosn speaks four languages, has a rich network of contacts both inside and outside the automotive industry, and is capable of deftly balancing the interests of multiple stakeholders, including the French government. Does a successor to such a superman really exist?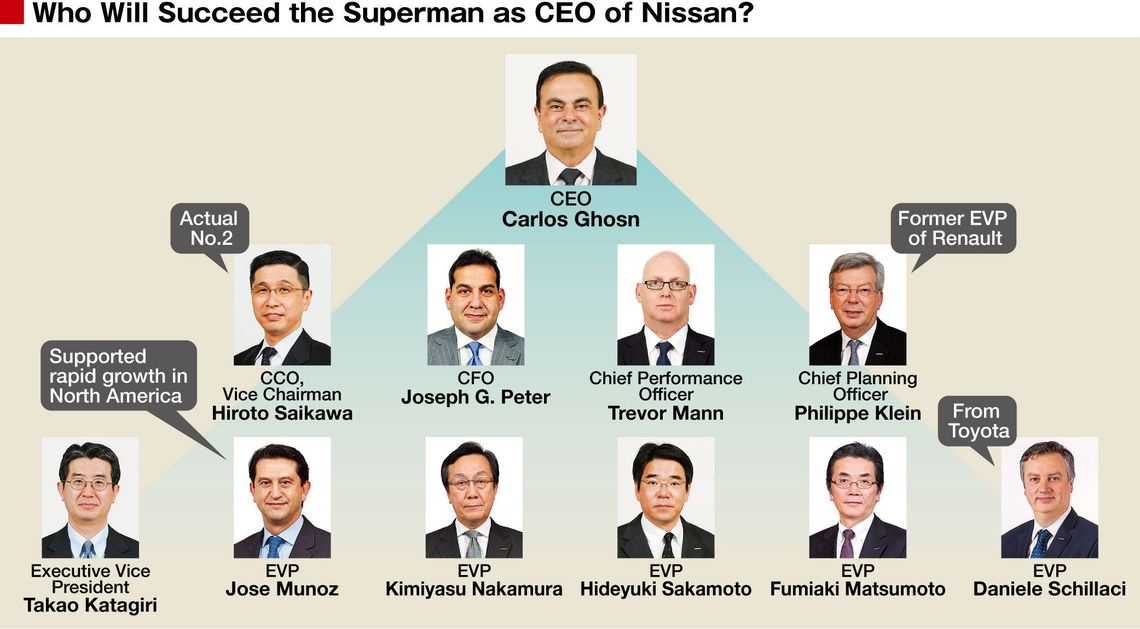 Ghosn himself said that "It is desirable that the [Nissan] successor be Japanese.
The highest-ranking Japanese executive in Nissan is CCO (Chief Competitive Officer) Hiroto Saikawa. He leads four executives who directly support Ghosn.
In addition to advancing in the purchasing field and joining the executive committee in 2004, which is the highest decision-making body in the company, he was appointed as CCO in April 2013 to oversee production and development. However, he is the same age as Ghosn at 61 years old, and many in the company agree that it would be difficult for Nishikawa to serve as successor due to his age.
Another Japanese executive with high marks is Fumiaki Matsumoto, the Executive Vice President in charge of production. He was sent to a Spanish subsidiary for three years in his late 30s. He was later sent to Renault for two years in 1999, where he promoted collaboration on the production side.A Spanish vice president who oversees production at Renault said that "his Spanish is much better than his English."
Outside of the Nissan's Executive Committee members, Development Department Executive Vice President Tsuyoshi Yamaguchi is also influential. The list of successors to Ghosn who are Japanese executives seems to be steadily growing.
However, Saikawa had some harsh comments, saying that "Although the Japanese (candidates) are strong in the manufacturing field, the pool of human resources in business operations and the sales field is thin."
Any chance non-Japanese person to succeed to Ghosn?
One of the strong prospects for a non-Japanese successor is French-born Philippe Klein, who oversees product strategy. Having served as Executive Vice President of Renault, he was appointed to his current position as a "relief pitcher" when CPO Andy Palmer suddenly retired. This is Klein's third time working at Nissan.
He supported Ghosn as a member of the reconstruction team Renault sent into Nissan, and afterwards returned to Renault. He also assisted Ghosn as managing officer in 2007. While his current appointment was as an emergency relief, many at Nissan think Klein is the best person for the job, with his work experience at both Nissan and Renault. Ghosn also has great confidence in him.
Spanish-born José Muñoz, who runs North American business, is also promising. He transferred to a European subsidiary of Nissan from Toyota Motors and was appointed as Senior Vice President of Nissan North America in 2012 after raising the track record of sales in Spain and Mexico.
He has supported growth in Nissan North America with a strategy centered on dealer reform. Muñoz is highly aggressive, declaring "Of course we will surpass (Honda, which is the No. 2 Japanese auto maker) in the U.S.", where Nissan aimed for a 10% market share in FY2016.
However, it is widely recognized that none of them have yet to possess skills necessary to replace Ghosn. An ex-Nissan executive pointed out that "Whether they choose someone inside the company or bring in someone from outside, they will need at least five years to train the new person."