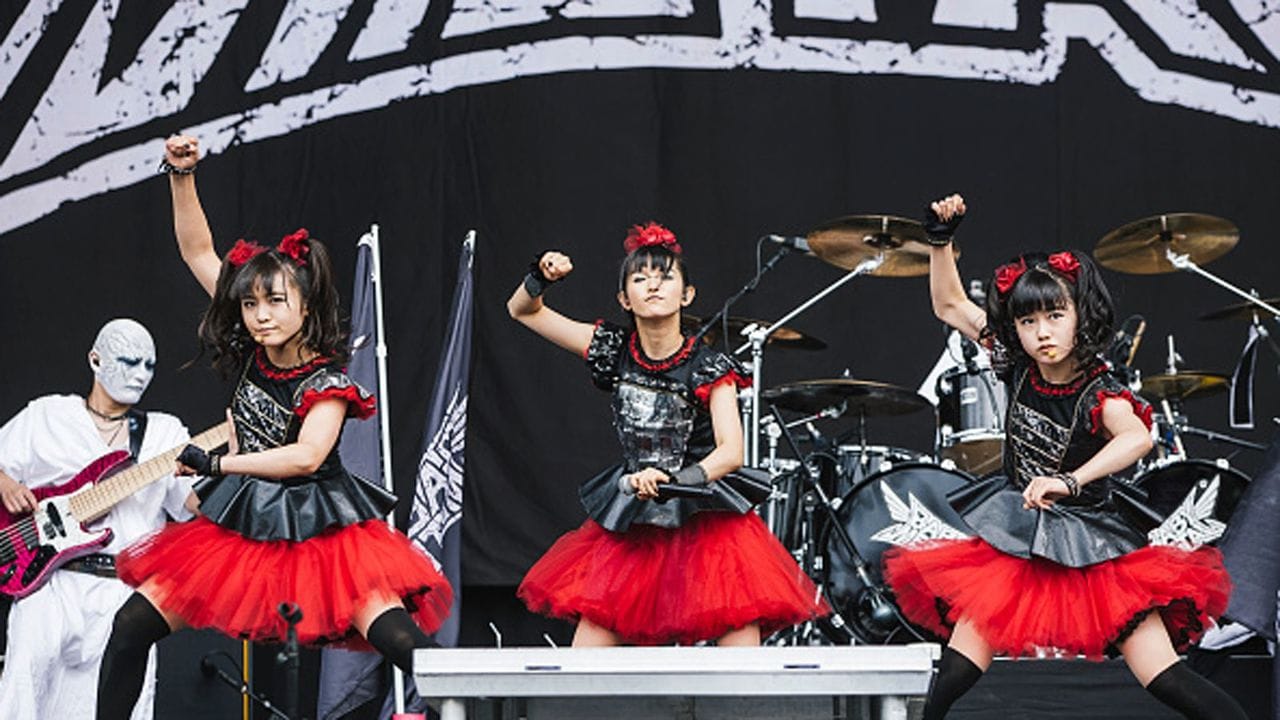 The three teenage girls who lead this metal band are doing what Japanese female musicians of the past never could, both at home and abroad. In April 2016, the Japanese heavy metal dance unit Babymetal released their second album, Metal Resistance, and claimed the No. 39 spot on the American Billboard charts.
List since Kyu Sakamoto secured the No. 14 rank 53 years ago.
In the United Kingdom, this album secured the number 15 spot on the UK Albums Chart, surpassing Isao Tomita, who held the previous record (No. 17) for a single Japanese album over 40 years ago.
Babymetal envisions the kitsune, or fox as the god of heavy metal, with the group serving as apostles on a mission to revive the musical genre. Babymetal's lead members include 18-year old Su-metal on vocals and Yuimetal and Moametal (both 16) taking charge of dancing and screaming. Their outstanding backup musicians comprise some of Japan's most talented performers, whose traditional white garb and uncanny, deathlike appearance during performances tends to shock onlookers.
Although listeners may mistake Babymetal for a comedic-style group at first, the band's global popularity is undeniable proof of the contrary. Despite the relatively recent April 2010 debut, the group is already on their third world tour. In addition to such large-scale tours, the band performs at numerous music festivals and opens for other musicians in various countries.
One of their most famous appearances was at the Sonisphere Festival in July 2014. Held in England, the birthplace of heavy metal, this event featured performances by Iron Maiden, Metallica and other legendary bands of the genre. Babymetal wowed the roughly 60,000 hardcore metal fans in the audience, and the performance won extremely high praise in European and North American heavy metal magazines—on news websites and in other media outlets. Immediately following their success at this festival, Babymetal was asked to open for Lady Gaga at her shows in the United States.
What, you may ask, is so impressive about Babymetal? That's a hard question to answer if you haven't seen them perform. If you've never experienced this group personally, I recommend searching for the song "Gimme Chocolate!!" on YouTube. The hard-hitting, metal-esque intro transitions into a bubbly, J–pop style melody line accompanied by choreographed dancing in which the girls stuff their cheeks with chocolate. In short, it's a roller coaster of a song filled with unexpected twists and turns. "Gimme Chocolate!!" has gained 52 million views on YouTube and is the center of attention among critics and fans alike.
The 1970s and 80s were the golden age of heavy metal, and it was during this era in Japan that highly talented bands such as Loudness emerged. However, the 90s saw a shift in popularity that favored hip hop, rap, R&B and other genres, as metal lost followers in Japan, Europe and North America.
Amid such challenging circumstances, Babymetal has breathed new life into the genre with their innovative approach. "The group's success has been achieved by fusing two entirely different things: trendy Japanese elements and the global niche genre known as heavy metal," says the a music producer Norikazu Yamaguchi.
In addition to Japan's manufactured goods, ample attention has centered on the country's cultural exports—such as anime and cuisine. Babymetal's success is the result of consideration for not just the listeners, but also for export strategy from an entertainment industry perspective.
"I would go so far as to say that Babymetal has created a new metal subgenre," says Shigeru Kosugi, president of the music production company Howling Bull. "Sooner or later, new artists will start to follow in the footsteps of Babymetal and create a new wave in the music industry."
Naoyuki Umezawa, editor in chief of the heavy metal magazine Head Bang, gives his take on the band: "Babymetal creates an elaborate array of sound, and it is this unique tapestry that attracts and moves their fans. They are like Quentin Tarantino, whose homages in his masterpiece Kill Bill and other great films shook up the world of cinema."
Additionally, the group's ability to impress through on-stage performances has proven key. As mentioned, Babymetal features a lineup of exceptional musicians whose skills stand out even when compared to famous Western bands. The group's on-stage performances include erupting pillars of fire, the destruction of gigantic goddess images and other dramatic visuals. The three girls' choreographed dances also display a level of skill only attainable through countless lessons and dedicated practice.
The group offers all-around high entertainment value achieved through a considerable financial investment. "If they can improve their vocal skills and become true queens of the heavy metal world, I'm betting they will continue to win the hearts of fans the world over," says Sayaka Shiomi, a music journalist with considerable knowledge in the field of American music marketing.
They're breaking the mold, pursuing uncompromising innovation in their music production work and live performances and forging a new musical genre. As a fresh and unique group founded on an approach to music that heavy metal lovers can truly appreciate, Babymetal is definitely worth keeping an eye on.