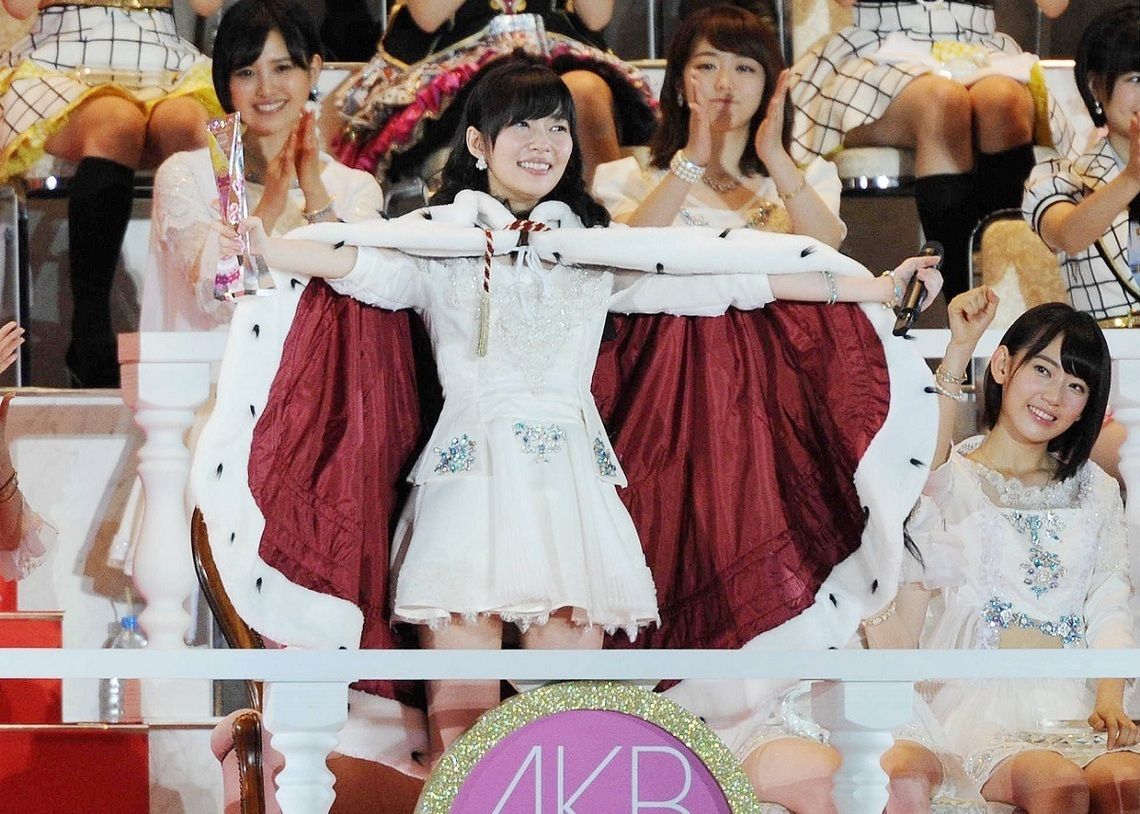 "It is as if Miley Cyrus, Taylor Swift and the entire cast of 'Twilight' were placed into a saucepan and simmered on a low boil until nothing remained but the sweet, cloying essence of fame, and if that fame was then poured into pleated tartan skirts and given pigtails." ― The Washington Post, in describing AKB48, one of Japan's leading all-girl pop music idol groups when they visited Washington, D.C. in March 2012.
In contrast to American society, where a more precocious, edgy, adult-looking appearance is often favored, AKB48 are remarkable in the way they intentionally promote a coy, immature, childish-looking image and have become archetypes for the sweet "Kawaii" (cute!) culture of Japan.
However, although these musicians may look young, innocent and naive, AKB48 are in fact a formidable force in Japan's music industry, both harnessing in their fans and expressing an enormous amount of communal spirit.
A key to how they have attracted a wide variety of fans and reigned near the top of the Japanese pop music rankings for roughly a decade might be their sometimes overlooked, but nevertheless outstanding, communication skills.
Three golden rules
During an annual public popularity contest called the "general election" held earlier this month that allows Japanese fans to vote for their favorite AKB48 members, viewers had the opportunity to see the singers' communication skills in full bloom.
Particularly impressive in this election were young ladies who made it to the final election stage like: Ms. Minami Takahashi (24), Ms. Rino Sashihara (22) and Ms. Kaori Matsumura (25), with Ms. Sashihara taking home first place honors in the competition.
In peering beyond the flash of charming uniforms and flirtatious smiles and gestures, one can extract from the election speeches what might be deemed three essential rules of good communications (the "3C's" of excellent public speaking):

① Confession

② Conflict

③ Connection
Let's touch on each, one by one.
① Confession
Revealing a personal secret, showing a moment of vulnerability to the audience, helps to build trust and humanizes the speaker. For example, the women shared the following points about themselves:
"Back when I was a student in Oita Prefecture[, Japan], even I had thought, albeit incorrectly, that I was rather cute... But look more closely and you'll see that I'm really quite ugly, with small breasts, and very few positives physically." (Miss Sashihara)
"I had been losing my hair. I was trying my best to hide it with hair powder, and only recently it finally started getting better." (Miss Matsumura)
It is natural for those listening to the women's disclosures to become drawn in by such unabashed confessions of raw feelings. When speakers talk only of strengths and positives, we may become wary and skeptical of their messages, but when they open up to us and admit their weaknesses and shortcomings, we as audience members may identify with the speakers, themselves, and therefore with their messages more.
② Conflict
"I joined [AKB48] in its very first year in 2005 and have watched many members move on from the group. There have been a lot of struggles, and a lot to think about. For example, about one year after I got involved, I realized something. It was that I would probably never become the most popular girl in this group. After all, [wideley admired]Atsuko Maeda entered the group at the same time as me, and Yuko Oshima [another recognized starlet]was there to compete with me." (Miss Takahashi)
"When I entered AKB48 initially, I could never really get to the core of the music group, and I always wondered about the impossible dream of getting there. I thought about how I could become more like Atsuko Maeda or Yuko Oshima, but I felt I could never actually become just like them. So I kind of fought and rebelled within the group as a result." (Miss Sashihara)
The members of AKB48 are talented storytellers because they posit themselves in the roles of heroines who must overcome obstacles to attain victory, a pattern echoed in classic fairytales and found in almost every Disney story featuring a central female character. The idea of persons meeting challenges head-on, resolving the problems they face, is a deeply appealing one.
The young women's speeches bring up moments of strife and tension as they describe the commotion inside their own hearts, quarreling with other group members and becoming rivals, and these difficult circumstances give them a more congenial platform from which to boast of their own triumphs.
"I had no idea what I could do to increase my popularity... But [over time] I really grew to like this group, so I knew I wanted to try my best. Before I knew it, I had become a team captain, and eventually the group's top director." (Ms. Takahashi)
"This year, I, Sashihara, with my lack of self-confidence and all, managed to become a standout in this year's election!" (Ms. Sashihara)
Most of us enjoy a happy ending to a story, it is what makes it compelling, and the successful outcomes to the performers' nail-biting conflicts deliver a satisfaction for their fans.
③ Connection
"I'd like to reach out to all of the people who don't have enough confidence, who like me were bullied by others, who have isolated themselves from the world, who have caused their parents so much trouble, on whom the sun doesn't even seem to shine, I was able to become again this year!" (Ms. Sashihara)
"I know very well that it is hard to keep trying your best. But I want you all to never forget that if you don't try your hardest, nothing of value will ever be achieved." (Ms. Takahashi)
Share stories with fans
The AKB48 members' stories are keenly aimed at the hearts of their fans, offering empathy and commiseration. From every walk of life, fans are led to believe that "she's talking about me," or "she's talking to me."
Anyone who experiences setbacks and runs into walls might feel as if the group members are communicating with them, personally, as they think: "Hey, I've had a similar experience, so maybe I can overcome it, too."
In making comparisons to stars like Miley Cyrus, The Washington Post may have identified something important. Cyrus enjoyed stardom as a television and movie actress from a young and impressionable age, and although she has gone through growing pains in transforming herself into a musician and attempting to prove her independence as an artist, Cyrus is still known for sharing with fans stories about her own experiences which have included incidents of fierce bullying.
This softer, genuine side is an element that helps Cyrus maintain her status as a frequent topic of conversation in the United States, even as it is slowly eclipsed by her more recent "in-your-face" bad-girl persona.
Another American music industry icon, Taylor Swift, a former honor student in school who began her career as a country music singer with a prudish reputation, has in recent years become renowned for using her ex-boyfriends as muses for her smash-hit songs.
Yet Swift actively uses social media, and occasionally gives out surprise presents, including visitations with her fans in their everyday lives. By staying in close communication, and remaining relatable to the common person, Swift bolsters her chances of remaining popular and newsworthy.
Both Cyrus and Swift give off a natural and inviting "human scent" made up of hints and hues of strengths and weaknesses, as they divulge their true feelings and sing about tumultuous real-life experiences.
They express themselves, body and soul, and thereby deliver a message that gains broad appeal. In this way, the members of AKB48 are similar in their communications styles. The Japanese girl-band can be seen as a charismatic combination of Cyrus and Swift, unafraid to open themselves and show their shames, weaknesses, struggles and successes.
In speaking to the public, clad in short skirts and brimming with cute grins, AKB48 cleverly finds a way to communicate the truth ― and it is that which strikes a powerful chord with audiences.