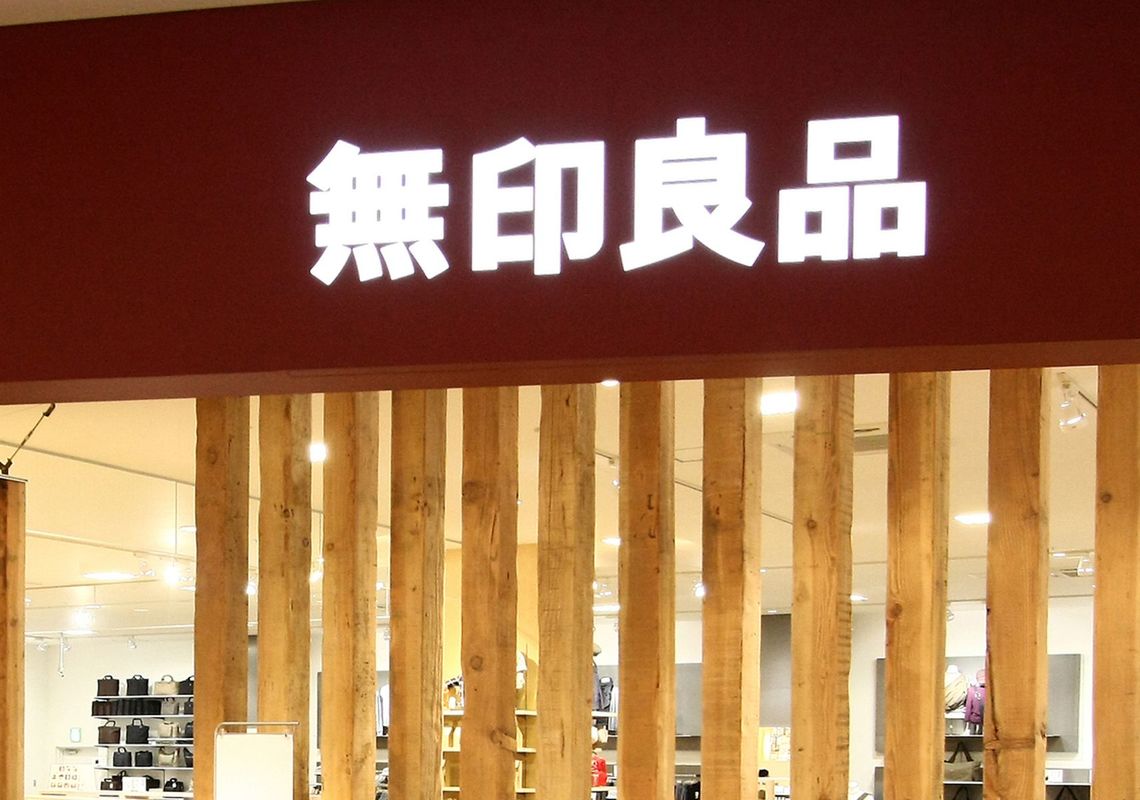 Muji, the Japanese lifestyle brand handling everything from housewares and furniture to clothing and food, continues to perform well in Japan's domestic retail market--one of a handful of retailers, including Uniqlo, that have managed to thrive in the wake of the consumption tax hike.
Ryohin Keikaku, operator of Muji stores, recently announced that their fiscal 2015 ending in February saw new records for operating revenue (260.2 billion yen, up 18% over the previous year) and operating profit (23.8 billion yen, up 14%).
Growth was driven by brisk demand in China and other Asian markets. The company is bullish on its ability to maintain this momentum, predicting double-digit increases for both revenue and profit for the fiscal year ending February 2016.

Revenue from overseas operations surged 64% to 77.1 billion yen in the year through February 2015, while operating profit soared 75% to 7.2 billion yen. "In addition to strong growth in China, Taiwan and South Korea, our performance in ASEAN is stabilizing," said Masaaki Kanai, president of Ryohin Keikaku. The overseas business currently accounts for roughly 30% of the company's consolidated sales and operating profit.
Rapid expansion in China
Muji opened its largest overseas store in Chengdu, Sichuan Province, in late 2014. With floor space of more than 3,000 square meters, the new facility underscores the importance of China to the company's growth.
In all, Muji opened 30 new stores in the Chinese market last year--that's more than it opened in Japan--bringing to 128 the number of Muji shops in the Middle Kingdom. Underwriting the aggressive expansion in China is the performance of existing stores, which have been doing well.
The Muji brand is steadily building up its reputation among Chinese consumers and earning the kind of customer loyalty it has come to rely on in Japan.
Back in Japan, meanwhile, sales grew 6.8% to 172.1 billion yen but operating profit declined 10% to 12.4 billion yen. The drop in operating profit was attributed to the weak yen. Notably, however, sales at existing stores logged steady year-on-year growth (up 2.7%) despite the consumption tax increase. Sales for all stores fell 4%--the source of the decline a retraction in the food division following blockbuster curry sales in 2013--but core divisions (apparel and household goods) fared well.
Apparel grew 23% year on year thanks to brisk sales of "Non-itch Washable Turtlenecks," cashmere sweaters and organic cotton clothing while the household goods division chalked up 13% growth fueled by hit products like the "Body Fit Cushion."
Ryohin Keikaku has two categories for its products: "Muji Selection" for high-value-added goods and "Always a Good Price" for staple products available at a reasonable price. The company has been raising average prices by increasing the number of "Muji Selection" items--a move that appears to be bearing fruit.
Reducing the variety of products by more than 10% and focusing its efforts on selling "Muji Selection" goods last fiscal year resulted in average sales per customer rising 3.6% over the previous year (despite a slight decrease in the number of customers) and a 2.7% increase in existing store sales.
Mr. Kanai says the company's strength lies in "Muji" inspired product development. "We are always discussing, from a consumer's perspective, how we can improve quality of life in this age of material abundance. And how we are going to sell our products in the stores; including store design, marketing and online information distribution. All divisions come together every week to share ideas on these things."
The killer tool
To fully exploit this strength, Muji relies on a mechanism that has been thoroughly incorporated into every workplace: MUJIGRAM. It may look like a standard store operating manual--describing as it does every single detail, from store displays to customer service to order placement.
What distinguishes it from other operating manuals, said a company official, is MUJIGRAM's fluidity: the manual is in constant flux, frequently updated with employee inspirations and customer feedback. That is the source of Muji's strength.
The company's confidence is apparent in its business forecast for the current fiscal year. Prices on domestic products will be raised an average 3% to 5%, a decision prompted in part by headwinds whipped up by the yen's depreciation.
At the same time, the company has demonstrated its pursuit of value by increasing the proportion of "Muji Selection" products. The aggressive pace of new store openings will be maintained, with most of the openings taking place overseas: of the planned net increase of 71 stores, 47 are outside Japan. In addition to more stores planned for China, the company intends to open a flagship store in New York in the autumn of 2015.
When it comes to sales and profits, the company has made a bullish forecast for the current year: an 11% increase in sales to 290.1 billion yen and a 25% increase in operating profit to 30 billion yen.
The company has also announced a new president. Effective June 1, senior managing director Mr. Satoru Matsuzaki will replace Mr. Kanai, who is to become chairman and representative director. Mr. Matsuzaki, who joined Ryohin Keikaku in 2005, has a track record in overseas sales.
Mr. Kanai has high expectations for Mr. Matsuzaki, saying: "With his long experience in foreign countries and large network of contacts, I hope he will steadily achieve growth in overseas market." Matsuzaki, expressing his aspirations, saying: "I would like to take successful business models from Japan and transplant them in overseas market, where they can evolve." As with Uniqlo, the Asian market is an engine for Muji's growth. Observers will be watching to see how far the company can demonstrate its capabilities.