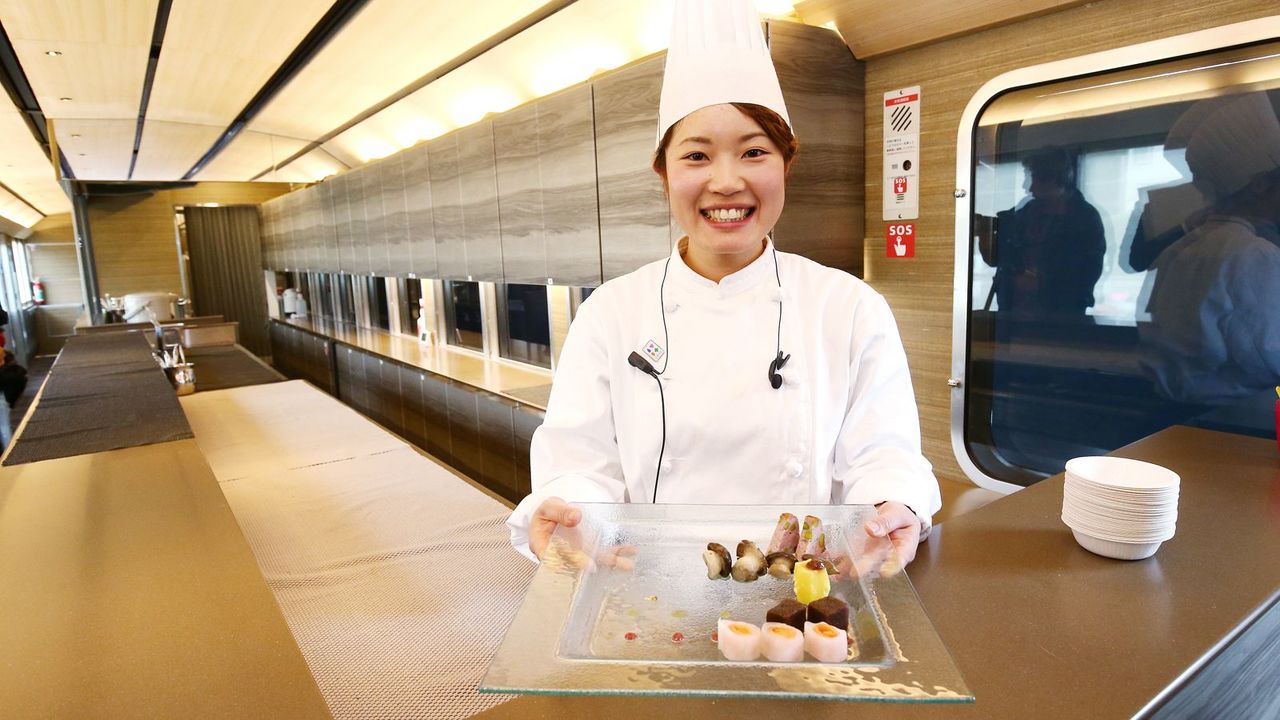 Japan is a Treasure Island of incredible sightseeing trains.
Recently, new concept-train developments in this country offer the passengers much more than extra comfort, with meticulously calculated and ergonomic seating plans, plush interior layouts, and eye-catching exteriors, to the delight of shutterbugs.
An increasing number of sightseeing trains now have one or more dining cars to entertain the guests with fabulous food service. These dining cars also complement the extraordinary riding experience as the guests watch the breathtaking scenery pass by the wide car windows.
I gathered hoards of information from railway operators nationwide on their most recent ventures to boost regional tourism with their strategic vehicles. I picked the following ten sightseeing trains as my personal recommendations for those of you who want to enjoy both the splendid views from luxurious seats and the charms of savory food catered during the ride.
1. Fifty-Two Seats of Happiness, Seibu Railway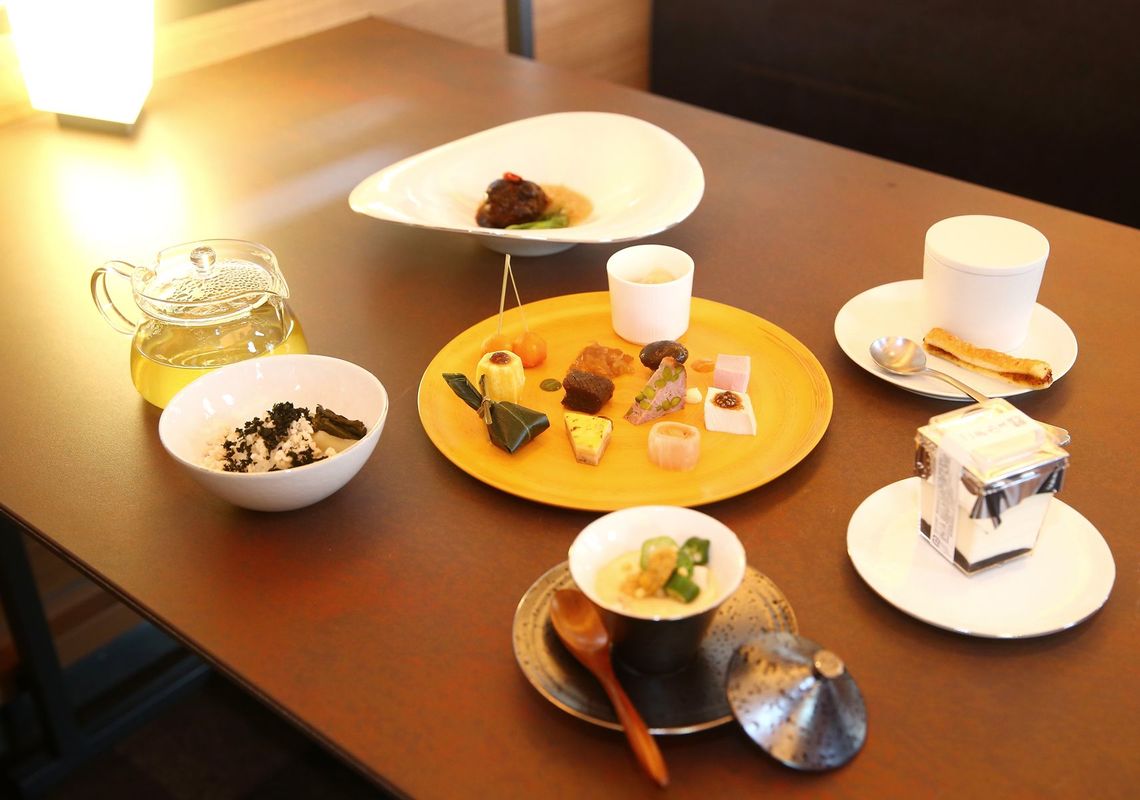 From April 17, Seibu Railway began operating a spacious four-carriage concept train that accommodates a total of only fifty-two guests. Specifically, it consists of two dining cars with twenty-six seats each. One car is used exclusively as a kitchen, and the other car provides an open space for multiple purposes. The train was designed by Kengo Kuma, the architect who recently made headlines as the official winner of the 2020 Tokyo Olympics Stadium design competition.
The meal plan offered to passengers riding on the outbound route departing from either Ikebukuro or Seibu Shinjuku, the two terminal stations in Tokyo, is a 10,000-yen ($91) brunch course. A 15,000-yen ($136) dinner course is offered to passengers riding the inbound or return route that departs from Seibu Chichibu or Hon-Kawagoe in Saitama Prefecture.
Both courses feature palatable dishes using local ingredients, such as the top-grade beef known as Musashi wagyu, which is prepared by well-renowned chefs specializing in Japanese, Western, and Chinese cuisines. The course fees (10,000 yen and 15,000 yen) include both the meal and a train pass that can be used to get on and off freely at any stations on the Seibu line that same day.
Both outbound and inbound trips take two and a half to three hours to complete, with long stops midway to allow the passengers to appreciate the blissful time and space against the backdrop of the beautiful mountain landscape of Chichibu.
2. Rokumon, Shinano Railway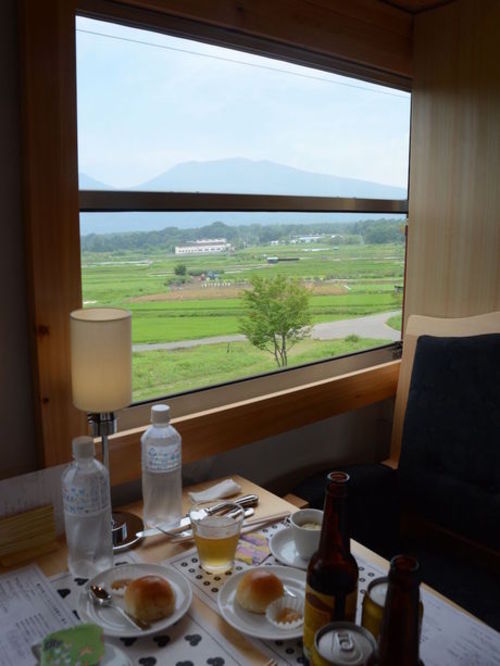 Shinano Railway, a quasi-public operator in the Hokuriku region, proudly presents a sightseeing train composed of three distinct carriages. One is furnished as a traditional Japanese restaurant with intimate dining cabins separated by sliding rice paper doors to maintain privacy. Another car (No. 3) is specifically designed for passengers who simply want to spend a pleasant time without the food service.
The passengers who opt to reserve their seats in the two dining cars will enjoy a French course when riding from Karuizawa, or they will be enchanted with genuine washoku dishes collectively known as kaiseki if they are departing from Nagano.
3. Tohoku Emotion, East Japan Railway (JR East)
In October 2013—about thirty months after Tohoku was hit hard by the Great East Japan earthquake—this white-coated, diesel-driven, sightseeing train was launched as one of JR East's CSR projects to accelerate the reconstruction of quake-affected areas. Composed of two elegant dining cars and one kitchen carriage, it will draw tourists to this nature-rich region.
Tourists boarding this train in Hachinohe can change to Sanriku Railway for an inland excursion when they arrive at the final stop, Kuji. While riding along the Pacific coastline, they can revel in the Tohoku state of mind by indulging in a full-course meal and enjoying the panoramic sea view.
4. Iiyama Line Scenic Train Oykot, JR East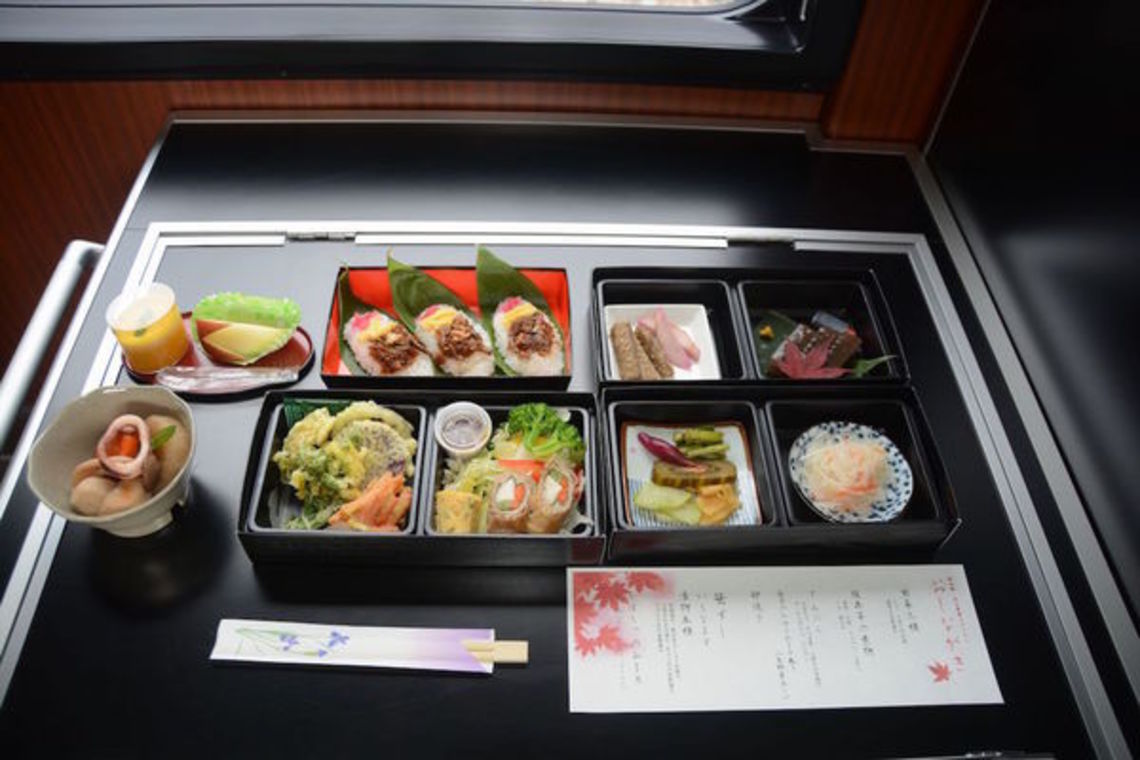 JR East is operating this rustic sightseeing train—which is TOKYO spelled backward—on the Iiyama line around once every month as a chartered train for group tours. Passengers who wish to escape hectic city life and gain peace of mind will marvel at the idyllic countryside. As the serene Chikuma River flows gently along the Iiyama line, passengers will feel at home as they savor local rarities, such as sasa zushi (sushi wrapped in bamboo leaf).
Many of these package tourists also look forward to dipping themselves in hot springs to get physically and spiritually refreshed before they return to the urban jungle.
5. Restaurant Kiha, Isumi Railway
If you are interested in spending leisure time on a weekend enjoying great food and fresh air in the suburbs of Chiba, this train may be your perfect match.
Isumi Railway, a local operator based in Chiba, has refurbished old diesel cars that had been used by Japan Railway group companies several decades ago. The result is a nostalgic restaurant train that offers diverse options depending on the weekend planner's schedule and budget. The menu changes regularly according to the day of service and the operating route (inbound or outbound).
The current lineup of food plans includes authentic Japanese and Italian courses featuring Ise lobster and various desserts, including wagashi (Japanese desserts).
6. Fujisan View Express, Fujikyu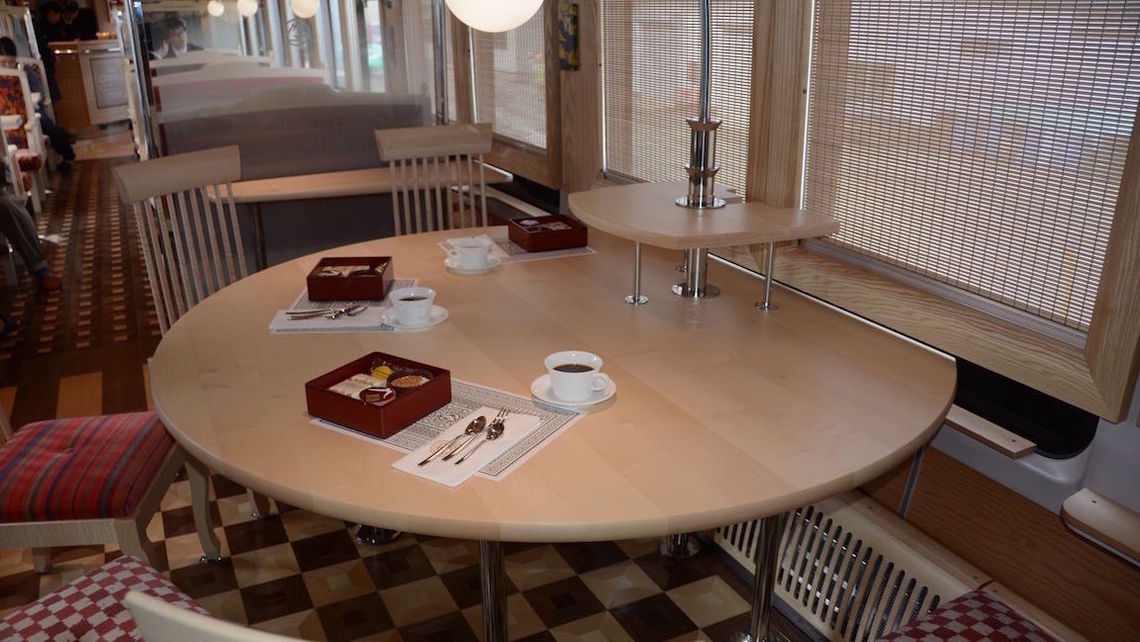 A local railway company operating around the area of Mount Fuji launched a three-carriage sightseeing train on April 23, entertaining travelers visiting the world-famous mountain. It offers unconventional seating plans and special desserts prepared by the leading chef of the Highland Resort Hotel. Such sweets and the picturesque views of the magnificent mountain would definitely add delicious memories to any passenger's ride.
7. Fruitea Fukushima, JR East
Another tour that is highly popular among sweets lovers is circuiting the local towns of Fukushima in this stylish café train that has been in service since last spring.
As the train's name clearly suggests, the passengers can delight in their afternoon teatime with a wide selection of cakes that use locally grown fruits, such as strawberries, cherries, and peaches. Instead of or in addition to coffee or tea, passengers may order freshly squeezed juice of these rich fruits produced in Fukushima.
As the train climbs over the hilly area, the spectacular vista of Mount Bandai that comes into view is exceptional, especially when seen from over the counter in the free lounge space provided in one of the carriages.
8. GENBI Shinkansen, JR East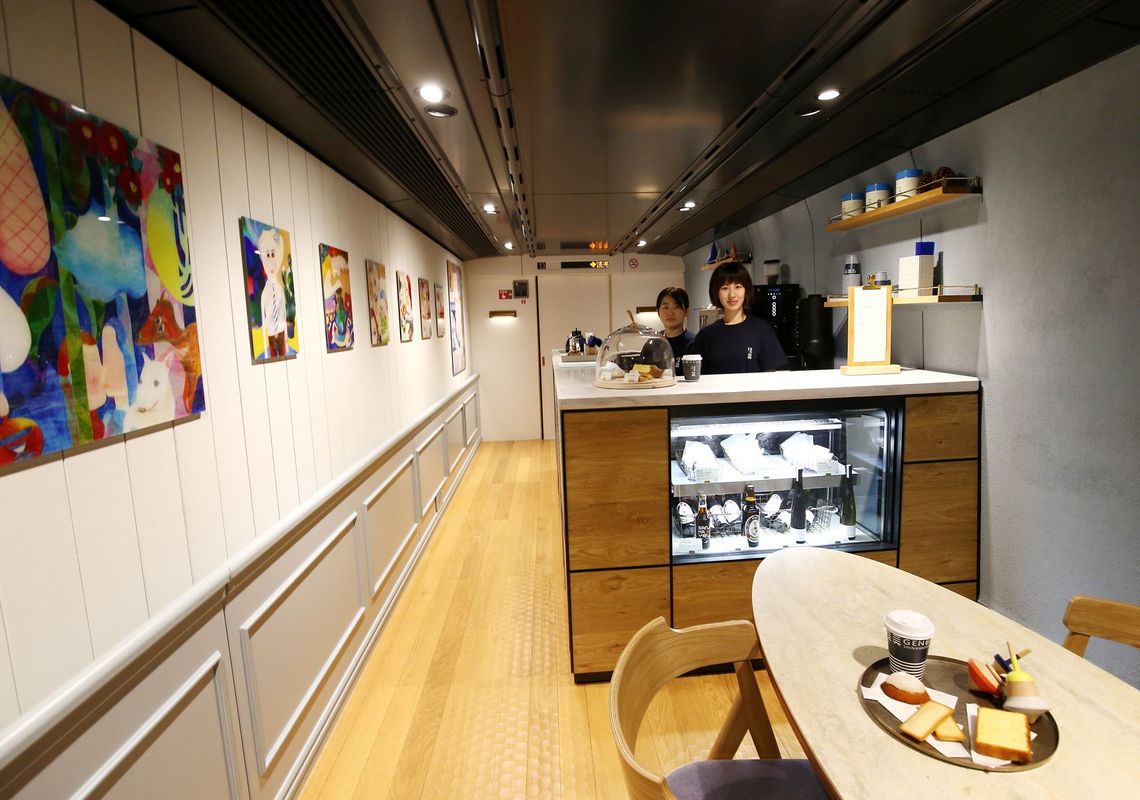 GENBI Shinkansen marked its sensational debut on April 29 as the world's fastest "mobile museum" of contemporary art. It also has an attractive feature for gastronomists.
Car No. 13 is designed as a café space that allows passengers to immerse themselves in the fine arts on display and an array of culinary delights made from carefully selected local ingredients.
The butter and cheese made on the island of Sado in Niigata Prefecture and the sweet rice cakes that use the powder of triple-A rice brand Koshihikari (grown in the paddy fields of Uonuma) as the main ingredient are some of the many refreshments served in this café, which is already receiving great reviews.
9. Koshino Shu*Kura, JR East
Sake lovers, this is a train you can't miss!
When JR East planned to operate a food-themed sightseeing train in Niigata, it seemed very logical for the company to leverage the rich varieties of locally brewed sake, which have long been the highly sought-after souvenir gifts to buy in Niigata.
If you are a hearty drinker who is not familiar with Niigata yet, you should remember the name of this prefecture as one of the best rice-growing regions in Japan. Simply put, Niigata is the origin of one of the best rice wines you can find on the whole planet.
So, all you boozers, come onboard and get lit up with shots of the world's finest Japanese wines. The buzz you get from repeated toasts will be jollily amplified during the ride while you swing to the live performances of artists mesmerizing you with jazz and other seductive music.
Early birds will get an extra treat when they ride on this train heading to Jōetsumyōkō in the evening. Watch the orange sunset on the faraway horizon of the Sea of Japan while the train stops at a local station along the coastline. I guarantee that it will be one of the most memorable happy hours you will ever experience.
10. Izu Craile, JR East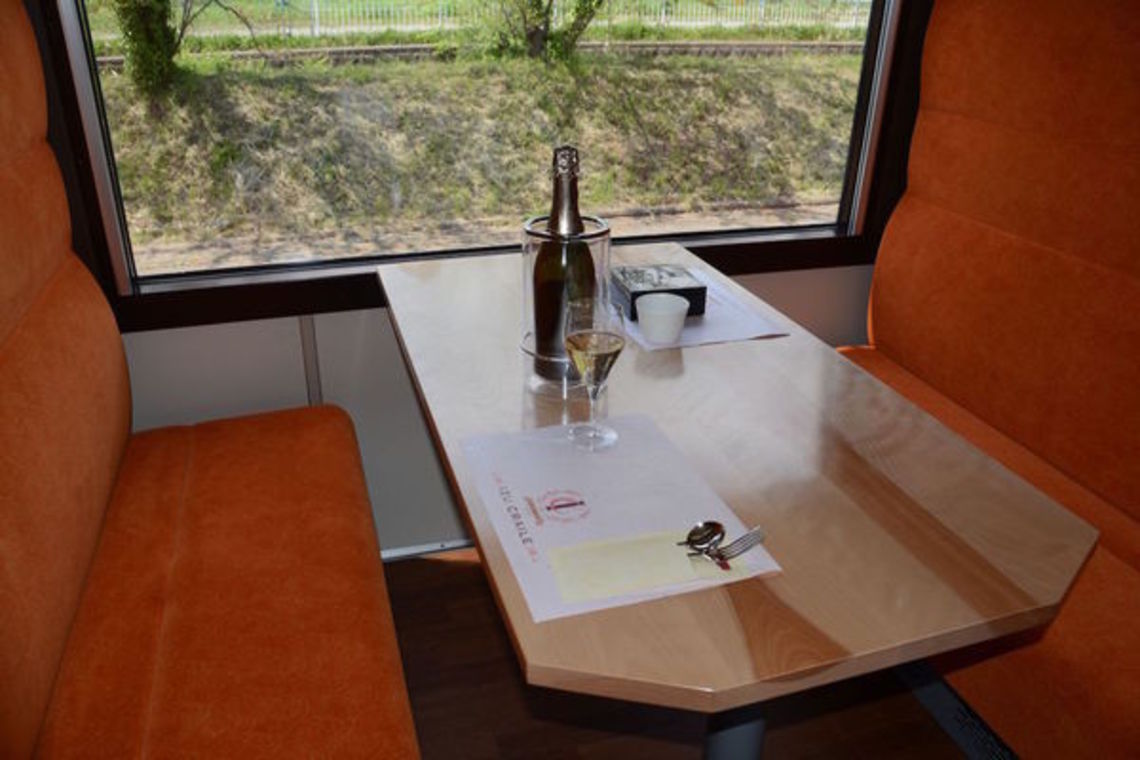 JR East is set to launch another concept train on July 16. The main objective of this latest project is to introduce a charming sightseeing train that circuits the resort spots in and around Izu Peninsula.
The current plan includes the layout of two-seaters facing the window to enable the passengers to be in direct view of the Pacific Ocean. Compartments will be available for tourists traveling in a group who want some privacy among themselves when they want to raise their voices to share the high moments during the exciting ride.
Also included in the operator's blueprint is the bar counter, which shall be furnished in the second carriage as the working space to serve elegant dishes and Izu-themed cocktails. The supervisor is the famous female chef of a local French restaurant that is receiving wide acclaim, especially from female food connoisseurs.
As you can tell from the above list, the level of creativity and productivity the Japanese railway operators put into their development of concept trains is utterly amazing.
As a matter of fact, there are actually many more noteworthy "restaurant" trains besides these ten that I personally recommend to tourists seeking an extraordinary experience by rail. They are all highly satisfying, both scenically and gastronomically.
They would certainly include Hisatsu Orange Railway's Orange Restaurant Express; Kyoto Tango Railway's Tango Kuro-Matsu, running in the suburbs of the old capital; and Nagaragawa Railway's Nagara, operating along one of the most limpid streams in this country, to name a few.