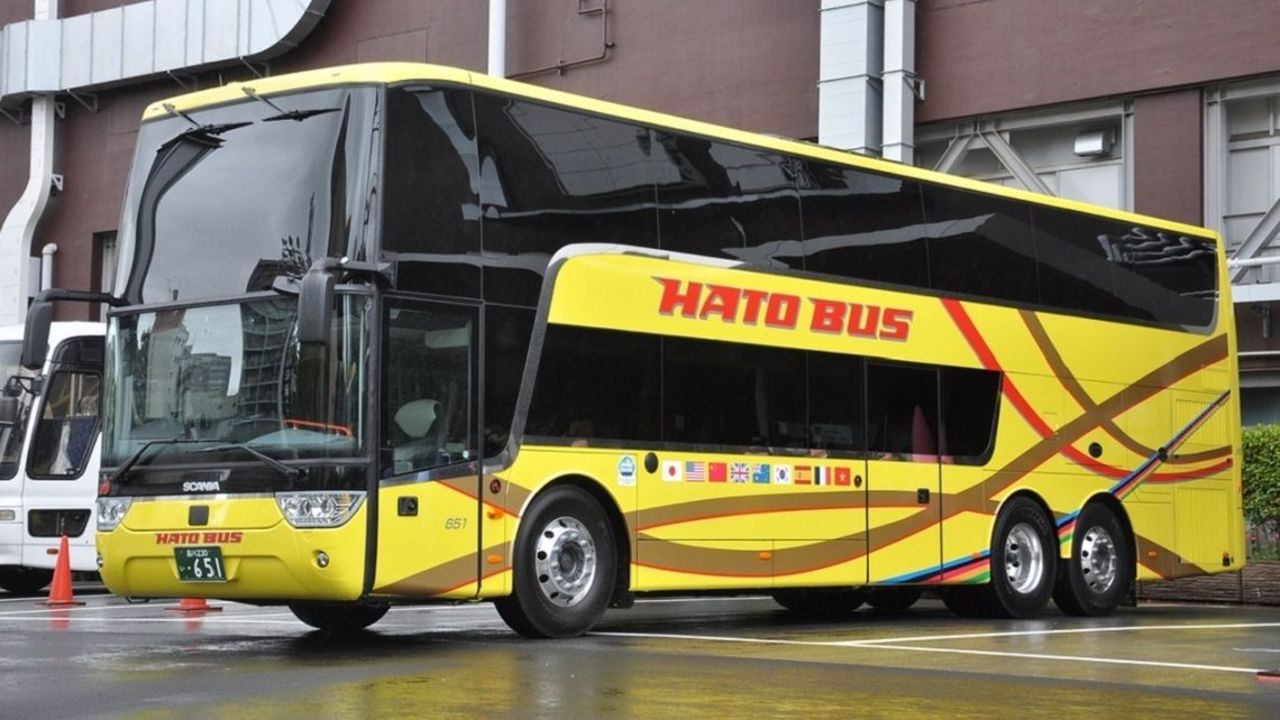 Tourists visiting the capital of Japan can now tour the city in a brand new double-decker bus run by Hato Bus, the leading Tokyo-based sightseeing bus operator.
The newly introduced double-decker is called the Astro Mega. It is a specially designed bus that Hato Bus asked two European manufacturers to develop, according to the rigorous specifications required to meet the road conditions and regulatory restrictions in Japan.
Scania in Sweden was commissioned to create the chassis and engine, and the body was structured by Van Hool in Belgium, both known globally for their expertise in transport solutions for large vehicles and custom-made engines.
Hato Bus invested 80 million yen ($720,000) in this project, which cost more than twice the price of a regular single-storied coach. But the operator still thinks it is worth the price, considering all the state-of-the-art features this new fleet member can offer its customers.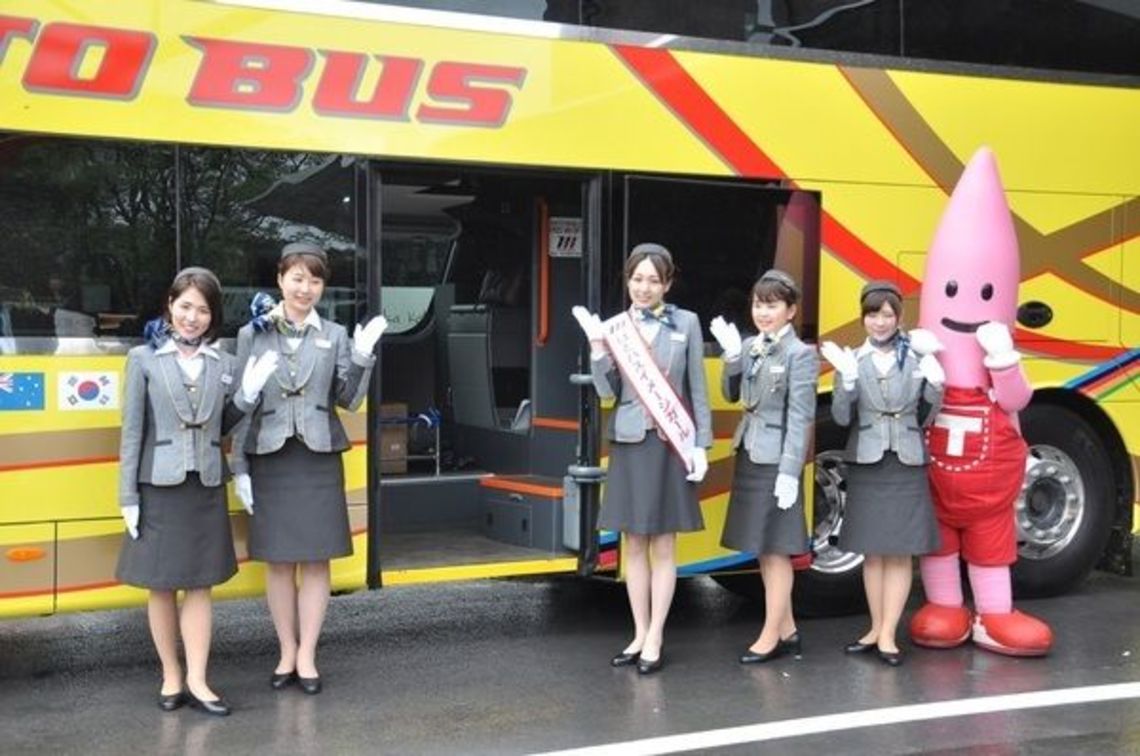 Although Japan has produced numerous home-grown automakers with successful businesses worldwide, many motor heads in this country still prefer driving foreign cars. When it comes to importing buses, however, Japan has long been a niche market.
Until recently, the lack of popularity of imported buses was largely due to the difference in the standard specifications applied to large-sized vehicles in this country. Buses manufactured in Europe are typically designed to be slightly bigger than domestic models, and require special permits issued by customs and transportation authorities to be imported and used as they are on Japanese roads without adjusting their original size and capacity.
In addition, Japanese bus operators have generally been reluctant to purchase foreign buses because of the uncertainty of receiving adequate after-sale care. They fear the risk of not being able to procure spare parts readily or have their fleet maintained properly at local service center.
Why are European double-deckers being introduced?
Despite these foreseeable disadvantages, Hato Bus decided to place a high-priced order with European manufacturers, primarily for two reasons.
First, double-deckers are in high demand as a fleet for urban sightseeing bus tours. Hato Bus began operating double-deckers from as early as January 1983, and continues to benefit from the endless number of tourists willing to pay for the privilege of seeing rare cityscapes from the upper deck.
The company currently owns 10 double-deckers and dispatches them to 12 routes that run in circuits around the capital, each highlighting scenic views of selected sightseeing spots. In 2014, they carried a total of around 200,000 passengers, or more than 20% of all the users of city bus tours (an estimated total of 886,400 tourists) organized by Hato Bus that year.
The second reason, which is actually the more important of the two, is that domestic automakers all stopped manufacturing double-deckers a few years ago. To cope with this deadlock, Hato Bus started sending its people to Europe in 2011 to search for partners to collaborate in the development of two-storied tour buses specifically configured to meet the stringent local requirements.
The operator took approximately four and a half years to finalize the selection of co-developers and reach a partnership agreement with Scania and Van Hool, which included the completion of two more deliverables by this fall, and the possibility of placing additional orders for Astro Mega in the future.
Along with these business demands, which directly motivated Hato Bus to find foreign co-partners, the number of tourists visiting Japan from abroad has begun rising. Recently, the fare system applied to chartered buses has also been relaxed.
Due to the increasing demand for sightseeing buses driven by these positive factors, the backlog of new orders to domestic bus makers has reached a point where some buyers are waiting one or two years to get the deliverables shipped to them from the manufacturing plants.
Thanks to these recent changes in the business climate, non-Japanese bus makers have also gained momentum to gradually expand their customer base in Japan and open the local niche market that had been effectively closed to non-Japanese competitors.
More competition expected
The orders non-Japanese bus makers are receiving from Japanese clients are not limited to double-deckers. In fact, there are more orders for another special type of bus that does not exist in the portfolio of any automaker in Japan. It is the so-called "joint bus" composed of two connected carriages, which is especially in demand as a commuter bus, since it is designed to carry approximately twice as many passengers as the conventional single-carriage bus.
A German bus and truck manufacturer, Daimler, is ahead of the competition in this area. Its clients in Japan include public and private bus operators in Tokyo, as well as in the local prefectures of Chiba, Gifu, and Hyogo. Scania also teamed with Volgren, an Australian bus maker, to manufacture the dual-carriage model for the new public transport system called Bus Rapid Transit (BRT) adopted in Niigata.
Among others, the Korean automaker Hyundai has become a frequent successful bidder for chartered bus and highway limousine bus projects. In addition, a Chinese competitor has won the electric vehicle development project offered by a bus operator in Kyoto.
"The special demand for large and super-large passenger vehicles and shortage of new sightseeing buses are definitely boosting our growth in the Japanese market," says Johan Lunden, the president of Scania Japan. "What we need now is a long-term strategy to further expand our market share, by winning the trust of our domestic clients, both existing and new, and helping make their development projects viable, which will consequently lead to increasing the number of orders from them," he added.