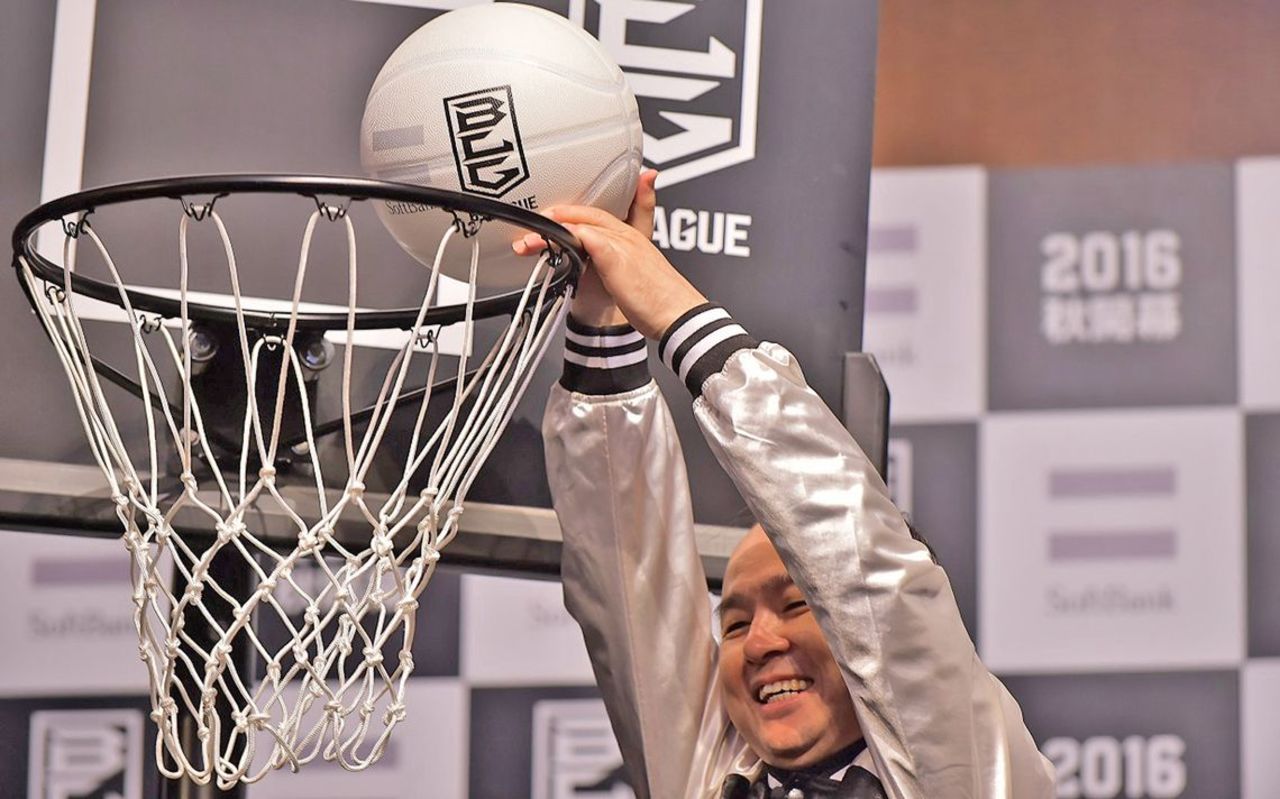 Since he was a kid, he has always been enthusiastic about baseball, but now he is betting big on basketball. Masayoshi Son, the Chairman and CEO of multinational telecom and Internet conglomerate SoftBank Group, said that his company will become the key sponsor of the B. League, the newly born Japanese professional basketball league.
Allegedly, SoftBank will be spending billions of yen to support the new league's inaugural 2016–17 season, scheduled to commence this fall, as the broadcaster with exclusive rights to webcast all the games live to smartphone, tablet, and PC users subscribing to a service called Spo Navi Live.
Spo Navi Live is SoftBank's new paid streaming service, which will be offered at a monthly rate of 500 yen ($4.3) to subscribers of SoftBank telecom services, starting March 17, or 3,000 yen ($26) to those subscribing to other carriers, from June.
The large pricing gap and staggered launch schedule have been strategically set to leverage this new service as a differentiator and an attractive pull to encourage more subscribers of other carriers to switch to SoftBank; this strategy may be particularly effective in relation to avid sports spectators.
After downloading an app, users of the service will have access to a wide variety of live sports streams, ranging from baseball to soccer, sumo wrestling, and much more. All the basketball games played by B. League teams will also be included in the menu when the circuit rolls out this fall.
The man behind the deal
Son is already widely known as the owner of a professional Japanese baseball team, the Fukuoka SoftBank Hawks, which won the national championship last year. What, then, motivated him to become so closely involved in another professional sport?
The secret seems to lie hidden in his firm trust in Saburo Kawabuchi, the chairman of the Japan Basketball Association (JBA). Kawabuchi, often cynically referred to as an autocrat, powerfully demonstrated his strong leadership as the chairman of Japan Football Association (JFA) in the successful founding of the J. League, the country's first professional soccer league, some two decades ago.
In late 2014, the Federation of International Basketball Association (FIBA) suspended participation by the JBA in any international competitions and related activities. Cited as the primary reason for this decision was the failure of the JBA to merge the then-existing two men's basketball leagues, the National Basketball League (NBL) and the bj. League. The Japanese hoops world urgently needed someone to turn the critical situation round. That someone was the domestic football heavyweight, Kawabuchi.
After Kawabuchi stepped in as the new president of the JBA last May, he quickly restructured the crippled organization—eradicating any conflict of interest between the two league operators—and bulldozed his way through to establish a single men's pro-basketball league, ready for launch and for the lifting of the humiliating ban imposed by the FIBA.
At the press conference held on March 10 to announce the partnership between the JBA and SoftBank, Kawabuchi confided that it was only about a month ago when he phoned Son to discuss the sponsorship deal for the first time. According to Kawabuchi, the two then met in a hotel in Tokyo and had a few drinks together. By the next day, Son had already given his nod to Kawabuchi's proposal.
Son also declined to specify the sponsorship fee, saying that it's a confidential matter between the parties that entered into the partnership agreement. However, some media sources have disclosed in their reports that the parties have signed a "grand 4-year deal totaling 12.5 billion yen ($11 million)." This would mean that SoftBank has agreed to pay an annual fee of more than 3 billion yen ($2.6 million), a figure that was not denied by the company spokesperson when approached later for verification.
Son revealed in the press conference that he gained his confidence in running sport-related businesses from his success as the owner of the Hawks. "Our team belongs to the Pacific League, which is one of the two major leagues in Japan that had long been struggling to be profitable. Even to this day, five other teams in this league are having a tough time keeping their books in the black," Son said.
"Through my experience with the Hawks, I've learned that sports can be profitable business if we can come up with innovative ideas that lead to building a positive spiral."
But why sports? To this very fundamental question, Son indicated the positive economic impact it has had on SoftBank's core telecom business.
"Before we acquired the Hawks, our mobile business was doing fairly well in Tokyo, but not so well in other regions," said Son. "However, once we moved into baseball, our share in local cities began to grow rapidly, especially in Fukuoka, the home ground of the Hawks, which altogether contributed to a profit increase of 20 to 30 billion yen (17 to 26 million dollars)."
He also added that "When NHK broadcasts our team's games, the announcers of this public broadcasting organization, who never mention any private company names [unless they are in the news], refer to us repeatedly as the 'SoftBank Hawks' while they are covering our games. The advertising effectiveness of their frequent mention of our corporate name on national television is equivalent to 40 to 50 billion yen (34 to 43 million dollars) in publicity costs per year."
Why basketball?
In Japan, it is rare to see an entrepreneur extending the kind of largess that involves over 10 billion yen ($8.7 million) as a sponsor of professional sports. Why is Son investing so much in a game that has never held any interest for him? Besides, in contrast to the time of his foray into baseball, SoftBank is already a household name nationwide.
The most logical answer to this would be, once again, Kawabuchi. Compared to the United States, where basketball is regarded as one of the three major sports, along with baseball and American football, the presence of professional basketball in Japan is still close to zero.
That said, there are already close to 600,000 Japanese middle and high school students who are into playing this game. What this demographic data suggests is that there is great potential for this niche sport to grow into a major market in this country sooner or later.
Son knows what Kawabuchi can do for this sport, having seen his huge success with the J. League, and Son most probably foresees a similar future for Japanese basketball, perhaps becoming as popular as the sport is in the United States in no time, if its growth strategy is boldly developed and executed in the hands of this autocratic leader.
It therefore seems likely that Son's swift decision to join Kawabuchi's new bandwagon was, in fact, a well-calculated business move to get hold of the diamond in the rough before others, while at the same time improving the corporate value of SoftBank by solidifying public recognition of it as a respectful enterprise that is serious about contributing to the social good through its active involvement in sports promotion.