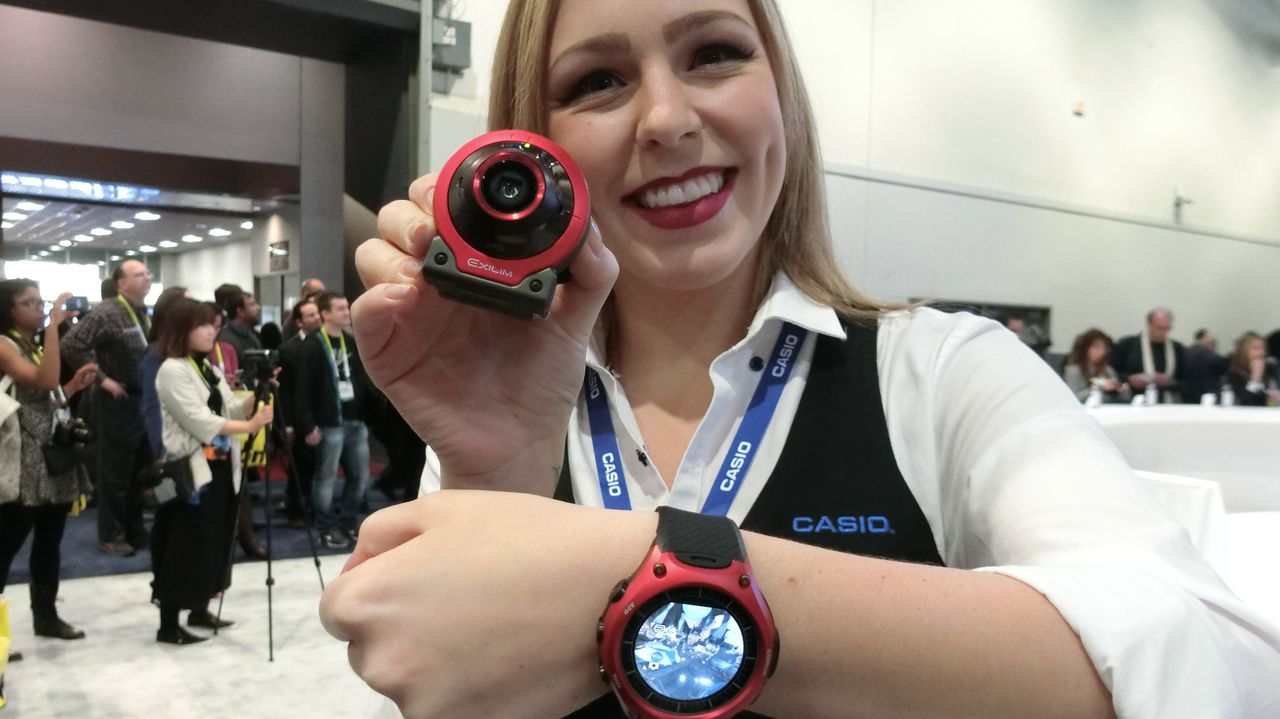 In January 2012, Casio Computer's Junichi Minami received a phone call. "We are entering an era of interpersonal connectivity," the voice on the other end of the line said. "Our company plans to make a new product, and we're hoping you can give us a hand." The call was from then-president Kazuo Kashio, who is now CEO and Chairman, and it represented the start of Casio's journey to develop a smartwatch.
Four years have passed. On January 6, 2016, however, Casio announced that it plans to release its first smartwatch, the WSD-F10, in late March. Price of the new smartwatch is expected to be 70,000 yen before tax.
The WSD-F10 is an ultra-tough, sporty smartwatch. Featuring a round design and equipped with the Android Wear operating system, Casio's smartwatch may seem typical at first glance. Yet its rugged, outdoor-use specifications differentiate it from other products.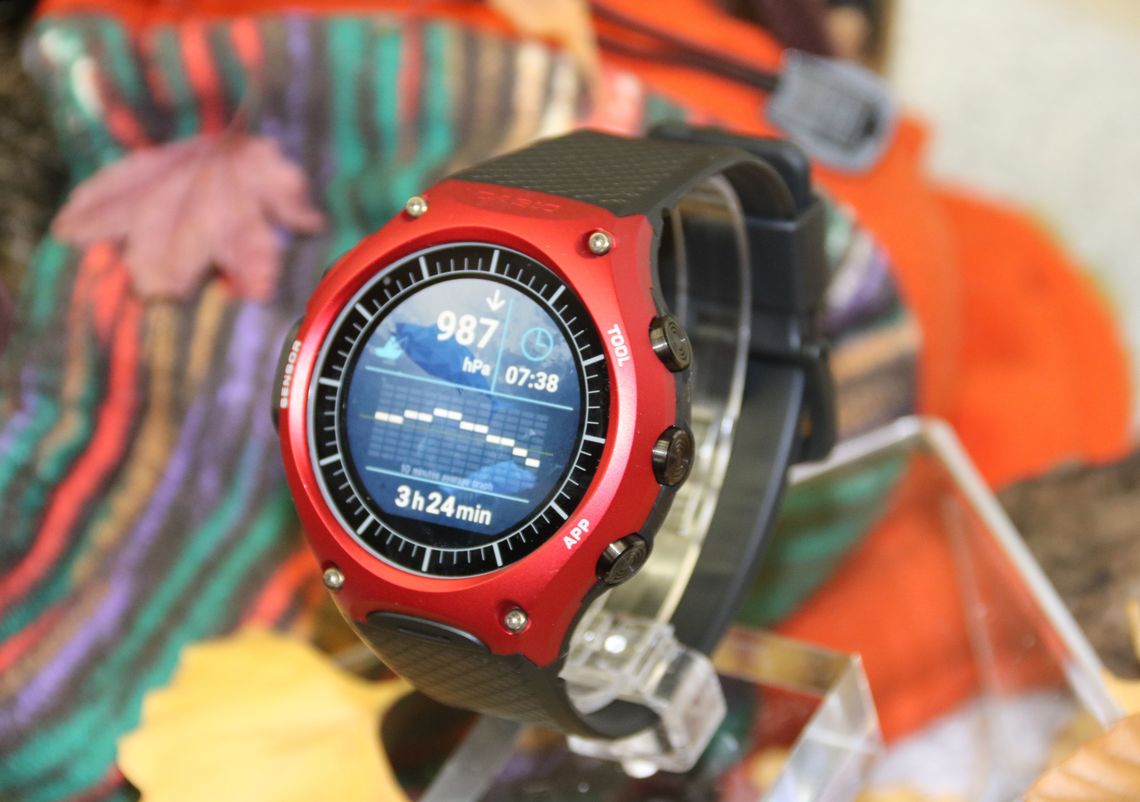 In addition to its 5 ATM water resistance, the WSD-F10 is tough enough to pass endurance testing based on U.S. Department of Defense military regulations. Its preinstalled apps were chosen with lovers of the outdoors in mind and include, among other things, mountain-climbing map software, tide notifications for fishers, and an app to monitor running activities. Additionally, the product has buttons located on three of its sides to facilitate ease of operation.
Casio's smartwatch features a two-layer LCD design. Because similar products have shown a tendency to consume battery power in about one day, Casio included a monochrome LCD screen that can be used to display the time only. When using the smartwatch in this mode, users do not need to charge it for a month.
Casio has been selling a wide range of wristwatch products since the 1980s and entered the mobile phone business in 2000. It therefore comes as little surprise that the company has decided to enter the smartwatch business. Nevertheless, Casio faced many obstacles during the four years it was developing the WSD-F10.
Kazuo Kashio's eldest son, Kazuhiro, was leader on the project. On numerous occasions, Kazuhiro, who is also the current president of the company, told the 20 or so members of his product development team that "rather than merely making a thing that we can sell, we need to think of the purposes for which this product will be used."
Numerous prototypes created and abandoned
The first prototype of WSD-F10 was completed in late 2012, one year after the development project began. Its simplistic design comprised a rectangular display unit mounted on a watchband with a microphone on the bottom right side. Unfortunately, no clear application could be identified for this product, so its commercial production was abandoned.
According to Minami, "There were no smartwatch-specific components; rather, we just added smartphone parts to a watch. Thinking back on it now, it really was an incomplete product."
Casio's second prototype was released the following year, but it, too, ended in disappointment. Waterproofing was added to enable sportier applications, but as a result, the microphone had to be left off, which meant the prototype no longer corresponded with the original "interpersonal connectivity" concept.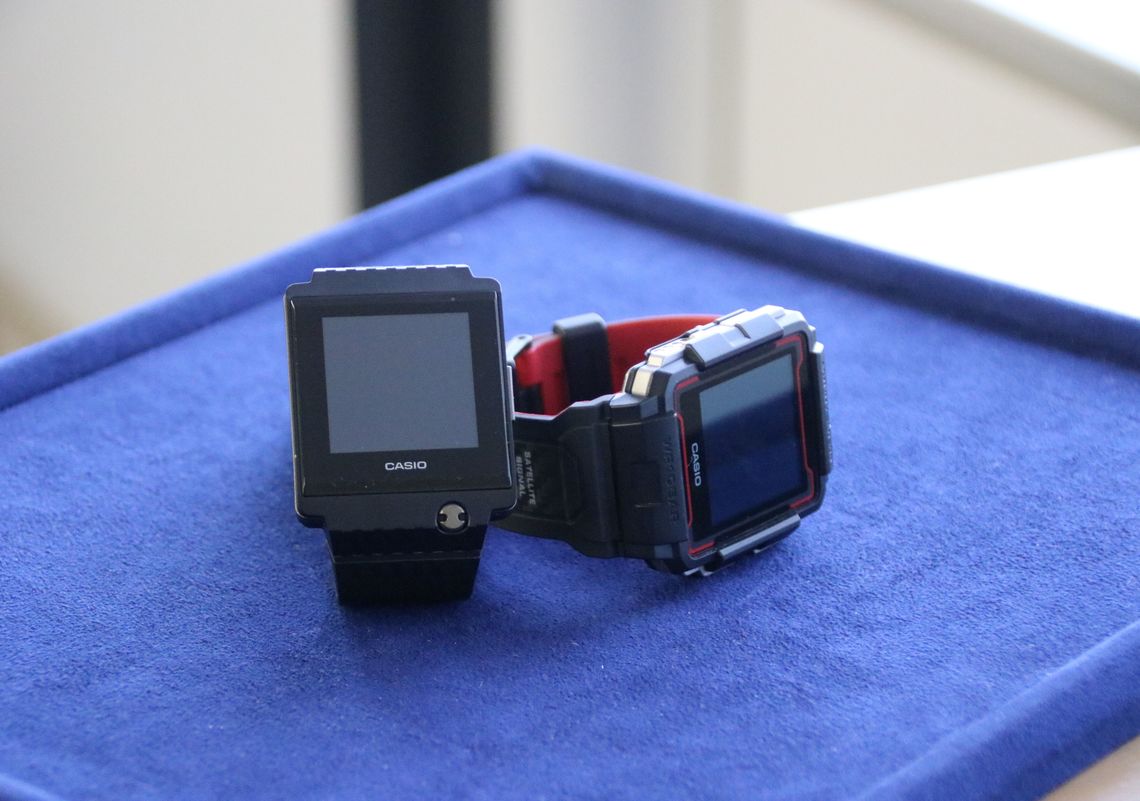 After the rejection of the second prototype, the development project for the WSD-F10 was discontinued. The concept, however, was never entirely abandoned. As various companies began to put out smartwatch products, parts manufacturers responded by producing more smartwatch components. Because the first smartwatch makers released all-purpose products for a general user base, Casio decided to specialize in outdoor-oriented smartwatches and eventually revived the development project for the WSD-F10.
Casio's main focus was a highly durable watch that, aside from telling the time, could be used for outdoor activities and recreation. By utilizing shock-resistant and waterproofing technologies developed for the company's G-SHOCK product line, Casio's development team was able to achieve 5 ATM waterproofing specifications even with the inclusion of a microphone. The two-layer LCD design was developed based on the technology used in the PRO TREK series of outdoor watches.
After cementing their new product concept, the development team visited the headquarters of Google in the U.S. Their mission: to negotiate for permission to use the Android Wear OS, which would enable the inclusion of a wide range of smartwatch apps.
Google representatives were not keen on the watch's two-layer LCD screen, waterproof microphone, and other design features, but Casio saw these as vital components for differentiating their product from those of competitors and refused to compromise. Thanks to the unwavering determination of Casio negotiators, Google ultimately agreed to the inclusion of Android Wear in the WSD-F10.
Regarding the product's physical design, the development team was split down the middle on whether to adopt a round or rectangular form. Many existing outdoor-use watches utilize the hands of the clock for easy-to-understand visual indications of altitude, air pressure, and other information. For this reason, Casio's team decided that a round design was most suitable. In 2015, the final prototype for the WSD-F10 was completed.
Despite its development successes with the WSD-F10, Casio does have some worries about the product's scheduled release in March of this year. The smartwatch market as a whole has never really taken off, and the WSD-F10 may become a competitor for Casio's existing outdoor-oriented watch products. Nevertheless, Minami remains confident about the WSD-F10. As he explains, "Our existing outdoor watches are very different types of products, so the two should be able to coexist on the market."