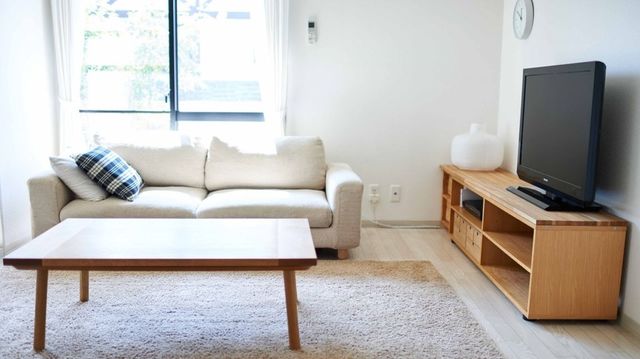 If you have ever come across a Muji store you will probably have noticed the well-designed, reasonably priced, minimalist housewares on display. Muji carries over 7,000 products from apparel, furniture and beauty products to iPhone applications and micro homes.
The name Muji stands for "Mujirushi Ryohin" which translates as "No brand. Quality products." None of Muji`s thousands of products have a logo or fancy wrapping. Known for high quality and affordable products Muji embodies simplicity and minimalist design.
Located throughout Europe, Asia, North America and the Middle East, Japanese retailer Muji has over 380 stores in Japan and more than 300 operating internationally.
We spoke to Seiko Yamaguchi, author of A minimalist Lifestyle starts with Muji about why she became interested in Muji products and to list her 10 favorite Muji products in Japan.
Today I am proud of my house and happy living a minimalist lifestyle. Muji products have simplified my life. Yet, my life was not always like this.
Due to my husband's job, my family had to move our household five times in a decade. Every time we moved I would set up and decorate a new home, but I was not satisfied with it. With every move I would have to throw away countless household goods and furniture. It was a waste. But what I didn`t throw away was Muji products.
Three years ago I noticed the power of Muji was its simplicity. The minimalism of Muji products matched my core philosophy of "living simply with just a few things." There are three reasons why Muji products suit a minimalist lifestyle.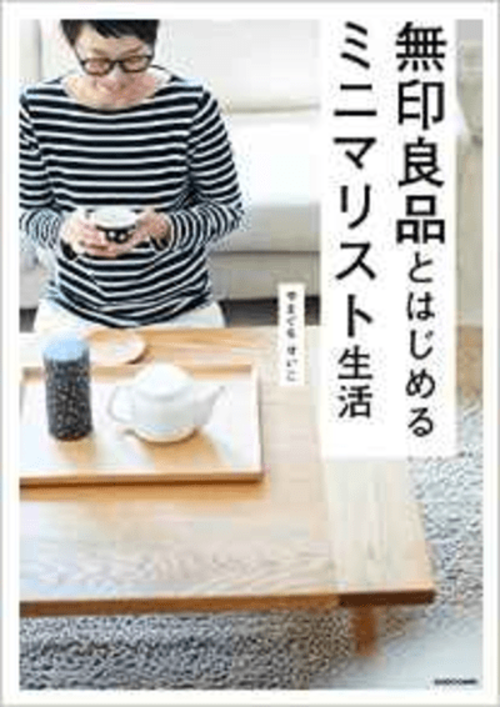 First, Muji products work in any room. Our family likes to make the most of limited space so we have stopped defining rooms according to their function. Instead without these labels everyone can use the whole house, freely moving from room to room like nomads.
Muji furniture and storage units are of a standard size and not labelled for a specific purpose. Storage units, TV stands and shelves all fit perfectly wherever you put them making it easy to move them anywhere in any room.
Second, products adapt easily to change. We have two growing children so change is the only constant in our daily life, and we value the fact that we can easily increase or decrease the number of our Muji product units.
Finally, family members can share products. Sharing is essential to the minimalist lifestyle. Muji clothes lack logos and pictures, and the dominant colors are simple such as white and beige. The simplicity in color and design make it easy for men and women, adults and children to share.
Top 10 Muji products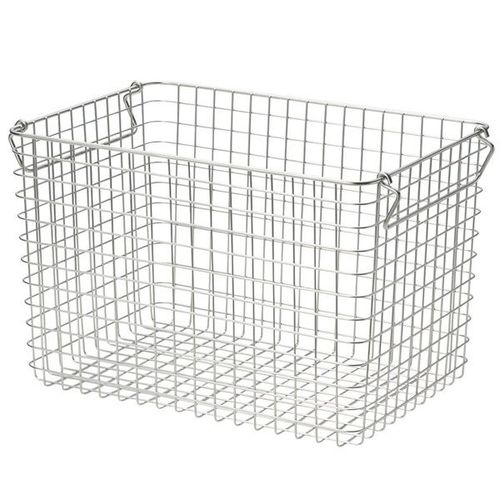 1. Stainless steel wire basket (from 1700 yen)
I love these baskets which I tend to use as laundry baskets. Made of stainless steel they are extremely durable and do not rust easily. Flip the handles inside and you can easily stack them. The clean, minimalist design makes them perfect for everyday use.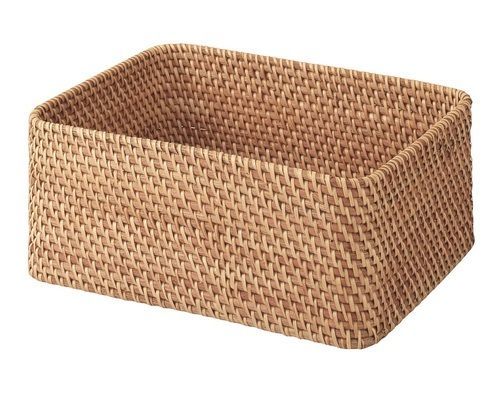 2. Stackable rectangular rattan baskets (from 2,600 yen)
These are the sturdiest storage units in our home. We use them in practically every room including the living room and the laundry area.
Extensive use does not split or break the rattan so you can use these baskets for many years.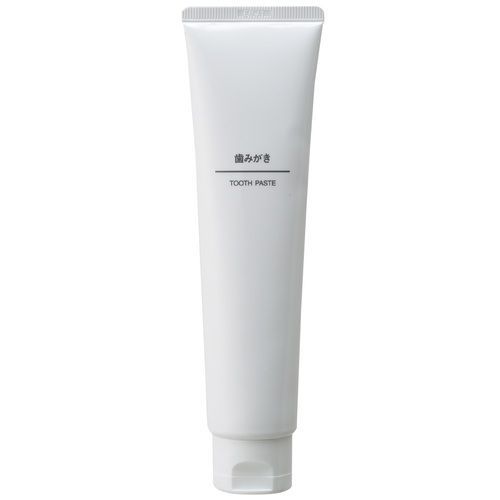 3. Toothpaste (500 yen)
You'd think that it would be easy to buy toothpaste in a plain white tube. I'd been looking for something like this for some time. Toothpaste that you buy in your typical drugstore looks far too flashy. I prefer something that makes the bathroom look simpler and fresher.
Mild in flavor with a hint of peppermint oil, it is the ideal toothpaste for the whole family.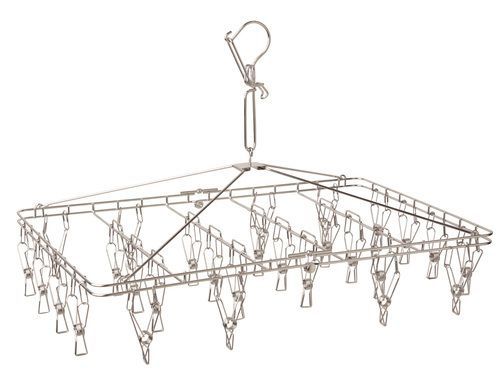 4. Steel square laundry hanger (from 2,500 yen)
The clothes pegs don't tangle when you put the unit away. If some pegs come loose, you can purchase replacements without buying an entire new unit. T
he steel frame is very sturdy. An excellent product that you can use for a long time.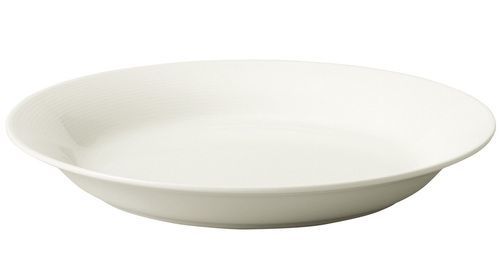 5. Bone china crockery (from 450 yen)
This crockery was made for a wide range of use and the simple design looks great in any kitchen. The variety of sizes is also a plus. I buy them in sets, they stack well and don't take up much space. The lustre of the glaze is to die for.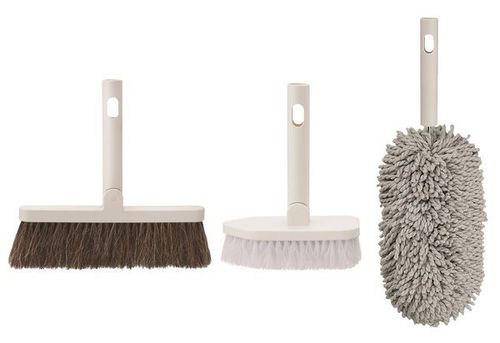 6. House cleaning equipment (broom 490 yen, brush 390 yen, micro-fiber handy mop 790 yen)
I clean my house everyday so it is important that the equipment I use is versatile.
The Muji cleaning system is a light telescopic pole that has eight different attachments for mopping, dusting, brushing and other cleaning essentials. It takes up very little space and is easy to pack in a closet.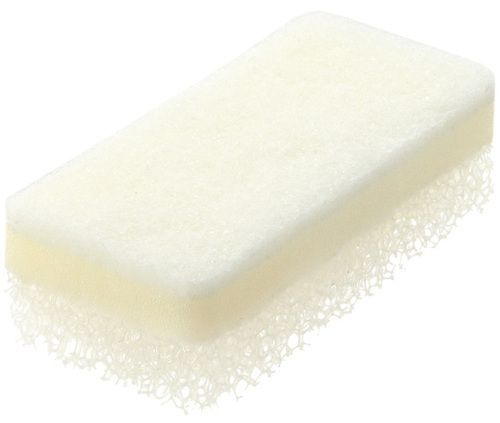 7. Polyurethane foam three-layer kitchen sponge (150 yen)
The sponge has three layers including nylon and polyurethane foam.
The sponge's color is the same color as Muji's toothpaste tube—a simple, minimalist white.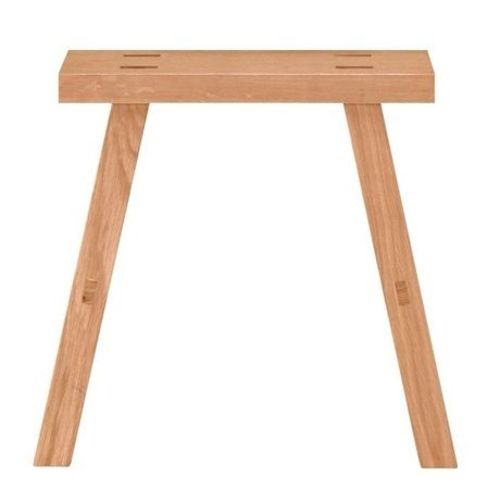 8. Oak benches (from 8,500 yen)
Great as chairs but can be used as low table. The space underneath the seat can be used for storage.
They look good, too. We use ours as a phone stand in the living room and a laundry basket stand in the laundry area.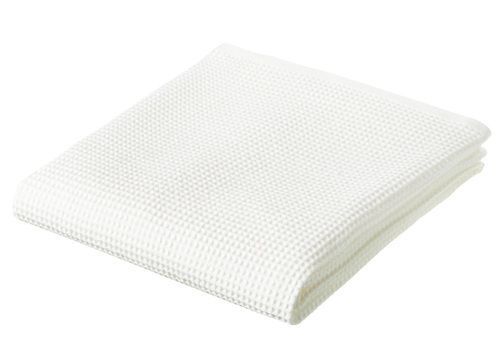 9. Honeycomb weave, organic cotton face towels (650 yen)
These towels are light, dry quickly and are easy to wash.
Thin yet sturdy, they are also easy to use and feel great on the skin.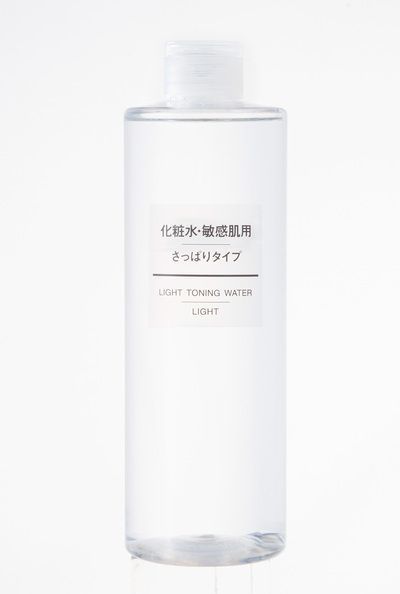 10. Skin toner for sensitive skin (980 yen)
For the money it's good value. You don't have to worry about applying it sparingly.
I've been a fan for more than five years and I swear by it.