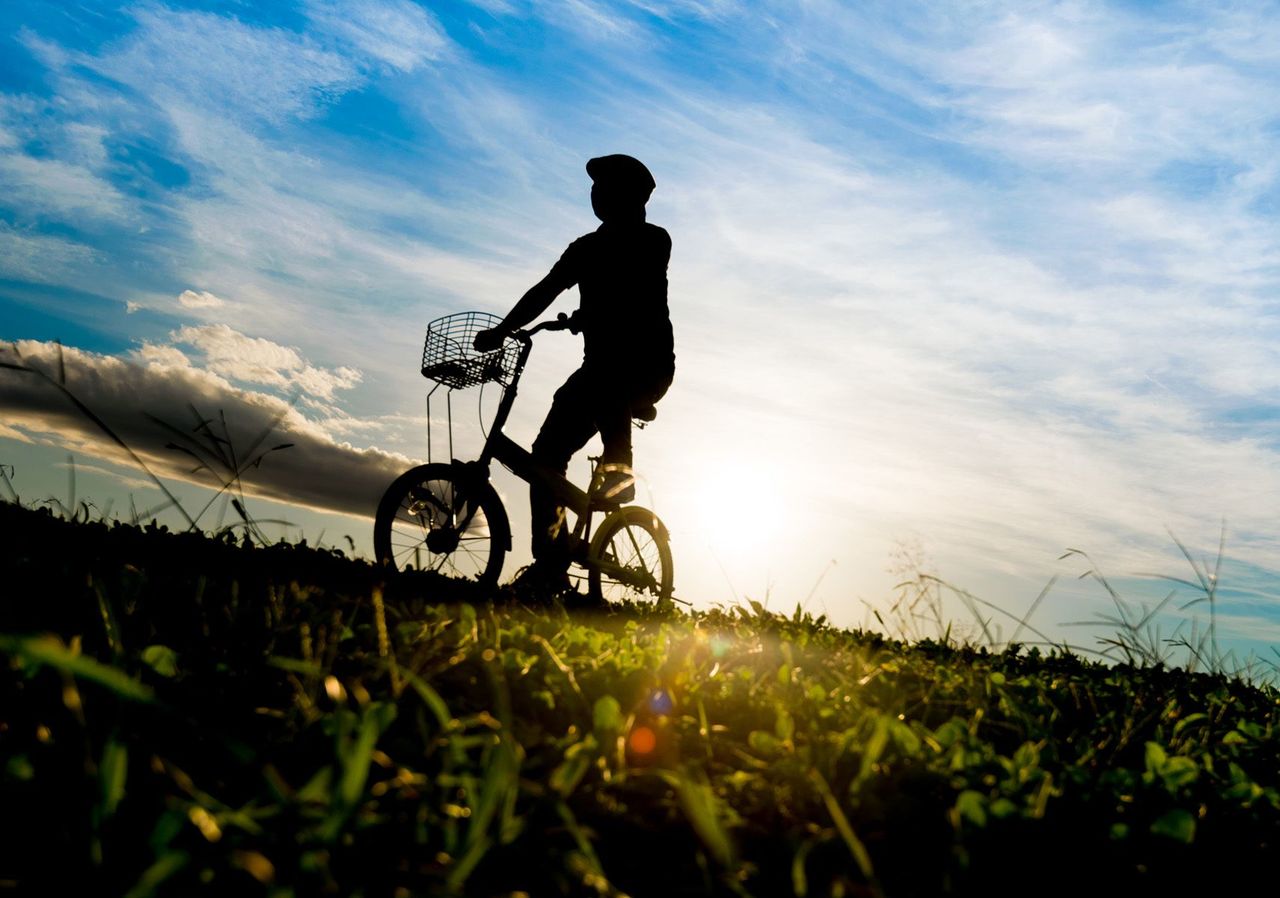 Despite confusing cycling rules, narrow streets and virtually no bicycle lanes, Tokyoites love to get around by bike. If you're here on holiday or just want to experience seeing a different side of the city, these are some of the best spots to rent or buy your own ride.
If renting, remember to take some form of photo identification along with you. If buying, you might also be interested in our roundup of the 'Best scenic bicycle routes'.
Tandem cycling at Yoyogi park
Get back to nature without straying too far from the nearest Starbucks with an outing to Yoyogi Park. This ever-popular spot in central Tokyo occupies the site of Japan's first successful powered aircraft flight, and later the athletes' village during the 1964 Olympics.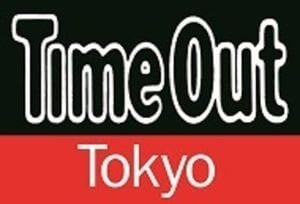 The north side is a lush sprawl of trees and greenery where city slickers can take a break from the crush or let their pets roam free at the dog run. The south side has an event plaza and open-air stage that hosts many of Tokyo's larger festivals, including the annual Earth Day, Thai Festival and One Love Jamaica. The park is open 24 hours, and includes a parking lot. You'll find Meiji Shrine, NHK, Shibuya Ax and the National Gymnasium (Kokuritsu Yoyogi Kyogijo) nearby.
Community Cycle
Tokyo's bicycle scene still isn't what it could be, but bike-sharing is finally getting some love. Rides are easy to book on your phone and borrowing outposts are numerous within Chiyoda Ward, including this one close to Tokyo Station.
Place Cycling Course
Running by the Imperial Palace moat from the north side of Hibiya Park to the north of the palace, this three-kilometre course is opened exclusively for cyclists on Sundays. Free bike rentals are available, and the selection ranges from mama-chari to tandem bikes and kids' rollers. There's also a training corner for bike newbies, and kids can even take classes in how to ride.
Mujirushi Ryohin
To explore the Marunouchi district or otaku mecca Akihabara – both a short ride away from the Imperial Palace – rent a bicycle from Muji Yurakucho Store.
10am-8pm (bike pickup until 6pm). Monday-Friday 500 yen/day, Satarday, Sunday and holidays 1,000 yen/day (a deposit of 3,000 yen is required so bring enough cash). Reservations on 03 5208 8241 or in person.
Rent-a-cycle at Yamada Yoji Museum
Yamada Yoji Museum was built as a tribute to the director of famed Japanese movie series 'Otoko wa Tsurai yo'. The museum offers a bicycle rental service on its rooftop. From here, you can cycle along the riverbank to Mizumoto Park in approximately 30 minutes.
Bicycle rental available on Saturday, Sunday and public holidays, from March-October 9am-5pm, November-February 9am-4pm. Adults 400 yen, elementary and junior high school students 200 yen.
Koganei Park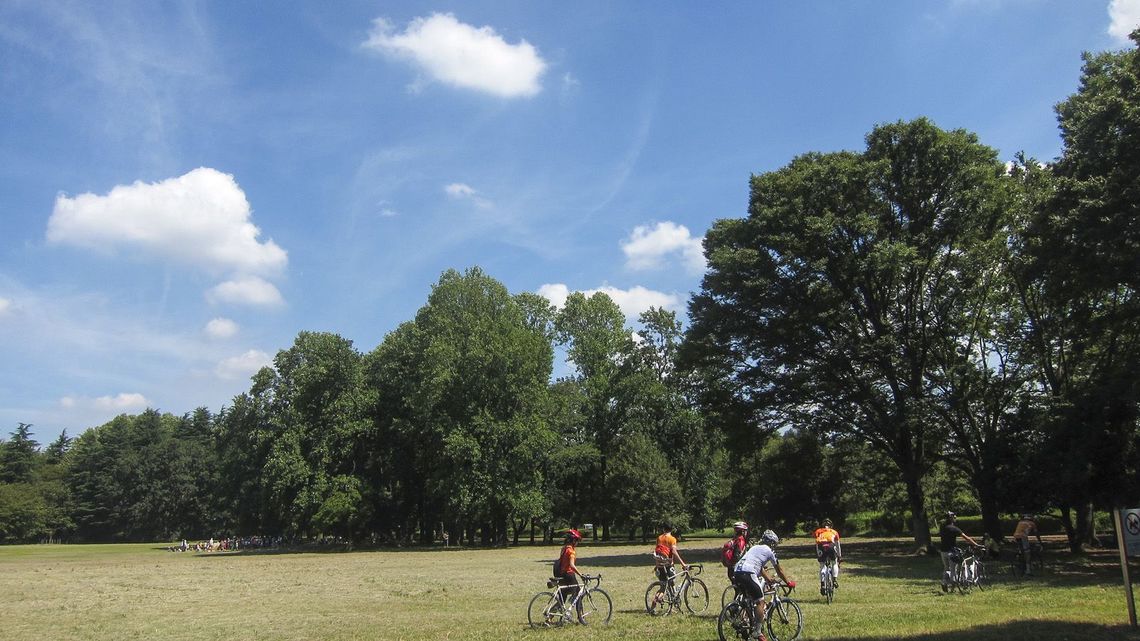 The central part of this vast park in western Tokyo is best explored by bicycle. There are about 120 bikes available for pre-schoolers and their parents to hire within the park (100-200 yen per hour), and when your child tires of pedalling, you can reward their hard work with a spot of sledging. There's a 17° artificial, turf-covered slope built into one of the park's grassy knolls, and it's wide enough for at least a dozen sledges to race down at the same time. You can buy a sledge or borrow one of the park's by queuing at the bottom of the slope.
Bunkyo Bicycle Rental
Bunkyo Ward has a fleet of 70 electric-assist bicycles that it rents out for just 500 yen a day, making it one of the capital's cheaper outlets – although if you don't speak Japanese, take a friend who does.
Share Cycle Service at Niko and...
Niko and… is a fashion and lifestyle store along Meiji-dori and is the first of its kind to provide a 'share cycle service' in the heart of the city. Rent one of their sleek black electric bicycles by Daikanyama's bike expert Motovelo; you'll see them neatly lined up outside the shop's entrance (1,000 yen for three hours, before tax).
Trekking in Okutama
If you want to explore Japan's forests and mountains by bicycle, head to Okutama (around one hour and 40 minutes by local train from Shinjuku) where you can rent a mountain bike from Trekkling.
197 Hikawa Okutamamachi, Nishitama-gun (Okutama Station). Call to reserve: 0428 74 9091. trekkling.jp/english/index.html. 9am-5pm (closed on irregular weekdays, bike pickups close at 3pm). From 2,500 yen/day
Where to buy your wheels
Diner
Tired of that slow, heavy mamachari you bought on Craigslist? Looking for a bike that's light, speedy but still relatively affordable?
Opened in 2012, Diner specialises in fixed gear bicycles (also known as piste bikes), although all the bikes on sale come with brakes since you'll be facing a heavy fine in Japan if you get caught cycling without them. The owner's original brand is called Cartel Bikes and is designed to match the performance of a track racing bike and be durable enough to face the streets.
And if you get tired of constantly having to pedal, you can simply flip the rear wheel around and turn the bike into a single speed for easy freewheeling. Clever, huh? All this for just 60,000 yen as a starting price, with customisable options at an extra cost. For those who don't speak Japanese, there's an English-speaking staff member on hand to answer any questions you may have.
Tokyo Bike Gallery
It could be said that Tokyo Bike is the design embodiment of the Yanaka mindset. The company have been knocking out simple, attractive bicycles, just a hop and a skip from Nezu Station, ever since they opened in 2002.
The concept is simple: comfort above speed (Yanaka in a nutshell), ideally put together for the local life. The minimalist brand has been such a success in its home city, in fact, that they now have outlets in London and Sydney, with Berlin and Singapore soon to open. The Tokyo Bike Gallery isn't a big place, but it has all the brand enthusiast could hope for, from the complete range of frame designs and colours, right through to similarly designed flasks and pumps.
The bikes are well priced between 42,000 yen and 58,000 yen (2011 catalogue), and daytrippers will be pleased to find a rental service, though you'll only be able to ride away if you're 150cm and above in height (no baby seats or kids' bikes available).
Recycle Garden Yoyogi
If you're looking for something a little cheaper, head to Recycle Garden Yoyogi for a range of secondhand bicycles. You'll find plenty of mamachari bikes in different colours and at prices from around 10,000 yen. They're also stocked to the brim with affordable accessories – we picked up a set of bicycle lights for 500 yen and noticed they have shelves full of used bicycle baskets for around 2,000 yen each. They sell an assortment of other secondhand items too including electronics, and they also buy used goods.
Best scenic cycling routes
Tokyo is a wonderful city for cycling, but just beyond the concrete jungle there are mountains and parks and lakes just waiting to make you go 'ooh'.

Now, we realise that it might take some doing to encourage your lazier half to join you, so we asked Byron Kidd of Tokyobybike.com to sweeten the deal with the promise of a reward at the end. Here are his top picks for easy-to-difficult cycling routes.

And if you're concerned about how to travel on trains to the routes' starting points with your bike, the best option is to buy a rinkobukuro (bike bag), usually available at any bicycle shop. Simply take one or both of the wheels off, pop everything in the bag, and away you go.

Related articles from Time Out Tokyo Tokyo Illuminations 2025-16 Tokyo alleyway guide 50 things to do in Sapporo