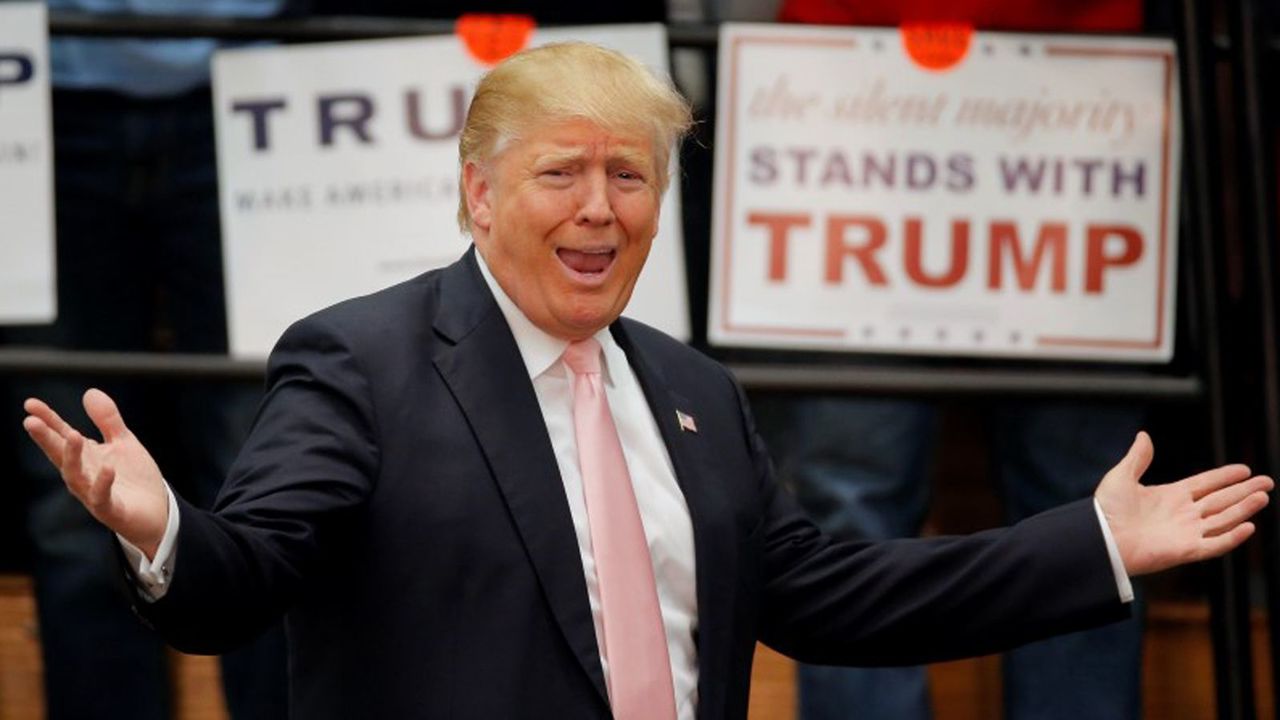 U.S. voters in 12 states go to the polls Tuesday in what has come to be known as Super Tuesday because of the outsized role the combined contests will play in determining the 2016 presidential nominee for the Republican and Democratic parties respectively.
On the GOP side, real estate mogul Donald Trump enters today riding a wave of momentum generated by his dominant wins in the last three contests (New Hampshire, South Carolina, and Nevada), and has already garnered more convention delegates than his three serious competitors combined.
He holds substantial leads in 10 of the 11 states where Republicans will vote today, and an overriding performance will make it virtually impossible mathematically for any Trump contender to reach the 1,237 delegates required to lock up the nomination prior to the GOP's July convention in Cleveland.
The only other scenario – difficult, but not impossible – is for one or several of Trump's opponents combined to garner enough delegates as to deny him a first-ballot victory at the convention. That would open the door to a potentially no-holds barred, political brawl for the Republican nomination.
Republican establishment figures are terrified that the mercurial Trump, fueled by a populist disgust of gridlock in Washington, will alienate large voter segments, from Hispanics and women, to independents and moderate Republicans, thereby making a Democratic victory in November more likely.
Last minute efforts to stop Trump, either before pre-convention voting ends, or during a brokered convention, could bog down a fractured GOP in interminable battles over its core principles, potentially threatening the Republican 54-46 control of the U.S. Senate.
By contrast, a Trump nomination and subsequent victory in November could usher in dramatic changes in U.S. trade and security policies, including toward China and Japan.
Either way, Trump is functioning now as a highly-divisive figure behind whom it will be very difficult for the traditional GOP to unite.
Meanwhile, on the Democratic side, former Secretary of State Hillary Clinton seems well on her way toward garnering the presidential nomination of her party, having won critical contests recently in South Carolina and Nevada. She is well-positioned to dominate the 12 races where Democrats will vote today.
Clinton's chief challenger, Senator Bernie Sanders of Vermont, has not been able to broaden his geographic and demographic base sufficiently to knock down the formidable Clinton political machine. But Sanders has been able to wage a powerful insurgent campaign in large part because of his unprecedented ability to collect small contributions (average: $27) from millions of average voters, including young people, among whom Sanders is particularly influential.
Sanders may not be able to wrest the Democratic presidential nomination from Clinton. But the remaining contests will still be important because strong showings by Sanders will press Clinton and the Democratic Party overall to the left on foreign policy, trade, and overall economic policy.
Can Trump be stopped?
Here is a look at Super Tuesday from the vantage of each campaign. First, the Republican side.
DONALD TRUMP: A new poll released late Monday by CNN found Trump with the support of 49% of Republicans nationwide, followed by a mere 16% for Florida Senator Marco Rubio, 15% for Texas Senator Ted Cruz, and just 6% for Ohio Governor John Kasich. Should that poll prove accurate, the fledging "stop Trump" efforts will be dead before they ever get off the ground. The recent exchange of schoolyard insults between Trump, Cruz, and Rubio has not hurt the GOP frontrunner.
TED CRUZ: The Texas Senator seems set to win his home state today, which will give him a justification to stay in the race despite three consecutive losses since his win in Iowa. Cruz has few incentives to leave the race. He wants to be a force in the GOP in the event Trump loses big in November to Hillary Clinton.
In the meantime, he hopes to use his durability as a candidate as leverage to gain a prized evening time to speak to a national audience during the GOP convention. Cruz also wants to be a power broker in the process of choosing a new member of the Supreme Court to replace the recently deceased ultraconservative Antonin Scaliato.
MARCO RUBIO: By contrast, Florida Senator Rubio could have large incentives to leave the race following his expected poor showings in every state being contested. Thus far, Rubio has not won even one contest, and his track record is not likely to change today. Moreover, Rubio is likely to lose his home state (the 4th larges in the country), which would be so embarrassing as to threaten his viability as a future GOP president candidate should Trump suffer a big loss in November.
JOHN KASICH: The popular Ohio governor, and former chairman of the House Budget Committee, is perhaps best-positioned to stop Trump at a brokered convention. He acknowledges that Trump will do well today, and is looking ahead to March 15, when his home state and neighboring industrial states go to the polls. Kasich (and his many supporters among the GOP elite) hope that a combination of Kasich wins and faltering by Trump, might lead to a brokered convention, where Kasich would hope to seize the nomination from Trump.
Clinton's problem
On the Democratic side:
HILLARY CLINTON: It is difficult to find a Democratic Party leader these days who does not think Clinton has virtually locked up the party's presidential nomination. The problem: Can Clinton improve his skills as a candidate, generate excitement especially among young people, and overcome lingering doubts about her honesty, to win in November?
BERNIE SANDERS: The quixotic Vermont senator is likely to be given the honor of delivering a major speech at the Democratic Party convention in late July in Philadelphia. And when the new Congress reconvenes in January, Sanders (together with Massachusetts Senator Elizabeth Warren, is likely to be major player on Capitol Hill, fighting for far greater regulation of Wall Street, and measures to reduce income inequality.