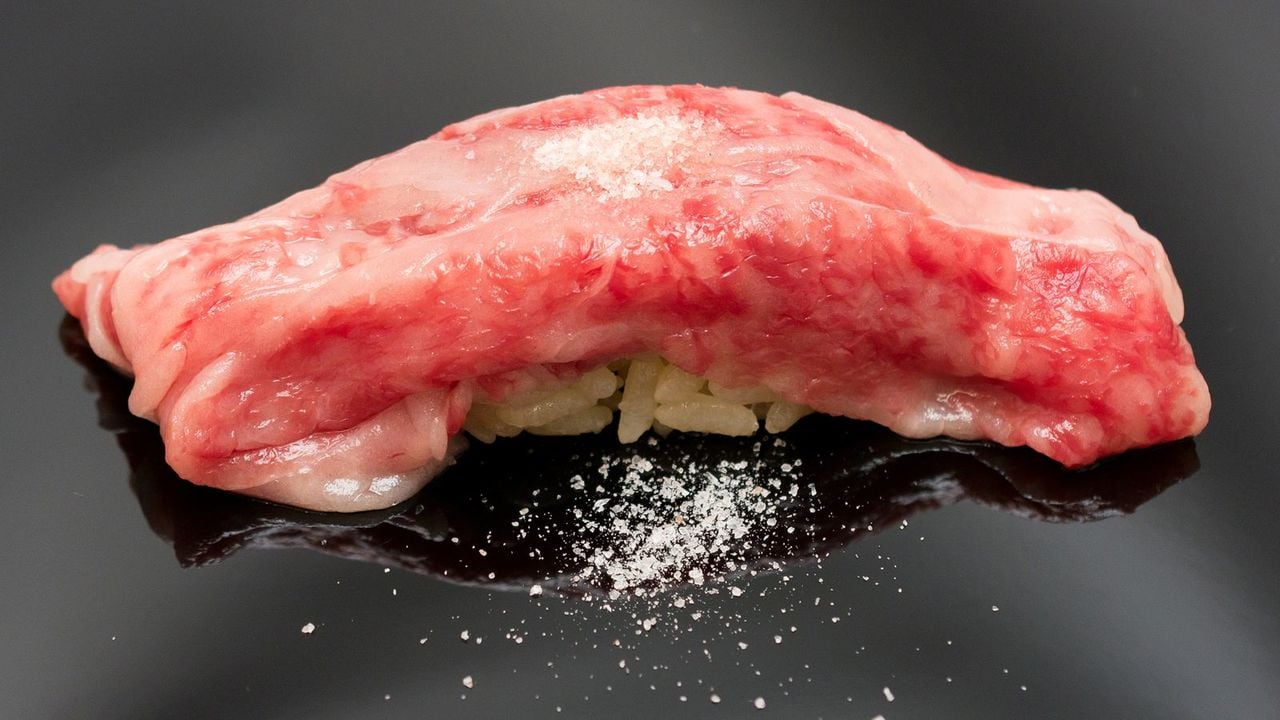 A perfect partner for some fine wine or quality nihonshu, the fusion delicacy of meat sushi has been rising up the popularity charts of many a Tokyo gourmand in recent years.
Here, we've picked out five representative restaurants specializing in sushi made with wagyu, from an upscale joint serving nigiri topped with luxurious Yonezawa beef to a casual izakaya where kuroge wagyu nigiri can be had for as low as 300 yen.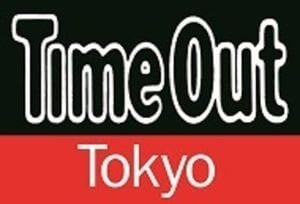 At a time when friends of uncooked meat have been hit with regulations prohibiting the serving of raw beef liver (in 2012) and raw pork liver (2015), these meat sushi joints offer the chance to sample raw, or almost raw, wagyu in safe, clean and comfortable surroundings.
The top five
Yonezawagyu Oki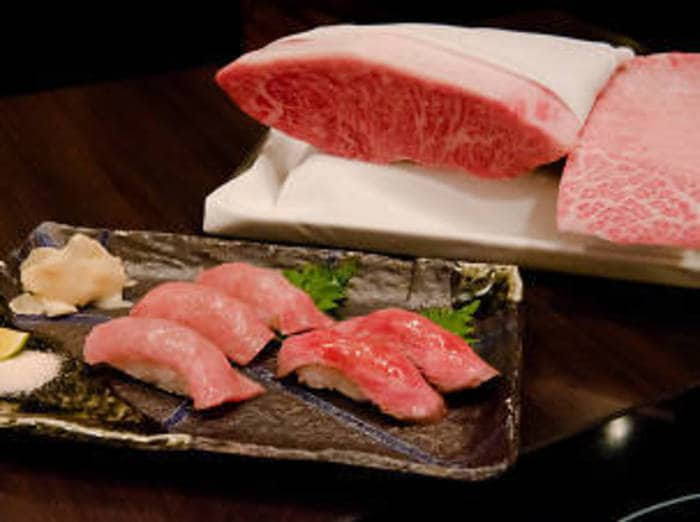 One of the very few restaurants in Tokyo specialising in Yamagata's Yonezawa beef, Oki serves up high-grade, extra-tasty meat in the Kurobei Yokocho area inside Tokyo Station. Here, you can order both roast beef sushi (three nigiri for 1,200 yen) and flame-grilled 'otoro' sushi (three for 1,500 yen).
The former consists of a roast slab of sirloin rump seasoned with a lightly flavoured sauce, making for a classy combo that really draws out the umami flavour. The latter, meanwhile, features a rare deltoid cut that nets less than 2kg of meat per cattle, and melts in your mouth just like the luxurious fatty tuna its name is a play on.
Adding the finishing touch to this marriage of super-soft meat and warm shari rice is the simple salt and sudachi citrus seasoning. And even if you're not too keen on the sushi, the restaurant has decent-value sukiyaki and shabu-shabu deals available as well.
Location: Marunouchi
Nikuzushi Kagurazaka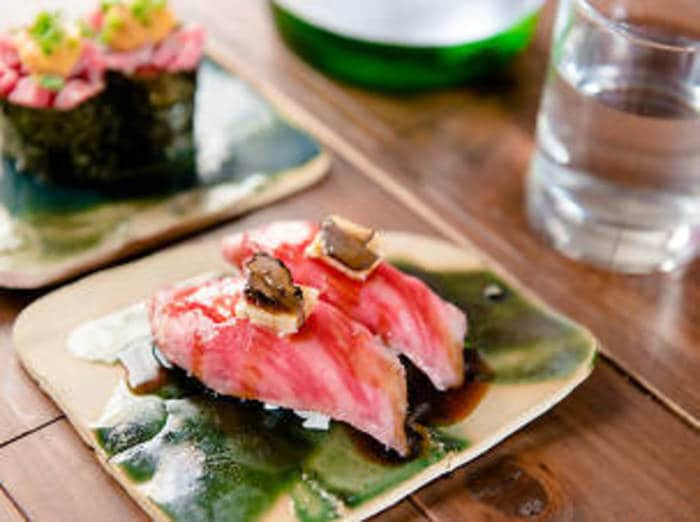 Hidden along Michikusa Yokocho, the 'gateway to Kagurazaka', is this no-frills eatery dealing in fresh meat slapped on rice.
Not too far removed from actual seafood sushi, the flavours here are crisp but mild – as is to be expected from a joint that pioneered the meat sushi trend and now operates branches all over town.
This location is special in that it always carries wagyu, including the Kainomi (extra-tender upper rib) Rossini (580 yen for one, orders of two or more required), which is wagyu sushi topped with foie gras, truffles and sweet Madeira demi-glace sauce. And if that isn't classy enough for you, try the tender breast (sasami) gunkanmaki with sea urchin (480 yen for one, orders of two or more required), a simple but luxurious treat seasoned only with soy sauce. Imbibers will want to explore the nihonshu list, which always includes 10-15 varieties.
Location: Iidabashi
Ginza Koso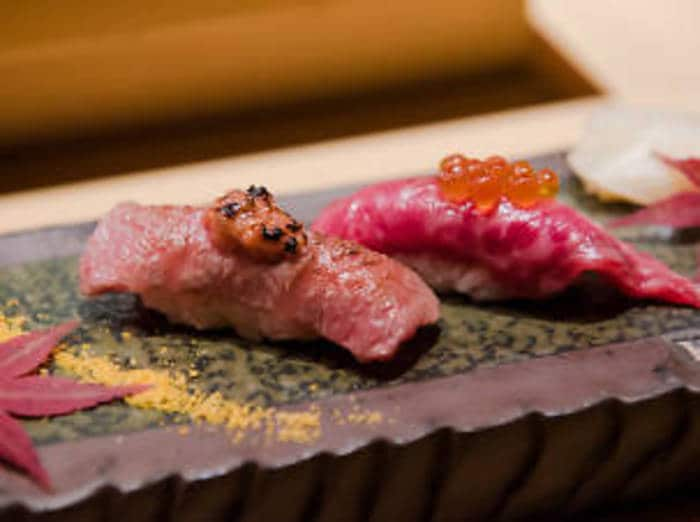 The first restaurant in Chuo Ward officially licensed to serve raw meat, kuroge wagyu specialist Koso is a certifiably safe choice for anyone still worried about the hygienic aspects of meat sushi. Dealing only in wagyu, the chefs source fresh product from places like Kagoshima and Saga every day, so you're sure to get only the good stuff.
First off, try the raw wagyu nigiri (600 yen), topped with salmon roe for a fun harmony of tastes and textures. Next, go for the wagyu toro nigiri (700 yen), a lightly flame-grilled, fatty slab of meat combined with pickled sea bream (shuto). This one makes for a nice match between the soft, aromatic meat and the savoury pickles.
With up to 80 vintages available, the wine list offers more than enough choice. Do note that this is a very expensive restaurant – expect to spend at least 10,000 yen per person at dinner – and reservations are absolutely necessary.
Location: Ginza
Sagoemon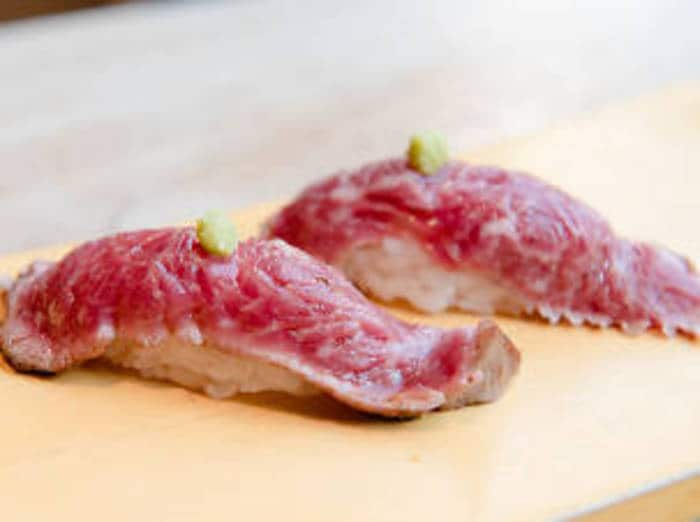 If you're looking to have a wagyu feast without breaking the bank, head straight for Dogenzaka's Sagoemon, a casual kushiyaki izakaya popular enough to make reservations essential.
Skewers here go for 80-130 yen, appetisers for 400-700 yen, and the always impressive kuroge wagyu flame-grilled sirloin nigiri for 300 yen a pair. And the prices aren't the only attraction, either: Sagoemon's beef is of the juicy, thick and flavourful kind. Weekday lunch sets are available from 500 yen – a real steal in this area.
Location: Shibuya
Ebisu Yakiniku Kintan
A busy yakiniku joint on the west side of Ebisu Station, Kintan's the place to be for wagyu sushi at reasonable prices. Pledging to offer a 'casual rich' atmosphere, whatever that may mean, the eatery is very popular with groups of carnivorous ladies looking to get their fill in stylish surrounds.

Join them around the table grills and order a serving of Kintan's lean wagyu (akami) nigirizushi (480 yen) or wagyu toro nigirizushi (680 yen) on the side. When ordering, you'll be asked to specify whether you'd like your meat raw or lightly flame-grilled – we recommend getting the akami raw and the toro grilled, but the choice is all up to you.

Location: Ebisu

Related articles from Time Out Tokyo Tokyo alleyway guide The best sushi in Tokyo: 10 top picks The best cheap eats in Tokyo