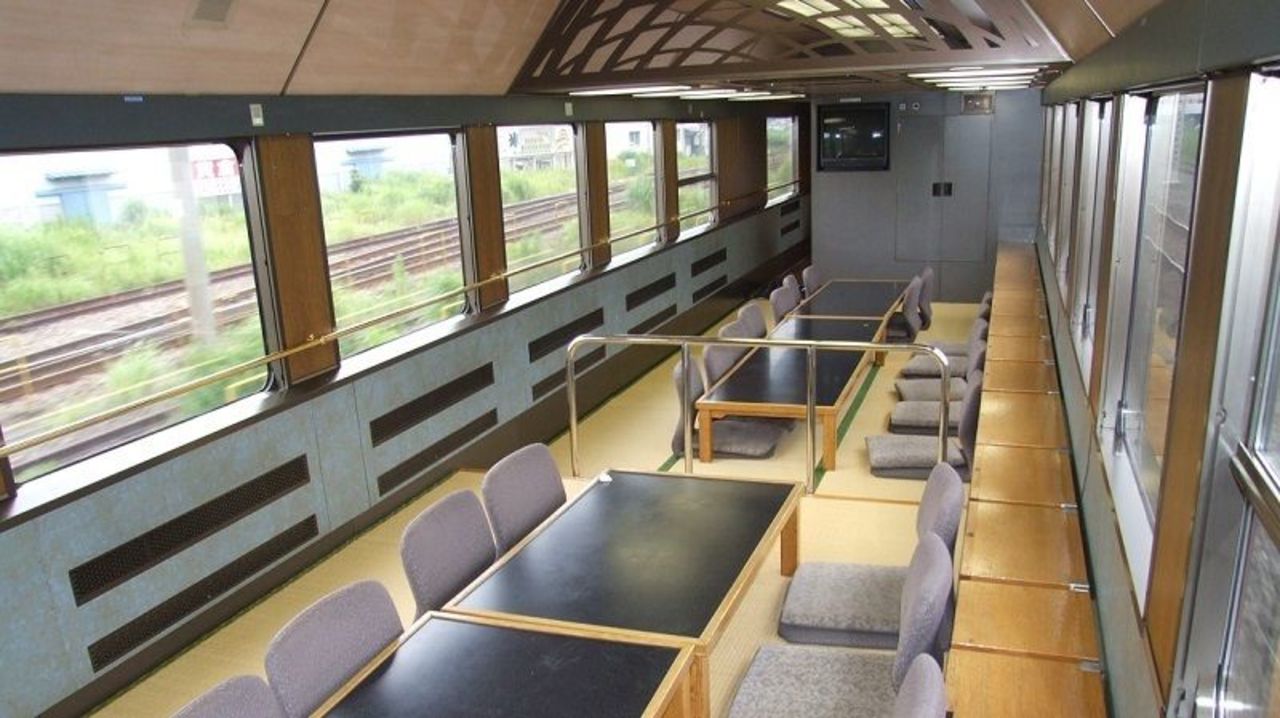 There are many opportunities for parties in December, such as Christmas and New Year's Eve. However, some people would want to have a chance to meet new people instead of spending time with people they know. For those of you who would like to meet new people, we have tried to list some lively "event trains" that can be enjoyed at the end-of-the-year.
Look out a train window with wine in one hand
1. Okayama "MOMO de wine train"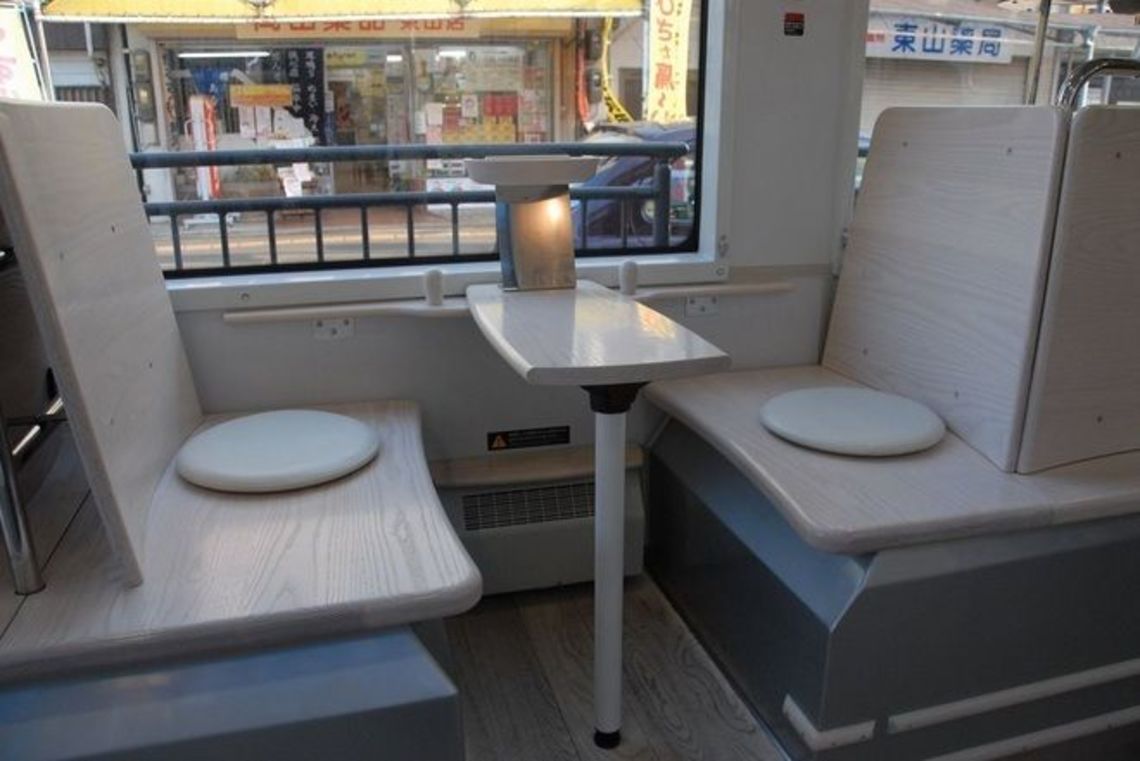 The "MOMO de wine train" tram operated by the Okayama Electric Tramway is probably a good choice for an adult night out. The vehicle, which has a stylish interior and tables and looks different from normal trams, was designed by Mr. Eiji Mitooka, who designs tourist trains for companies such as Kysuhu.
A journey on board this tram lasts about two hours, and the night view in the center of Okayama City can be enjoyed in peace during the train ride, probably because only adults are allowed on board the tram. There is live music on certain days.
The tram is operated every Friday night, except January 1, until May 2016. Since the tram is not operational in December alone, even tourists and visitors can make a memorable trip by incorporating this ride into their itinerary when visiting Okayama.
2. Iwate SL Galaxy Christmas Train
The "SL Galaxy Christmas Train" operated by the Iwate/JR Kamaishi Line in December provides its original wine and has scheduled a string quartet performance in the train. This is a limited tour, so those who are interested should contact JR East for more information.
3. SL Christmas trains, various regions
Other Christmas trains with steam locomotives (SL) are also operated in various regions, including trains on the Oigawa Railway in Shizuoka, the JR Banetsu West Line "SL Banetsu Monogatari" in Fukushima, the "SL Christmas Usui" in Gunma from Takasaki-Yokogawa, and the Moka Railway "Santa Train" in Tochigi. There are many events inside the trains, where attendants on board are dressed as Santa Claus. However, these are principally for families so you may not meet many singles on these trains.
Stay warm with kotatsu and oden!
4. Aichi/Toyohashi Railroad "Odensha (Oden Train)"
The "Odensha" train of the Toyohashi Railroad as a unique project. The plan is to drink alcohol while eating oden (a popular winter food in Japan) in the tram. The train runs every day until February 28, 2016, with the exception of the New Year's Holiday. In addition to the all-you-can-drink "Super Dry" beer, there is an accommodation discount service for local hotels. You may have a fun encounter within the narrow cars of the tram.
5. Iwate/Sanriku Railway "Shiosai (Rising Tide) Memories"
The parlor train that appeared on the NHK morning drama "Amachan" will run on December 19. You are fed a sea urchin bowl. Since four people can sit at a single kotatsu (a low wooden table with a heating element covered by a quilted futon) it is likely to soon turn into an informal and fun trip.
6. Iwate/Sanriku Railway "Kotatsu Train"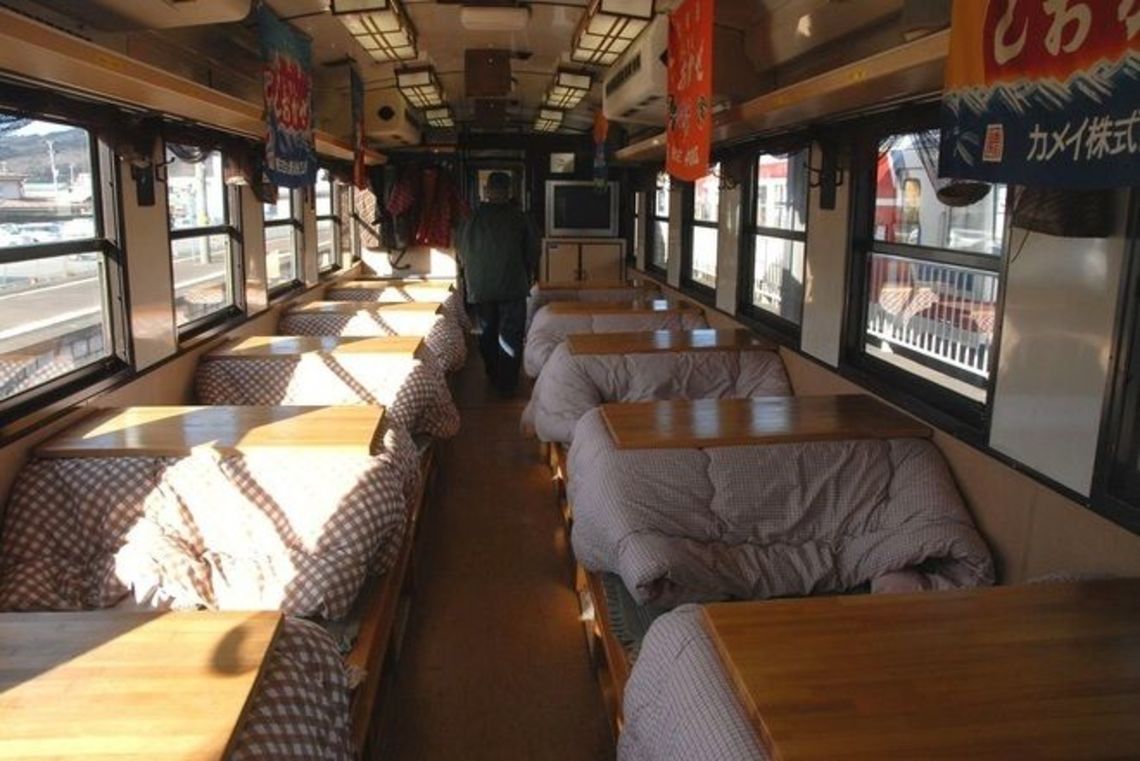 The "Kotatsu Train" on the same Sanriku Railway has definitely become a classic winter train. Although operations were interrupted after the Great East Japan Earthquake, operation of the whole line has resumed and the vehicles have been remodeled since.
There is a fun event when the entire train is plunged into darkness as it passes through a long tunnel. At that time, a character called "Nanomi," which is similar to the distinctive Tohoku character "Namahage" (shaped like an oni or demon), goes around and threatens the passengers. All in good fun of course!
7. Aomori Tsugaru Railway Heater Train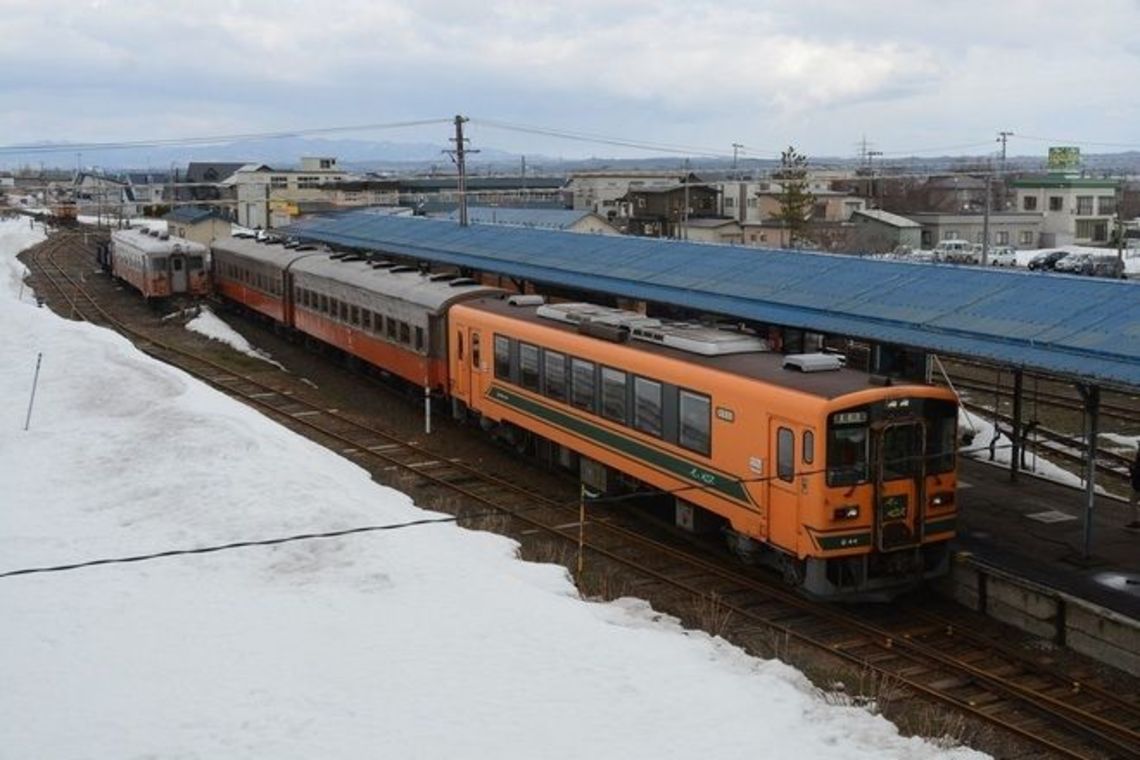 Riding the Tsugaru Railway Heater Train in the Tohoku Region is a fun experience. It is operated daily from December 1, 2015, to March 31, 2016. With three round trips every day (two round trips on weekdays in December), an extra charge of 400 yen is required in addition to the base fare. Hear fun stories from local attendants and bake dried squid in a stove together with fellow passengers, and enjoy the lively and vibrant atmosphere.
There are also goods for sale on the train, and with advance booking, it is also possible to eat a lunchbox warmed on a stove. You can even participate alone and without a reservation, and a day tour is possible if you use the Tohoku Shinkansen from the Tokyo Metropolitan Area.
Getting along with strangers
8. Akita, Yuri Plateau Railway End-Of-The-Year Party Train
An end-of-the-year party train is being planned by the Yuri Plateau Railway in Akita Prefecture. The round trip takes about two hours from Ugohonjo to Yajima, and includes an all-you-can-drink package and a lunch box. It will run as a Christmas train for families from December 19 onwards.
9. Osaka Sightseeing Train "Tsudoi (Gathering)"
Kintetsu Railway uses the sightseeing train "Tsudoi" in Kansai, and plans are ongoing to tie up with Kirin Beer. The train makes a round trip on different routes both ways, from Ueohmmachi in the center of Osaka and Kashiharajinugmae in Nara Prefecture. It is scheduled to run on December 9 and 17 this year.
10. Tokyo "Yebisu Beer Train"
The representative end-of-the-year party train in Tokyo is the "Yebisu Beer Train." It is a parlor train that departs from Shinjuku and goes through freight lines on which passenger trains don't usually run. The route is different each year. Ekiben (station lunch boxes) are distributed in the vehicle, and there is all-you-can-drink Yebisu beer (cans).
Applications are for two or more people, and it is common to share the large tables with other groups. The train will run this year on December 11 and 18 (both Friday evenings).