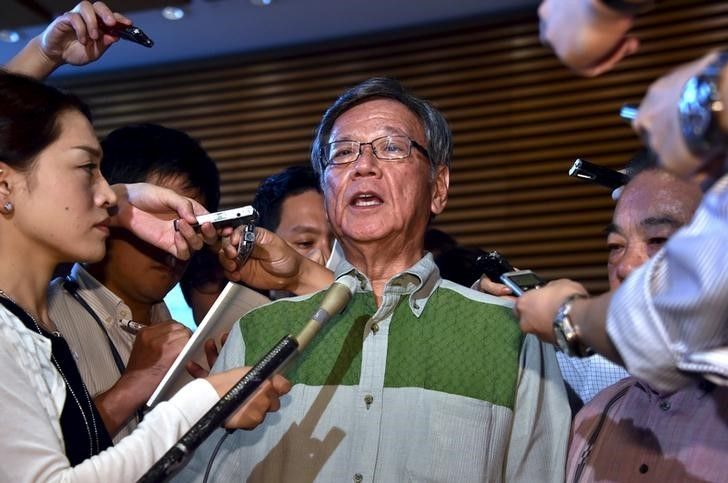 By Elaine Lies
TOKYO (Reuters) - Japan's central government filed a law suit on Tuesday against Okinawa's governor, demanding he reinstate a key work permit to relocate a contentious U.S. air base, escalating a feud that could prove politically damaging for Prime Minister Shinzo Abe.
Tokyo wants to move the U.S. Marines' Futenma base to a less crowded part of the southern island, but many residents of Okinawa want it, and the U.S. military, out of the prefecture altogether.
Okinawa, the site of a bloody World War Two land battle, hosts the bulk of U.S. military forces in Japan and many residents resent what they see as an unfair burden.
Last month, Governor Takeshi Onaga revoked the permit granted by his predecessor for landfill work needed for the base move. The government's move to sue the governor follows his refusal to reinstate the permit.
A court ruling in favour of the central government would give the land minister the power to override Onaga's opposition.
"We're a nation of laws, and so we proceed according to the judgment of law," Chief Cabinet Secretary Yoshihide Suga told a news conference. "This was the unavoidable result."
Onaga told reporters only that he "would respond firmly."
Perceptions of bullying from Tokyo could dent support for Abe, already struggling with an economy back in recession, before an upper house election next year.
Tens of thousands of people across Japan participated in protests to support Okinawa's stand during the past six months.
A big push by Tokyo also risks fanning Okinawan opposition to other U.S. bases, said George Washington University professor Michael Mochizuki, who has studied the issue for two decades and has proposed an alternative plan that involves building a heliport in the Marine's Camp Schwab in the island's northeast.
"My concern is the more the Japanese government pushes the current ... plan, the more resistance will get stronger and eventually get so strong as to make it difficult to maintain other important (U.S.) facilities on Okinawa," Mochizuki told a news conference.
The United States and Japan agreed in 1996 to close Futenma and move its functions elsewhere on the island, but relocation stalled due to opposition from Okinawa residents worried about noise, pollution and crime.
Political analyst Atsuo Ito said that public opposition could make it hard to force construction through.
"The government's biggest fear is that protests will grow violent and somebody will be hurt or even killed," he said.
"If the general Japanese public really takes Okinawa's side, this will be bad for the government, and an incident would make things blow up."
(Additional reporting by Linda Sieg; Editing by Simon Cameron-Moore)