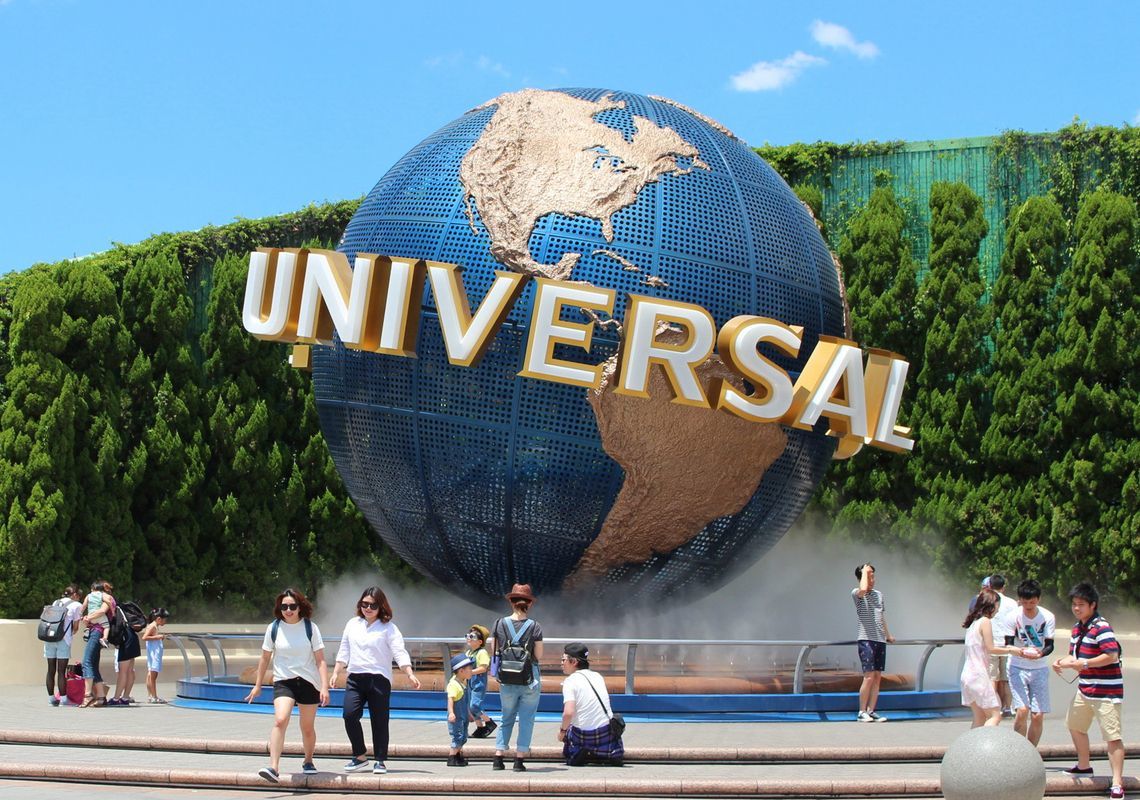 Regardless of heat and temperatures exceeding 30 degrees Celsius, the Harry Potter area in Universal Studios Japan (USJ) is packed with fans wearing the familiar wizard's black robe. A year has passed since the area opened, but almost all days have had admissions restricted, even on weekends.
Armed with Harry Potter, USJ's business performance is in peak condition. The number of visitors in fiscal year 2014 ended March 30 was a record 12.7 million people. Operating income has hit a record high for the second straight year in a row.
Now, the company plans to open a new park in Okinawa, Japan's southernmost prefecture. USJ President and CEO Glenn Gumpel made a formal announcement this March, and he requested cooperation in a meeting on July 17 with Okinawa Governor Takeshi Onaga. A business plan will be solidified by the end of the year.
The reason Okinawa was chosen was due to some geographical factors, in addition to the abundance of tourism resources. "It (Okinawa) has a population greater than Hawaii and a high disposable income compared to other places three hours from it," says USJ executive officer Tsuyoshi Morioka said that "There is tremendous potential that is hidden."
Candidate sites are in the northern district of the main island of Okinawa, and facilities visited in Motobu Town and Nago City were promising.
One of the candidate sites is the state-owned Ocean Expo Park, measures such as a review of the building standards for new facility construction are necessary. That the backing of the government has been obtained is a big step.
While details such as the contents of the new facilities are not yet clear, Mr. Morioka said the theme is "be refreshed in a tropical resort".
It seems like a concept to take advantage of the features of Okinawa, such as nature. Unlike the concept at USJ in Osaka, which is centered on movies and with many characters appearing at the park, the new park in Okinawa won't use "Universal Studios" brand name.
Preparing to be relisted in September
Meanwhile, USJ's plan to relist on Tokyo Stock Exchange is also progressing. In response to the stock market downturn, USJ was delisted in 2009, after being listed for just two years. According to market participants, a listing application was carried out in May, and USJ is expected to be relisted before the Japan Post Group is listed in September.
Although USJ says the "listing consideration is different from Okinawa," there is a speculation that the company is relisting to raise funds for the new theme park.
The interest of the market in USJ being relisted is high. While the willingness to invest is stagnating and there are echoes of a new listing delay through stricter examination, voices as savior IPOs craving for a high profile USJ have become louder every day.
"Many investors are attracted to the keyword of national policy," says FISCO analyst Hirozumi Kobayashi. "USJ, which had an 80% increase in foreign tourists in fiscal year 2014, definitely is related to Japan's national policy."
Furthermore, "the new theme park is often reported as 'set' with the Futenma base relocation issue, and its national policy image is even stronger," says Kobayashi. Although there are some elements that will depress the stock price after listing in additional sales for large shareholders for Goldman Sachs investment funds, there are many who view this as a high-profile IPO.
Okinawa rising
Okinawa is currently booming as a tourist destination. A record high 7.16 million people visited in fiscal year 2014 (an increase of 600,000 people from the previous year). The number of foreign visitors has increased rapidly with the weaker yen.
Among these people, Chinese tourists have been issued multiple entry visas. With these visas, they can enter and exit the country for up to three years if they stay in Okinawa for more than one night. Construction of a second runway in Naha Airport is progressing, aiming to start use in 2020.
The Ocean Expo Park is home to Japan's premier aquarium, the "Okinawa Churaumi Aquarium". There is the announcement of USJ's new business, and if complete a good start would seem to run out.
However, challenges such as infrastructure also remain. A respresentative from the Motobu Town Tourist Association says "The expressway (from the Naha Airport) is also congested at present." It takes about 1.5 to two hours from the same place to Naha Airport. If the new theme park is flooded with visitors, the congestion will seriously increase.
Even so, local demand is strong. "We want to have a scheme to get people to make an excursion to our town. It will be tough if the surroundings are enclosed like other theme parks," says the representative from the association.