Paris Mayor Anne Hidalgo paid tribute on Saturday (November 14) to the victims of the attack at on a city concert hall on Friday (November 13).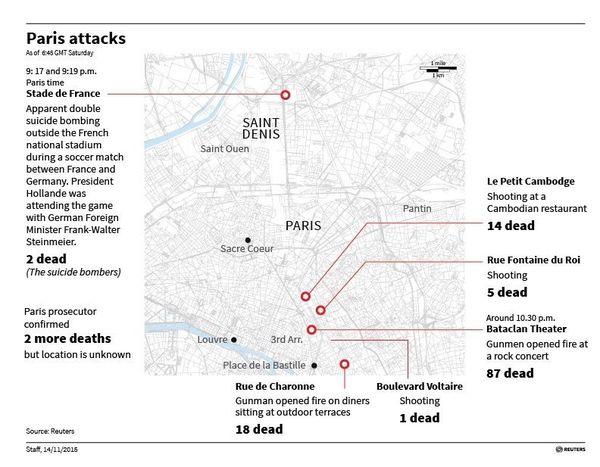 The attack was part of a coordinated assault by gunmen and bombers that killed 129 people at locations across Paris, which President Francois Hollande said amounted to an act of war against France.
In the worst attack, a Paris city hall official said four gunmen systematically killed at least 87 people at the rock concert by an American band at the Bataclan concert hall before anti-terrorist commandos launched an assault.
Some 40 more people were killed in five other attacks in the Paris region, the official said, including a double suicide bombing outside the Stade de France stadium, where Hollande and the German Foreign Minister Frank-Walter Steinmeier were watching a soccer game.
The assaults came as France, a founder member of the U.S.-led coalition waging air strikes against Islamic State in Syria and Iraq, was on high alert for terrorist attacks, raising questions about how the attacks were able to occur.
It was the worst such attack in Europe since the Madrid train bombings of 2004, in which 191 died.