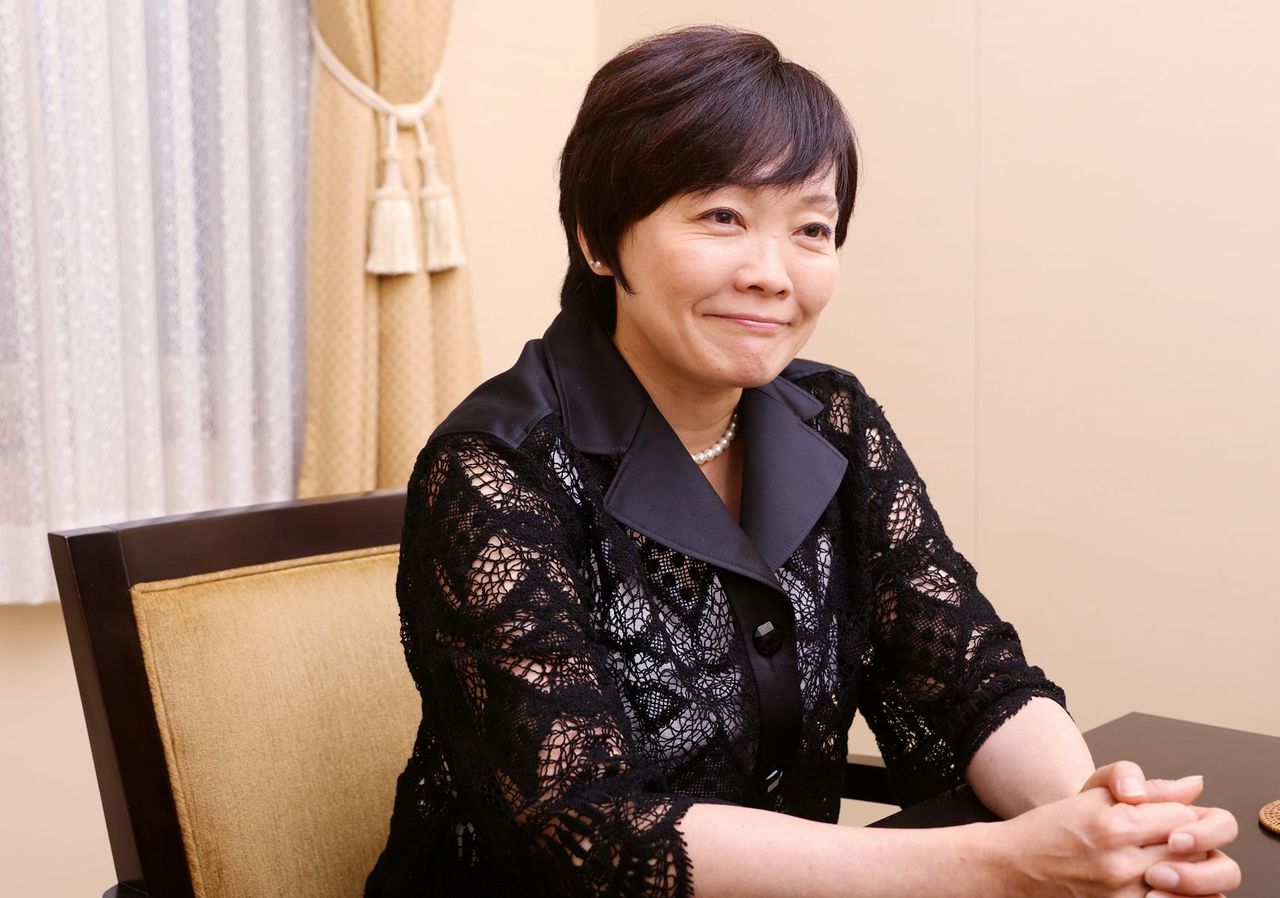 This is the third article of a three-part series on Japan's First Lady, Akie Abe, and her life with her husband, Prime Minister Shinzo Abe.
The first article
was published on October 29 and
the second one
on October 31.
In June 2012, Akie Abe, wife of Japan's Prime Minister Shinzo Abe, turned 50. A multitude of guests attended the grand birthday party held in her honor at a Tokyo restaurant.
During the event, videos of her were projected onto a screen for all to see, and her husband provided the narration. Cheers echoed throughout the venue. Akie's mind, however, was elsewhere.
"Up until that time, I had always thought that my job was to support my husband," she explains, recalling a life decision she had made three years earlier.
"Then, I suddenly realized that age 50 should be a time for me to start my own life, that I should free myself to pursue my own ambitions."
Akie decided to open her izakaya, UZU. At the same time, Shinzo had made the decision to step forward as a candidate in the August general elections, his sights set on a second term as prime minister. Of course, he expressed some opposition to his wife's simultaneous move toward the role of izakaya manager, but Akie stood her ground.
Becomes first lady once again
The second Abe cabinet became a reality in December, and Akie was once again Japan's first lady. "When I considered my own dreams and desires, I wasn't entirely happy to return to that role," she recalls of her feelings at the time.
However, when controversy began to arise surrounding Tohoku's massive seawall construction project in areas affected by the Great East Japan Earthquake and the subsequent 2011 tsunamis, Akie's determination to pursue her own ambitions from age 50 onward were refocused in a way that transformed her into a fiercely determined first lady.
"Young people from the disaster-affected regions told me they had been asking around for help, but the number of people willing to listen was dwindling steadily," Akie says.
"I told them that I would do my best to help, to which they replied, 'Mrs. Abe, what exactly does your best entail?' This comment really motivated me to take full-out action." She pursued determined efforts to prevent the destruction of Japan's beautiful scenery and natural environment and to stop the wasteful use of citizens' tax money.
Yukari Tatsumura, producer of the film, Gaia Symphony, spoke with Akie for the first time when she visited the Aso region of Kumamoto in August 2010 to see the Five-Colored Grand Festival, which is held at Heitate Shrine once every five years. Akie was dressed in yellow ceremonial garb as she ascended toward the main worship hall of the shrine. Yellow is one of the five colors traditionally used in the festival.
Tatsumura and Akie hit it off immediately. In early 2013, an email arrived in Tatsumura's inbox from Akie. She was soliciting his opinion on the giant seawall, as she had been harboring doubts about the project, and he immediately responded with, "I feel the same way as you do."
The two visited the towns of Rikuzentakata, Kesennuma, and Ofunato in the Tohoku region in August, and, with Akie's help, Tatsumura was able to hold a forum regarding the seawall project in the House of Representatives' assembly hall in October.
"After doing our research, we discovered that Miyagi's Governor Yoshihiro Murai was the key to winning the struggle, and Mrs. Abe set up interviews with him on numerous occasions," reveals Tatsumura. "We were able discuss the issue with the governor via email, but he refused to take part in Akie's proposed public talks on the matter."
Satsuki Katayama, a member of the House of Councilors and the Liberal Democratic Party (LDP), summoned Akie and the persons in charge at relevant ministries to a meeting of the party's Environment Committee. Akie brought the opinions she had heard in Tohoku directly to the municipal office.
Tatsumura continues: "I was expecting more change than was actually accomplished. We were bound hand and foot by complex regulations and laws and thus unable to achieve our goals."
Akie also scaled down her speech and actions. "I thought that discussing our efforts with my husband would help us get somewhere, but, in reality, it didn't change anything," she explains. "Project supporters were calling me a nuisance. I realized that I probably ought to avoid disrupting things more than I already had."
From the perspectives of some onlookers, the determination fueling the first lady's rash plans had run into formidable barriers that proved insurmountable. In reality, the fiercely determined first lady's efforts were nothing short of wholehearted.
Discussions with Tohoku locals related to these efforts would often continue late into the night. Tatsumura recalls, "I would return to my room at midnight and go to bed. Mrs. Abe, who was staying in the same room, came back completely drunk around 3:00 a.m. and fell into bed without even changing her clothes. Then, she woke right up again at 6:00 a.m., fixed her makeup, and, without even finding new clothes to wear, headed out for the day."
Where does Akie go from here?
Yoichi Tominaga, president of Community FM Shimonoseki, where Akie used to have a program, describes Akie as "a pure and genuine individual. She was raised in a manner that freed her from the worries most of us face—I mean this in a positive way."
How will the pure and genuine Akie view the society in which she lives as she starts out on a new journey at the age of 50?
"The pyramid-style, vertically divided society built by men will see its end sooner or later, and we'll move on to the more inclusive society where everyone just mingles and interacts with each other," says Akie.
"My husband may think people want just one strong leader to build a better society, but we are not living in an age like that—I think people want to act together to build a better future. In that sense, there will be more important roles for women."
According to Tatsumura, Akie's way of living, which incorporates and embraces the society around her, covers two sides of the same coin. "Even if people write malicious things on her Facebook wall, she won't delete those comments or block those users," says Tatsumura.
"The option to delete and block such posts and posters is available, but I'm certain she will never use it. In fact, she'll jump right into the fray when it comes to discussions with people who have opposing views. I asked her, 'Don't such comments worry you at all?' She responded, 'I believe that such people are helping me, that they are playing an important role.'"
Looking back, the obstacles that have always stood in Akie's way have been barriers posed by politics. "Mrs. Abe has tried many different things, and she has come to understand that the biggest bottleneck she faces is the political system itself," says Naoki Shiomi, author of "Han-no Han-X toiu Ikikata (Half-Agriculture, Half-X Lifestyle)," who has an influence on Akie's lifestyle.
"However, I believe she can change politics if she makes the right moves. I think she may even be striving to become a new type of politician."
Kazuya Ogawa, an expert in artificial intelligence and the author of the book, "Dejitaru wa Ningen o Ubaunoka (Is Digitalization Eroding Our Human Qualities?)," who also advised Akie in the past, agrees: "There are many things in this world that cannot be fixed by politicians. Mrs. Abe's role is to serve as a symbol of the power to solve the things that politicians cannot."
Akie's true desire: Escaping the demanding role of the first lady
Some have expressed hope that Akie will enter the world of politics in an official role. When asked what she thinks of this notion, Akie gives a prompt response in the negative: "There is no way that will happen. If I became a politician, I would lose my freedom."
She has also been the target of scathing criticism by those who claim that she takes advantage of her special position as the prime minister's wife to do whatever she wants whenever she wants—that she is a woman out of control. There is a tendency among many to refer to her as the prime minister's Achilles heel.
On the other hand, numerous supporters have hailed her as a symbol of the "new woman," a type of societal figure for the future who leads life in a dynamic and distinctly feminine manner. Many of these people believe that Akie's way of living will have a great influence in the future. For the time being, however, her efforts remain within the confines of her role as first lady.
Kumiko Hashimoto, who served as first lady to former Prime Minister Ryutaro Hashimoto and who was Akie's senior at the Sacred Heart School in Tokyo, has had a long-standing personal acquaintanceship with her. At the time of the Hashimoto cabinet, Kumiko provided behind-the-scenes support to the frequently ill prime minister.
Recalling these efforts, she offers encouragement and advice to Akie, who has had to support her sickly husband in a similar manner: "The times have changed and the role of the first lady is much different from what it used to be. I think Akie should continue doing what she thinks is right, but she must also be aware that she is, in fact, the wife of Japan's prime minister.
All is good when things are going well for him, but when things go poorly, the stress may diminish his health. I urge Akie to avoid placing unnecessary stress on the prime minister in his daily life."
It is possible that to live her own life to the fullest, Akie's true desire is indeed to escape from the demanding role of first lady as soon as possible. Shinzo Abe is currently struggling to find firm footing and to secure a long stay in office amid dwindling support (the result of his proposed national security legislation). Aside from the strain brought on by resistance within the Diet, Akie's at-home opposition may be exacerbating his stress levels.
Will the first lady's uninhibited lifestyle and tendency to play by her own rules cause undue stress that will ultimately poison the prime minister's efforts? Or, will they serve as a secret weapon to bolster his strength, laying down supportive foundations to help the inherently right-leaning and conservative Shinzo Abe achieve even greater things? All eyes are trained on the drama unfolding in the Abe household, behind the scenes of the political stage.