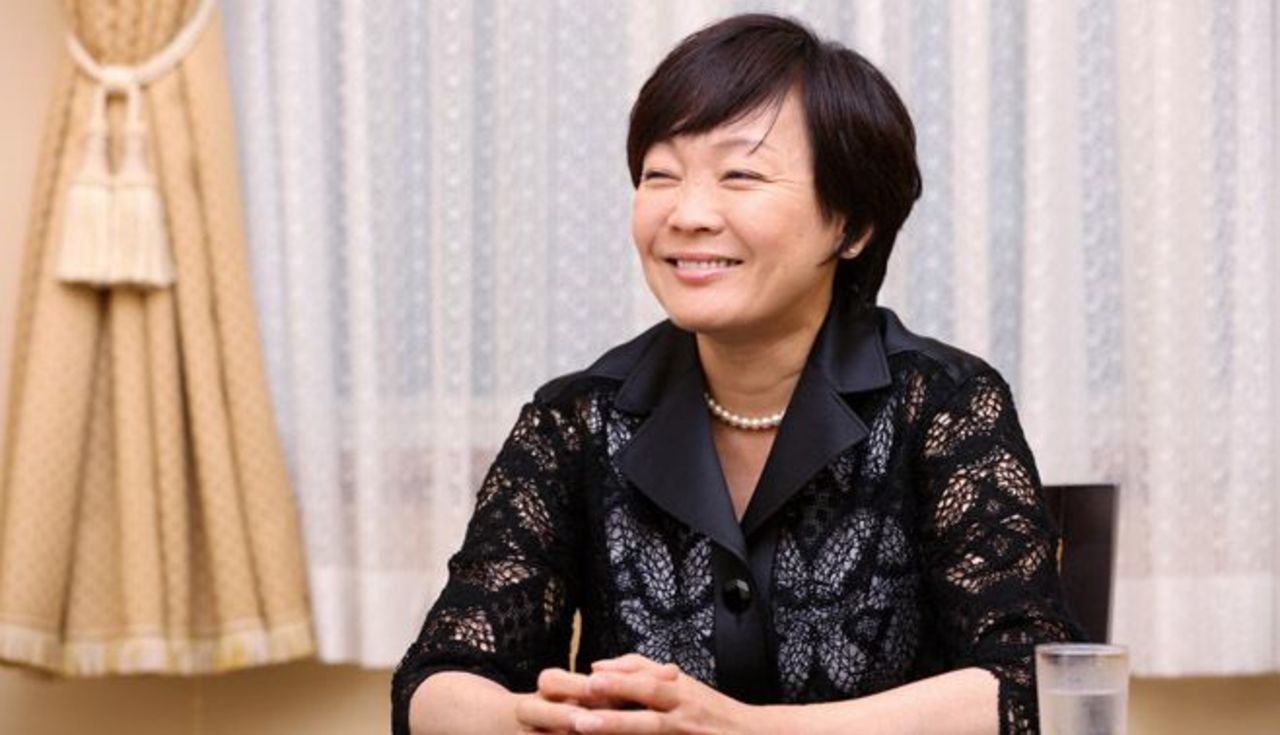 This is the second article of a three-part series on Japan's First Lady, Akie Abe, and her life with her husband, Prime Minister Shinzo Abe.
The first article
was published on October 29.
Two years after his father, Shintaro Abe, who once served as foreign minister of Japan, passed away, Shinzo was elected to a position in the National Diet for the first time in July 1993. At age 31, Akie became a politician's wife.
Yukiko Shiihara, of the central women's branch of the Shinzo Abe Support Society, recalls, "Akie was very open and she possessed an unaffected manner—a woman with a truly great personality. She wore blue jeans, drove a compact car, and was not afraid to show her face anywhere. She continued in this fashion until recent times."
She has an insatiable sense of curiosity and a natural vitality, and she always took action in a cheerful and lighthearted manner. She once participated in an observational tour in Africa, and upon seeing the plight of the local children, she decided to look for a way to help in the world.
Acting on advice from Shinzo, she began her efforts to help children in Burma (Myanmar), providing support for school construction projects providing support for school construction projects led by the monasteries.
In 2006, Akie met Yoshio Iwaki, a naturalized Japanese citizen born in Burma and the vice president and executive director of the Greater Mekong Initiative. "Mrs. Abe has donated three schools through the Foundation for the Donation of Schools for the Children of Asia," explains Iwaki. "At the time, each two-story school cost approximately 4.2 million yen to build."
Shinzo became the prime minister of Japan for the first time in September 2006, but in September 2007, he resigned in a somewhat brusque fashion due to poor health. That ended Akie's role as first lady after a single year.
At the time, Akie offered her husband the following advice: "Instead of just stepping down as prime minister, maybe you should resign from the Diet and get out of politics altogether." She admits to "telling him my opinion without reserve—that he had already served as the country's prime minister and that I thought he might enjoy leading a different kind of life."
She went on to say, "He didn't really answer one way or the other. He didn't reject outright the suggestion of leaving politics, but I'm certain he had no intention of quitting."
Going back to college at age 45
Akie was 45 years old when her initial period as first lady ended, and she considered enrolling at a university. "I felt that many of the ideas in my head up until that point had been, in many cases, too unfocused," she says.
A number of Akie's relatives had attended Rikkyo University, so that was the school Akie chose as well. She enrolled in the Graduate School of Social Design Studies, which offered a course tailored to the needs of students who were already actively contributing to society through work.
During Akie's time as a student there, a guest lecturer, Naoki Shiomi, of the designated nonprofit organization, Satoyama Net Ayabe, located in Ayabe City, Kyoto Prefecture (and leader of the Half-Agriculture, Half-X Research Center), gave a 90-minute lecture.
The introductory section of Shiomi's book, Han-no Han-X toiu Ikikata ("Half-Agriculture, Half-X Lifestyle") contains the following passage: "[The half-agriculture, half-X lifestyle] entails producing only the amount of food required to sustain oneself through small-scale agriculture while focusing on a small-scale lifestyle that only meets one's minimum requirements, pursuing the things one loves, wants to do, and ought to do, and actively participating in society." This really opened Akie's eyes.
"Mrs. Abe has said in many interviews, speeches, and so forth that her becoming acquainted with me and my 'half-agriculture, half-X' philosophy was an important turning point in her life," says Shiomi. "After learning of my ideas, she began to grow rice on her own, which is something I don't think she would have come up with before hearing me speak.
Becoming a rice grower
After her role as first lady came to a temporary end in September 2007, Akie abruptly set out on a pilgrimage to various Shinto shrines. Her first stop was the Izumo Grand Shrine, one of Shinto's oldest and most important shrines. Traditional beliefs hold that humans are connected to the Shinto deities through nature and the earth, which relates to the key themes of Akie's activities: agriculture, nature, the planet, and the cosmos.
She began growing rice on her own in the fall of 2010. At a meeting of the Shinzo Abe Support Society held in Shimonoseki City, a local farmer, Hiroshi Uemura, who was engaged in agrochemical- and fertilizer-free agriculture, suggested (after hearing Akie speak) that she try planting her own rice.
"I meant it as a joke, but she took a real interest in the idea," remarks Uemura, standing on the edge of a rice field now known as Akie's Farm in Shimonoseki. "Now I've been dragged into her project as a sort of reluctant helper," he adds, jokingly.
All crops on Akie's Farm are grown without the use of agrochemicals or fertilizers. She started out with a hand-tended, 700-m2 (0.17-acre) field and expanded in 2014 to incorporate 2,000 to 3,000 m2 (0.49 to 0.74 acres) of neighboring fields into her farm. The land was designated for growing Yamada Nishiki sake-brewing rice.
Workers were needed to handle rice planting, harvesting, and so forth. Yasuhiko Matsubara, the standing director of the incorporated social welfare organization, Nagomi no Sato, and a former Shimonoseki City Council member, was already taking an active part in these efforts. "In addition to Shimonoseki locals, several dozen people from other municipalities come to help. At first, all of our rice planting and so forth was done by hand," says Matsubara.
Despite these efforts, Akie felt that her thinking was still too unfocused. She continued her quest for a solution. In 2009, she met Kazuya Ogawa, an expert in artificial intelligence, the author of the book, Dejitaru wa Ningen o Ubaunoka ("Is Digitalization Eroding Our Human Qualities?"), and president of Grand Design.
"After hearing her speak, I was unsure of what exactly she was trying to do," recalls Ogawa. "So I organized her life in a systematic manner to clarify what it was all about and I put that down in written form."
Ogawa also designs her action plans and even proposed the creation of her school: in July 2014, Akie opened the new "UZU School," named after her izakaya drinking establishment, and she became its principal.
To be continued