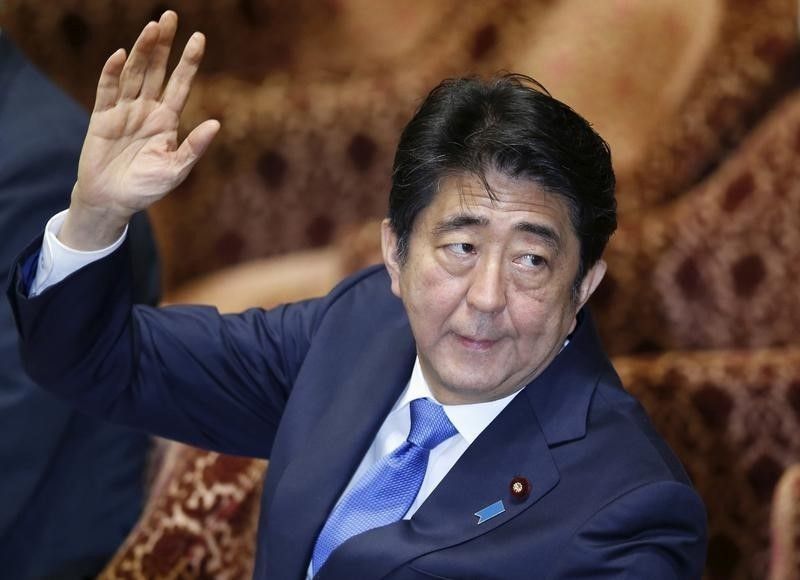 TOKYO (Reuters) - Japanese Prime Minister Shinzo Abe won a rare second consecutive term on Tuesday as ruling party chief, and hence premier, pledging to retain focus on reviving the world's third-biggest economy and deepen debate on revising its pacifist constitution.
Abe, who took office in December 2012 promising to reboot a stale economy and bolster Japan's defences, won another three-year term as Liberal Democratic Party (LDP) president after his only potential rival, former LDP executive Seiko Noda, failed to gain enough sponsors to launch a challenge in the party poll.
"While creating a virtuous economic cycle, I will spread the feeling of recovery to every nook and cranny of the regions and throughout the country, completely escape deflation and create growth in a strong, future-oriented economy," Abe told a crowd of supporters before registering for the vote.
Abe said he would also tackle the problems of Japan's low birth rate and ageing population.
He said in a statement he would deepen public debate on revising Japan's post-war, pacifist constitution with an aim to changing the charter. Surveys show many Japanese voters are wary of revising the constitution's pacifist Article 9.
Abe's policy team has pledged to refocus on the faltering economy after spending political capital in the past year pushing unpopular legislation that could let Japanese troops fight overseas for the first time since World War Two.
Japan has had a series of revolving-door leaders, beginning with Abe's own troubled first term in 2006-2007, after maverick Junichiro Koizumi's five-year stint as premier from 2001-2006.
The next general election is not scheduled until 2018.
The yen has eased more than 30 percent against the dollar and Tokyo share prices and corporate profits have more than doubled since Abe took over as head of the then-opposition LDP in September 2012 and led the party to victory, buoyed by hopes for his "Abenomics" recipe for economic revival.
However, corporate investment is sluggish and wage rises have failed to keep pace with higher prices, dampening consumption. GDP shrank an annualised 1.2 percent in the April-June quarter due to an export slump and weak consumer spending.
Economists say Abe should tackle tough structural reforms, such as freeing up the rigid labour market to boost productivity. They expect he is likely to rely on more politically palatable measures, such as an extra budget for the current fiscal year and easy monetary policy.
A challenge by Noda could have snarled debate over the security bills, which the government aims to enact as early as next week despite popular protests and surveys showing most voters oppose them.
(Reporting by By Yuko Yoshikawa and Kiyoshi Takenaka and Linda Sieg; Editing by Chang-Ran Kim and Paul Tait)