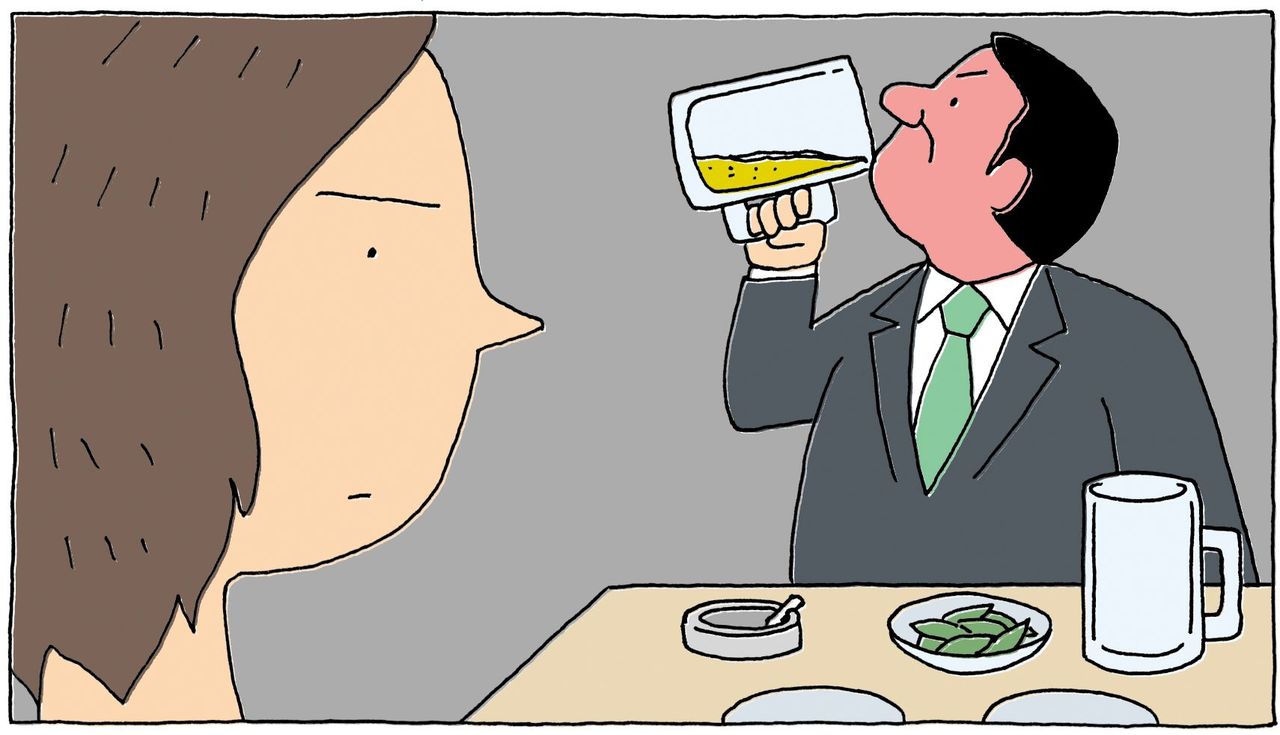 About a year ago, I started working as an omiai ojisan (a man who helps arranged marriage candidates meet), trying my hand at bringing together single men and women for the purpose of marriage.
I'm still a novice in this field, so I narrow candidates down to women I would be interested in dating if I were still a bachelor and men who I think women might find appealing.
Although I expected to succeed with only one couple or so per year, thus far, I have had zero success in arranging even one meeting per month between potential pairs.
"It was hard for me at the start, too. But after about a year, things started to pick up," boasted my cheery friend Yuko Onodera, a woman who works in the same business. Five years ago, Onodera started a marriage matchmaking service, Tokyo Sewayaki Obasan no Enmusubi (which means, "meddlesome old matchmaker in Tokyo"), together with her partner. She offers her kind and courteous services at very reasonable prices.
When I asked Onodera (commonly known as the "Sewayaki Obasan," or "Sewa-Oba" for short) to introduce me to a client who had successfully married later in life, she arranged for me to meet with 44-year-old Ryoko Yamauchi (name changed to protect privacy). Ryoko had recently married in March of this year.
When she showed up for her interview with me, Ryoko looked youthful and stylish, sporting a bob cut, a sleeveless, striped shirt, and a navy-blue flared skirt. After our exchange of greetings, she maintained a relaxed smile and began to recount with great enthusiasm her first meeting with Sewa-Oba.
She explained what had attracted her to Sewa-Owa. "I get worked up fairly easily, so when I registered in Sewa-Oba's system, I expected that things would go really well, that I would find a marriage partner right away," said Ryoko. "I immediately felt comfortable when I met with Sewa-Oba the first time to discuss my options, and we talked about various aspects of my life thus far. I remember feeling really excited and optimistic after that first meeting."
Married Life with a Depressed Husband
Ryoko had married once in the past. Her first marriage ended in divorce—she married at age 31 and divorced at 40.
"After graduating from junior college, I found employment working in the teacher's office at a junior high school. My mother's friend introduced me to the son of a teacher at my school. The son was working as a music teacher at a different school. Because I had majored in music in junior college, I convinced myself that this common thread was a sign of some deeper connection, and one year later we were married," she recalled.
For various reasons, including the distant location of her husband's workplace, Ryoko quit her job and became a full-time housewife, passing three pleasant years in this fashion.
During the fourth year, however, dark clouds began to gather over their marriage: Her husband had originally wanted to be a musician, and he experienced stress and worries as a school music teacher, eventually descending into a state of depression. He quit his job and, living on unemployment insurance and help from his parents, enrolled in a vocational school.
"I decided to leave my role of housekeeper and took on part-time office work at a nursing home," explained Ryoko.
"Despite my husband's three-year employment gap, he managed to find work at a small electrical machinery company. Unfortunately, he wasn't able to develop close ties with other members of the company, and following the global economic downturn precipitated by the Lehman Brothers' bankruptcy in 2008, he was laid off. After that, he lost his will to work. I had hoped he would find another job in the education field, and I suggested that he take an interview for a position I had heard about. In response, he became very upset and told me, 'I want you out of this house.'
Couples Form Two Parts of a Better Whole
After her divorce, Ryoko resolved to find work for herself. She went to a Hello Work office (a Japanese government employment services center), where they initially warned her that it would be difficult for a 40-year-old to find office work. Despite this warning, she ended up finding a job at the industrial organization where she continues to work today. After finding employment, she moved in with her older sister, who is unmarried and six years her elder.
Ryoko admitted that she tends to get lonely easily, so living together with her sister—a person of strong character—was a mostly comfortable situation.
Why, then, did she decide to marry again? Ryoko answered, "Marriage has some tedious aspects, but these are outweighed by its joys. I believe that a couple makes up two complementary parts of a better whole in a way that two sisters cannot. There is something special that can only be experienced by having a partner—I remember feeling a profound sense of emptiness after losing that special something, which is why I decided to marry again. I didn't break up with my first husband out of hatred, so I have never had negative feelings toward the institution of marriage itself."
She learned about Sewa-Oba in the summer of last year, while in the midst of her search for a new husband. Fifty-year-old Kenji Yamauchi (name changed to protect privacy), the bachelor highly recommended to her by Onodera, is now Ryoko's husband. He is an experienced salesperson at a medium-sized firm.
"Onodera-san told me, 'Kenji is an outstanding candidate who still has a lot of room for growth,' but when I met him in person, he seemed like just another tired old man, chubby and wearing the typical suit of a white-collar worker," remembered Ryoko. 
"After we introduced ourselves, he suddenly asked me, 'how about going to Lion [the beer and dining restaurant] in Ginza?' I like drinking as much as the next person, but Lion didn't seem like an appropriate choice for a first date."
Kenji, however, took her anyway and was so nervous that he didn't notice Ryoko's stunned expression as he continued to drink glass after glass of beer, dominated the conversation, and even smoked cigarettes, a habit Ryoko found distasteful.
She continued, "To be honest, I was put off by him at first. After that initial date, he suggested we meet again sometime, and the next morning I received a text from him apologizing for doing all the talking and not enough listening the previous night. The truth is, I met him again because I couldn't find a polite way to refuse."
How Kenji has changed after the "incident"
Ryoko reported back to Sewa-Oba, who became furious at Kenji and said, "I told him drinking like that wasn't allowed right off the bat!" Ryoko tried to calm her down, explaining that "we're both adults here, and I actually prefer a bit of drinking." Thankfully, the situation was resolved when they agreed to have Kenji slow his pace when it came to alcohol.
After that first date, Kenji began to show his true charm, and he even resolved to end his 30-year smoking habit. He also started paying closer attention to the way he dressed. Ryoko recalled that, "we went on dates once every ten days or so, and every time we met, he seemed more youthful and energetic than the time before. The fact that he drank so much despite his inability to hold his liquor was actually endearing because it showed a vulnerable, human side."
"I heard that he is a highly competent salesperson at his company and takes it hard when he lets something slip through the cracks or makes a mistake," she added. "He had recently visited the Ise Shrine (the holiest Shinto shrine in Japan) during a business trip, and when I asked him if any of his prayers had been answered, he gave a smooth reply: 'Yes. I met you today.' He's an easygoing guy, so I feel comfortable when we're together."
On top of their shared interest in eating out and enjoying a few drinks, Ryoko enjoys just spending time with her new husband, who is a hardworking individual with a bright personality. This relationship has helped her to find what she had been missing—that special something that only life with a good partner can provide.