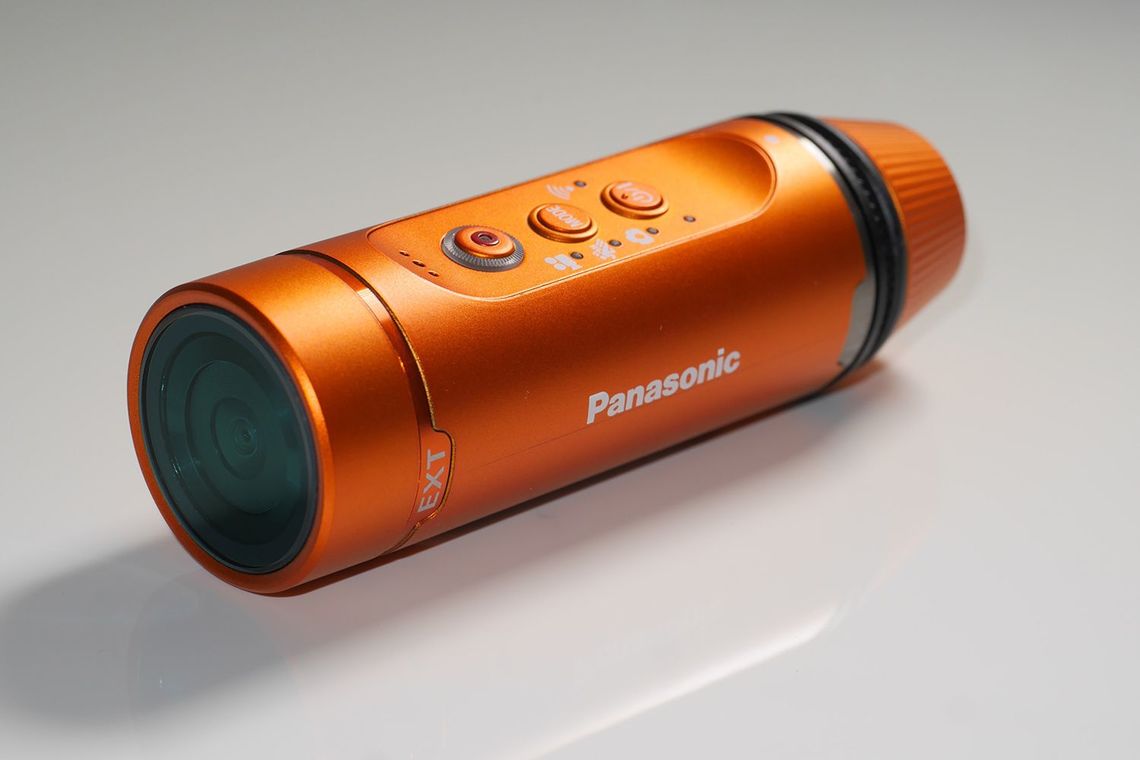 There isn't much in the Panasonic catalog that's likely to scream "edgy!" or "groundbreaking!" Although the electronics giant has an excellent reputation for developing high-quality products, it has struggled to come up with innovative ideas that could change its stodgy image.
Inside the company, marketing teams must be dying to fight this criticism, and to remind the world that Panasonic has always thrown itself into developing concepts that challenge conventional wisdom in the electronics world.

In the 1990s, Panasonic introduced "Pinocchio," a mobile phone that might be called the world's first smartphone. More recently, the company created LUMIX CM1, a point-and-shoot camera equipped with smartphone apps and communication functions.

Panasonic's slogan is "ideas for life," but that doesn't necessarily mean the company is focused exclusively on products for everyday life. In fact, its new series of "wearable cameras" may be just the thing to deliver the deathblow to the company's reputation for boring dependability.
Challenging a shrinking camcorder market
Today, the word "camcorder" is synonymous with Sony's Handycam brand, a handheld video camera that captures and records home videos. In the 1980s and 1990s, camcorders were an indispensable item at weddings, births and other major life events, but for the last two decades their foothold in the market has steadily weakened.

This weakening, however, isn't the fault of the product or the technology. Thanks to decades of accumulated tech savvy and ingenuity, every camcorder on the market comes equipped with impressive features and video capabilities. Recently, camcorders have appeared that can record 4K videos. Now as before, the camcorder's answer to the human need to capture moments and experiences is cutting-edge technology--and, for the most part, nothing else.

As a result, the electronics industry's endless pursuit of "the better camcorder" has had an unintended side effect: apart from a small niche of AV specialists, customers no longer see much difference between the functionality and image quality of different recording devices. Even a smartphone can record 4K videos today--and when you can record 4K videos with a smartphone, sharing them online is as easy as pushing a button.

Why, then, should anybody want to buy a camcorder? And if you're a camcorder maker, what's the best strategy to keep yourself on the road to survival?

There are two main answers to these questions.

The first is simply to shoot for a much higher-quality imaging product than a smartphone can deliver. You might call this the king's road ? or, more honestly, the obvious way. Building a better camcorder can't be called a "bad answer," real, but it's hard to deny that this approach has become ineffective at drawing eyes and ears.

In response, Panasonic has come up with a different answer: creating a high-quality video camera whose shape and size differ radically from a traditional camcorder. This path was first opened by GoPro's HERO, a series of small action cameras. What distinguished HERO from its competition was, crucially, not its high image quality, but the way it allowed users to shoot video from angles that would have been impossible with earlier camcorders. This innovation wildly expanded the variety of scenes HERO users could shoot.
Going beyond just copying
Although still a minor player in the Japanese market, GoPro had begun to establish a foothold. Where, then, could Panasonic find room to maneuver? Knowing it wouldn't be enough to make its own version of GoPro's HERO, Panasonic took inspiration from it and came up with the HX Series, a fresh take on the action camera concept.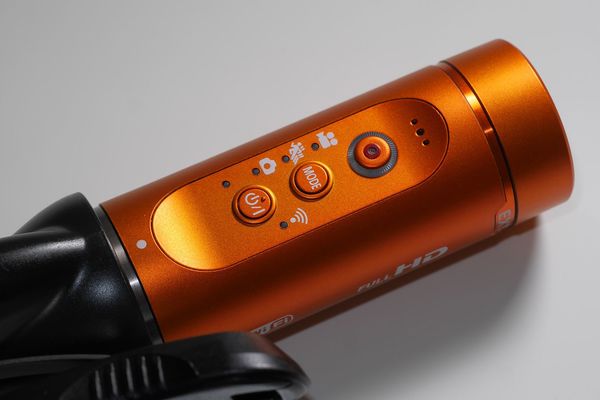 As we move on to Panasonic's new HX-A1H camcorder--the main feature, you might say--it's hard to ignore how shockingly simple and intuitive its functions are. As the latest entry in the HX wearable camera Series, the A1H combines every element of the camera into a compact, lightweight, cylindrical action camera that attaches directly to its user's body.

The unit is water resistant up to 1.5 meters of depth and features an innovative dust-protective casing. Its body is guaranteed to withstand temperatures as cold as 10 degrees Celsius, as well as falls from heights as high as 1.5 meters.
HX-A1H's most surprising feature may be its lightweight design. The camera weighs only 45 grams, and its body is only 83.1 mm long and 26 mm in diameter. Inside that tiny cylinder, Panasonic has managed to fit a camera lens, image sensor, image processing circuit, recording encoder, wireless communication device, a battery, and a panel that allows the users to control all of that equipment in a simple and intuitive interface.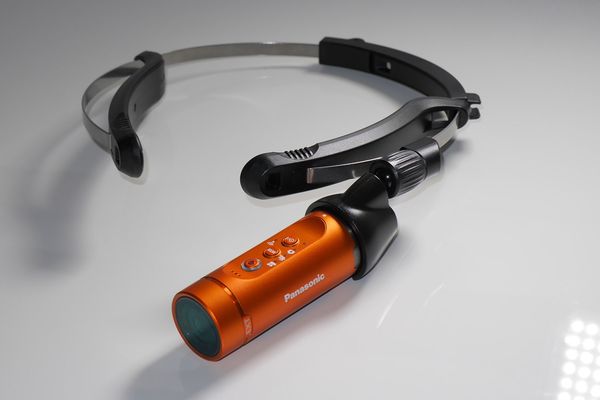 The HX-A1H's specialized headset allows users the freedom and flexibility to position the camera at any angle they want. Lightweight and convenient, the mounter can be attached to the user's heads, as well as to sports helmets, surfboards, carts and automobiles.
HX-A1H's headset, a major innovation in wearable cameras
Users can record and pause videos using the cylinder itself, or the camera can be connected to a smartphone and used as a viewfinder. Although Panasonic plans to develop an LCD peripheral that will allow users to check the quality of their 4K videos on a separate panel, the camera itself is designed with an eye toward compactness, and is optimized to combine with smartphone interfaces.
Panasonic has also introduced an experimental "Zero-Lux Night Mode" that allows users to record in total darkness. The A1H includes an infrared filter that can be used with infrared lights currently on the market.
In addition, the camera comes equipped with wireless communications features that allow users to send A1H videos to any other Panasonic-brand camcorder. This new development is designed to allow users to make "wipe" videos ? a hybrid video genre that inserts a smaller screen inside videos recorded on the camcorder. By mounting the A1H on your child, for example, and sending him off to play, you can transmit A1H videos to your camcorder and embed junior's point of view with a wider view of the area.
The camera cylinder is so small it can be hidden inside a bag without any trouble, but the A1H is far more than just an action camera. Whether as a peripheral that lets users have more fun with their home camcorders or as a lightweight portable camera that's easy to take on vacation, The A1H is a machine with the power and flexibility to capture as many kinds of videos as there are perspectives on the world. I would say it is worth getting your hands on one.