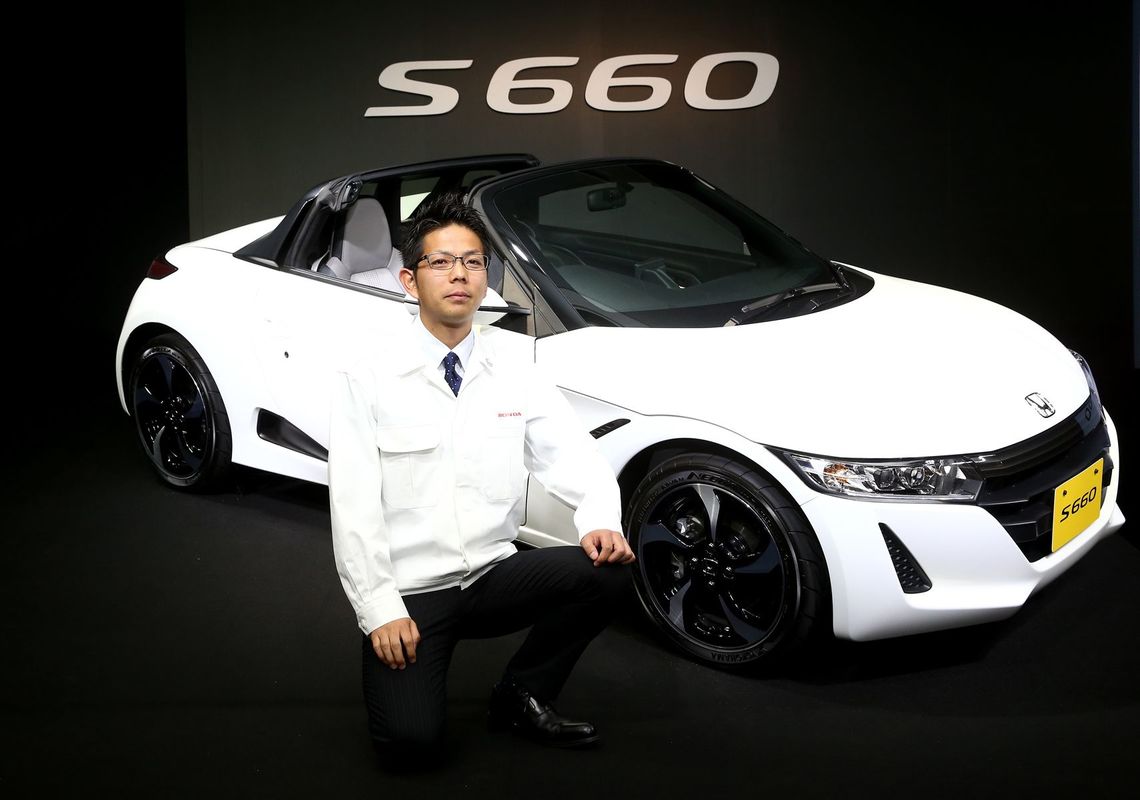 Ryo Mukumoto, the youngest lead developer in all of Honda's history, dressed in his engineers "uniform" of pure white work clothes, when he appeared at the unveiling of his new car.
The "S660," which went on sale from April 2nd, is the first Honda kei-type sports car since the "Beat", which finished production 19 years ago.  Normally, lead developers of new cars are engineers in their 40's or 50's, so the appointment of a young man in his 20's was very unusual indeed.  In an interview, Mukumoto said, "we are the generation called "non-cars," but we wanted to address the fun of driving directly with this car" 
Sports cars where drivers can relax
The first hints of the S660 came in 2010 after Honda's sports car line-up disappeared along with the stop in production of the "S2000".  As Honda R&D celebrated its 50th anniversary it held a "new product design contest", and from the 400 entries submitted by engineers, Mukumoto's "loose sports car" idea that "aims to make a car where people can relax and blow off steam" blew the competition out of the water.
Though there were no plans to actually put the car into production at the time, Honda president Takanobu Ito gave the prototype car a test drive and said "this car is interesting, so let's do it", giving the go ahead. Mukumoto, who had submitted the idea originally, was then selected as the "Large Project Leader (LPL.)"
"I've always loved sports cars since I was very young.  When I was in elementary school, I started to like Honda after I read the book Soichiro Honda.  I really wanted to make a sports car someday," said Mukumoto.  The first car he bought after he started work was an S2000, and his dream of making sports cars came true unexpectedly. 
After graduating from a technical high school, Mukumoto became a Honda employee and has currently been working there for four years. As a "modeler" he was involved in making wooden models, but had absolutely no experience in vehicle development.
Not like an ordinary project
When he was appointed LPL, he thought "No way!"  The engine and transmission development leaders, who are also usually chosen by appointment, were also selected via open recruitment.  From the 150 applicants, the 15 who were recruited as PL's in each field were in their 20's and 30's. They were mainly engineers taking their first shot at being project leaders.
A further three veteran LPL agents were then appointed to support the LPL, Mukumoto, and coordinate the work of the young staff. Picking a development team through open recruitment is unusual even at Honda.  It was a truly exceptional development system.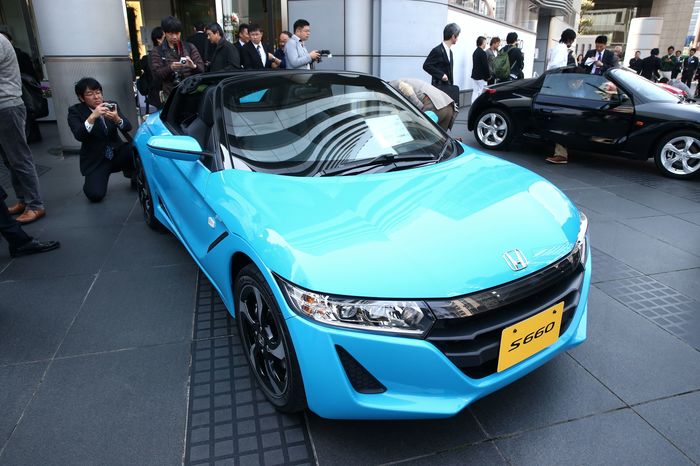 Coordinator of the entire project, LPL agent Satoru Asaka, 48, said "this wasn't a pyramid system where the person on top unloaded work down onto the others below, but a system where everyone stood as equals and were forced to think about every little thing. It caused them all to grow very much." Each process was thoroughly debated and the Honda tradition of "noisy debate" carried on from morning until night.
The price of the S660 is around two million yen, which although on the more expensive side, has still managed to generate orders for over 3,000 vehicles in the past month.
Comeback of Honda sports cars
To increase the precision that is essential for a sports car, welding was carried out with a combination of robotic and human work, meaning that more effort than usual is necessary, and that only 40 cars can be produced per day.  Even if you were to order a car today, you would have to wait for eight months to receive it.

The "Beat" kei-type sports car that was first sold in 1991 was incredibly popular, shifting a total of 34,000 units in five years. However, due to the collapse of the bubble economy, production ended in 1996. After that, the "S2000" went on sale in 1999 and managed to sell a total of 23,000 cars, and was also very popular in the West, but due to the strengthening of exhaust regulations, production was ceased in 2009.
As production of Honda's sports cars ceased one after the other, the production of the "NSX" also finished in 2005.  However, a new "NSX" was unveiled at this year's first US Motorshow.  It will be produced on-site and is expected to go on sale in the US in the last half of the year.  It is also planned to go on sale in China, Japan, Europe, and the rest of Asia during 2016.
"S660 is an iconic model that could forge Honda's brand image, so we'd like to develop it with care," says Sho Minekawa, the senior managing officer who works at Honda's Japanese headquarters.  He expect it to help to trigger domestic sales in an environment where they have been hanging low.