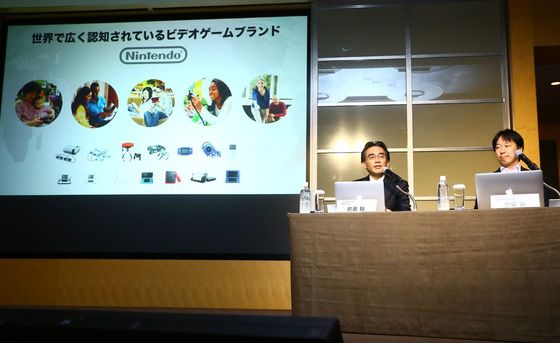 Nintendo, Japan's best-known maker of home video game consoles, teams up with DeNA, a major maker of casual games for cellular phone devices.
Nintendo has not liked smartphones. At a financial results briefing in February, President Satoru Iwata mentioned, "Smart devices have no physical buttons. Playing games such as 'Super Mario' cannot be enjoyed."
However, in a speech at a meeting on March 17, his attitude had made a total switch. He continually mentioned a magnificent goal, using phrases such as, "Nintendo's answer is this. We want to hold to the prospect of certain victory." "Hundreds of millions of customers will enjoy our games."
Before the year is up, Nintendo plans to release, one after another, smartphone games, representative of Super Mario, that use Nintendo characters.
Success myth of video game consoles
The tie-up this time is a major decision for Nintendo. For some time, applications for smartphones have been worked on within Nintendo; however, according to Nintendo management, "In-house development is impossible." It appears that since the summer of 2014, consultations were repeatedly held with DeNA.
In October 2014, Nintendo renovated a major source of earnings, its handheld game console Nintendo 3DS; however, year on year, both hard and soft continued to decline. Also, the total sales of the home video game console WiiU were 9,200,000 units, the worst ever.
External software development companies are also hesitating in developing new games for Nintendo because if hardware doesn't sell, software also can't be sold. After that, even more customer attrition awaits.
Speed of the smartphone era is too fast

On the other hand, DeNA's state of affairs is also severe. As it was slow in shifting to smartphone games, it is encountering declining performance. "The speed it took 10 years for change to occur in former home video game consoles, is occurring in about 2 years in smartphones," according to President Iwata. One wonders whether this decision Nintendo has finally made for extending its business into smartphones will turn out to be a good decision for the company.