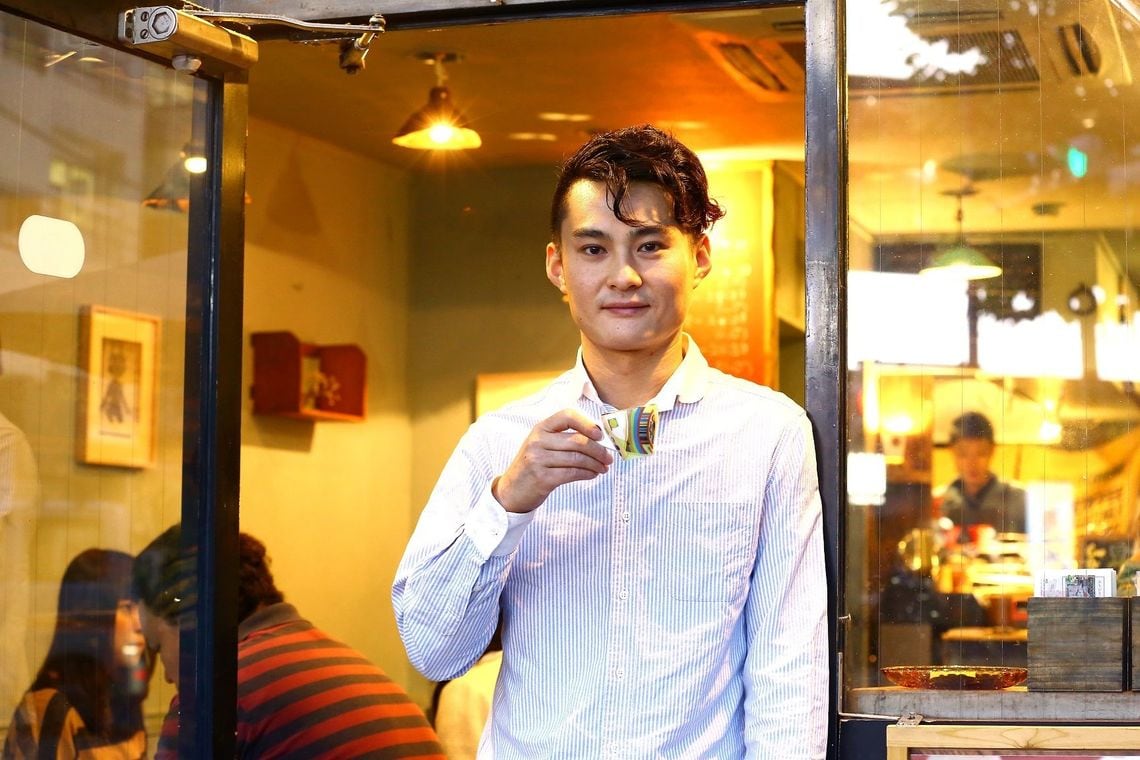 Occupying a space of a mere thirty metres squared, Sarutahiko Coffee is a speciality coffee shop located in Ebisu, part of the Shinjuku ward in eastern Tokyo. The shop opened in May 2011, and is based on the concept of 'happiness from a single cup'. Three-and-a-half years later, it is always bustling with customers and is so popular that sometimes the line extends beyond the door.
Initially, the shop did not achieve nationwide fame. However, in the spring of 2014 manager Tomoyuki Otsuka became the supervisor of a product renewal project for a major canned coffee manufacturer, and also appeared in commercials as a barista. Mr. Otsuka has been a trailblazer in the recent 'micro roasters' trend – referred to in Japan as 'third wave coffee', and has gained recognition abroad. This was why he was selected to appear in television commercials.
Mr. Otsuka has become widely known throughout Japan thanks to his appearance in advertisements, but up until eight years ago he was a regular person with no particular interest in coffee. So, what path brought a man who frequented chain coffee stores to opening his own speciality coffee shop and appearing in television commercials?
Turning from acting to managing a coffee roasters
From the age of fifteen, Mr. Otsuka became involved with an entertainment production company and worked as actor, appearing in films as well as commercials for famous confectionary brands.
However, one day at the age of twenty-five he resolved to leave the entertainment industry. He was exhausted from attending countless auditions and days spent waiting for results in suspense, swinging between optimism and pessimism. However, upon giving up the career he had thrown himself into for ten years, Mr. Otsuka ended up feeling at loose ends, as opposed free as he had anticipated.
It was at that time he first entered the coffee industry, thanks to a childhood friend working for the coffee shop and roasters 'Kawakubo'. He saw that Mr. Otsuka was fumbling for purpose and direction in life, so asked 'would you like to work with me?'.
This offer was a critical point for Mr. Otsuka. In the eyes of someone who had been immersed in the entertainment industry where the purpose of your work is somewhat unclear, making coffee and then selling it appeared to be a wonderfully uncomplicated job. To him, the simplicity of the work was refreshing.
Grinding coffee beans and interacting with customers also gave him a sense of satisfaction he had not had as an actor. Furthermore, he learned to appreciate the deliciousness of a well-prepared cup of coffee, and fell in love with coffee in no time. With a tendency to become totally immersed in his work, Mr. Otsuka studied hard and a year and a half down the line earned his 'Coffee Meister' qualification, a Japanese qualification usually sought after by professional baristas.
Mr. Otsuka continued to improve his knowledge of coffee through his work, and one day learned of a world-famous Scandinavian coffee shop selling speciality coffee in paper cups at 500 yen per cup. This was in 2006, when there was no such service in Japan. Mr. Otsuka surged with enthusiasm for the idea, and he though 'I want to do the same thing in Japan!'. Thus, he found his new goal in life: to open a speciality coffee shop.
With four years of training under his belt, Mr. Otsuka started working towards opening his own shop. Searching for a suitable site, he found what is the present-day location of Sarutahiko Coffee. However, there were thirteen other people looking to rent the property and, furthermore, combined the first month's rent and deposit were three times his budget. Nevertheless, he rushed into action thinking 'things will work out somehow' and applied for the property. In retrospect, it was a wise decision.
Two-hundred customers on the first 'pre-opening' day
"My budget was nowhere near enough, and I didn't have any experience in business so, honestly, it was a real gamble. So when the owner said I could rent the place, I thought it was strange, wondered why he chose me. Speaking to him, it turned out that one of the previous lease-owners had also run a coffee shop there, and the owner wanted it to become one again."
However, his period of happiness after gaining the lease was short-lived as, in order to compensate for running over budget, he had to bow his head to friends and acquaintances and ask for money. He was running around looking for means of raising funds up until the deadline, and somehow managed to pay the landlord. Afterwards, he only had five-thousand yen to his name. Obviously, he did not have enough to pay professionals to do the interior, but he collected scrap materials together with friends who rushed to help him, and they fitted the place out by themselves.
He could not afford an espresso machine, and his drip coffee stand was hand-made. The shop's distinctive name, Sarutahiko Coffee, was thought up by the wife of the friend who made the shop's sign, who told Mr. Otsuka that he could pay them back when he could. Mr. Otsuka had thought of other ideas for the name, but decided to go with Sarutahiko when she suggested it.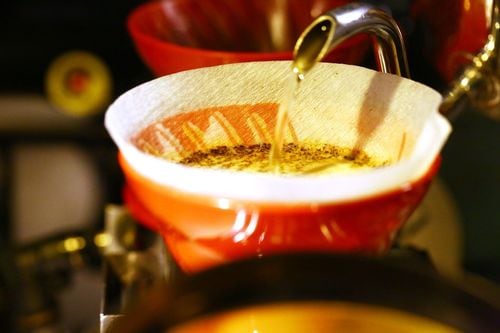 For a while, he was unable to open the shop, meaning he was continuing to pay rent without earning income. He had a lot of expenses for the shop itself, and also lacked money to support himself on a day-to-day basis. As such, Mr. Otsuka declared that he would run a 'pre-opening' of the shop and, in June, opened the shop under almost impossible conditions.
When the first pre-open day arrived, a wave of customers pushed into the shop. Over two-hundred customers came to drink Mr. Otsuka's coffee, and the trend continued for three days. Along with the friends who had volunteered to help him out, Mr. Otsuka was rushed off his feet but, on reflection, he says that those three days became a turning point.
"When we were still putting the shop together, a passer-by asked 'what kind of shop are you opening?', so I spoke to him a bit about what we were doing. It turns out he was the manager of 'Ebisu Navi', a site that provides information about shops and events in the local area. Before our pre-opening, he was kind enough to feature us on the website. Then, someone who saw the article came to do a report on the shop – I guess we were lucky. Before the pre-opening, I asked my mother if she would be my guarantor for a loan to buy an espresso machine, but she refused. However, after our pre-opening she came to the shop, saw the line of customers and came 'round to the idea that the machine would be a good idea. It meant we wouldn't have to keep customers waiting. So, she agreed to be my guarantor, and with that Sarutahiko Coffee became a 'proper' coffee shop – I was so relieved."
Origins of Sarutahiko coffee's unique customer service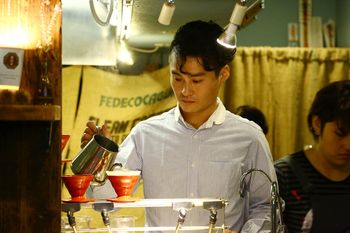 After a while, the wave of customers calmed down for a short period, but then local residents and people working in the area started visiting the shop as regulars. It was the friendly service and quality of the coffee that grabbed a hold on them. The number of customers starting rising again and continued moving upwards.
Sarutahiko Coffee's style of customer service is unique in Japan. Staff and customers interact as if they were friends, and you can sometimes see staff chatting with regulars at the counter. When a woman who runs a nearby gallery calls to order coffee, staff bring it to the gallery for her. When events are run in Ebisu, the shop often offers support by providing coffee. Their service breaks through the barriers dividing 'staff' and 'customers'.
Mr. Otsuka says "our business is a service, meaning we are evaluated by customers based on the service we provide. It's not just about providing delicious coffee – the attitude of the staff and making human connections is also incredibly important".
As a matter of fact, they had a model on which they based their customer service style. "When I still lived in my home town, there was a big name coffee shop in front of the station that was really fantastic. Even when I wasn't doing great as an actor, my relationship with my company was poor and I was at rock bottom, I would go to buy coffee and the staff would speak to me with a really kind, friendly manner. It was like a kind of therapy for me, at that time. The concept behind that chain of shops was 'a place to enrich your life', and I really got a sense of that whenever I visited. I think this generation needs similar experiences, so I decided to make my own coffee shop, in my own way, in order to give customers the energy and vitality to change their future. So, when a customer gives us five-hundred yen, we have to give them back a cup of coffee brimming with the best customer service in the world."
The concept of 'third wave coffee', or micro roasters, has taken off in Japan in a big way, and shops are opening one after another based on different concepts. However, for Sarutahiko Coffee, their mission to offer the best customer service has nothing to do with fads or trends. In fact, Mr. Otsuka feels a sense of unease about Japan's 'third wave coffee' trend.
When you think of third wave coffee, it conjures up an image of stylish cafés and baristas, along with strongly-flavored coffee. The basis of third wave coffee lies in a passion-filled idea that originated from independent coffee roasters in North America; in order to protect quality bean growers and sell delicious coffee at the same time, small shops must compete with chain stores that corner the coffee bean market by buying up stock around the world.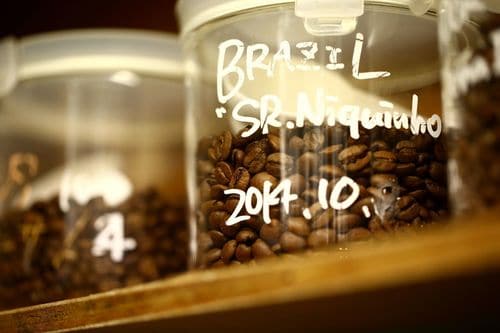 Even if their profits fall, they continue to purchase coffee beans at a higher price than large chain stores, and they also started trading wholesale directly with growers. Then, they experimented to find the best way to sell large quantities of beans in line with customers' needs, and arrived at roasting and extracting their own coffee on-site. That's where the third wave culture came from, and it's grounded heavily in lifestyle and one's sense of values.
However, in Japan it seems like the shape of third wave coffee has changed somewhat, and that is why Mr. Otsuka feels a little uneasy about it. After all, he is a man who is experimenting every day in order to 'give customers the energy and vitality to change their future' through his coffee.
As he started a speciality coffee shop before it became a boom in Japan, Mr. Otsuka is seen as a pioneer in the field. Nowadays, he has become involved in a project developing canned coffee for a big-name company.
The canned coffee project was a big challenge for Mr. Otsuka, but such collaborations opened up new avenues for him. While Sarutahiko Coffee was incredibly popular, there was only one store location because, quite simply, there was not money for him to open another one. However, after starring in commercials increased his fame, gaining loans from banks became much easier, and Mr. Otsuka had the opportunity to do what he had wanted to for a long time.
A two-hundred metre squared store, opened January 2015

Riding favorable winds, Mr. Otsuka gave his business his all. First of all, he opened a small shop selling coffee beans near his Ebisu store. In addition, in his hometown he opened a second coffee shop, two-hundred metres squared, which includes a coffee roasting space.
I made great progress last year, so I think I can look forward to even more exciting developments from hereon in. I'm delighted to be opening a shop in the area I was born and raised in. I've come back to where things began.
This year, Blue Bottle Coffee, known as the 'Apple of the coffee world', moved into Japan. Mr. Oostuka welcomes their arrival "I hope that they continue to grow and expand in order to help widen the market for speciality coffee here". His attitude may be because of his confidence in his store's superior service, the weapon that helped Sarutahiko Coffee contribute a verse to the chapter of third wave coffee.
"Currently, we have twenty-four staff working for Sarutahiko Coffee, and they have very-much taken on the idea of 'happiness from a single cup'. I think this is what distinguishes us from our competitors. There are a number coffee shops in Ebisu, all trying their best in different ways, so I really hope that each store can develop and do business in a distinct, individual way.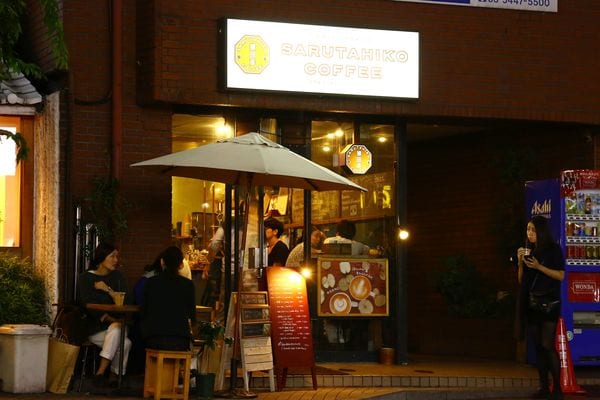 While there are not a huge number of stores in Ebisu, customers are absolutely obsessed with the quality and taste of their coffee, and there is a general attitude of wanting to please customers without creating rules of how coffee shops 'should be'. The second Sarutahiko Coffee store is almost 7 times the size of the original, and discovering how to manage it correctly could be the key to Sarutahiko Coffee's future success.
The building that now houses the Ebisu store used to be a different coffee shop, but even before then was apparently a garage. Just like the founders of now world-famous American start-ups that originated in garages, Mr. Otsuka has a big dream: "to make Japanese coffee that rival that sold overseas".