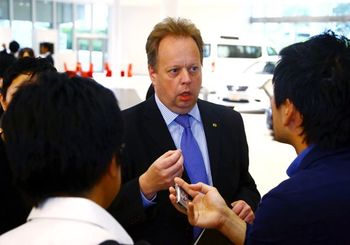 Nissan motor announced on September 2 that 51-year old Vice President Andy Palmer will retire on September 15.
Palmer goes to British luxury vehicle manufacturer Aston Martin, where he serves as CEO. He will be replaced by Philippe Klein, a close advisor to Nissan President Carlos Ghosn, transferring from his current position as vice president of Renault.

Palmer was one of four vice presidents occupying the No. 2 rank among Nissan executives, next in authority to President Ghosn, to whom he answered directly. His responsibilities included overall control of product planning and marketing, and of the electric vehicle business. Beginning his career as an engineer, he joined Nissan's European subsidiary in 1991. In 2002, after Nissan came under the aegis of Renault of France in 1999, he transferred to Nissan headquarters, where he began work at the program-director management level. After producing results as head of the light commercial vehicles division, he became a corporate officer in 2006, an Executive Committee member in 2009, and was made an executive vice president in 2011, steadily climbing up the ranks of corporate management.
Once Viewed as Ghosn's Successor
In November of last year, when COO Toshiyuki Shiga was dismissed amid worsening business results, Palmer took over product planning and other crucial responsibilities from COO Shiga. This led some to view Palmer as one of the potential successors to Ghosn, among them Vice President Hiroto Saikawa, who had also taken on some of the former COO's duties.
It isn't just Palmer who has left. As recently as July, Johan De Nysschen, head of the Infiniti luxury vehicle brand division at Nissan, suddenly departed to head the Cadillac luxury car brand division at General Motors (GM). This departure of two top corporate officers for competitors within two months is an aberration.
Having been recruited two years prior from his position as the U.S. head of Audi, the luxury brand division of German carmaker Volkswagen, De Nysschen cannot be said to have been the least likely to leave. But Palmer had built a career with Nissan over a period of more than 20 years, and had reached its No. 2 position. That makes his departure all the more impactful.
Amid successive flights from corporate ranks, what does President Ghosn think of his own succession?
Last year, Ghosn faced the departure from Renault, where he serves concurrently as chief executive, of then COO Carlos Tavares, Ghosn's No. 2 executive. Edged out over policy deadlock, Tavares left Renault to become CEO of major French carmaker Peugeot Citroen Group (PSA). This transfer to the top position at a directly competing rival was a major shock to the industry.
Ghosn, who made news with his own enormous compensation package, has often stressed that such giant compensation packages are an essential investment in securing human resources: "Global-level compensation is necessary in order to secure excellent personnel from around the world. If you limit compensation, then impediments to securing human resources will emerge."
Now that Renault and Nissan have both suffered a succession of departures of top-level management officials, is Ghosn regretting not having offered enough compensation? Or could it be that he has begun to sense the limitations of his own leadership?