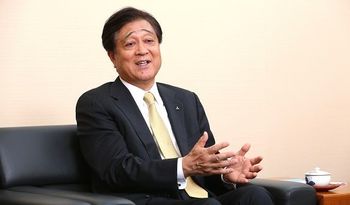 Mitsubishi Motors Company announced on July 1 that they will supply their compact sedan"Attrage," to Chrysler de Mexico, a subsidiary of Fiat Chrysler Automobiles of the United States, for five years beginning in November.
MMC currently supplies Peugeot Citroen of France on an original equipment manufacturing (OEM) basis, and the move will be MMC's next OEM supply arrangement with an overseas manufacturer.

The relationship between MMC and Chrysler de Mexico goes back to 2003, when Daimler Chrysler (the company name at the time) was the top shareholder in MMC. As part of that capital partnership, Chrysler was chosen as the sales subsidiary in Mexico. They are currently handling the Outlander and Pajero Sport (now the "Montero Sport") SUV models, among others, and their most recent figures include sales of approximately 9,000 vehicles during fiscal 2013.
Belonging to the size category known as the "B-Segment" (about 3.75 by 4.2 meters), the Attrage enjoys a share of more than 20% of Mexico's automobile market. Chrysler will conduct sales in Mexico under its own Dodge brand. While MMC operates 50 sales outlets in Mexico, Chrysler runs 150, or three times as many. Responding to reporters' questions on July 1st, MMC Chairman Osamu Masuko expressed his hopes for sales: "I want to sell more than 10,000 vehicles per year."
During the past few years, compact sedans sold in Mexico under the Dodge brand have included the "Attitude" model, supplied by Hyundai Motor Co. on an OEM basis (and known at Hyundai as the "Accent"). Having decided to set up a dealership network of their own in Mexico, however, Hyundai dissolved the contract with Chrysler. In fact, Hyundai established a local subsidiary in February, and began sales in May.
Regarding the new supply agreement, said Masuko, "Chrysler expressed strong eagerness: 'We definitely want to sell (the Attrage) on our own'." Offering no sedan of its own in the B-Segment, which is very popular in Mexico, Chrysler is said to have been seeking out a compact vehicle maker that could take Hyundai's place. "They seem to have had various concerns of their own," said Masuko.
For its part, MMC produces the Attrage at its factory in Thailand, where export-oriented business has been strong, maintaining an operating rate of over 90%. Impacted by problems such as political instability, production for the domestic Thai market has been lower than planned. They aim to maintain production levels through the new supply arrangement, which will increase the proportion of Mexico-bound exports.
The new OEM supply agreement "is possible strictly because Chrysler is our distributor in Mexico," said Masuko, adding that similar projects will not spread to other countries. He also rejected the possibility of any group partnership with Fiat Chrysler: "I haven't even discussed it with their CEO (Sergio) Marchionne."
While this supply arrangement is with a distributor in a single region, it is also the first such collaborative project that MMC has undertaken with an overseas manufacturer in a long time. Chairman Masuko and company President Tetsuro Aikawa only took up their new posts on June 25. It seems fair to say that this indicates their new calm and steady stance toward seeking out new business opportunities.