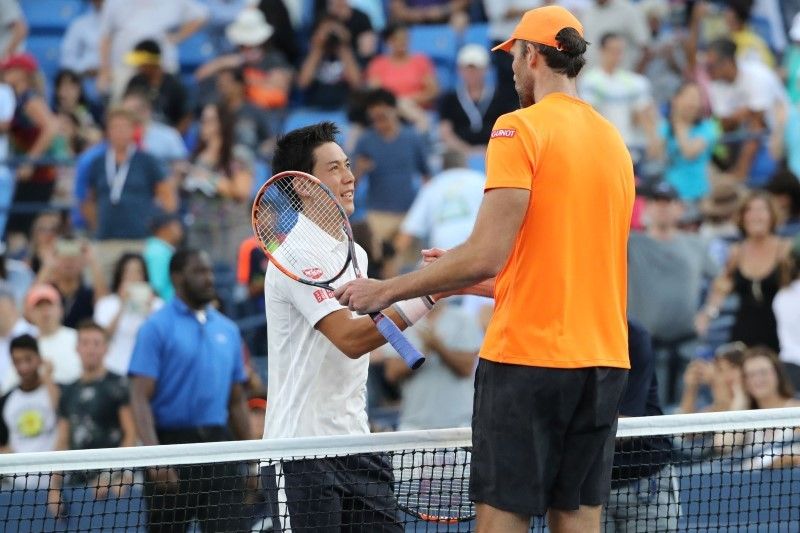 By Larry Fine
NEW YORK (Reuters) - Kei Nishikori cut down the towering Ivo Karlovic of Croatia with surgical precision in a straight-sets win on Monday that lifted the sixth-seeded Japanese to the U.S. Open quarter-finals.
Nishikori, the U.S. Open runner-up two years ago, beat Karlovic 6-3 6-4 7-6(4) in the final main draw singles match at Louis Armstrong Stadium, which will be replaced by a new stadium with a retractable roof for the 2018 tournament.
It was a David and Goliath clash of physical opposites, but the 6-foot-11 (2.11 m) Karlovic's tennis game, apart from his prodigious serve, was overshadowed by the skills of Nishikori, more than a foot shorter at 5-10 (1.78 m).
The quick-footed Nishikori made 37-year-old Karlovic look like he was standing still, which he often was, as he raced to victory in two hours to earn a berth into the last eight.
"It's never easy against someone like Ivo, he has a great serve," Nishikori said about the Croat, who crushed a U.S. Open record 61 aces in his five-set, first-round win over Lu Yen-Hsun of Taiwan.
"I made a lot of returns of first and second serves and was happy with my return game today."
Nishikori will play either second seed Andy Murray of Britain or 22nd seed Grigor Dimitrov in the quarter-finals.
"I've been playing well, especially today," the Japanese said. "I think I played one of (my) best matches so far. So will try to recover well and play (more) good tennis next round."
Karlovic hammered in 21 aces but when his first serves were not finding the mark, Nishikori pounced.
The Croat led all players with 99 aces. Nishikori broke Karlovic twice and was credited with 44 winners against only seven unforced errors.
"I was able to get the break, first and second set, early. So that makes me a little more relaxed," said Nishikori.
"And my serve was much better today. I was able to hit a lot of first serves in," added the Japanese, who landed 60 percent of them.
He won on his fifth match point, but Nishikori was not fussed - the first four came after he had galloped to a 6-0 lead in the third-set tiebreaker which he won 7-4.
Nishikori, who became the first Asian to reach a grand slam men's final two years ago in Flushing Meadows, has had a strong season, including a run to the quarters at the Australian Open before falling to eventual winner Novak Djokovic.
He won in Memphis and was runner-up at the ATP Masters 1000 Miami, Barcelona and ATP Masters 1000 Toronto, losing to number one Djokovic in Miami and Toronto and to Rafa Nadal in Barcelona.
(Editing by Frank Pingue/Steve Keating.)