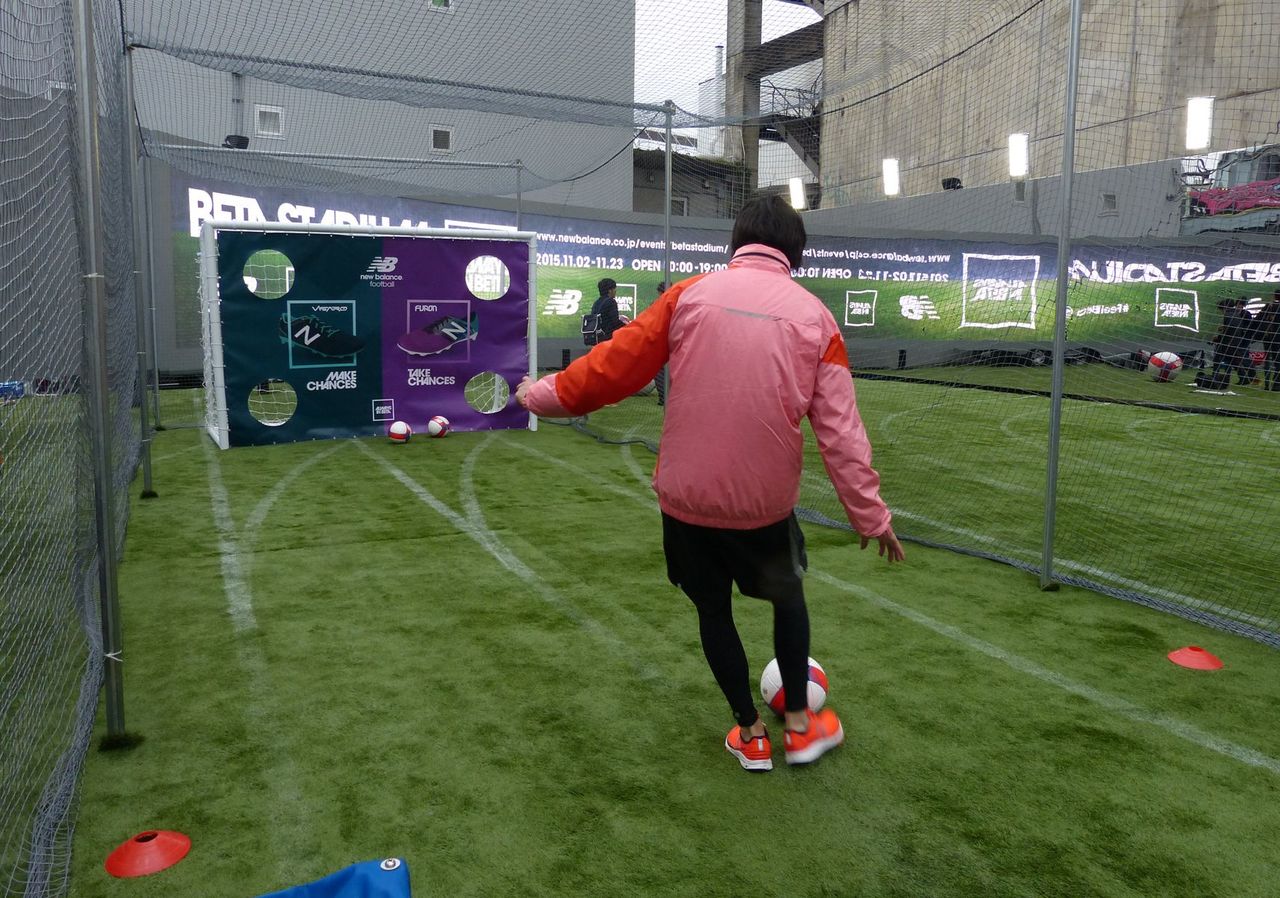 Harajuku is the center of the "kawaii culture". The streets are packed with buildings which primarily contain fashion-related stores such as Laforet Harajuku and Tokyu Plaza, and many young people are constantly coming and going. Recently, a surprising new addition became part of this fashionable area -- a field with artificial turf.
The name of this field is "NB BETA STADIUM". As you might have guessed from its name, the sport brand New Balance built this facility.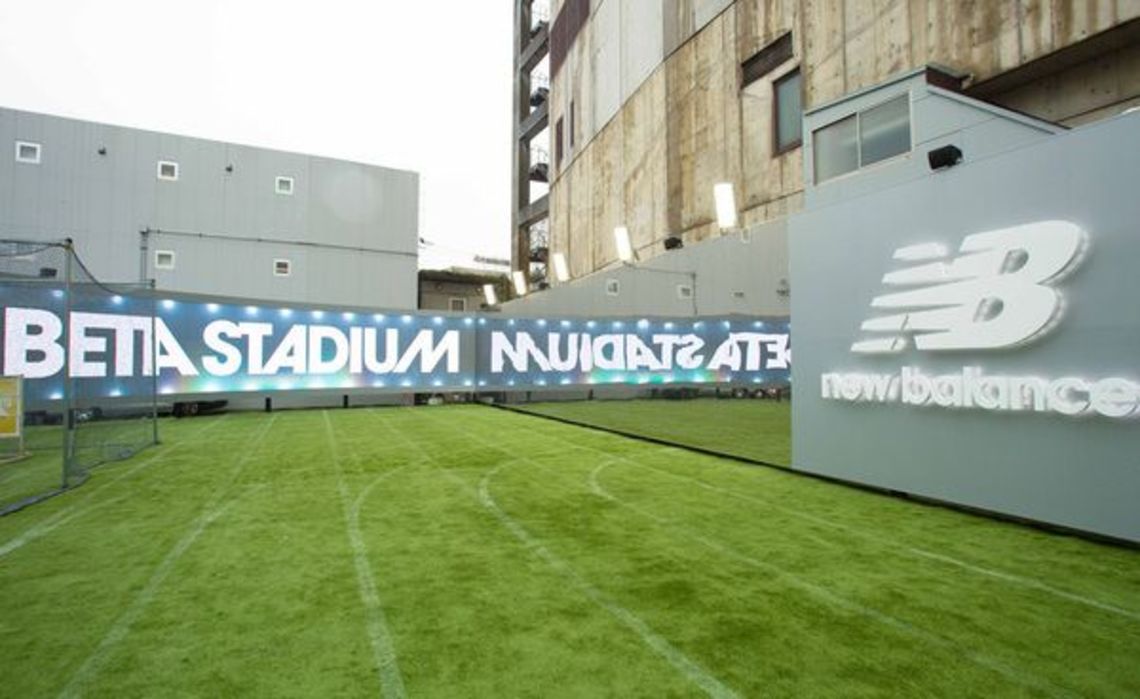 On the wall at the back of the field is a large LED screen, which displays various New Balance messages and advertisements. The atmosphere is quite similar to that of a professional sports stadium. The entrance is a huge open space like one would see in a park, and anyone can use it free of charge.
Up until November 23, visitors can enjoy weekly scheduled attractions related to running, soccer and baseball. Games including "Strike Out", throwing a baseball at nine different targets, "Kick the Target", kicking a soccer ball at targets inside the soccer net, and virtual tennis games and running events are planned.
Why in Harajuku?
The aim of New Balance is for young people who are passionate about fashion to also become passionate about sports. Visitors are allowed to bring food and drinks inside the stadium, and the café is open weekends and public holidays. A photograph competition for people who wear New Balance items will also be held.
New Balance is the company leading the current sneaker boom. The company's shoes were recently described as "classical and can be worn with a skirt" in a popular girls' fashion magazine. A trendy new catch phrase has also been coined: "NB Girls."
However, New Balance's President Tomoo Tomita says, "Although New Balance has a strong image with sneakers, the core of New Balance is running."
The company began in 1906 as a manufacturer of corrective shoes and then began making marathon shoes after a time. New Balance shoes have a variety of widths and sizes, and the shoe designs have an established reputation of being customized to fit customers' feet.
While approximately 50% of the sales in Japan are due to purchases of sneakers, the percentage of sneaker sales overseas is only 20-30%, and the remainder is mostly from running shoes. The sneakers currently popular in Japan were originally designed as running shoes.
In the athletic equipment business, the two largest manufacturers Nike (with sales of 3,800 billion yen [$31.3 billion] in the FY2014) and Adidas (with sales of 2,000 billion yen [$16.5 billion] in the same period) have great brand power. New Balance aims to become the world's third largest athletic sport brand after the two giants.
The third largest brand and below are currently bunched up together. Puma (with sales of 410 billion yen [about $3.3 billion] in the FY2014) has been the third largest for a long time, and companies such as New Balance (with sales of 400 billion yen [about $3.3 billion] in the same period) and Under Armour (with sales of 370 billion yen [about $3 billion] in the same period) are competing fiercely.
In the FY 2015, these companies are running neck-and-neck with sales around 450 billion yen (about $3.7 billion); but according to Tomita, New Balance hopes "to completely get out of the battle of third place by a head by achieving sales of 800-900 billion yen ($6.6 billion-$7.4 billion)." To make it happen, the company has developed plans to globally widen its fan base.
Trying to sell more athletic shoes
As its main strategy, the company has ventured into selling shoes for sports other than running.
This whole concept was initiated five years ago overseas; and in March of this year, the company officially joined the baseball market in Japan. Forty percent of players in Major League Baseball now wear New Balance cleats, and the company is competing against Nike for the top place.
The image of MLB players wearing New Balance shoes is now prevalent in Japan. Due to this, the company's shoes are selling well, and this summer New Balance's sales reached the annual targeted number ahead of schedule.
In July, the company announced it would join the soccer market. It signed deals with six teams. Liverpool, the leading team of the British Premium League, signed one of the deals; and Sagan Tosu of the J League signed one as well. Deals were also signed with 10 individual players. Marouane Fallaini of the UK's Manchester United and Adnan Januzaj of the German Borussia Dortmund team are also wearing New Balance cleats this year.
In the world of tennis, the company made a remarkable contract change. Milos Raonic has now signed up for a lifetime sponsorship contract. With contract signings such as this and by continuing to create franchise players in each sport, New Balance is quickly establishing a wider market base. The company is no longer restricting itself to only selling running shoes.
New Balance has not typically marketed their shoes directly to famous players much in the past, but now it is becoming much more practical to do so. "With team sports, we have to contract with famous players and teams to some extent," explains Tomita.
In preparation for the end of the sneaker boom, the company is planning to increase its sales ratio of athletic shoes in Japan. Tomita's vision is "to reduce the sneaker ratio currently at 50% to 40% in the future, while increasing the total number of shoe sales by 1.5 times."
How can the company expand into new areas and still keep sneakers as its main source of income? New Balance is now facing this new hurdle.