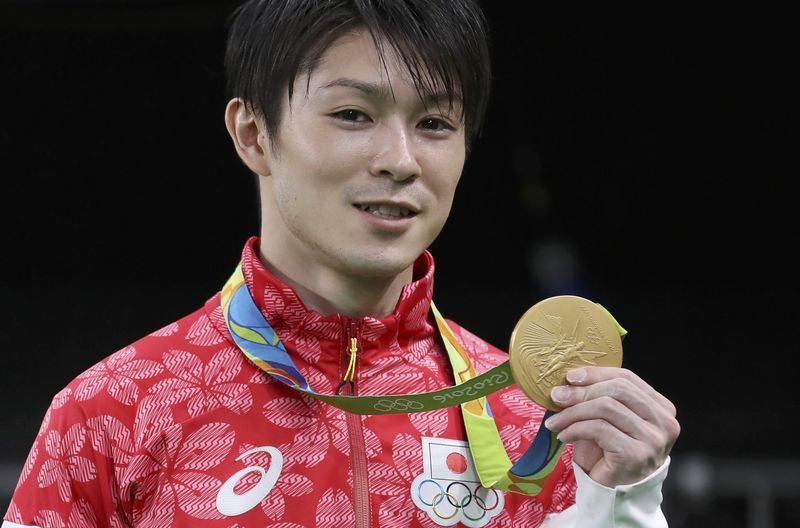 TOKYO (Reuters) - Japan on Friday celebrated gymnast Kohei Uchimura's all around gold medal at the Rio Olympics with banner headlines, endless reruns of his final routine, and the sale of commemorative stamps for which hundreds queued in downtown Tokyo.
On Wednesday, early on Thursday in Japan, Uchimura became the first man to claim back-to-back all around titles in over 40 years, and only the fourth in history, in a nail-biting finish that at one point saw him fall behind until the final apparatus.
"What a beautiful upset!" gushed the Nikkan Sports daily, wrapping both its front and back pages in a huge photo of Uchimura pumping his fists when his win was confirmed.
"Thank you for the miracle," said the Sports Hochi daily, which sported a closeup of Uchimura's bulging biceps as he screamed in triumph, along with a photograph of his wife, who said: "I was so relieved I wept".
She watched the performance with their younger daughter on her lap, the older beside her.
Even the staid Nikkei business daily featured a photo of a grinning Uchimura holding up his gold medal.
Many people noted the closeness of the victory, which saw Uchimura beat Ukrainian Oleg Verniaiev by just 0.099 of a point.
"He really fought hard," said Shin Suzuki, a 22-year-old university student in central Tokyo who confessed that he was not really a fan of gymnastics. "You can always count on him."
Newspapers handed out extras on Thursday, a national holiday, and on Friday around 300 people lined up at the Tokyo Central Post office to purchase special stamps commemorating Uchimura's win.
"He was really cool," one waiting schoolboy told Nippon TV, clutching a set of the stamps.
Verniaiev also came in for a share of reflected glory, with both social and conventional media in a nation that emphasizes politeness commenting on the good sportsmanship that had him congratulating Uchimura with a grin.
"You can see that Verniaiev really respects him," Twitter user Momiji wrote.
Uchimura's was not the only gold Japan was celebrating - judoka Mashu Baker topped the podium for the 90-kilogram competition, as did Haruka Tachimoto in the women's under 70-kg class.
"Gold-gold-gold for Japan!" exulted Nikkan Sports. "But the climax was definitely Uchimura."
(Reporting by By Elaine Lies; Editing by Peter Rutherford)