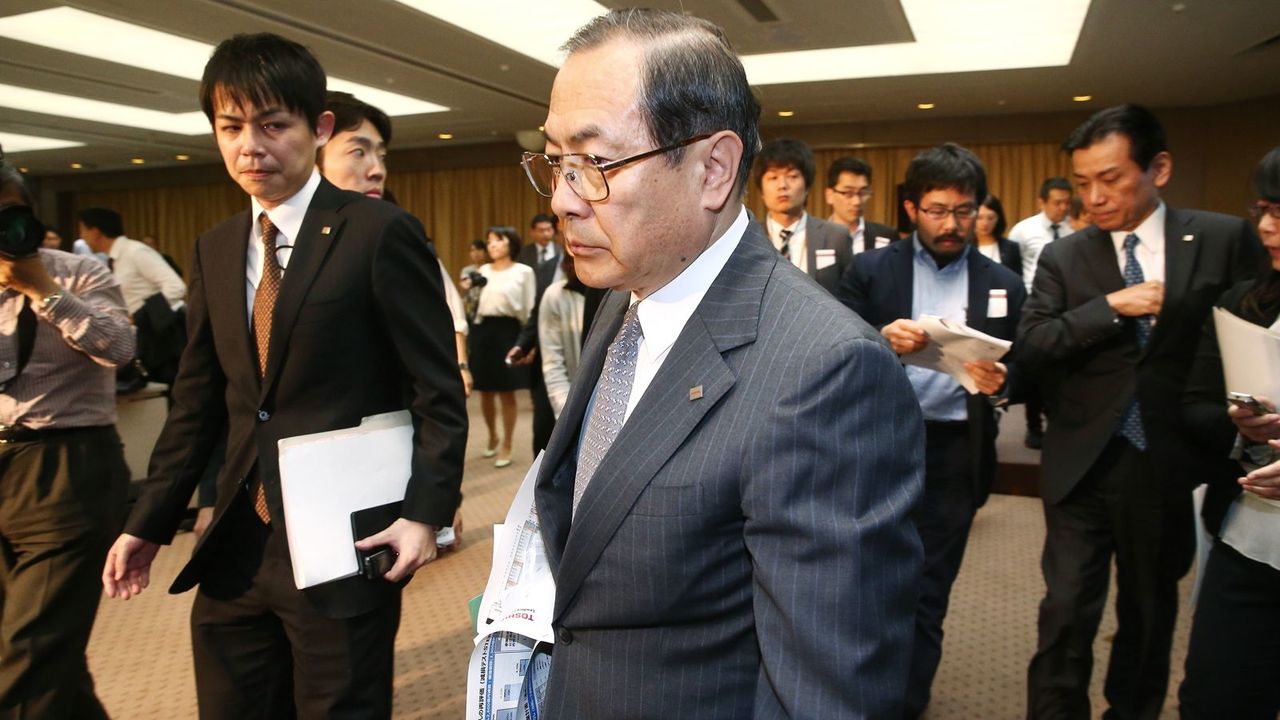 On April 26, troubled conglomerate Toshiba finally announced a write-down of 260 billion yen ($2.3 billion) after reevaluating its U.S. nuclear-power subsidiary Westinghouse Electric (WH), having denied the necessity to do so thus far.
Although the electronics giant's outlook has been criticized as overly optimistic, Toshiba has repeatedly maintained, both to reporters and in their financial statements, that their nuclear-power-plant business, which includes WH, is in a "favorable condition." Even in a recent interview with Toyokeizai, Toshiba President Masashi Muromachi emphasized that "there is no change to the feasibility of our collective nuclear power businesses, including WH."
"We are experiencing increased cost of capital following a downgrade of Toshiba's credit rating," said Muromachi at a news conference held on 26 to explin the write-down. He insisted that the problem is strictly limited to financing and that there is no need to change the company's long-term business plan for its nuclear-power-plant business, which was outlined in March.
According to the company's plan, the nuclear-power-plant business is positioned to experience rapid growth—net sales will reach 1.02 trillion yen ($93.7 billion), up 65% from 2014, and the operating profit will be 67 billion yen ($56.7 billion) in 2018, 23 times more than its operating profit in 2014. This outlook is based on Toshiba's expectation that it will receive 45 plant orders by the fiscal year ending in March 2030.
No orders after the Fukushima incident
However, it is questionable whether the company can achieve this goal. First, receiving 45 orders is no easy task. WH is currently in the process of constructing a total of eight units — four units each in China and the United States — but these orders came in 2007 and 2008, prior to the disaster at Tokyo Electric Power Company's Fukushima Daiichi Nuclear Power Plant, and WH has failed to receive even a single order after that incident. Globally, there were only three nuclear power plant projects in 2014.
As a result of this write-down, the possibility that Toshiba will post substantial additional losses for its nuclear-power-plant business in the immediate future is low, at least for the time being. However, if there are heightened concerns regarding the failure to achieve the targets of its aggressive business plan, the company may face a similar situation, in the event of which it will have to make write-downs once again.
The overall financial condition is also, as ever, desperate. The company projects a net loss of 470 billion yen ($43.1 billion) for the fiscal year ending in March 2016, even though there was a 380-billion-yen sale of Toshiba Medical Systems to Canon in March.
As a result of the huge loss, Toshiba's equity attributable to shareholders is a mere 300 billion yen ($32.6), with a shareholders' ratio of just 5.5%.
More sales of assets
Toshiba Chief Financial Officer Masayoshi Hirata recognized that the company continues to face tough circumstances, stating, "As an electronics manufacturer, we need at least [a shareholders' equity of] 30%."
While there is an urgent need for financing, the company's stock has been designated as a security on alert, making fund-raising via the markets difficult.
President Muromachi hinted that there may be sales of the company assets in addition to Toshiba Medical, saying, "We are not necessarily finished with asset sales yet." However, leftover businesses that may be put on sale are not as financially valuable as Toshiba Medical.
Toshiba has made it clear that it will focus on three businesses for the time being: the energy business, which is led by the nuclear-power-plant business, the semiconductor business, and the infrastructure business. Although each of these businesses requires huge investments, Toshiba must continue to compete with limited funds.