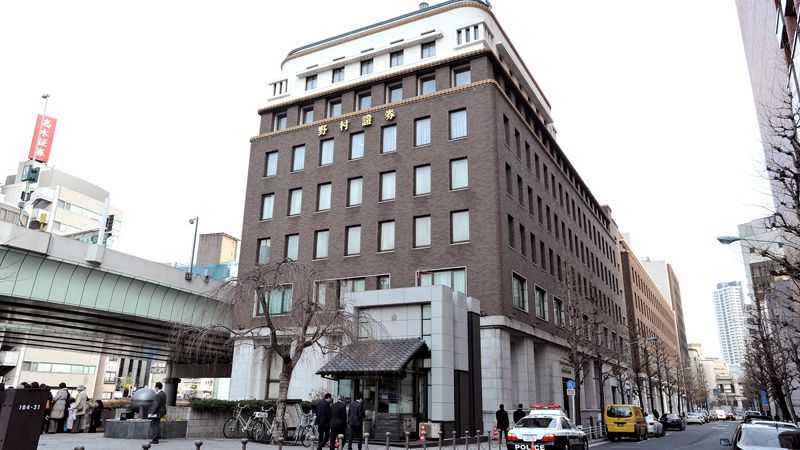 * Overseas business has lost $3 bln since April 2010
* European equities research team to close - sources
* 500-600 EMEA jobs to go, some also in Americas - sources
* Cuts a major blow to Nomura international ambitions (Adds details of Nomura announcement, analyst comment)
By Emi Emoto and Thomas Wilson
TOKYO, April 12 (Reuters) - After losing some $3 billion overseas in nearly six years, Japan's Nomura Holdings Inc , is axing a brokerage unit and hundreds of jobs in Europe and the Americas, sounding a partial retreat from its latest drive to become a global player.
Announcing changes in its wholesale operations, Japan's biggest brokerage said in a statement on Tuesday it will "close certain businesses" in its Europe, Middle East and Africa region and "rationalise" unspecified operations in the Americas. It didn't say exactly which units are involved, nor how many jobs affected, but said it would disclose full details on April 27.
People with direct knowledge of the matter said Nomura's European equities research team will close. In total 500-600 jobs would go in Europe, with other cuts in the Americas, separate people familiar with the matter said, declining to be named because they were not authorised to speak to the media.
The retreat signals the latest blow for Nomura management's international aspirations. The brokerage bought Lehman Brothers equities and investment banking business in Europe and Asia in 2008, at the height of the global financial crisis, as part of a concerted strategy to expand from its domestic stronghold and become a major force in international finance.
An earlier U.S. push in the 1990s, selling commercial mortgage-backed securities, suffered heavy losses after the 1998 Russian debt crisis. Nomura's London-based cash equities execution platform Instinet will be unaffected by the cuts, people with knowledge of the matter said, as will its Europe-based Asian equities sales and trading business.
With Nomura's overseas business set to report a sixth straight annual pretax loss for the year ended March 2016, investors welcomed news of the cuts. Nomura spokeswoman Joey Wu declined to comment on the job loss figures.
Nomura shares gained as much as 8.7 percent in Tokyo trading before closing up 7.4 percent while the benchmark Nikkei average gained 1.1 percent. The shares were languishing near three-year lows last week.
"By restructuring some of its businesses, Nomura can stop the bleeding and - in the long run - move towards profitability in its international division," said Masayuki Otani, chief market analyst at Securities Japan, Inc. From April 2010 to December 2015 alone, Nomura's overseas business lost 325 billion yen ($3.01 billion).
REGIONAL DIVIDE
The move comes as investment banks globally review their trading operations, with new regulations making it harder to turn a profit. But equities business has provided one of the few growth areas for investment banks in Europe, despite Nomura's problems in the region.
Reuters reported last month that Deutsche Bank is hiring 100 people to boost its share trading operations. Meanwhile Credit Suisse has said that it will continue to expand its equities business, despite making deep cuts across the rest of its global markets division.
Moves by other banks away from their home regions, however, highlight the struggle to stay competitive. Britain's Barclays has closed its cash equities business in Asia, Asia-focused Standard Chartered closed its equities franchise, and France's Societe Generale has shut its India equities research desk.
Nomura's announcement comes five months after the brokerage said it will invest further in its Americas operations over the next two to three years, seeking to strengthen mergers and acquisitions advisory services and primary equity and debt businesses in the region.
As of Dec. 31, Nomura had 3,433 employees in Europe and 2,501 in the Americas, company data shows. Over half of its total 29,069 employees are based in Japan. ($1 = 108.2400 yen) (Reporting by Emi Emoto and Thomas Wilson; Additional reporting by Rachel Armstrong in LONDON; Editing by Kenneth Maxwell)