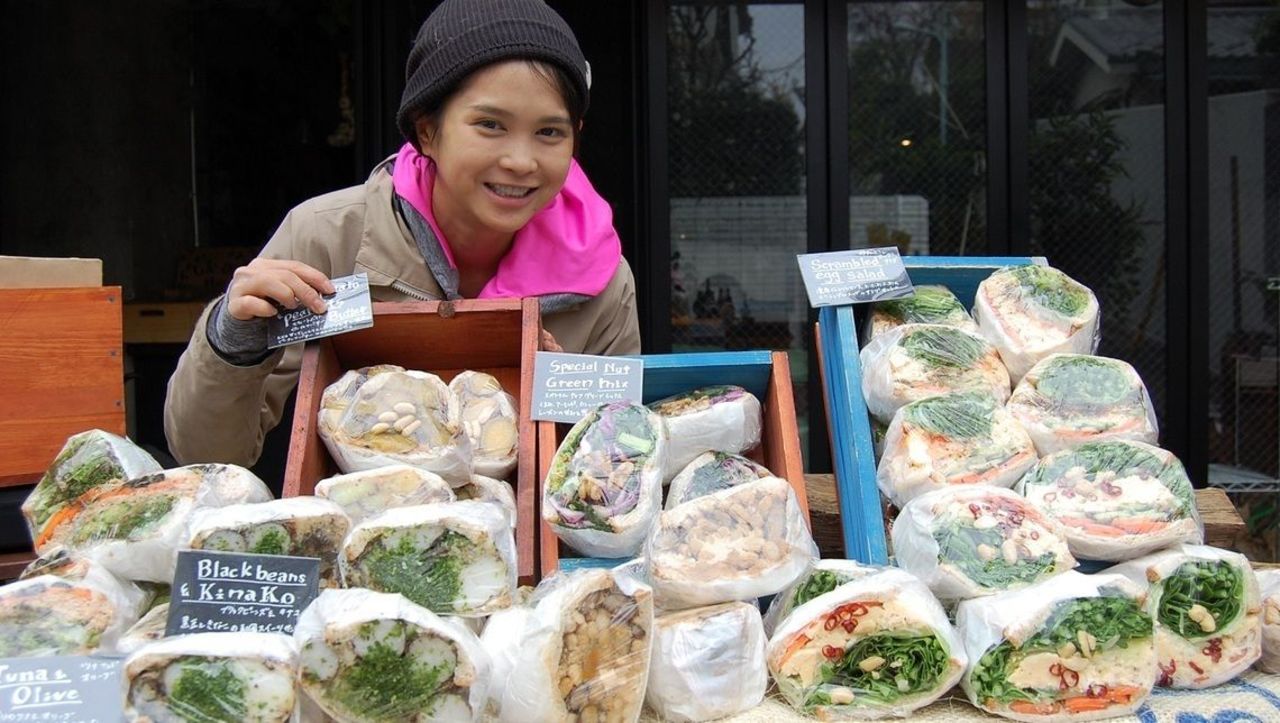 Did you know that there were new trends happening in the world of Japanese sandwiches last year?
Yuko Kusafuka, the chief editor of Cook Pad, the largest recipe site in Japan, explains, "Our staff noticed that everyone was talking about a sandwich called 'Numasan' on Instagram in February 2015, so we wrote an article about it in our online news section. Lately, sandwiches made with 'Chigiripan' (pull-apart buns) and toasted sandwiches are gaining popularity."
Numasan triggered this fad and is a type of sandwich Michiyuki Onuma, a potter also known by his artist name "Numao," makes for breakfast. His wife Yuki Onuma named the sandwich.
"I have been writing about this sandwich on my website for about 10 years," says Yuki. "Quite a few of my friends asked me how to make it at that time. I couldn't be bothered to email them individually, so I uploaded the recipe on Instagram. That was the beginning."
At first, only Yuki's friends were following Numasan, but the Numasan tag rapidly increased. A recipe book was published in June; and the book became such a hit that it was reprinted twice soon after the launch.
Why is there so much cabbage in the Numasan?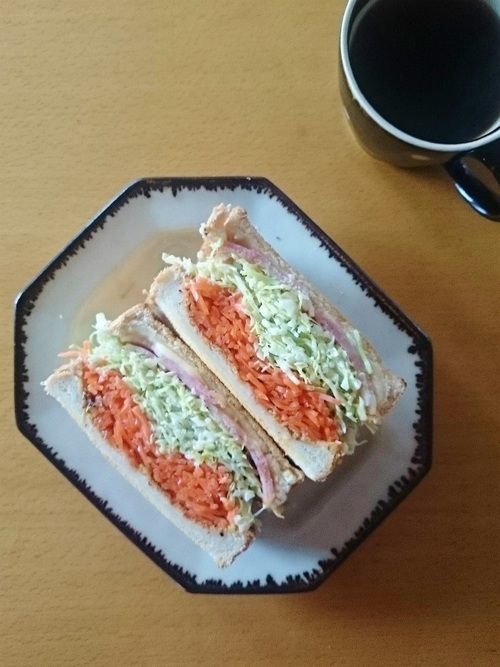 The distinctive feature of the Numasan is the size. Basically you place cabbage, onions, bacon and cheese between two slices of sandwich bread, but you need at least three cabbage leaves. You may wonder if you are reading the recipe correctly while slicing the cabbage because of the amount.
Why does Michiyuki use so much cabbage? It goes back to the time he was studying pottery. He was wondering how he could eat more vegetables for breakfast and then created a sandwich filled with cabbage after many experiments. The reason he chose cabbage is very clear. Cabbage is an all-purpose vegetable which you can get all year around and can find anywhere. You can also buy it for a low price, and it can be cooked in many different ways.
Many new sandwich shops are opening in Tokyo. Their sandwiches are all original and unique. At the end of October, 2015, a sandwich stall named Potasta opened in front of an organic restaurant called We Are the Farm in Shibuya, Tokyo. Sandwiches are for takeout only and sometimes sell out before lunchtime. There tend to be a lot of both fresh and cooked vegetables, beans, and potatoes used. The sandwiches not only taste good but look good as well.
"We Are the Farm has its own vegetable farm, and I have helped on the farm. I know how delicious the vegetables are. I was wondering how I could share that deliciousness with others and decided to make sandwiches as a way to enhance the taste and freshness of the vegetables," says Naoko Yokochi, the owner of Potasta. She is a fashion model and published a diet book based on her own experiences. She is very interested in food and health.
Naoko gets up early to prepare the sandwiches. The stall opens at 9:30 a.m. "My sandwiches always sells out. This happened even on the very first day. Customers have steadily increased through word of mouth. Seventy percent of my customers are females. Some customers visit me after seeing the sandwiches on Instagram," she adds.
She changes her sandwich selections every day. She has an average of six different types of sandwiches available on any given day. They are all original creations, and she has sold over 3,000 of them so far.
"The standard ingredients are scrambled eggs, canned tuna and mixed green vegetables. The ratio of western style to Japanese style is 8:2. I change the fillings depending on the available vegetables and how I feel that day," Naoko says.
Egg sandwich created by ex-sushi chef
Camelback, which opened in December, 2014, is another restaurant in the same Shibuya area which sells espresso coffees and sandwiches. The owners Hayato Naruse and Keitaro Suzuki have been friends since high school and opened the shop together. Hayato is the one who makes the sandwiches. He has a unique career background as a sushi chef.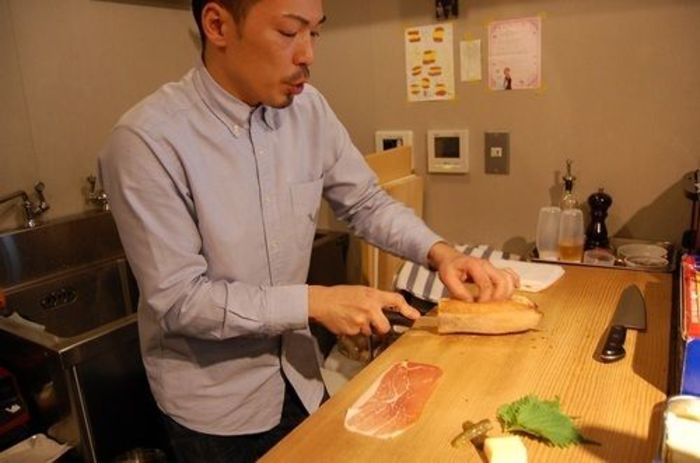 When a customer orders a sandwich, Hayato, who stands in a very narrow space behind the counter, takes action. Actually, Hayato is an ex-sushi chef and used to work in the U. S. as a professional. This experience must have influenced him because he makes sandwiches on a chopping board in the same way sushi is made.
Currently, there are eight types of sandwiches on the menu including a palma ham, tomato, rocket lettuce and olive oil sandwich, as well as a homemade bacon sandwich with four different kinds of mushrooms and sun dried tomatoes.
"Bread is the essential ingredient for a sandwich, just as rice is for sushi," Hayato says. He buys baguettes from three popular nearby bakeries every day. He uses French imported butter and buys vegetables from a trusted wholesaler.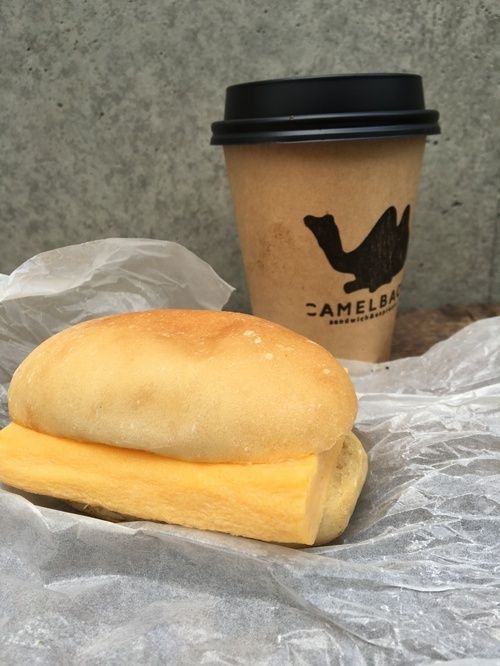 The most popular menu is the "Sushi Shop Egg Sandwich," which he added to the menu after the opening. The shop sells 20 or 30 egg sandwiches on the weekdays and 60 or 70 on weekends. It is a bread roll filled with a Japanese rolled omelet you usually see in a sushi shop. The broth added to the egg mixture is made with tuna flakes instead of the traditional bonito flakes. This adds a unique flavor and aroma to the omelet.
Initially, Hayato dreamed of opening a sandwich shop in the U.S. His work as a sushi chef both in Japan and the U.S. was not only to gain experience but also to save money to pursue this dream. After returning to Japan, he even worked in a burger restaurant in order to gain more experience in the food business and eventually move to the U.S., but he had to give up that dream when the American economy tanked in 2008. He then decided to achieve at least part of his dream and opened Camelback with Keitaro.
"I would like to start using fish in my sandwiches. Like my egg sandwich, I'm using my own original idea and technique," says Hayato. "The name of our shop means the back of a camel. I would like to move slowly by packing two men's dreams into the two humps of a camel."