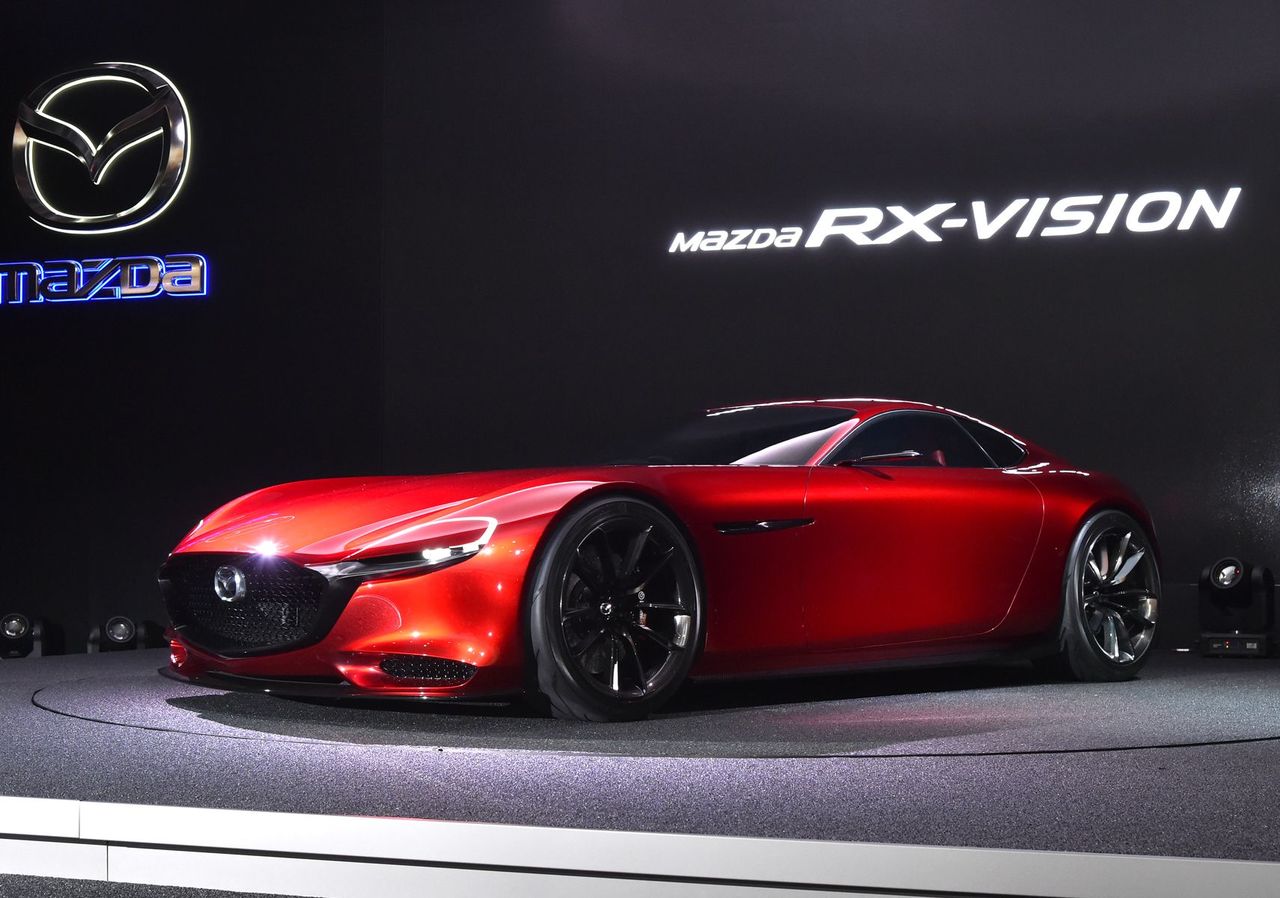 During an October 28 private showing at this year's Tokyo Motor Show, Mazda Motor showcased the company's RX-Vision concept car.
The two-door sports model is powered by Mazda's rotary engine, for which production was brought to an end in 2012. At the showing, Mazda President and CEO Masamichi Kogai stated that the new prototype vehicle "gives tangible form to our dreams of the future."
Most automobile engines today generate output through a combination of piston reciprocation and rotary motion. The rotary engine, on the other hand, features a triangular shape similar to a Japanese rice ball and generates power through rotary motion alone. The rotary design offers high output and can generate power very smoothly, but it poses challenges in areas such as durability and fuel efficiency. Thus far, Mazda is the only company to succeed in mass-production applications of this engine type.
In 1967, Mazda began selling their first mass-produced rotary engine model, the Cosmo Sport, and in 1978 they debuted their two-door RX-7 sports car, a widely celebrated, ultra-popular rotary engine model that continued to sell for 24 years.
The company attempted to carry on this tradition with their four-door RX-8 sports model (released in 2003), but poor fuel efficiency and management streamlining measures led to the end of the model's market production.
Despite the disappearance of rotary engine vehicles from Mazda's lineup three years ago, the company has sustained its R&D activities in the field. "I believe a day will come when the world is ready for another rotary engine vehicle," explained Kogai, expressing hope for a revival of the concept.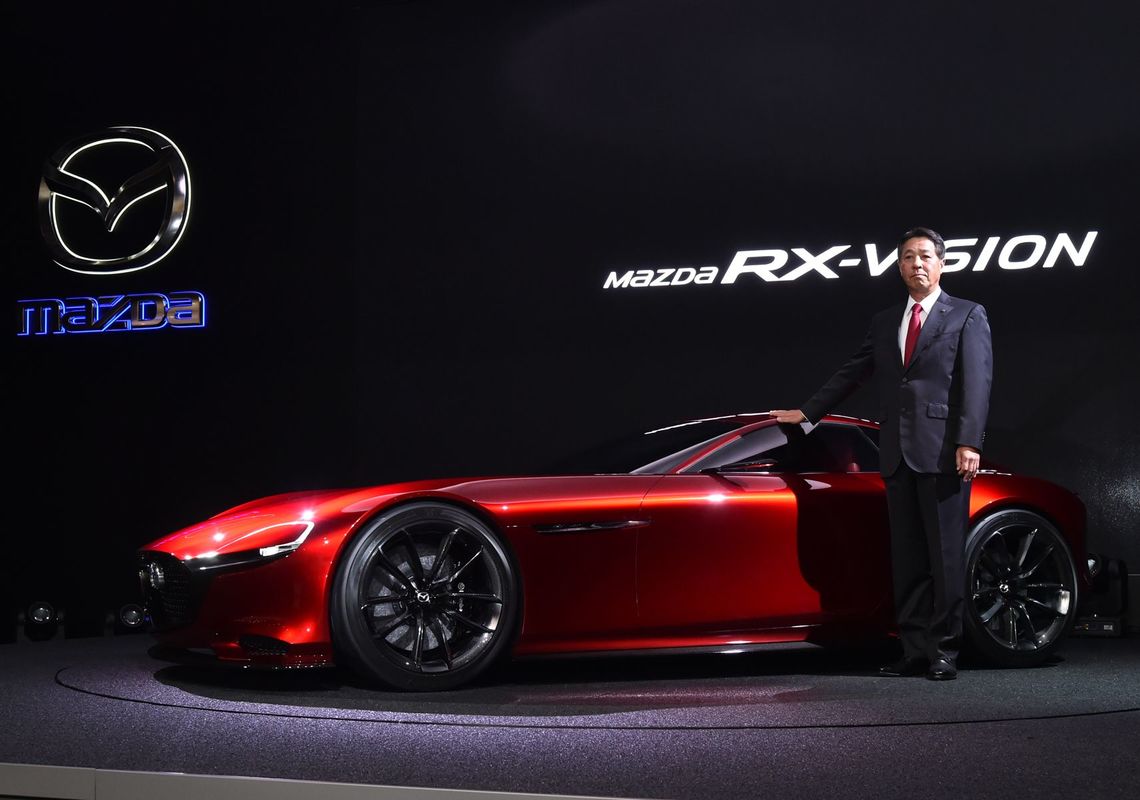 Holding off on giving a specific date regarding the rotary engine's return, Kogai predicted that "if we deliver outstanding fuel efficiency and performance, it is likely that customers and stakeholders alike will approve of commercial production for another such product," demonstrating the high priority he places on efforts to overcome technological barriers.
Because the rotary engine format faces inherent difficulties in terms of fuel efficiency, it is not hard to imagine just how difficult the achievement of performance improvements will be amid continuing efforts in countries around the world to strengthen regulations on fuel consumption.
The rotary engin is a "Mazda asset"
The rotary engine is a symbolic technological achievement for the company and, according to Kogai, a "Mazda asset," which is why the company has continued its R&D pursuits despite the challenges.
There are approximately one million Mazda rotary engine product users around the world, and numerous Mazda vehicle owners have been passionate about their cars for a long time now. Some fans are so attached to their rotary engines that they actually have them dismantled and cleaned.
Many such users have expressed interest in purchasing a new Mazda rotary engine model—which would be the first in some time following the last model's discontinuation—and the company is strongly committed to maintaining and cherishing its close ties with these customers.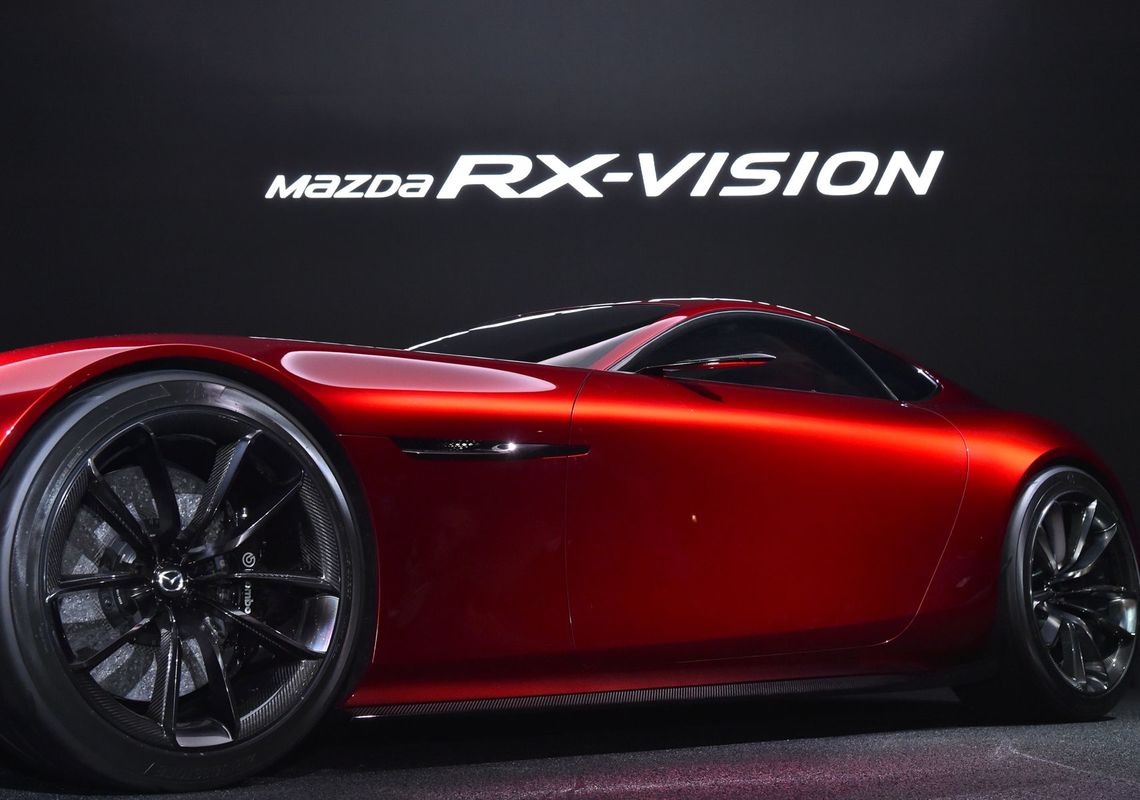 The introduction of a new rotary engine model would also provide a good opportunity for the company to bolster its earnings. Starting in Fiscal Year 2008, Mazda suffered four consecutive years of annual loss following the economic downturn set off by the Lehman Brothers bankruptcy, and they have renewed the designs of their engines, vehicle bodies and other components in an attempt to regain footing.
The CX-5 SUV (sport utility vehicle), which incorporates SKYACTIV technology for top-notch environmental and driving performance, sold extraordinarily well and helped return the company to profitability in Fiscal Year 2012.
The corporation has also updated its vehicle designs: In the past, designs lacked consistency from model to model; today, Mazda cars are being designed based on the Kodo ("Soul of Motion") concept, which unifies differing models through a sense of lively dynamism. Regardless of car type, Kodo design gives all cars a distinctive and unified Mazda feel, and this approach has captured the hearts of consumers.
Following the success of the CX-5, later models such as the Atenza/Mazda6 and Axela/Mazda3 also sold well to customers everywhere, and in Fiscal Year 2014 Mazda achieved record-high profits for the second year running, with promising business results on the horizon for Fiscal Year 2015 as well.
Even after overcoming their post-Lehman financial crisis, Mazda remains as focused and alert as ever, pursuing R&D with an eye toward the next set of developments in a display of steadfast and dependable operations.
Mazda maintains a 2% global market share at present. Since taking on the role of president and CEO, Kogai has pursued his vision of making the company a "one-of-a-kind brand that customers will continue to choose first," and efforts to forge deeper bonds with their enthusiastic 2% consumer base are intended to bolster the company's brand strength and promote greater societal growth. As Mazda takes its next big step forward, their ability to successfully reintroduce a rotary engine vehicle will prove to be vital.