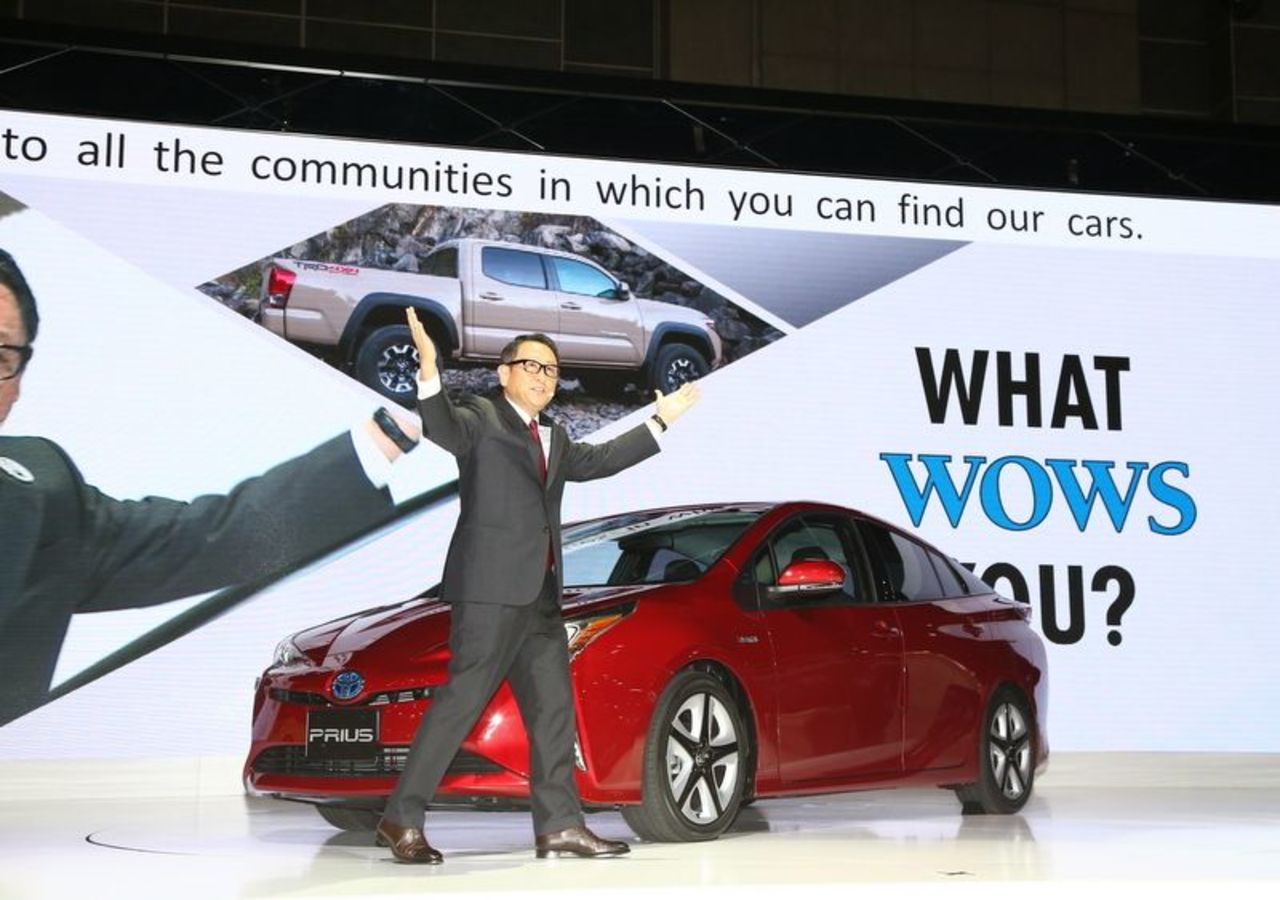 In the half-year earnings report for fiscal 2015 released on November 5, Toyota Motor announced that its net revenue between April and September of this year reached 14.1 trillion yen (about $114.6 billion).
This latest sales figure marks an 8.9% increase compared to the same period a year ago. It is equivalent to approximately one trillion yen more than Toyota's total semi-annual sales achieved by the end of September 2007, a year before the U.S.-based investment bank, Lehman Brothers Holdings, went bankrupt and triggered the global financial crisis.
The operating profit rose 17.1% on a year-on-year basis to 1.6 trillion yen (about $128.5 billion). The net earnings in the same period increased 11.6% to 1.3 trillion yen (about $102.1 billion), marking a record high for three consecutive midterms.
In spite of these thriving figures, Managing Officer Tetsuya Otake did not look openly happy when he explained how the company foresees the latter half of this year.
"Our business in developed markets like North America has been very steady. China is still a growing market for us. But we are seeing signs of weakening in the emerging markets," said Otake.
He indicated that the loss of momentum in specific regional markets "owes largely to the slowdown of Chinese economic growth and decline of crude oil price."
He added, "In light of such changing realities of the global market, we have to be careful not to be too optimistic about our overall performance in the second half of this year."
His cautious outlook is based on the sales volume, rather than on the sales amount achieved in the first half of this fiscal year. The latest statistics show that the domestic orders for light motor vehicles manufactured by its subsidiary, Daihatsu Motor, decreased significantly during this period.
The number of consumers buying Toyota brand cars in Thailand and Indonesia, the two main regional markets in Southeast Asia, dropped by approximately 20%. Similar downward trends were confirmed in the Central and South Americas as well as in the Middle East.
As a result, the total number of cars sold globally by the entire Toyota group between April and September this year only reached 4.977 million, ending a slight 53,000 cars less than the gross global sales achieved during the same term last year.
Despite the decrease of volume, Toyota managed to gain more profits in these six months than in the same period last year. The largest contributor to the increased gains was the depreciation of the yen.
The exchange rate benefits of the weaker Japanese currency, especially against the US dollar, led to the increase of 305 billion yen (about $2.8 billion) in profit. Toyota squeezed out another 140 billion yen (about $1.1 billion) by cost cutting, an area in which this company has always excelled.
Through these external and internal cost-saving factors, Toyota succeeded in offsetting the decline of sales volume, increased R&D investments, and rise of labor cost in its local bases in emerging countries.
Toyota is allegedly preparing to cope against decreased sales and profit in the second half of fiscal 2015. The company predicts that its business in domestic and Southeast Asian markets will remain stagnant for the next six months. It also seems unlikely that the ongoing growth in North America will be strong enough to compensate the staggering sales anticipated in these regions.
Hence, the global auto giant revealed that it had downwardly adjusted 300 billion yen (about $2.4 billion) from the earlier projection of gross sales set as the target for this fiscal year ending March 2016.
Nevertheless, Toyota's bull position on profit increase remains intact. It is still eager to reap 2.8 trillion yen (about $ 227.3 billion) in operating profit, and mark a record-high in net profit for three consecutive years by raising it further to 2.25 trillion yen (about $182.6 billion) by next March.
Toyota's reported downward adjustment of its annual business plan is not limited to the gross earnings it had earlier projected. The company is also foreseeing that the total annual sales volume will drop to 10 million vehicles, roughly 170,000 less than the previous year's actual result and 150,000 down from its initial plan for this year.
As Managing Officer Otake commented, the top management of Toyota is not optimistic about its near future. However, this longtime champion of the automotive industry is at least hoping to keep the gross sales benchmark of 10 million cars for two straight years.
The present market environment is certainly lacking in positive elements that may turn Toyota's global business significantly upward in the short term. The management's cautious outlook of its near future is also evident in the very conservative currency exchange baselines it has set for the second half.
Toyota is pegging 115 yen to 1 US dollar and 130 yen to 1 euro, rates which are about 5% lower than the current exchange rates. If these rates remain unchanged until next March, the company may be able to enter more than 100 billion yen in the books as foreign exchange gains.
Otake also admits that the company is projecting its profit growth to slow down further from fiscal 2016 onward. "Our business will remain firm in the developed countries, and continue to struggle in Asia. We should still be able to grow overall, but the pace would be more gradual than now," he said.
The top executives of Toyota are aware that their company will have to rely heavily on North America as the main driver of its business growth if the recovery in emerging countries cannot be expected for a while.
But if the Federal Reserve finally decides to raise the interest rate as anticipated for some time, this new financial policy will probably apply a downward pressure to Toyota's growth in the U.S. market. Based on such observations, they fear that their profit increase will remain slim for the foreseeable future, unless the yen depreciates more than expected.
Not ditching Takata?
The business performance of an enterprise as big and influential as Toyota will more or less directly govern the trend of the entire market. This is why the media is keen about finding out how the leading automaker is projecting its future in the global automotive market.
However, on the day of the press conference following the release of Toyota's interim financial results, the reporters showed more interest in knowing how this company was intending to deal with the problematic Takata airbags rather than in its latest business achievements and future prospects.
Most of their questions focused on the Takata issue, largely due to the fact that this conference was held right after the day Toyota's domestic archrival, Honda, announced its decision to discontinue using Takata airbag inflators for its vehicles.
When the Toyota's executives on the podium were showered with similar questions pertaining to this hot issue, Senior Managing Officer Shigeru Hayakawa simply continued to repeat the same reply: "We cannot go into details but will assure you that we will be using parts that are safer and more secure."
Even in the informal chat with the reporters after the conference, Hayakawa continued to evade giving a clear-cut answer as to whether his company was going to stop using Takata airbags.
A sense of disappointment prevailed among the reporters when they found that all they could hear about this important safety issue were noncommittal responses from the executives of the top automaker.
The series of accidents, involving injuries or fatalities, attributable to the defective airbags manufactured by the Japanese automotive parts supplier, Takata Corporation, are heightening the consumers' concerns with driving safety.
In fact, it was Toyota that made itself clear that it would place top priority on not only ensuring scientifically proven safety of its vehicles but also eliminating anxieties from the consumers, following the massive recalls it experienced in 2009 and 2010.
But regardless of whether the top management explicitly acknowledges this or not, there is little doubt that Toyota will also start reducing the use of Takata airbag inflators.
Takata has already declared that it will stop accepting new orders of inflators that use ammonium nitrate. This substance has been the main and distinctive explosive material adopted by this manufacturer to inflate its airbags.
The supplier also announced that it has a phased plan to withdraw these inflators from its clients with existing contracts, and switch the explosive material to guanidine nitrate, which is widely used by many of its competitors.
It is therefore only a matter of time before inflators that use ammonium nitrate become unavailable. Then there would be no reason for Toyota to continue ordering airbags from Takata since guanidine nitrate-loaded inflators can be procured from other suppliers.
There are already rumors in the industry that Toyota has placed a bulk order of guanidine nitrate-loaded inflators with a different manufacturer. But for this giant automaker, whether it has decided to drop Takata from its long list of suppliers or not is perhaps not even a matter worth commenting upon.