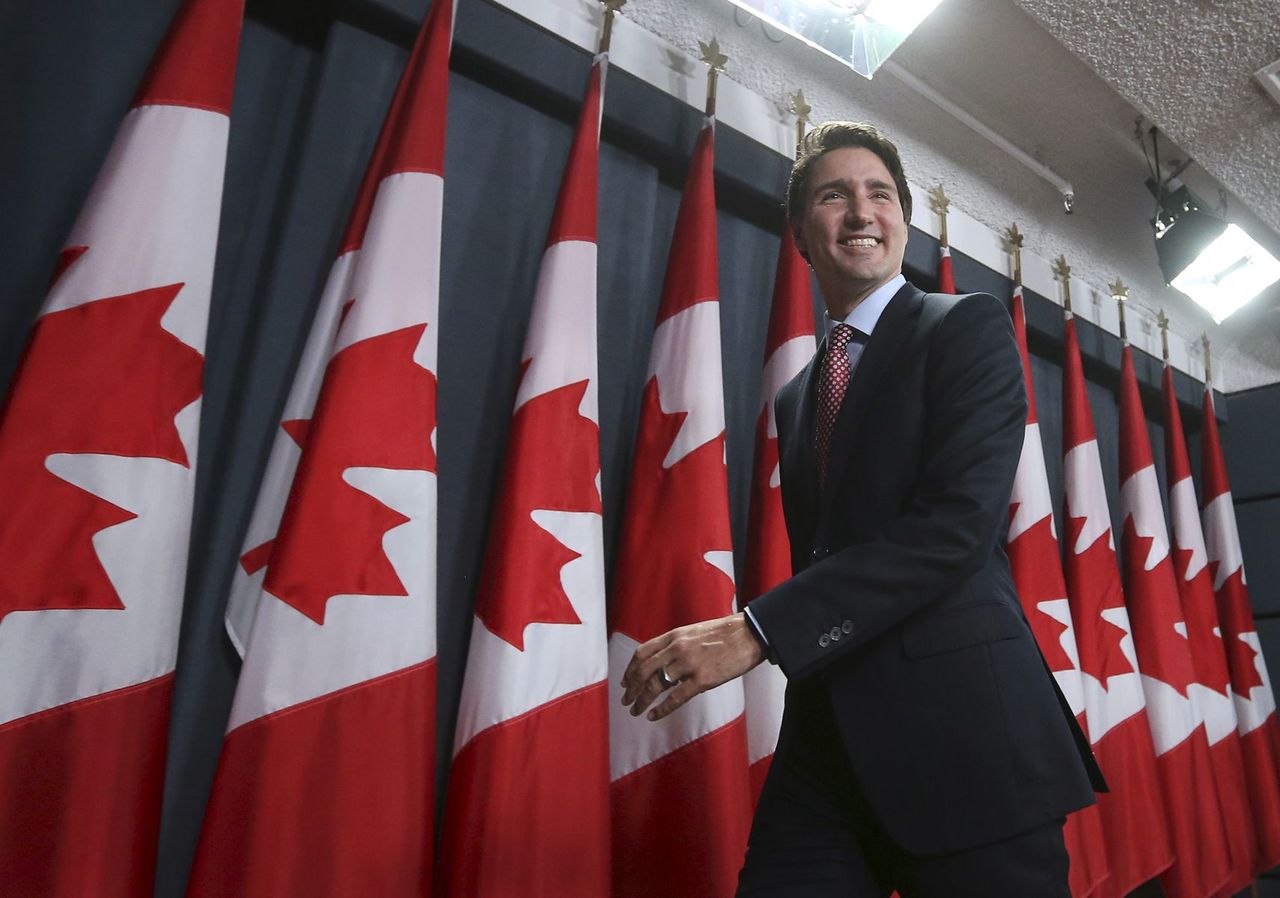 TORONTO – Last week marks Canada's first change of government in nearly a decade, following the unexpectedly large victory of Prime Minister Justin Trudeau's Liberal Party in mid-October's general election. To understand what the change will mean for Canada's relations with the world requires taking stock of the country's international posture under Trudeau's Conservative predecessor, Stephen Harper.
Broadly speaking, the election of Trudeau (whose father, Pierre, was Prime Minister when he was born in 1971 and served from 1968 to 1979, and again from 1980 to 1984) constitutes a rejection of Harper's polarizing political agenda and antagonistic leadership style.
Under Harper, Canada drifted away from multilateral engagement, shirking institutions such as the United Nations in favor of a more aggressive, value-driven foreign and security policy that divided the world into friends and foes.
Harper's tough talk on Russia's annexation of Crimea and intervention in eastern Ukraine, and on China's disturbing human-rights record won him wide public support. But his stance on climate change proved to be more controversial.
Climate change once again?
By withdrawing Canada from the Kyoto Protocol and largely rejecting the issue's significance (before finally offering limited concessions to reduce the country's carbon footprint), he diminished Canada's standing on one of the premier global issues of our time. In the Middle East, Canadian foreign policy was essentially restricted to unflinching support for Israel's government.
Such policy positions, and others, explain why in 2010 Canada suffered a major diplomatic defeat, when its bid for a seat on the UN Security Council failed, shocking the country's foreign-policy establishment.
Harper leaves a better legacy on the trade front, where he provided committed leadership in pursuing ambitious accords with both the European Union (the Comprehensive Economic and Trade Agreement, CETA) and Asia (the Trans-Pacific Partnership, TPP). For his part, Trudeau has already signaled that he will press ahead on ratification of both CETA and TPP – thus helping to lessen Canada's over-reliance on trade with the United States.
In particular, the new Liberal government is committed to assisting small and medium-size Canadian businesses gain a foothold in the EU. European governments and businesses can expect to see very engaged Canadian diplomacy on trade and investment issues.
Canada's transatlantic partners, for their part, have similarly high hopes for Trudeau and his administration, particularly owing to his commitment to pursue more ambitious emission-reduction targets at the upcoming UN Climate Change Conference in Paris. And closer integration with Canada's vast energy resources could provide Europe with an attractive alternative to its heavy reliance on imports from Russia and the Middle East.
Many in the Canadian energy sector will follow Trudeau's climate agenda with trepidation; but his push for environmental reform may turn out to be a blessing in disguise for the country's energy companies. Canada has an opportunity not only to repair its international reputation, but also to highlight the significant technological and ecological advances made by innovative oil producers in recent years.
In terms of security and defense policy, the Trudeau administration's positions are more opaque. The day after his election, Trudeau told US President Barack Obama that he would withdraw Canada from the anti-Islamic State bombing campaign in Syria and Iraq. On the other hand, the Liberal Party's stated commitment to maintaining defense spending and continuing Canada's NATO operations in Central and Eastern Europe should reassure the country's strategic allies.
Moreover, Trudeau is making good on his campaign promise to accept 25,000 Syrian refugees as soon as possible. This should be viewed as a welcome, if largely symbolic, show of solidarity by Canada to help the EU cope with its most severe crisis in decades.
Different type of leader
Perhaps most important, whatever direction Canadian foreign (and domestic) policy takes, it is abundantly clear that the policymaking process will change dramatically under Trudeau. Over the course of nearly ten years in office, Harper crafted a powerful, highly centralized executive to "get things done" and control the political narrative, famously seeking a high level of personal engagement in every aspect of his government.
Trudeau, by contrast, has vowed to be a very different type of leader, promising to pursue an inclusive approach to policymaking and to allow his ministers to take much greater responsibility for their portfolios. In many ways, his campaign's message of change – together with enormous charisma and personal confidence – recalled Obama's first run for the White House in 2008.
As Trudeau embarks on a hectic schedule of foreign visits, including four back-to-back international summits, he will introduce himself to the world with a familiar message of hope and cooperation. However the challenges of governing change him over the next four years, it is already apparent today that Canada will not be the same.
(C)Project Syndicate