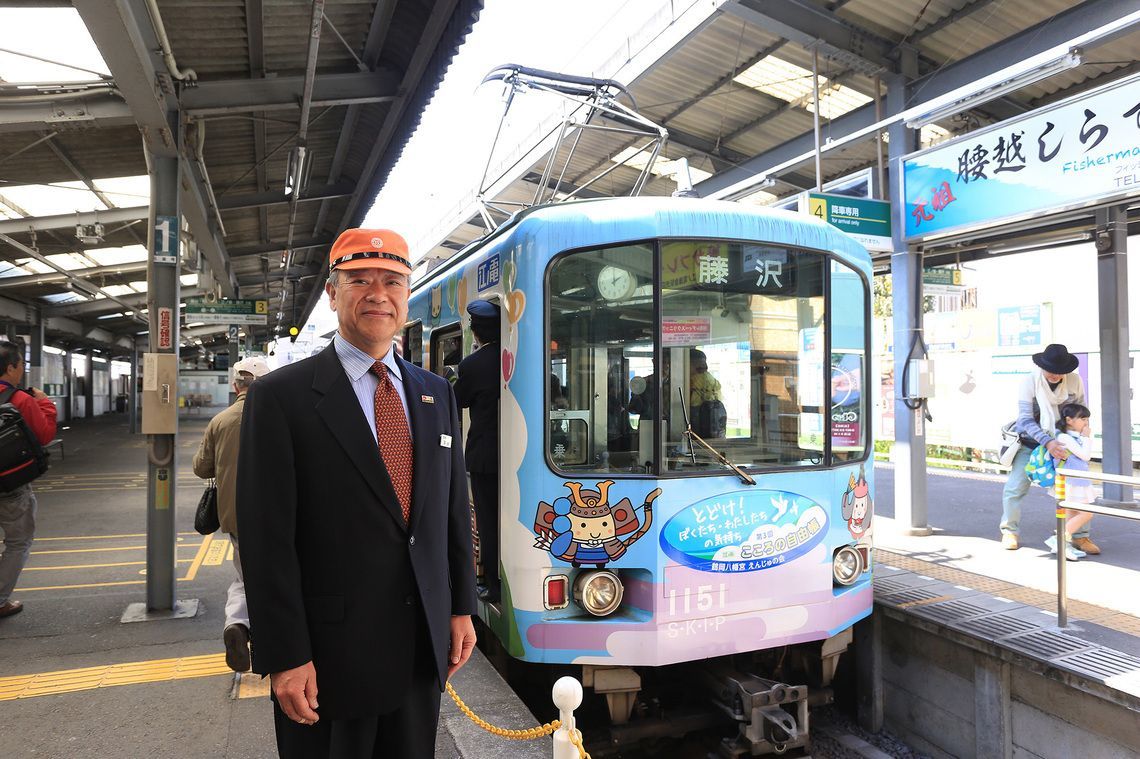 Although Enoshima Electric Railway ("Enoden") has enjoyed an almost ubiquitous presence on Japanese TV, the company's tracks only cover a distance of 10 kilometers between Fujisawa and Kamakura in Kanagawa Prefecture, south of Tokyo.

Despite its small scale, the railway enjoys an annual ridership of nearly 17 million and has consistently posted profits for many years--a rarity among regional railway companies. How has the tiny railway company achieved such enviable successes? We asked Kenji Fukaya, former Enoden CEO, about how the company does it.
When you go to Enoden stations, there is a strong sense that the company wants to share the local area's charms. Do you place priority on that?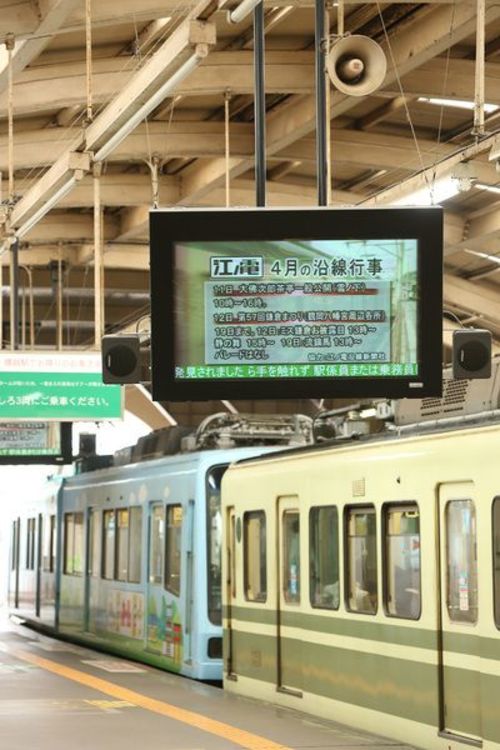 Yes, at Enoden, we give major priority to conveying to our customers the beauty of our distinctive location. At the major tourist hubs on our line--Kamakura, Fujisawa, Enoshima, and Hase Stations--we have LCD monitors installed in our platform ceilings to inform riders of events going on in the area and provide information about the flowers in the local temples and shrines.
By posting up-to-the-minute information on which flowers are in bloom at which temples, and how long they've been in bloom, our newspaper-style announcements are designed to keep sightseers happy and entertained as they travel around the area.
Enoden appears on TV a lot. Does the company have a "media strategy"?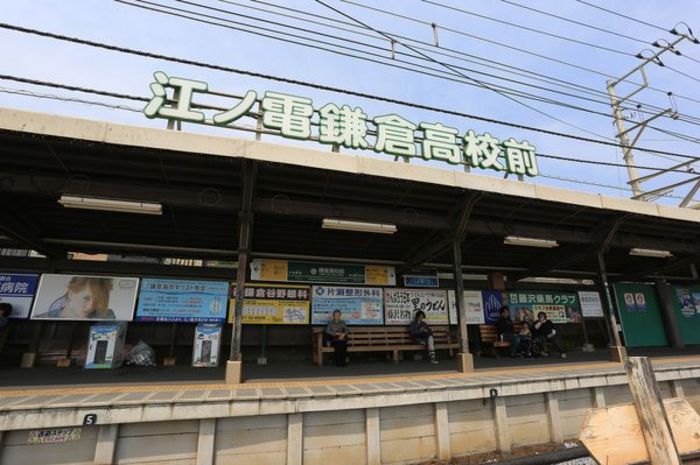 Our PR strategy is about more than just Enoden. It's about making Enoden part of the charm of the towns and shops around us. We're always looking for marketing ideas that unite us with the beauty of our surroundings. The media coverage we receive is never just about our trains. Our PR partnership with the local Shonan area is, I'm sure, a major reason so many media outlets have been so eager to cover us.
There are also so many beautiful shops around us, and we work hard with the owners of local restaurants, souvenir shops, and covered malls to advertise the beauty of our region throughout Japan. Obviously, TV is the most influential PR medium there is, so maximizing viewership is always a concern for us. We've been fortunate to receive very high viewership whenever we're covered.
Aiming at Asian tourists
Many foreign customers seem to ride Enoden these days.
When we look ahead, the most important question for us is, how do we increase our ridership among tourists? With the Tokyo Olympics and Paralympics coming in 2020, the key to increasing ridership will depend on increasing our foothold among tourists outside Japan.
In 2014, the number of foreign visitors in Japan has reached 14 million. Considering this figure, we're especially interested in the rapid growth of tourism within Asia. At Enoden, besides English and Japanese, we've also added Chinese and Korean interfaces to the touch panels at our stations, making for four languages including Japanese and English.
To make services more convenient for our growing number of Asian customers, we've started offering information in more Asian languages. We've also been proactive in providing Wi-Fi service in our stations, along with other advancements.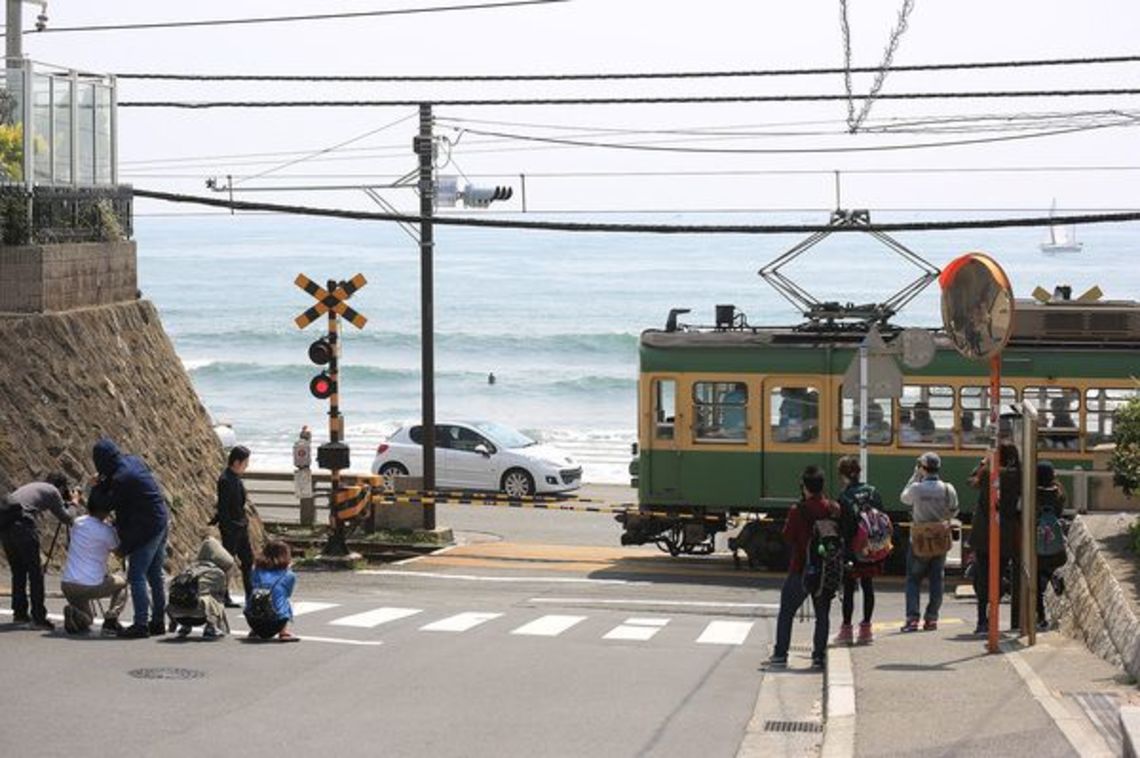 You've been active in pursuing partnerships with foreign rail operators too
In April 2013, we teamed up with railways in Taiwan for a cooperative agreement aimed at increasing tourism between the two countries. Enoden and Taiwan's Pingxi Line have agreed to honor day passes from both companies.
Like Enoden, Pingxi is a regional railway that mostly caters to tourists, and our ticket exchange arrangement allows customers on one line to use the other free of charge. In two years since we launched this partnership, we've welcomed nearly 10,000 Taiwanese customers to Japan. Today, around 300 to 400 Taiwanese customers use our line every day.
Enoden seems to be making some changes to its stations.

One example is the station building near Kamakura High School. This building is exactly the same as it was in the old days. Recently, however, we had issues with the restrooms. They were kind of messy and not in very good shape.The solution was obvious: as soon as we discovered the problem, we repaired everything that was broken, and we've made it a point to keep the area always clean.
The stations' bulletin boards were another recurring problem: they were extremely disorganized and made it unnecessarily hard for customers to find information they needed. Information on local events was randomly mixed with advertising flyers and announcements from the local government.
Eventually, this problem got so bad that people didn't bother to look at the boards anymore. Thus, we reorganized the postings so people could make sense of their content at a glance. Now, we post local government announcements in one section for our local customers; event information and local business ads are posted in a separate area for sightseers.