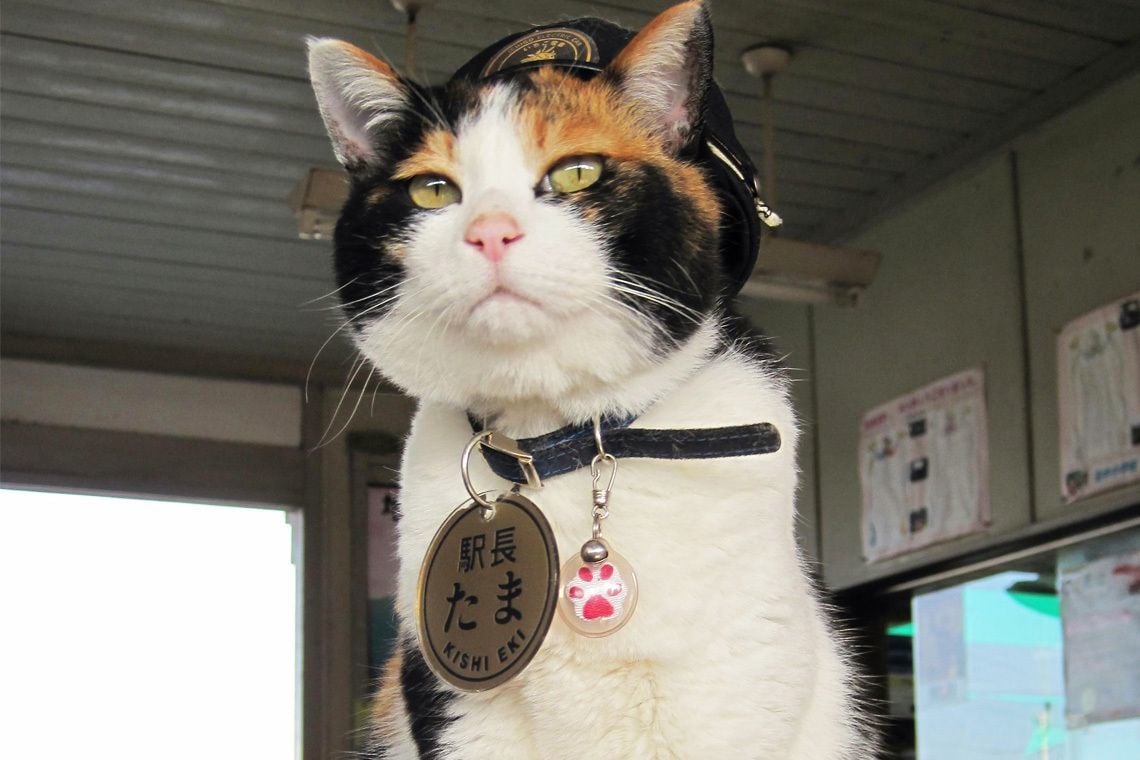 This is a true story about a female pet cat named "Tama" that once lived peacefully in the countryside of Japan and ended up devoting the latter half of her life in community services that made her worthy of being widely recognized as a legend in her own right.
I first met Tama in 2006. It was around the end of April that year when I visited Wakayama, a mostly rural prefecture located south of Osaka, to gather information for my news report on Wakayama Electric Railways.
I was waiting for my return train to arrive at Kishi Station, the terminal of Kishigawa Line, which was and still is the sole line operated by this company. As I was sitting on the bench in the waiting room, there came one calico cat that stared at me with wistful eyes and uttered a meow. Who could have imagined that I was meeting a cat that would become the master of this station nine years later?
Tama was a pet cat fed by the owner of the kiosk operating within the premise of Kishi Station. She usually spent her daytime leisurely in front of this store during its business hours. As she became known to regular customers of the kiosk and train passengers, these repeaters, along with the residents in the neighborhood, started idolizing her as their cute symbol of this local station.
Her growing popularity eventually reached the ears of President Mitsunobu Kojima of Wakayama Electric Railways. Borrowing from the traditional concept of "maneki-neko" or "beckoning cat" believed to be a talisman that brings good fortune, the president came up with the idea of appointing Tama as the master of Kishi Station, soon after he decided to unman the stations as a part of the company's rationalization plan.
When Tama officially assumed the said position on January 5, 2007, the news that, for the first time in history, a cat was hired by a private railway firm to serve as a station master created a buzz and received wide media coverage.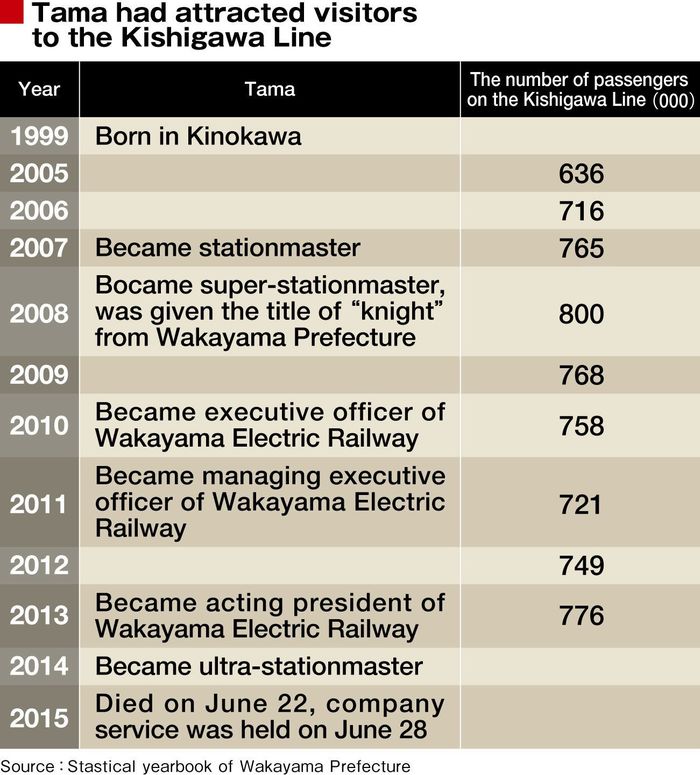 As evident from the figures shown in the attached table, Tama had a great impact in attracting visitors to Kishi Station from all over Japan and even from abroad.
Both the number of passengers buying commuter pass for business use or schooling and tourists using Kishigawa Line rose remarkably in 2007 as well as in 2008 when she was promoted to a newly created post "Super Stationmaster".
Secrets behind her long popularity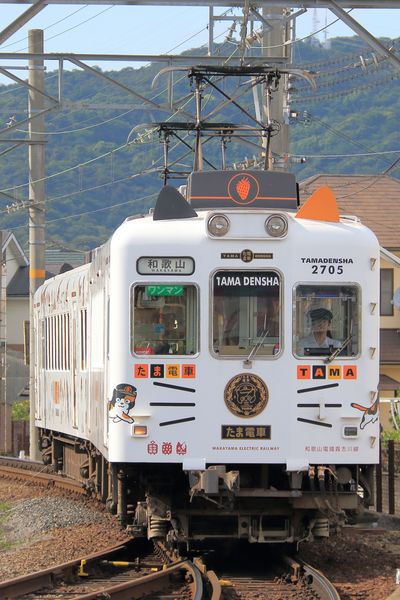 Hence, Tama became the game changer for Kishigawa Line that was until then nothing more than a petty rail in rural Wakayama serving almost only for a limited group of local business and student commuters with no particular sightseeing spots blessed along its route to attract tourists.
What's more, her successful role as a magnetic advertisement pillar was perceived as a business model by various other low-profile train operators across the country that followed her course and appointed a series of animals as their station masters, ranging from a dog, a goat, a penguin, a turtle, a parrot to a pair of lobsters.
But what sets Tama apart from the rest of her numerous imitators is that she is the undisputable pioneer that deserves full recognition for opening a new page in the history of Japanese railway business. Yet, we must not forget that her long-lasting popularity owes largely to the well-planned strategic approach taken by her forward-thinking employer, Wakayama Electric Railways.
If the bold idea of appointing a cat as a station master was simply put into action as an ad hoc solution, Tama would have most probably ended as a short-lived one-hit wonder, just like any instantly created entertainment that may catch on once but gets easily forgotten soon because of its shallowness. To reach deep into the hearts of the viewers, the show must be put on in earnest, and to retain the audience, the staged performance must add new elements over time to provide them unexpected twists and turns that would make them want to come back again and again for more.
In the case with Wakayama Electric Railways, it had a carefully-executed plan to prevent the once-captured fan base from getting bored and fading away. Every year or two, the management publicly announced that Tama was promoted to a more important position within its organization. This company knew all so well how much the Japanese society composed largely of corporate workers is sensitive to matters related to career advancement.
To understand this local railroad corporation's serious mindset, we need to look into the background of how this company was born.
Kishigawa Line was originally one of the lines operated by a private major, Nankai Railways, based in Osaka. Because this line continued to be unprofitable, Nankai presented to the municipal authorities and relevant communities in Wakayama its plan to abandon this money-draining line. In fear of losing this transportation means vital for the existing users, a public-private partnership was formed in Wakayama to have this line transferred from Nankai to a newly established private company named Wakayama Electric Railways.
To be more specific, the municipalities representing the city of Wakayama and the town of Kishi acquired the railroad lands using the subsidy granted from the prefectural government of Wakayama, and are currently lending them out to Wakayama Electric Railways at free of charge while also supporting this company with financial aids to cover the facility repair costs and carried-over deficits. In short, Kishigawa Line and these municipalities greatly affected by the train services offered by this line are sharing a single fate.
Hope of survival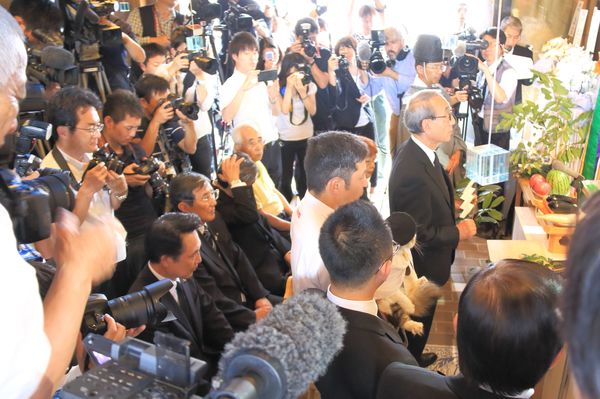 On June 22, Tama ended her 16 years of a very dramatic cat life, which is equivalent to around 80 years of human life. A few days later, Wakayama Electric Railways hosted an official company funeral for her, inviting the Governor of Wakayama Prefecture, the Mayor of Wakayama City, and the Mayor of Kinokawa City as honorary speakers to deliver a eulogy respectively, along with President Kojima, the originator of the entire Tama phenomenon.
Organizing such a big event attended by top local leaders took no one by surprise, considering the aforesaid inextricable bond between the company and the surrounding communities. But more importantly, this was a matter of course for the company, since it had already promoted Tama to "acting president," the second highest position in the company two years before her passing.
Nevertheless, those with shrewd eyes would speculate that even this accelerated promotion in 2013, followed by the appointment as the "ultra-stationmaster" in 2014 to extend her scope of supervisory responsibility to all the stations of this line have also been a part of a scenario well prepared in advance by the management of the company.
They had been thinking for some time about how they could most effectively stage the grand finale of their apparently aging colleague that has done so much to publicize their business and contribute to its growth. Tama was born in 1999 and was getting close to the end of a normal cat's tenure of life which is said to be around 15 years .
The likelihood of the above speculation being the truth is also supported by the fact that Wakayama Electric Railways had already found a stray cat, another calico, as the successor of Tama as early as in 2012, appointing her as the master of Itakiso Station assuming a dual position as the acting master of Kishi Station.
This cat named "Nitama," meaning "Second Tama" in Japanese, is now based mainly in Kishi Station to fill the vacant spot that used to be the original workplace of Tama.
Although Nitama may not be able to draw as many tourists as her legendary predecessor, the company knows best that it is inseparable from cats, and that maintaining and enhancing its most valuable asset on which its corporate identity is built on— the strong brand image of "cat train" widely spread by Tama—will undoubtedly continue to work as its key strategy to keep Kishigawa Line in business for years to come.