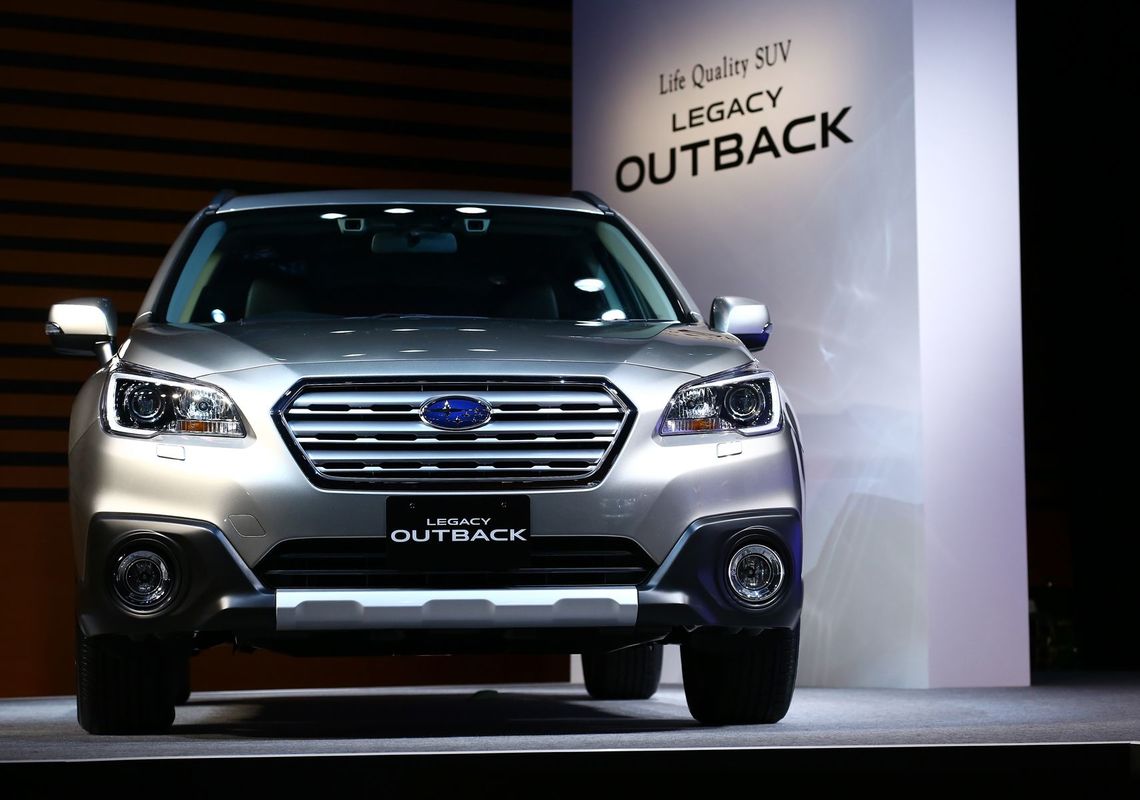 Fuji Heavy Industries, a Japanese automaker known for the Subaru brand, is facing a very luxurious 'problem' in the booming U.S. auto market.
The revamped version of the Outback, released in 2014, has proven so popular that they are having trouble keeping up with demand.
According to president of Fuji Heavy Industries' Mr. Yasuyuki Yoshinaga, sales in April were at 12,500 cars (up 17.6% from the previous month), but dealers only have 4,400 cars in stock. In other words, they only have enough stock for next 10 days. For all of Subaru's models, the average time they spend in inventory is 20 days, so there are clearly not enough Outbacks.
Big production increase
Unlike Japanese car buyers, U.S. buyers purchase a car and then drive it off the lot that same day. Hence, not having enough cars in stock can lead to loss of sales. Mr. Yoshinaga claims that the dealers are complaining that there aren't nearly enough car.
The US factory responsible for making the Outback and the Legacy sedan has an annual capacity of 200,000 cars, and that factory is responsible for supplying the U.S. and Canada. However, since the Outback and Legacy were first released, monthly demand reached 15,000 to 20,000 per month, surpassing the 200,000 per year capacity. Even if overtime and extra production days are added, it will not be possible to keep up with demand.
Therefore, the company decided to increase the production capacity of the U.S. factory. The previous plan was to produce 328,000 cars by the end of 2016, with an eye on reaching 40,000 cars per year by 2020.
Instead, the new plan aims to produce 394,000 cars by the end of 2016. Fuji Heavy Industries ends its contract with Toyota to produce their Camry sedans in 2016, so the plan is to start using the line to produce Impreza for the first time in the U.S., and also increase the supply of Outback and Legacy.
The bold decision
The decision is quite bold for usually conservative Fuji Heavy Industries. Mr. Yoshinaga has once said "It's perfect when the demand is only slightly higher than the supply. I would not want to crease a mountainous supply and then end up having to increase incentive to sell them all."
However, at the financial results conference on May 8, Mr. Yoshinaga confidently stated that "The decision was made based on the calculation that it would not result in an oversupply. We were a bit worried that there were no new models released in 2015, but favorable demand has exceeded our expectations. After 2016, beginning with the Impreza, new models will be released one after another."
Yet, there is one big anxiety: its sales in Japan and China. The Forester and other cars will continue to be exported to North America, but the sales in Japan and China has been sluggish. For the fiscal year 2016, the company expects Japan sales to drop by 11.4% to 140,000 and China sales to decrease by 7.7% to 50,000.
Mr. Yoshinaga says, "The future will be difficult to navigate. We will have to think about how to strike a balance between North America, China, and Japan. We would like to avoid decreased utilization of our domestic factories."
A sign of good faith?
In the middle of this month, Mr. Yoshinaga will attend the conference for US dealers. According to Mr. Yoshinaga, "The dealers are very eager to invest to sell Subaru cars." So, increasing production capacity is a sign of good faith for the dealers which are unsatisfied with shortage of the Subaru cars.
"I'm a bit worried that I might get hit by one of the dealers who are overly anxious for us increasing our supply, so I'd better wear a helmet to the conference," said Mr. Yoshinaga.
Subaru only has a 3% share of the U.S. auto market. To put it another way, if they put their foot on the accelerator then there is plenty of room for improvement. Going forward, it remains to be seen how they will satisfy the needs of dealers who are badgering them about the limited supply while staying careful to not create a surplus.