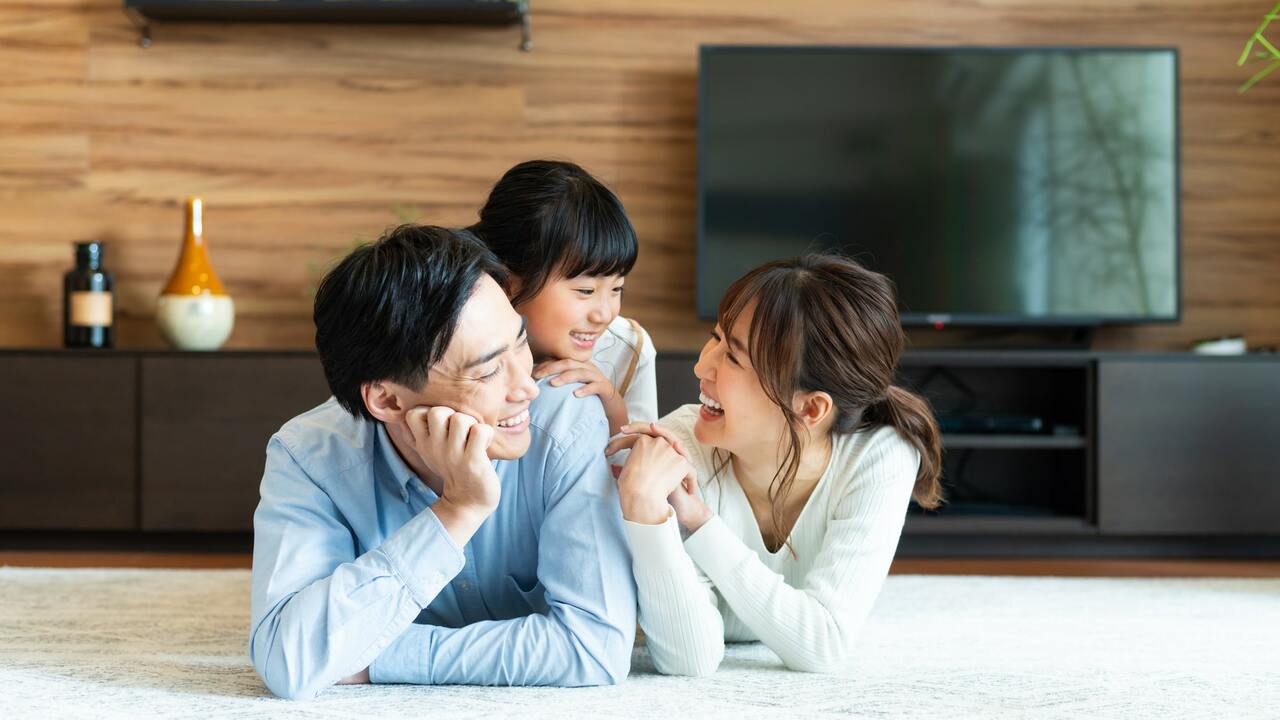 We all love Mary Poppins. With her no-nonsense, practical style, she swoops into a home characterized by two parenting extremes. An authoritative father who barks out orders and expects unquestioning obedience, and a mother who is supportive of her family, but is ineffective. This indecisiveness leaves her to become a permissive (or indulgent) and neglectful or uninvolved parent.
What sets Mary Poppins apart? She succeeds in parenting two children when the parents and other nannies have struggled. Besides her 'catch-all' bag, she brings clear structure, boundaries, and guidelines delivered with love, joy, and excitement. This inspires the kids to do what's required of them. Experts call this authoritative parenting.
As one of the most prominent parenting trends of 2021, authoritative parenting is a parenting style that focuses on balance. It's a combination of high levels of warm nurturance and firm discipline. Authoritative parents have clear expectations for their kids but also provide the resources and emotional support to help them succeed.
This concept was birthed by psychologist Diana Baumrind's prototype of response and demand. Baumrind was a developmental psychologist at the University of California at Berkeley in the '60s. Her model was refined in the '80s by Eleanor E. Maccoby and John A. Martin. Baumrind's theory is that a particular parenting style leads to specific child development and child outcomes. Through extensive observation, interviews, analyses she found three parenting styles: authoritative, authoritarian, and permissive. Maccoby and Martin expanded permissive to include indulgent parenting and added a neglectful or uninvolved parenting style.
"There are many aspects of my parenting style that align with authoritative parenting, although it's not my exclusive approach," said Rayne Lacko, author of the books, "A Song for the Road" and "Dream Up Now: The Teen Journal for Creative Self-Discovery."
As a married mother of two teenage boys, Lacko has observed that some aspects of authoritative parenting, such as being nurturing and responsive — while respecting her children as independent, rational beings — is her instinctive way of relating.
She emphasizes that one of the best parts of parenting is offering children ample emotional support and involvement.
"I feel [children] should be able to expect and rely on their parents to be their "rock," a place of emotional safety, and that doing so naturally results in the maturity and cooperation that is a key benefit of authoritative parenting."
Though shy to give herself a scorecard since parenting is "largely an intuitive, trial-and-error journey" she acknowledged that since her style mostly matches the authoritative approach, she's seen its benefits on her kids.
"My children are careful about how they treat others; from their first use of words, we offered clear guidelines on how we speak to one another, as well as firm limits on what wouldn't be tolerated."
As a result, Lacko's kids know what kinds of words hurt the feelings of others, that cussing and name-calling are unacceptable, and those phrasing ideas using kindness and compassion can help create deep friendships and understanding.
Having observed small children on playgrounds yelling at or deriding their parents, or using profanity with their parents, she emphasized that her children never tried that with her and her husband.
"That kind of behavior was strictly off-limits, and not because we threatened them with punishment," she said. "It was definitely the result of positive reinforcement, and shared respect, because we wouldn't have dreamed of swearing at or deriding our children either."
Authoritative parents are empathetic and flexible but understand that along with discipline and structure, feeling safe and loved is key to a child's success. Such parents ensure the child has a voice and feels validated. They avoid punishment or threats but rely on positive reinforcement, reasonable demands, and fair discipline. This is done by setting limits and consequences for a child's behavior while encouraging positive action with praise and rewards.
Lorraine Woolf, Marketing Director in the Seattle area, agreed with most authoritative parenting concepts but balked at the idea of "reasonable demands."
"I think the word "reasonable demands" doesn't fit my style," she said. "I don't think a demand is truly respectful, so I would say I give "reasonable requests."
As a separated mother of a 3.5-year-old daughter, she gives her daughter the opportunity to make a choice between A or B. She also lets her experience the consequences of her choice.
"For instance, if she chooses not to wear her socks and it's raining and she gets cold, the next time she will make a better choice."
Woolf describes herself as a positive parent rather than an authoritative one. According to Kars4Kids Parenting, a US-based nonprofit focused on youth, mentorship and education, positive parenting centers on teaching children not just 'what' but also 'why' to enable them to learn self-control.
She informs her daughter of the consequences of her actions before going into a situation. For instance, if they're at a playground and only have 30 minutes, she lets her daughter know that they only have a short time to play before they leave.
And if she gets a tantrum?
"I have left situations after she has not listened."
While recognizing the typical signals – hunger, tiredness, thirst – she is aware that she's influenced by older kids and parents who don't give their children "guardrails." Instead of turning to fair discipline and positive reinforcement to help in such situations, she's found that rewards have backfired on her.
"I think rewards are quick fixes," she said. "It seems like she's never satisfied and actually becomes more demanding and expects more rewards to soothe her."
What has been most productive for her has not been the ongoing "repeat and respond" of teaching a toddler specific behavior.
"Modeling has been a lot more effective for me."
This approach of setting boundaries by modeling one's own behavior is encouraged by Janet Lansbury, parenting expert and author behind the podcast, Unruffled. Her style focuses on respecting the child, accepting their emotions and development, and allowing for firm parental limits as needed. In an episode entitled, "Our Children Crave Boundaries – Permissiveness is Unkind," Emma, a professional animal trainer in a world-class zoo offered this anecdote:
"My son was playing in the front yard when he picked up a stick and walked over to my car and lightly touched it. I said to him from the porch, "Please don't touch the car with the stick, it might scratch it." He continued his behavior. I walked over and knelt down next to him: "I can see that you are having a hard time putting the stick down, I'm going to take it from you." There was momentary resistance, but about 5 seconds later he said, "Thank you for packing away my stick, Mummy."
Emma was stunned that he thanked her for the discipline! She realized that by gently taking control, she had relieved him of an impossible decision. He needed his mother to tenderly take charge in order for him to "save face." Emma felt liberated to resolve such a situation smoothly, with confidence and respect.
This is not always easy, particularly when dealing with teenagers. Lacko recalls an incident when her youngest son was in middle school. One of their rules was that he wasn't allowed his phone at school. Regardless, he snuck it during school, time and time again. Although the vice-principal kept confiscating it, the situation persisted. They tried positive reinforcement by encouraging him to interact with his friends through channels other than app games, but he wanted to play on his phone during class time.
Before entering high school, Lacko decided to ask him what she and her husband could have done differently in retrospect. He offered two suggestions. One was to lock away his phone for the school year – even if it would have made him mad.
The second? To take away his phone for a week every time he got caught with it. Although they had discussed this action, it never came to fruition.
"He always negotiated myriad reasons why he needed it, and we let him 'win' those arguments."
Lacko recognizes that they should have been firmer, even if he argued or got angry but does admit that this information "will certainly be handy during his high school years!"
When confronted with a difficult situation like this, Woolf said she sometimes reverts to authoritarian parenting.
"If I haven't taken care of myself and I'm tired or hungry, I tend to fall back into authoritarian parenting, which I end up feeling shameful about."
She believes it's because that's how she was raised. While there were high expectations and defined rules, "there was not a lot of love and warmth, which has been difficult for me as an adult."
Woolf said that even though her mother was authoritarian and her dad unattached, she has chosen to be a positive parent but sometimes falls back on authoritarian parenting, even though it's ineffective.
For Lacko, her parents were not very warm and didn't outline their expectations but gave strict punishment for bad behavior. She and her husband have chosen a different parenting path.
"We are all responsible for self-healing and choosing our own pathway and lifestyle, and that evolves even as we're parenting," she said. "I mindfully choose to be loving, affectionate and encouraging with my own children in a way they weren't with me."
For over 25 years, authoritative parenting has been consistently linked to the most positive outcomes in many studies. Although kids need different parenting practices, a consistent parenting style has a defined outcome. Being warm and having high standards is the best parenting style recommended by psychologists.
For Lacko, the outcome of strong parenting can already be seen.
"My kids are wonderful people, and whether it's a result of "strong parenting" or just the miracle of who they are, I'm certain that they're kind, interesting, smart, caring, creative, fun, humorous, and lovable."
Woolf acknowledges that parenting is hard, especially when co-parenting with a husband who tends to shame and look for approval from their child. This makes her "double-down" on being more loving and responsive to her daughter's needs.
So, what's her ultimate parenting goal?
"I want to raise a kind, confident, and inclusive child," she said. "I'll know I've done good when my child observes a situation and works to make it better, the child who has been excluded she includes."
Whether a parent chooses positive or authoritative parenting, Lady Bird Johnson had it right when she said, "Encourage and support your kids because children are apt to live up to what you believe of them."