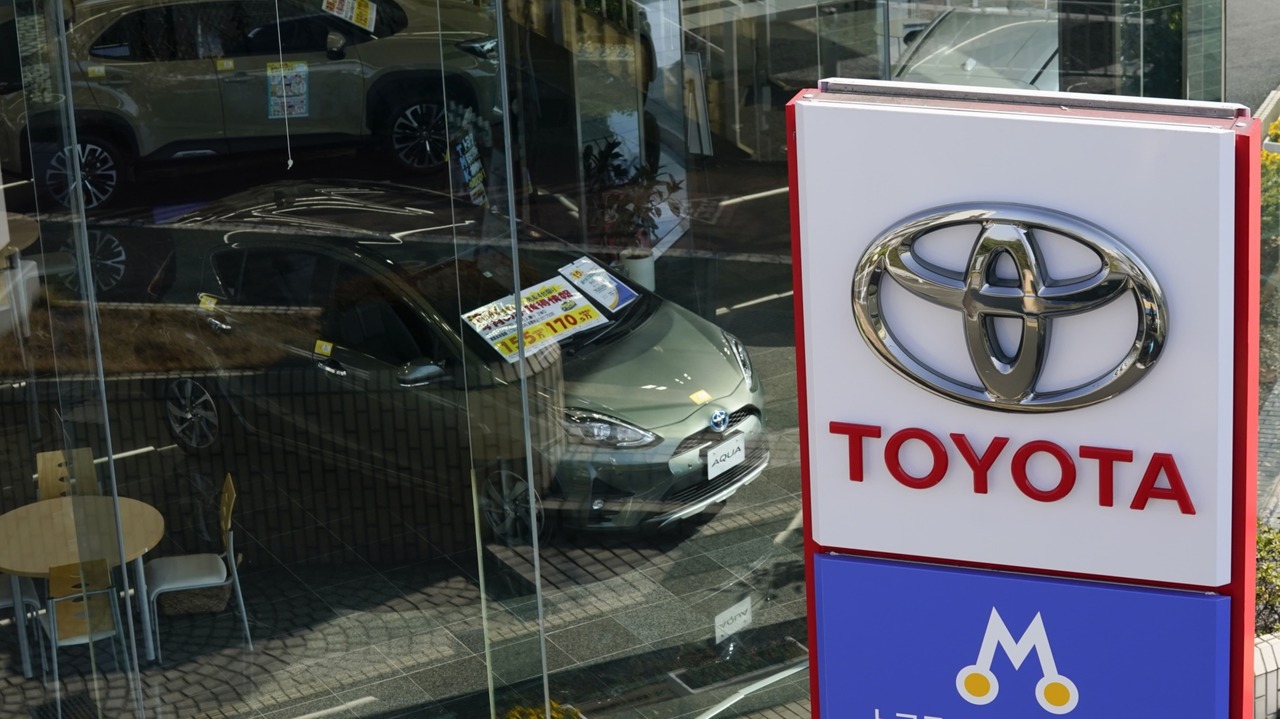 In order to achieve a decarbonized society, the government is aiming to reduce CO2 emissions to virtually zero by 2050 ― In October last year, the former Prime Minister Yoshihide Suga announced this policy in a speech to the Diet, and the Japanese automobile industry has been shaken since then.

"I have heard some politicians say, 'We should just convert everything to electric vehicles,' or 'the manufacturing industry is obsolete,' but I don't think that's true." said Akio Toyoda, president of Toyota Motor Corporation and chairman of the Japan Automobile Manufacturers Association (JAMA), at a press conference held in September.
Japanese automakers were among the first to promote the use of hybrid vehicles (HVs), and as a result, they have been able to reduce CO2 emissions more than any other country. This track record and the fact that the government should adopt an energy policy that is in line with the country's circumstances are the reasons behind President Toyoda's angry comments.
On the other hand, in terms of influencing the government, there are some analyses that are critical of the Japanese auto industry.
InfluenceMap, an independent climate risk think tank, gave Toyota and JAMA a low rating as some of the organizations in the sector most negatively influencing policy as compared to Paris Agreement benchmarks. The Paris Agreement (adopted in 2015) is an international agreement reached by about 200 countries, including Japan, to limit the average global temperature rise to less than 2 degrees Celsius.
Why did InfluenceMap give Toyota such a low rating? How are Japanese automakers responding to the torrent of carbon-neutral initiatives around the world? We spoke with Dylan Tanner, co-founder of InfluenceMap.

InfluenceMap's rating data has been quoted in well-known media such as the New York Times and the Financial Times, having an impact on policy makers, investors and corporate executives. What does the organization do?
First of all, we are not an organization that evaluates the de-carbonization efforts of companies and countries. We run an information platform that evaluates the positions that companies and industry groups are taking on climate and energy policy.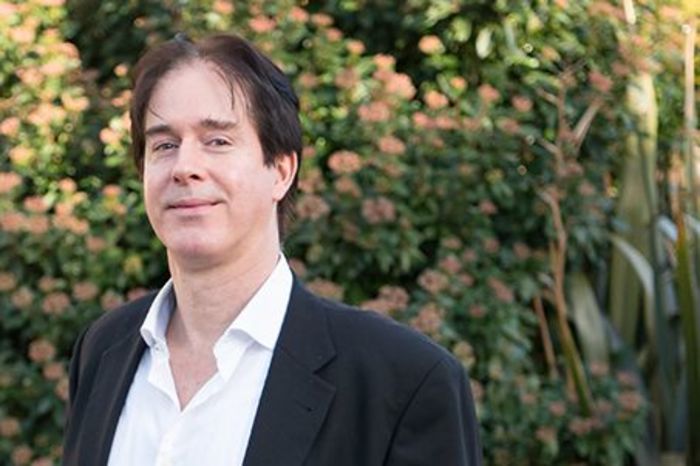 Our goal is to identify how companies are influencing the policies needed to deal with climate change. Our organization was launched just before the Paris Agreement was signed at the end of 2015 in response to growing demand from investors and other stakeholders for this information.
The most important evaluation criteria we are focusing on at this stage in our assessment is a report issued in 2018 by the IPCC, the UN advisory body on climate change.
The report recommended that EVs replace internal combustion engine (ICE)-powered vehicles between 2035 and 2050, and since its release, the United States, Europe, and China have seen rapid adoption of EVs. The IPCC will update its report in March 2022, which will likely provide guidance on the introduction of more stringent and specific zero-emission vehicles, namely battery electric vehicles (BEVs) and fuel cell vehicles.
In response to the climate crisis and this IPCC report, more than 20 countries have so far announced their intention to phase out the sale of ICEs altogether. The U.K., the European Union, China, and the U.S. state of California, among others, have launched new policies to make EVs a major technology option, and the U.S. and U.K. governments have also made budget decisions to promote goals such as subsidies for zero-emission vehicle sales and investment in BEVs charging networks.
The investment in charging networks, in particular, is a very important move as it is a sign that governments believe that BEVs are the preferred choice.
How do Toyota and other Japanese automakers rank in your survey?
Toyota is at the bottom of the list for major global automakers with a "D-" in the evaluation of the company's position on policies that are consistent with the Paris Agreement (see table). This does not take into account physical CO2 emissions or de-carbonization achievements of the company, but focuses only on Toyota's efforts to influence climate related policy measures around the world.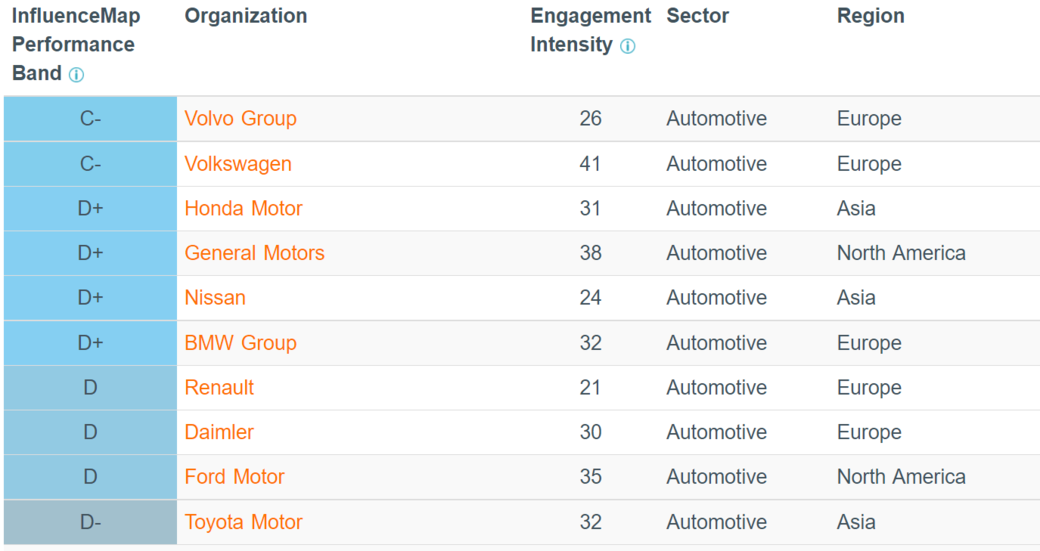 With the exception of Tesla, the poor performance of the global auto industry as a whole is generally due to all automakers' attempts to oppose government policies on fuel efficiency, emissions regulations, mandatory zero-emission vehicles target, and ICE phase-out in key markets.
Over the past five years, opposition to the regulations has manifested itself as emissions cheating by the likes of Volkswagen (VW) and Daimler of Germany. But Toyota is now one of the world's most powerful lobbying players for promoting the long-term role of HVs, and opposing deadlines for abolishing ICE which inherently delay key policies for electrification of transport.
Much of the lobbying and influencing of policy is done through industry associations such as ACEA in Europe and the US Auto Alliance in the US. All major automakers, not including Tesla, are members of these associations. Because the InfluenceMap rating factors include membership in major industry associations, most automakers' scores tend to be similarly low. These trade associations, including Japan's JAMA, also have low ratings of their own.
In assessing lobbying activities, we rely on public sources such as position statements submitted to governments and congressional testimony. In some cases, we also use company executive interviews with the press as a reference.

What is the evaluation of companies other than Toyota and Japanese companies?
Globally, BEV sales have increased significantly over the past three years, and the corporate value of BEV manufacturers has also risen. VW, which is aiming to have half of its new car sales to be EVs by the year 2030, has scored a "C-" in our survey for the past three years.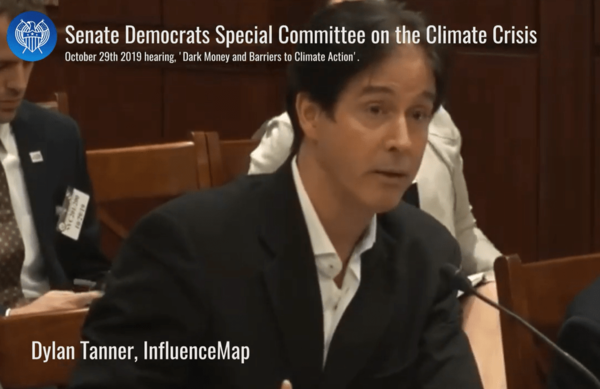 On the other hand, Toyota, GM, and Ford Motor Company, among others, have seen their scores decline in recent years. With the exception of Tesla, most of these companies still appear to be opposed to government efforts in phasing-out ICEs, including HVs, and to mandate the allocation of zero-emission vehicles.

Toyota, in particular, appears to have a desire to prolong the role of HVs and plug-in hybrid vehicles(PHVs), as they have been one of its strengths. This stance is increasingly at odds with many government statements that support an ambitious ICE abolition timeline.
Toyota believes that a mix of HVs, PHVs, EVs, and FCVs is the best way to go, rather than full electrification. What is your view on this?
It is true that Toyota and other Japanese automakers are superior to their European and American counterparts in terms of CO2 emissions and fuel efficiency in new compact cars. Nonetheless, when we look at the ratio of ZEVs (BEVs and fuel cells) among major automakers using our own data on vehicle production, Tesla of the U.S. is at the top and Toyota is at the bottom. This data does not include HVs and PHVs.
Again, we have no insight into the technology strategies of automakers. Our assessment is based on policy statements and benchmarks from governments and the IPCC. It is clear that there is a difference of opinion between Toyota and many governments around the world, as well as the IPCC, regarding the duration of the role of HVs and PHVs. If this is not resolved, it is unlikely that Toyota's score will improve under our system of scoring.