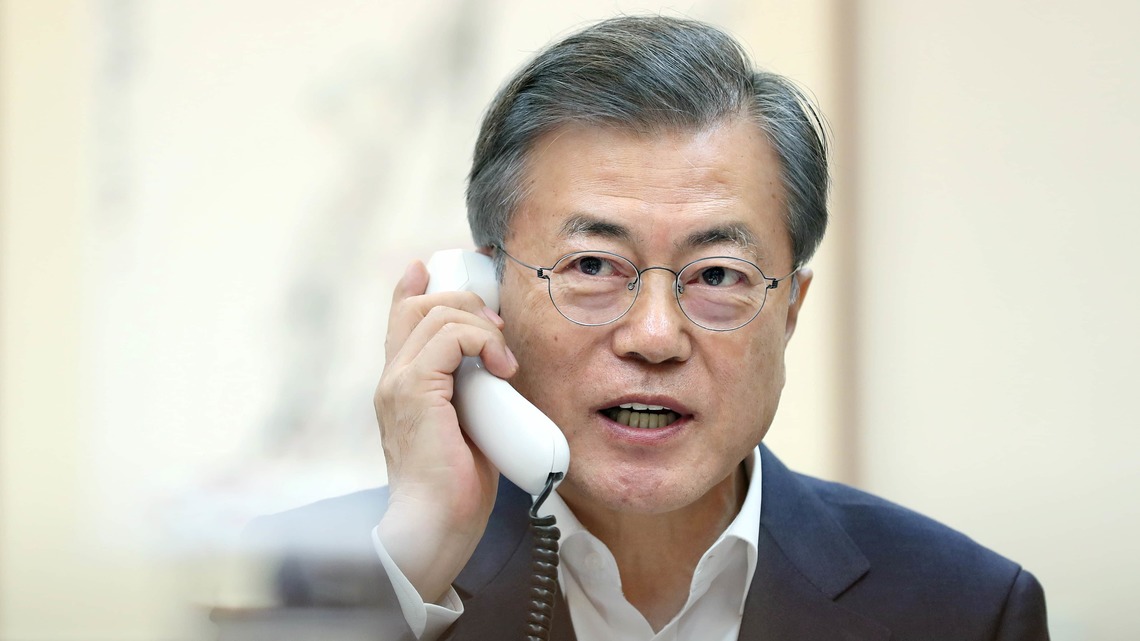 At the beginning of this past week, as the smoke was still clearing from the Hanoi Summit firestorm, a South Korean conservative daily paper published what appeared to be a spectacular scoop.
The summit had fallen apart, the JoongAng Ilbo wrote, due to the American demand to close down a massive, covert uranium enrichment plant hidden underground just a few kilometers away from the well-known Yongbyon nuclear complex.
Citing unidentified intelligence officials, this covert plant is allegedly not only older than then known enrichment facility at Yongbyon but five times larger. The North Koreans were taken by surprise, the paper wrote, and torpedoed the deal with the U.S. in response.
Whether this report is true remains to be proven. But one thing seems likely – the source of this story was from within the South Korean National Intelligence Service (NIS), the only South Korean agency that can claim to have access to such information.
The head of the NIS, Suh Hoon, immediately denied this report in a closed-door meeting with South Korean National Assembly members. But the existence of opposition to the current policy toward North Korea within the ranks of South Korea's own 'Deep State,' particularly the NIS, the Foreign and Defense Ministries and the military, is an open secret in Seoul.
"Suh Hoon is definitely on the Blue House team," a former senior U.S. official with close ties to South Korea told me, referring to his ties to President Moon Jae-in. "But there are others at NIS who have been holding their noses over the current approach."
Amb Kim Sook, the former First Deputy Director of the NIS, and a former senior Foreign Ministry official who led talks with North Korea, is likely speaking for many within both agencies when he told me unequivocally: "Kim Jong Un will never give up nuclear weapons and materials. We have seen the event horizon of his nuclear blackhole in Hanoi. Now we need to stay on high ground and keep a position of strength."
President Moon has done his best to convey a calm response to the events in Hanoi, pledging to step up mediation efforts between North Korea and the U.S. to resume negotiations. He dispatched senior North Korea nuclear negotiator Lee Do-hoon to Washington to meet on Wednesday with U.S. North Korean negotiator Steve Biegun and with Japanese senior Foreign Minister official Kanasugi Kenji. Blue House talks confidently about restoring momentum to talks.
Some supporters of the progressive government in Seoul do not hesitate to point fingers of blame at the U.S. for taking too hard a line in Hanoi and blocking a potential agreement of a more limited nature. The former Unification Minister Jeong Se-hyun told a seminar at the National Assembly that National Security Advisor John Bolton brought up the existence of other nuclear facilities to "intentionally" trigger the breakdown in the talks.
"Bolton was the villain in this," Jeong, a Moon backer, said. Those outside the government who are freer to express their disappointment even claim that their old enemy, Japan, was the secret actor behind the scenes influencing Trump to walk away from a deal.
Within the progressive camp, however, while still insisting that the North Korean desire for denuclearization is genuine, there is some acknowledgement that their brinksmanship negotiating tactics contributed to this failure.
"In order for the process to go smoothly, Kim Jong Un should present the international community with a roadmap for DPRK denuclearization," the progressive daily Hankyoreh, which is close to Moon, wrote on March 6. "It is time for Kim Jong Un to make a do-or-die decision."
There is little question that President Moon and his most loyal supporters had very different expectations about the summit's outcome, as evidenced by plans to deliver a major proposal for a new wave of North-South economic cooperation projects on March 1, just after the conclusion of the talks. "Moon was totally out of touch with the U.S. negotiation plan and taken off guard," says Amb Kim.
"I have no doubt that, in their heart, they would attribute two thirds of the blame to the US and one third to Kim Jong Un for demanding too much," Amb Chung Yung-woo, former national security advisor to President Lee Myung-bak and head of the South Korean negotiating team in the 6-party nuclear talks, told me.
"They have a hard time trying to hide their resentment toward Trump and his team. Some close confidantes of Moon's are failing to contain their frustrations. However, I think President Moon will be more cautious in openly blaming the US. He may be reluctant to confront Trump at this stage, He is not yet willing to give up the hope of a deal between the US and North Korea."
The summit failure is a great embarrassment for Moon whose commitment to engagement with the North is losing steam and credibility within South Korea. "Ordinary Koreans are confused and divided," says Amb Chun. "Most conservative and realist opinion leaders have a sigh of relief" over the Hanoi collapse, sharing the mood felt by many in Tokyo.
But even conservative critics of Moon's policy warn against talk that this could lead to a serious shift in South Korean policy. The core support for the Moon administration and its policy toward North Korea remains very much intact and the damage suffered as a result of the events in Hanoi is not yet irreparable or fatal. The main conservative opposition party is still deeply divided and cannot offer much alternative leadership, unable therefore to take much advantage of this opportunity.
The inability to turn the Korean economy around may be more of a factor in a weakening of support for Moon. "The Moon government will try to stay the course no matter what, but because of the failure of Moon's para-socialist economic policies, the support base is eroding," a former senior official who wished to remain anonymous, told me.
While the Moon administration seems determined to move ahead with its plans for engagement with Kim Jong Un, it still seems reluctant to do so without the approval of the U.S. The talks this week in Washington were aimed in large part at exploring whether there is room to reopen the Kaesong industrial park and Mt Kumgang tourist center in North Korea, two shuttered showcases of previous engagement policy.
"I don't think Moon will venture toward economic cooperation unilaterally," says Amb Kim. The goal now is to revive talks toward a modified version of the partial agreement that was on the table in Hanoi. An open clash with President Trump, for now, is far too risky.
Conservatives in South Korea have taken aim more at signs that the security alliance with the U.S. is being undermined by Moon's embrace of North Korea. They understand that this is a vulnerability in South Korean public opinion where many Koreans may support the idea of better ties with the North, even by swayed by emotional appeals to move towards reunification, but not at the cost of the alliance.
The pact with the U.S. not only guarantees security but provides stability for the economy, which in turn depends on access to the U.S. and global trade markets.
The announcement of further suspension of joint military exercises with the U.S. by Trump has been met with growing criticism within South Korea. "We should have resumed stalled joint military exercises with the United States," the daily Chosun Ilbo opined. "With the real threat of a nuclear-armed DPRK intact, the ROK-U.S. Alliance is turning into an empty shell."
The progressives "officially keep paying lip service to the virtues of the alliance," says Amb Chun, a highly respected voice in national security policy circles.
"In their heart though, they seem to believe that US troops and the alliance are dispensable. They built up their political career as anti-American activists with the ultimate goal of the withdrawal of US troops. The alliance will be there but with substance hollowed out."
Within conservative circles even darker visions of the future are voiced, though largely behind closed doors out of fear of being labeled in the pro-Moon media as reactionaries or even tarred as descendants of pro-Japanese collaborators. Rather than seeking change in the dictatorial regime in the North, they see movement in the opposite direction at home.
"The generation with memories of the Korean War is dying out and the ignorance of Korean society about communism is such that few politicians or media people even know where the term 'Red' comes from," says a prominent conservative intellectual who is fearful of airing such views in the open.
Such views are voiced by conservative politicians and a few media outlets that support their position. But increasingly this political and ideological warfare within South Korea is being carried out through leaks of the kind that appeared earlier this week in JoongAng Ilbo. If tensions intensify after Hanoi, look out for more attacks from South Korea's own Deep State.