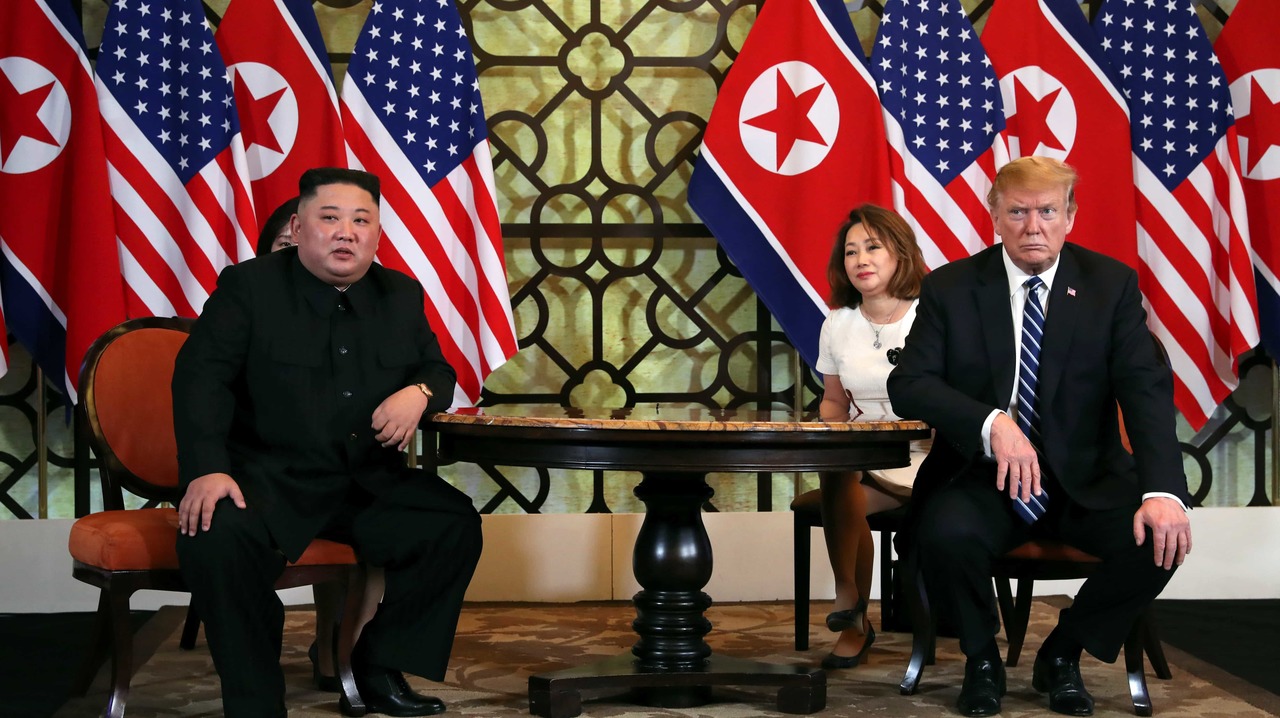 When the news of the collapse of the Hanoi Summit talks hit Tokyo, the sounds of quiet celebration from the Prime Minister's Office and the Foreign Ministry could be heard all over Tokyo. That evening a visibly relaxed senior Foreign Ministry official repeated the pithy judgement that is now widespread – "no deal is better than a bad deal."
The Hanoi failure avoided Japan's worst nightmare – a deal with North Korea that would have made little progress on denuclearization and, even worse, traded an end to their long-range missile program while leaving intact shorter-range missiles that can strike Japan. Abe could barely contain his glee in his comments, adding in the still unproven claim that Trump raised the issue of abductees in the talks.
"No deal looks not so bad for the Japanese government," comments foreign policy scholar and analyst Sahashi Ryo. "They had a real BIG fear of the worst-case scenario but they didn't have any leverage to stop it if Trump was played by Kim."
There is, however, a downside for Tokyo. The status quo of North Korea's still growing nuclear and missile capability remains intact. "There have been no steps forward in terms of the existing dangers caused by the DPRK's nuclear and missile programs along with its conventional forces," says former Ground Self-Defense Force General and security expert Yamaguchi Noboru. "We must remember why the dialogue began."
Beyond that, the Japanese government now understands that Donald Trump is seriously weakened politically and totally preoccupied with his own re-election. His reputation as a negotiator is now in tatters.
"We now realize the Trump way of deal-making does not work sometimes," says Professor Sahashi. That may be relevant soon when the US starts to seriously pursue negotiations on a bilateral trade agreement with Japan. Trump notably veered off onto this subject during his press conference, complaining again about the unequal trade in automobiles with Japan.
The View from Seoul
Compared to Tokyo, the mood in Seoul is gloomy. The sudden disappearance of an imminent agreement, which the Moon Jae-in government had been eagerly brokering, clearly came as a shock in South Korea.
Moon was all set to announce a new set of North-South economic projects in a major address on Friday, the centerpiece of a long-sought summit visit by Kim Jong Un to Seoul, all of it premised on an anticipated Hanoi agreement to partially lift sanctions for some initial steps to dismantle the Yongbyon nuclear complex.
"Trump's spectacular failure in Vietnam is a huge embarrassment and lasting problem for South Korean President Moon Jae-in," former senior State Department official and Korea hand David Straub told me.
"Moon has staked his presidency on making progress with North Korea on the basis that its leader Kim Jong Un sincerely wants to trade nuclear weapons for security and economic development, and in that regard has bet big on Donald Trump, encouraging him to engage Pyongyang and constantly stroking his ego."
The Hanoi outcome emboldens his opposition at home and threatens the dominance the progressives have enjoyed politically since the impeachment of Park Geun-hye and Moon's election.
Moon had already lost considerable popularity because, contrary to his promises, he has not been able to strengthen his country's struggling economy and improve the lot of lower-income South Koreans. South Korea is less than fourteen months away from its next parliamentary elections, and Moon must win a big victory in them if he is not to become a lame duck immediately thereafter.
South Korean conservatives are starting to pull themselves together, and are taking aim at what they see as Moon's naivete and overselling of the North-South engagement. "The political challenges President Moon faces at home will only grow if there is no further progress on the North Korea issue," says Straub.
Moon now faces a huge choice. It is unlikely that the U.S.-North Korea negotiations, if they even take place, will yield an agreement any time soon. Meanwhile, the North Korean regime will be even more eager to get effective sanctions relief directly from Seoul and from Beijing.
Without that, Kim is unlikely to head to Seoul. Moon was hoping to move ahead on economic deals with the clearance of Washington. Going ahead anyway risks a break with Washington but the alternative would be the possible end to the policy that remains the centerpiece of his administration.
The view from Pyongyang
The view from Pyongyang is only slightly less bleak. Many American and South Korean analysts were caught off guard by the prominent place of sanctions removal in the North Korean negotiating agenda. There was lots of focus on a possible end of war declaration and lesser steps like setting up liaison offices in the belief that the Kim regime was mainly seeking a clear assurance of non-hostility from the United States.
Those expectations were based on a profound misreading of the internal situation in North Korea, particularly the ongoing and structural nature of the economic crisis facing the country, and shaky support for the regime especially from the elite.
Observers are often distracted by the glittering scenes of fancy restaurants, cars and apartment towers in Pyongyang – all of them real enough but also the price the regime must pay to retain loyalty. Underneath that, the command economy is barely alive and people depend instead on a second black economy, one fueled by cross border trade mainly with China which provides goods and hard currency. As someone who observed as a reporter the collapse of the Soviet Union, these are familiar signs of a systemic crisis.
The sanctions imposed since 2016, beginning in the final year of the Obama administration and escalating since then, struck at the heart of this barely functioning system. The curbing of official trade that earned hard currency – mainly minerals and seafood and other exports to China – was severely squeezing the regime itself. Chinese compliance, forced by the crackdown on international bank transfers aimed at Chinese banks, made this effective.
For Kim Jong Un, getting out of this bind is a matter of personal survival. "He knows quite well that, unless he improves North Korean people's lives, his days are numbered," former North Korean senior diplomat Thae Yong Ho, one of the most high-level defectors in recent times, told the New York Times earlier this week. "He would like to do something, actually. He wants to show the people that he is the one actually solving problems."
Meanwhile, the regime faces a growing crisis of legitimacy. As Thae put it, very incisively:
"North Korean elites and North Korean society itself is in dilemma at this moment. North Korea is changing. Capitalism and the market system — the concept is spreading quite rapidly in North Korea. Now the people want to solve their daily survival in their own way. They don't believe in the so-called leadership."
For Kim then, removal of sanctions was the only real demand. For those more closely following the negotiations leading up to and after Singapore, this was evident. The North Koreans had pushed the end of war declaration up to Singapore, mainly as a negotiating tool to deflect US pressure for a full declaration of its nuclear and missile facilities and stockpiles.
When the U.S. finally yielded and offered a "declaration for declaration" deal in late August, the North Koreans balked and shifted back to putting sanctions removal first.
The North Korean Foreign Minister and his deputy attempted, in a post-summit press conference, to claim that they only sought "partial" lifting of sanctions. But they specifically identified all the sanctions imposed since 2016 by the United Nations Security Council as the ones they sought to remove – in other words, the sanctions that really hit at their ability to escape the contradictions of the system collapse in the North.
It is not surprising that Kim Jong Un is trying to put a brave face on his failure. He must not only reassure an elite and a populace that was desperately hoping for relief but also appeal to those in the South, mainly the progressives and the Moon administration, who will want to blame the U.S. for being the unreasonable actor. If that view prevails, it might give Moon the courage, and the backing, to move ahead with significant sanctions relief. One pathway is to use the large loophole allowing humanitarian aid to pour massive amounts of food, pharmaceuticals and other supplies into the North.
China's Own Choice
The other source of relief is China and undoubtedly Kim will stop over in Beijing to consult with Xi on his way home. For Beijing, they have to worry some about how the Hanoi failure will affect the prospects for a soft deal on trade with Trump. That is hard to predict and Xi may wish to avoid openly thwarting the U.S. on North Korea.
But in a strategic sense, the Hanoi summit debacle is good for China. Trump's press conference confirmation that he intends to continue to suspend, if not end, U.S. military exercises in Korea is a particular bonus.
"I think the Chinese are sitting pretty," says John Pomfret, a former Washington Post China bureau chief who remains a close watcher of U.S.-China relations. "They have put the US in a bind. If the US resumes exercises, and the North Koreans resume some type of testing, Beijing will be even-handed in its criticism. If the US continues not to do exercises with the South, China benefits as well because that gives Beijing more time to try to do damage to the US-South Korean alliance."
Whether Kim will chose to escalate tensions now is very much in question. He may not feel the need and it would undermine his appeal to the South. But in any case, Pomfret says, "China and North Korea will become closer, along with Russia."